25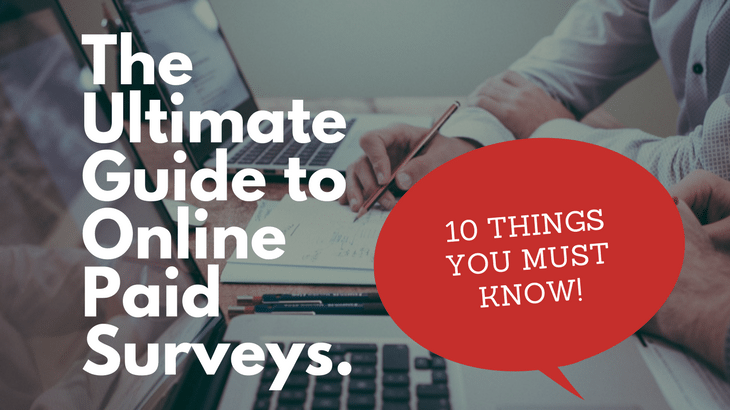 10 Things You MUST Know before Taking a Paid Survey Online
Online paid survey has been a very popular way for people to make some extra cash. However, we all know that there are many drawbacks with online surveys.
I have tried out quite a number of paid surveys online and did a couple of online survey reviews. So I know exactly what are the things to look out for if you want to make money from online surveys.
In this post, I've compiled 10 things that You MUST know before taking your next online survey for money.
But before that, let's first take a look at how online paid surveys work, for the benefits of those who are new...
More...
How to Make Money with Online Paid Surveys?
First, take a look at this 2-minute animation to understand the whole process behind online paid surveys:
Paid surveys or survey panels are websites/platforms that allow you to make money by completing online surveys and giving your opinions.
The rationale is this...
Companies around the world are actively doing market research. They want to know consumers' opinion on their products and services so that they can improve and meet the needs of their target audience.
That's when these survey panels come into play. They are the "bridge" that connects these market research companies with consumers.
Companies pay these platform to get consumer insights while these platforms pay their users to complete surveys.
Other than products and services, there are also studies done on things like:
Travel
People
Education
Work
Entertainment
So, there are paid surveys online for almost anything you can imagine. The most important thing is for you to find the best survey panel, instead of suffering from survey scams.
Individual market research companies and survey panels may have their own rules and system. But that's basically how general paid surveys work.
I'm Jerry!
I Created My Own 4-Figure Monthly Passive Income at just 21 Years Old!​
10 Must-Know before Taking Online Surveys
1. Extremely Low Earning Potential
You need to be aware that the earning potential for ALL survey panels are very low.
Normally, you can earn anywhere between $0.01 to $1-$2 per survey depending on the panel, the length and nature of the survey.
Some survey sites claim to pay you $30, $50 or even $100 per survey. You need to be very cautious for these.
I've recently reviewed a survey site called Inspired Opinions and they will indeed pay panelist $100 per survey. 
But the catch is that the survey is a in-person survey which you need to go down to their office and the survey will take around 1-2 hours. Not only that, the chance of you getting this opportunity is extremely low.
After reviewing quite a number of survey sites, I can confirm that ALL survey sites have very low earning potential.
In fact, there's a case study done on Upfuel regarding the amount of money you can earn from paid surveys. It's really limited. Go and take a look if you're interested.
2. There are lots of Paid Survey Scams
Let me repeat myself. THERE ARE LOTS OF PAID SURVEY SCAMS!
Some survey sites are not actually survey panels (I'll talk about that later). And some survey sites will never pay you any money. 
Most of them cannot be classified as scams but what they are doing is just unethical.
Just take note that there are a lot of low-quality survey sites which you shouldn't waste your time on.
Continue reading to find out how to avoid such websites...
3. Use a New Email Address for Paid Surveys
Many survey sites, regardless legit or scam, will send you a lot of Emails.
For legit survey panels, they will be sending you Emails regarding the latest survey opportunities. Whilst for scam survey sites, they'll probably be spamming you with lots of junk mail.
Another issue with online survey is that some platforms will sell your information (Name, Email, etc...) to other people. And thus resulting in more and more spams coming from different people/companies.
In that case, you wouldn't want your main Email to be flooded with these Emails from survey websites. So the common recommendation is to create a separate Email address for the sole purpose of taking online surveys.
Another reminder is to read their Privacy Policy carefully before joining any platform!
4. Avoid "Pay-to-Play" Survey Sites
Some survey sites like Gold Opinions will ask you to pay them a fee in order for you to receive surveys.
The common reason they give is because they say they won't take any commission from the money you make while taking surveys.
Or their platform has some special service to help you make more money, that's why they require you to pay so that they can maintain their website.
These are just BS!
According you wikiHow, all legitimate survey panels won't ask you to pay a fee, meaning that you don't need to "pay to play".
If any survey sites need to you "pay to play", just stay away from it.
5. Watch Out for Survey Intermediaries
After reviewing so many survey sites, I found out that a lot of them are actually NOT survey panels, which means they are not working directly with market research companies to offer you the survey.
Instead, what they are doing is affiliate marketing. They are the affiliates for many survey panels and they set up their own websites to promote these panels to you.
These websites are what I called the "survey intermediary" or "middleman".
If you sign up with this kind of intermediary, they'll keep recommending you to sign up with other survey panels. Their reason is that the more survey sites you registered with, the more survey opportunities you have, and thus more money.
However, the reality is that the more you sign up, the more money these "survey intermediary" will earn because what they are doing is referring you to survey panels. They earn affiliate commission once you sign up with any survey panels they recommend to you.
Some survey intermediaries I've reviewed before include Survey Money Machines, SurveySay, BigSpot and Gold Opinions.
6. Be Prepared to be Disqualified
For most of the survey panels, you have to undergo a pre-qualification process before taking each survey. This is to ensure that you're the right target audience for the market research companies. So, this part is understandable.
However, the irritating part comes when you're suddenly disqualified during or even after the actual survey. This happens quite often for some of the survey panels.
Some panels will compensate you with a few cents for your effort but some don't.
One of the reasons for this is that there's a limit to the number of survey takers.
For example, certain company may only need 100 surveys from the panel. If you are slow, you may be disqualified half-way because the quota has been reached.
This issue is really annoying for some panels which I don't have a solution for you. All you can do is to find other panels.
7. Beware of the Points System
Some survey panels reward you directly in cash but some use a point system. They'll reward you with certain amount of points per survey and you can redeem the points for cash once you reach a certain threshold.
Having a point system is okay. But you need to know the conversion rate between points and cash. Don't be misled by the seemingly large amount of points.
Make sure you fully understand how the point system works and how to redeem your money!
8. Beware of the Payout Options
Some standard payout options are:
Check
PayPal
Amazon Gift Card (or any other equivalent Gift Card)
If you wish to get real money, you need to make sure they have a check or PayPal option.
Recently, I've just found a survey panel that offer Amazon Gift Card as the only payment option.
Some people are happy with Amazon Gift Card but I'm sure many of you still want real cash. That's why you need to ensure they have the payment option you want.
9. Take Note of the Payout Threshold
Payout threshold is another important thing you need to know.
Some survey panels have a threshold of $10, which means you can cash out your money once you reach $10. This is a pretty reasonable amount.
However, some survey panels have threshold of $100, which will take you a very long time to reach. This sometimes means that you won't be paid anything.
10 Beware of Other Forms of Paid Survey
Paid surveys have evolved over the years. There are platforms that pay you to test mobile Applications and there are platforms that pay you to listen to music.
All sorts of platforms are being launched today and their rules and systems are evolving as well.
The most important thing is to do your research before diving into any system. More importantly, trust your gut feeling!
If you feel something is not right or too good to be true, just stay away from it. There are many more ways to make money online.
In fact, here are some authority websites for you to check if a survey panel is legit:
Should I take Paid Surveys Online?
Now, we've looked at so many points to consider before joining any survey panels.
But there's one important question...
Is taking online paid survey really worth it?
If you have this question in your mind, I'm happy for you. That means you're constantly assessing the things you're doing.
Let me be 100% honest with you, my opinion is that taking online surveys isn't worth the time you spent.
On average, you can only earn up to a few bucks per hour. Taking up a local part-time job is even more lucrative than taking online surveys.
If you're a veteran or someone who just want to kill time, then go ahead with taking paid surveys. There's nothing wrong with that.
However, if your main goal is to make money online, I would urge you to stop looking for any online paid survey opportunities. The earning potential is too small. It doesn't worth any of your time.
How I Make a Living Online...
Affiliate Marketing is my top recommended business model for anyone to make money online.
The reason is simple...
You don't have to recruit anyone to make money like what people usually do in MLM
You're building your own passive income stream for your financial freedom
It's Free to get started
In fact, with affiliate marketing...
I've personally created a 4-Figure Monthly Passive Income Stream and become financially independent at just 21 years old without any College degree or working experience!
Through my own hard work, I went from a broke restaurant waiter to living my dream laptop lifestyle in less than a year's time...
If you want to discover the secrets of how I did it at such a young age, click here!