17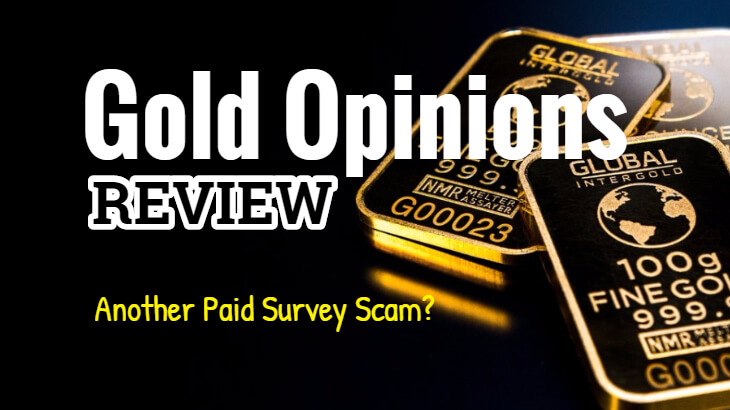 Is Gold Opinions a Scam? (I think it's not even worth a PENNY)
Do you want to get paid up to $50 per survey? I'm sure many of you would. But the first question will always be is it a scam? Because that just sounds too good to be true.
And that's the case for Gold Opinions. Gold Opinions claim that you can make $50 per premium survey with them. In this review, let me reveal to truth and justify whether Gold Opinions is a scam or not...
Gold Opinions Review Summary
Summary: Gold Opinions is a paid survey intermediary scam. It's just a product on ClickBank that is trying to make money from innocent people. Don't be misled by their unrealistic promises like making $50 per survey!
Rating: 10/100
Recommended: No
More...
Gold Opinions claim themselves to be an online paid survey portal where you can take a wide range of surveys and get paid lucrative rewards by just sharing your opinions.
Let's just take a look at some of their claims:
As an experienced internet marketer and someone with experience in online surveys, my instinct told me that this is just BS.
If you have tried online surveys before, you should know that normally you'll only get paid a few cents or up to a dollar per survey. The numbers they claim is just not possible.
In fact, here's a case study on Upfuel about taking online surveys. You'll see that at most you can only make up to a hundred or two hundred dollars per month, if you put in a lot of time and effort.
There's a huge difference from the one Gold Opinions promise you.
I'm Jerry!
I Created My Own 4-Figure Monthly Passive Income at just 21 Years Old!​
1. Gold Opinions is NOT a Paid Survey Site
It is just an intermediary between survey takers and market research companies, in other words, it's just a "middleman".
You'll not be taking surveys directly on Gold Opinion's website. Instead, you'll be referred to sign up with other survey companies to take surveys. And you'll be paid directly by these survey companies, not Gold Opinions. So Gold Opinions have no control over your earnings.
Also, I'm sure Gold Opinions can make money as an affiliate in this process. So the more survey companies you sign up, the more money they make.
They're acting as an affiliate marketer in this whole process.
2. Gold Opinions is a ClickBank Product
According to wikiHow, a legitimate survey site won't ask you to pay in order to take surveys. 
However, Gold Opinions is asking for a $27 monthly membership fee for you to take surveys and make money with them. This is a big red flag!
They explain why there a fee to join in their FAQ page.
Basically, they said that because they don't take any commission from the money you earn and it's expensive to maintain the site, so you have to pay a fee for their "service".
But like I've said, Gold Opinions have no control over your earnings, simply because they are just an affiliate. So it's impossible for them to take any percentage of commission from you. That's why the only way for them to make money is to charge you a monthly fee.
If you scroll all the way down to the bottom on their sales page, you'll see the disclaimer saying that "ClickBank is the retailer of products on this site".
What this means is that Gold Opinions is just a product being sold on ClickBank. Their goal is to make money for themselves, not helping you to make money.
There's no legitimate paid survey charges a monthly fee and sells on ClickBank. 
I have reviewed a similar but legitimate paid survey site and it's completely free to join them. You can check out my Survey Junkie review here. It's one of the only few paid survey sites that are legitimate.
3. Gold Opinions is a Clone Product!
This is probably the most shocking truth being revealed.
Take a look at the sales page of Gold Opinions:
And then look at the following websites:
These are 4 other different websites offering different services:
But they have the exact same design, layout and sales tactics. Not only that, they are all being sold on ClickBank and  promising the same things in their sales page.
"$8,000,000 is the amount our happy members have been paid to date"
This sentence is used not just in Gold Opinions but other websites from the same founder as well. Do you still believe that it true?
I'm sure they're just making up this number to convince innocent visitors.
If you're observant enough, I've crossed out the founder of Gold Opinions and put "unknown". Because I think "Paul Parker" is just a name they use to promote that product.
At the same time, they're using different names to promote other products from the same founder, who is unknown to the public.
Just from this point alone, I can conclude that Gold Opinions is a scam because they are not honest at all. It's just another money-making product from a mysterious marketer.
The Good
60-Day Money-Back Guarantee: As usual, there's a money-back guarantee with ClickBank products but we don't know how hard it is to get your refund if you request for it.
---
The Bad
"Pay to Play": You have to pay them in order to get access to a list of their survey providers, which can be easily found online for FREE. As I have always said, any paid survey sites that ask you for money is most likely a scam!
Unrealistic & Misleading Promises: They are promising you to make $50 per survey which is almost impossible.
Duplicated Website: The biggest truth revealed of the day. They are just using the same sales tactic to promote a number of different products repeatedly.
Unknown Founder: Despite there's a name on their sales page. I highly doubt that's the real founder of the program because they are using different names to promote different products.
In my opinion, it's definitely a scam for sure. Stay away from any paid survey sites that ask money from you. A truly legitimate paid survey site will not ask any money from you.
However, taking surveys online is definitely not a good idea to make money online. Like I've always said, take up a local part time job is even more lucrative than taking online surveys. Because the potential of online surveys is just too small. It's not worth your time.
If you really want to make some good money online, may I suggest you to stop looking into paid surveys because you'll definitely not get rich doing that. The extra cash you may be able to earn is also not worth the time and trouble needed.
How I Make a Living Online...
Affiliate Marketing is my top recommended business model for anyone to make money online.
The reason is simple...
You don't have to recruit anyone to make money like what people usually do in MLM
You're building your own passive income stream for your financial freedom
It's Free to get started
In fact, with affiliate marketing...
I've personally created a 4-Figure Monthly Passive Income Stream and become financially independent at just 21 years old without any College degree or working experience!
Through my own hard work, I went from a broke restaurant waiter to living my dream laptop lifestyle in less than a year's time...
If you want to discover the secrets of how I did it at such a young age, click here!