20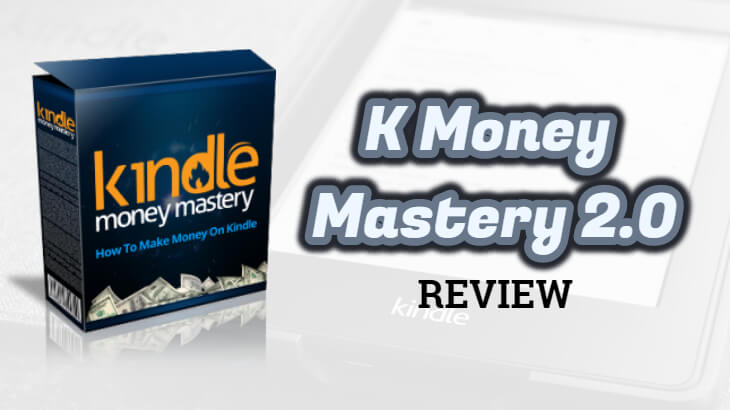 Is K Money Mastery a Scam? (Sell eBooks when you SUCK at Writing)
How would you feel if you could earn $10K, $30K or even $50K per month by selling Kindle eBooks on Amazon? Pretty awesome, right?
Well, it seems like there are people achieving this kind of results from this program called K Money Mastery. So, I guess it's time for me to do a review on this program and see if it's really possible for YOU to get this result in 2018 and beyond.
Or...is K Money Mastery a scam? Outdated? Let's take look...
K Money Mastery Review Summary
Summary: K Money Mastery is a very good course with lots of useful details for beginners to make passive income by selling Kindle eBooks on Amazon. However, I highly doubt that it will be an evergreen program. Keep reading to find out why.
Rating: 85/100
Recommended: Yes
(However, K Money Mastery is not my top recommended program to make money online. Read on if you want to find out why. Meanwhile, THIS is my favorite program to make real money online!)
More...
K Money Mastery (aka Kindle Money Mastery) is a membership website with a step-by-step course on how to make money online by selling Kindle eBooks on Amazon. (through a way called "Kindle Direct Publishing".)
The course promises you that you can make a consistent passive income even if you're not a writer or even worse, you're horrible at writing.
The main concept is that you're going to outsource a lot of the hectic works such as eBook writing and cover design. Your main job is to learn the "marketing" and the "strategy" part.
For example, you need to learn how to effectively outsource content creation and how to get your eBooks rank high on Amazon, etc...
So far, this may sound confusing but Stefan claims that you can make 6 figure passive income with Kindle Publishing on Autopilot. Not only that, you can start applying the "profit-inducing" system in just 5 minutes from joining his program.
Let's dig deeper and see if all these claims are legit...
About the Founder: Stefan
The founder of K Money Mastery is Stefan James Pylarinos. You may better know him as a blogger at Project Life Mastery and an YouTuber at his Project Life Mastery Channel.
In fact, I am a follower of his channel even before I came across KMM. He constantly delivers high quality content and knowledge through the videos on his channel.
Besides Kindle Publishing, he has achieved massive success in various fields and he is an influencer with a huge following.
I admire him a lot and from all the values he delivers to his audience, I can see that he is very authentic and passionate at helping people.
So far so good. The founder of KMM is pretty awesome!
At the point of writing this review, I even received a notification from Project Life Mastery about Stefan's new video on "How Kindness will change your life and the world". Pretty interesting, right?
I'm Jerry!
I Created My Own 4-Figure Monthly Passive Income at just 21 Years Old!​
Upsells are one of the main concerns people have. So, let's first take a look at what are the upsells waiting for you ahead in this program.
Upsell #1: Full Disclosure Membership ($47/month)
With this membership, you'll gain access to Stefan's monthly video updates as well as a private Facebook Group where you can connect with other Kindle Publishers and ask questions.
There are also more advanced training videos available for people who are very serious at this business and want to achieve success at the faster speed.
As for the regular membership ($97 one-time fee), there's no community or any forum for you to ask questions and get help when you need it. And that's the main downside of K Money Mastery.
There's no urgency in getting this upsell because you can purchase this Full Disclosure Membership anytime. Once you're more experienced at Kindle Publishing, you can then consider buying this upsell to take your business to the next level.
Upsell #2: Kindle Virtual Assistant Training Program ($197 one-time fee)
This program focuses on helping people to learn the skills and knowledge needed to hire and work with virtual assistants.
Like Tim Ferris had said in The 4-Hour Workweek, if you want to automate and scale your business, it's important to work with a good Virtual Assistant.
So this program definitely has its value but whether it's worth $197, I don't really think so. There are a lot of good resources out there to help you on this for FREE.
So this upsell is up to you to decide.
Upsell #3: 24 Hour Book Program ($17 one-time fee)
​https://en.wikipedia.org/wiki/Amazon_Kindle​​​This program will teach you how to write a book in 24 hours. So it's basically for people who want to write their own eBooks instead of outsourcing it and let other people to write it for you.
If you're good at writing and want to write the book yourself, this program is very suitable for you and it's really inexpensive as well.
How to Make Money with K Money Mastery?
Now comes to the real meat of this review. How do you actually make money with K Money Mastery?
Here are the general steps behind making money from Amazon Kindle Publishing:
Select a Profitable Niche
Niche & Keyword Research
Create your eBook content, title and cover (you can outsource all these)
Publish Your book on Kindle
Promote & Market your book
Rinse & Repeat the Process (Create more eBooks to sell)
Scale up your Kindle Publishing business
This is the rough outline and steps you need to take in this business. There are definitely a lot more details which Stefan will cover in his course.
Take a look at the 21 lesson overviews in his KMM course:
The Good
Excellent Course: Stefan's course is very detailed and step-by-step. It's also very beginner-friendly. People with absolutely no prior experience in Kindle Publishing (like myself) can easily understand the steps and execute them properly. Overall, it's just a very comprehensive course at an affordable price.
30-Day Unconditional Money-Back Guarantee: Not only the price is reasonable, it also comes with a 30-day unconditional money-back guarantee. So I feel KMM is a very good program that you can invest in if you're interested in Kindle Publishing. There's no risk involved since you're covered with this 30-day guarantee.
---
The Bad
Poor Support: Like I've mentioned earlier, the regular KMM membership does not come with proper support. You only have access to their FAQ page and their support Email should you have any issues. Private Facebook Group is only offered in Full Disclosure Membership.
Little Help on Writing itself: KMM focuses on teaching people how to outsource product (eBook) creation instead of writing the book yourself. So if you're interested in writing your own eBook, you need to purchase their upsell on "24 Hour Book Program which costs a $17 one-time fee.
Important Things to Take Note!
1. A Lot of Hard Works are Involved
Just like any other sales page, Stefan has made earning money from Kindle Publishing sounds very easy and all you have to do is to purchase his course.
However, just to remind you that this is still a business. Although you can outsource a lot of things at the start, you still need to put in a lot of effort in promoting your eBook and pushing up its ranking in Amazon.
All these still requires time and effort. This is not a program where you can make some fast cash or get rich quick. It has its potential like Stefan has demonstrated, but hard works are still involved.
2. Content Quality is Important
Stefan recommends to use a platform called Fiverr.com for outsourcing. You can easily get a professionally designed eBook cover at $5 from Fiverr. That's great!
However, outsourcing eBook content creation is the more difficult part. There are a lot of writers out there and we must admit that not all of them legit and really good at writing.
So, if your main focus is to look for cheap opportunities to outsource your eBook, you'll probably end up with a really lousy eBook.
No matter how good you are at promoting your eBook, if the content is lousy, you won't make a lot of money from it and you'll start receiving a lot of negative reviews that will hurt your eBook ranking on Amazon.
If you are serious in this business, you should put a decent focus on the eBook content because it's a crucial determining factor of the success of this eBook.
Another downside of this is that you probably need to spend up to a few hundred bucks to get a better writer. So you have to consider this into your budget as well before investing in KMM.
3. Declining Kindle Trend
This is a very important thing you need to consider.
Amazon Kindle was first launched in 2007 and it gains the highest popularity in 2011. However, the popularity of Amazon Kindle has been declining after that.
Take a look at Kindle's trend from 2011 to 2018:
As you can see from the graph, people's general interest for Kindle has been declining over the years. That's why I doubt this business model and this K Money Mastery course can be evergreen.
This is just an additional point you should consider before investing into this program.
Stefan achieved massive success in Kindle Publishing between 2011 and 2013. One of the reason is probably because Kindle was the most popular during that period and the competition is still relatively low.
4. Competitive Kindle Market
At the time when Stefan got started in Kindle Publishing, there weren't many people doing this business so the competition is pretty low. There are a lot of profitable niches for you to tap into.
However, Kindle is very competitive today. There are often hundreds of eBooks on the same topic. It's really hard for you to stand out from the crowd and rank high in Amazon easily.
Just keep in mind that this business is not as easy as it sounds according to Stefan, despite it definitely has its potential.
Side Note: The Difference Between KMM 1.0 & 2.0
Stefan first launched K Money Mastery in 2013. Since then, there are a lot of changes happening in the industry so he launched K Money Mastery 2.0 in 2015.
Here are some of the difference between the two versions:
More updated & improved course materials (obviously)
All the lessons, videos and PDFs are all brand new
More focus on Fiction books (KMM 1.0 only focus on non-fiction books)
More ways to market your eBook and get Amazon reviews
KMM 1.0 course materials are not taken down from the membership site. This means like if you're a member of KMM, you'll have access to both 1.0 and 2.0
KMM 2.0 is FREE for people who have pruchased KMM 1.0
Here's a video which Stefan explains about KMM 2.0:
Is K Money Mastery a Scam?
My verdict is that K Money Mastery is not a scam at all. It is a legitimate course to teach people about Kindle Publishing and how to make money by selling eBooks on Amazon.
Also, as you can see from the video, Stefan is a very authentic person who is passionate about helping people and adding values to other people's lives.
My only concern is that Kindle Publishing is not as easy as it used to be due to the intense competition and declining popularity. So my doubt is that this may not last forever.
My Top Recommended EVERGREEN Business...
Since you're interested in making money online, I would highly recommend you to learn more about affiliate marketing.
In affiliate marketing, you're not just limited to selling eBooks. You can sell literally any products online. What's even better is that you don't need to worry about creating your own product like the case in KMM. All you have to do is to promote other people's product.
In addition, E-commerce is a constant booming industry which we can expect to reach $4 Trillion E-commerce retail sales worldwide in 2020. Since affiliate marketing is directly tied to E-commerce, it is an EVERGREEN business model!
Instead of selling eBooks (which not all of you will be interested in), you can build websites in any niche market you like and promote any products online in affiliate marketing.
So, you should never miss this great opportunity to build this evergreen business.
In fact, with affiliate marketing...
I've personally created a 4-Figure Monthly Passive Income Stream and become financially independent at just 21 years old without any College degree or working experience!
Through my own hard work, I went from a broke restaurant waiter to living my dream laptop lifestyle in less than a year's time...
If you want to discover the secrets of how I did it at such a young age, click here!