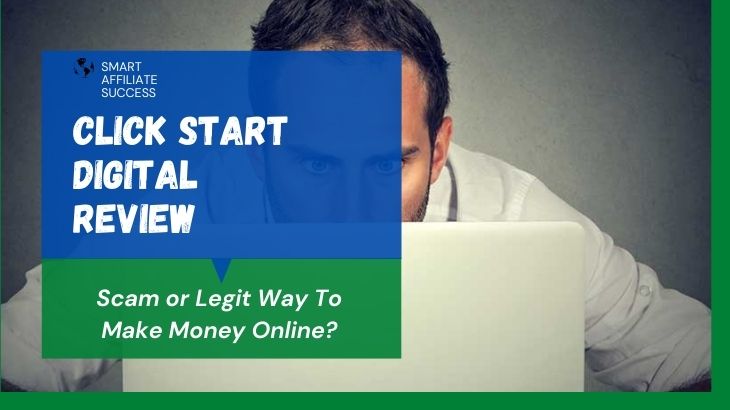 Click Start Digital Review – An EXPENSIVE Ecommerce Platform!!!
Welcome to my Click Start Digital review!
Today, we're looking at an ecommerce program that should be able to fulfill your needs as an entrepreneur. But is it going to be worth investing on?
We'll find out in this Click Start Digital review.
First of all, I must Congratulate you for taking your time to do your own research before buying into any "seemingly good" product.
That's the way to avoid scams and find the legitimate way to make money online!
Let me be completely transparent with you, I'm not associated with Click Start Digital in any form.
So, rest assured that I'm not here to pitch or sell anything to you.
Instead, I'm here to reveal what this platform has to offer...
Click Start Digital Review Summary
Product Name: Click Start Digital
Founder: Not disclosed
Product Type: Ecommerce Platform
Price: $7,850 plus other expensive options
Best For: No one!
Summary: Click Start Digital is an ecommerce platform that costs a lot of money, and we mean a lot of money. I mean that's what you expect for having someone else build your website, and more...
Rating: 50/100
Recommended: Yes and No!
More...
What is Click Start Digital?
Click Start Digital is an ecommerce platform designed to meet the needs of ecommerce enthusiasts and entrepreneurs who want to skip all the hassle of creating their own store.
The program is simple and works in three easy steps:
Step 1 - Choose your niche. Click Start Digital has various niche markets that you can choose from. If you don't like any of the niches they have, you can talk to their support team and they'll build a store from your requirements.
Step 2 - Select your package. Click Start Digital has 6 packages to choose from, each with their own pricing.
Step 3 - Pay to play. Once you've selected your package, just proceed with the checkout page, pay, and wait for your website to go live.
Click Start Digital has about 700 customers with live businesses, so there's clearly something here worth checking out.
Inside Click Start Digital
Once you're a paid member of Click Start Digital, you get access to:
24/7 customer support

One-on-one weekly coaching calls via Skype

Full access to their training hub
The training hub contains 5 modules, or steps, to running an ecommerce business. At the end of each module, you'll take a quick test to gauge your new knowledge and to determine if you need to rewatch the previous module or not.
Step 1 – Getting Started
Step 1 contains four lessons and is your basic introductory module. This covers topics such as mindset training, WordPress training, and more.
Step 2 – Suppliers and Products
The second module contains 10 lessons and focuses on working with suppliers and finding the right products.
How to Find Suppliers.

How to Choose the Best Products.

Product Upload Guidelines.

How to Manually Upload Products.

How to Automate Product Uploads.

Setting Up Variable Products.

Shipping, Fulfillment, and Returns.

Manufacturing a Product.

Packaging.

AliExpress.
I'm Jerry!
I Created My Own 4-Figure Monthly Passive Income at just 21 Years Old!​
Step 3 – Ready to Launch
Third module has 6 lessons and covers everything you need to know before launching your new online business.
There are 6 lessons here in total and they cover everything you need to do before you launch your new online business:
Finalizing Your Website Pre Launch.

Search Engine Optimization.

Coupons, Discounts & Contests.

Payment Providers.

Customer Service 101.

Add in Analytics Code.
Step 4 – Social Media
The fourth module covers social media and how to use it to promote your business.
Setting Up Your Social Media.

Social Media Mastery.

Social Proofing.

Social Media Automation.
Step 5 – Marketing
The fifth module contains the most important lessons, and here you'll learn about identifying your target audience and how to find relevant products that they'll find interesting, and selling it to them.
The module contains 7 lessons, and they are:
Your Target Audience.

Setting Up Facebook Ads.

Retargeting. nce and show your new products to people that are already familiar with your brand.

Google Shopping Ad Training.

Email Marketing.

Influencer Marketing.

Blog Posts & Content Creation.
Step 6 – Analytics
The last module covers everything you need to know about tracking your visitors and other aspects of analytics. You'll be able to adjust your website's content to give your customers a better experience whenever they visit.
There are only 5 lessons on here:
Google Analytics Training.

Common Reasons for Not Getting Sales.

What to Do When You Feel Stuck.

Abandoned Carts.

Google Tag Manager.
How Much Does Click Start Digital Cost?
Click Start Digital has 5 different tiers, but if you want to avail of the customized websites, you need to sign up for the silver package at the minimum. The package will cost you $7,850.
Then you have the other tiers:
Gold Package – $10,990

Platinum Package – $15,490

Diamond Package – $17,490

Elite Package – $23,490

Elite Plus Package – $25,490
Who's Click Start Digital For?
Click Start Digital is for people who are dead serious about kick starting their ecommerce journey. The amount of money you need to invest here is just astounding.
Imagine spending thousands of dollars and not fully committing your time and effort here.
Click Start Digital Ugly Truths Revealed!
#1 EXPENSIVE!!!
Click Start Digital is as expensive as it can get. You're spending close to $10,000, or maybe even more. That's a hefty investment if you ask me.
#2 Not For Beginners
Frankly, this isn't something that beginners should be worrying themselves with. There are far more affordable courses out there that teach you about ecommerce.
What I Like About Click Start Digital?
#1 Done-For-You Store
This is probably a good feature from Click Start Digital. I mean, you're already spending close to $10,000 so might as well get a good-looking store, right?
They have about 700 members and counting, so that means they're doing something right. And you've got about 700 people or so who were willing to invest in this course.
Is Click Start Digital a Scam?
Click Start Digital is far from being a scam. It's a legitimate ecommerce platform/community with a decent training course in place.
It's quite expensive, and it's not exactly the first course that beginners should be investing on.
But if you have the cash for it, and the experience already, then this might be a good investment.
How I Make a Living Online?
I've personally created a 4-Figure Monthly Passive Income Stream and become financially independent at just 21 years old without any College degree or working experience!
Through my own hard work, I went from a broke restaurant waiter to living my dream laptop lifestyle in less than a year's time...
If you want to discover the secrets of how I did it at such a young age, click here!