8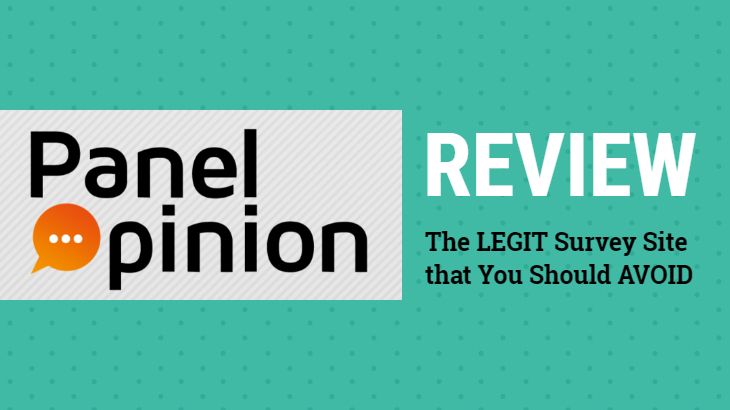 Panel Opinion Review: The LEGIT Survey Site that You Should AVOID
If you want to earn some extra cash online, Panel Opinion may be something you want to look into. It claims that you can earn £1 per survey or more.
In this Panel Opinion review, let me walk you through this platform and see if it is a good way to make money online for you...
Panel Opinion Review Summary
Summary: Panel Opinion is a legitimate paid survey site with very high user-rating. You can make some extra cash for sure but like all survey sites, the earning potential is very small.
Rating: 75/100
Recommended: Legit but NOT Recommended
More...
Panel Opinion is a regular paid survey site where you can earn money by filling up survey forms online.
The reason that Panel Opinion pays you for your opinions because there are brands and companies out there who want to find out more about their products or their potential customers' needs in their market.
That's why they work with market research companies like Panel Opinion and they pay these platforms a fee to get the surveys they want.
On the other hand, Panel Opinion uses that money to reward the survey takers for their time and opinions.
How does Panel Opinion Work?
Here are the steps for you to get started:
Create a FREE account with Panel Opinion here
Fill up your General Questionnaire
Wait for available survey updates
If you're qualified for the survey, you just need to spend some time to complete the survey and get cash reward.
After you've reached the payout threshold of £10, you can cash out your money via PayPal or bank transfer.
Upon signup, you must complete the General Questionnaire because that's the information needed for them to determine which survey is suitable for you. They won't make all surveys available for every one because that defeats the purpose of surveys.
Companies need feedback and opinions from their target demographic, so filling up the General Questionnaire allows them to determine if you're the target audience for that particular survey.
After filling up the GQ, you'll be rewarded with £0.20 straightaway. Not a bad deal.
There are many more questionnaires in different categories for you to do. (e.g. Finances, food, transportation, home, etc...)
You'll not be rewarded for these questionnaires but the more questionnaires you complete, the higher chance of you getting an available survey update.
The more survey updated, the more survey you can take and thus the more money you can make.
I'm Jerry!
I Created My Own 4-Figure Monthly Passive Income at just 21 Years Old!​
3 Ways to Make Money with Panel Opinion
#1 Completing Surveys
This is very straightforward. Taking surveys is the main way for you to make money with Panel Opinion.
You'll be updated whenever there's an available survey for you to take. Surveys will usually take around 10-20 minutes to complete.
You can earn £1 per 10-minute survey on average and up to £2 for longer surveys.
#2 Daily Mini Poll
On PO's homepage, there's a Mini Poll section where you can participate and earn £0.02 by just selecting an option which can be easily done in 5 seconds.
However, there'll only be one mini poll per day. So this is definitely not something you can expect to earn some decent income. It's just an extra £0.02 per day. LOL!
Since I've completed my General Questionnaire and a Mini Poll, my account balance is £0.22 so far.
#3 Refer Your Friends
​There's a section where you can invite your friends to join Panel Opinion and take surveys. In return, you have the following 2 benefits for referring people into PO:
You'll receive more surveys
You can join their weekly lucky draw for

£10 voucher
The Good
Free to join: Completely FREE, No hidden fees or upsells
Short & Easy surveys: People love the most about Panel Opinion is their easy-to-do surveys, unlike some survey sites that requires people to spend 30 to 40 minutes or more just to take one survey.
Take surveys on all your devices: Panel Opinion is available not just on laptops, but it also has mobile application for tablets and phones.
Low Cash out Threshold: Panel Opinion allows you to cash out your money once you reach £10, unlike some other survey sites that requires you to reach a threshold of $100.
Cash Rewards: Panel Opinion doesn't play the "point system game" like many other survey sites. It rewards you with cash straightaway.
Over 10 years of experience within the Market Research Industry
High User-Rating: Panel Opinion has a really high rating on Trust Pilot, Survey Police and Review Centre (See screenshots below)
---
The Bad
Not many survey opportunities: There main disadvantage of PO is that the surveys available are too little. There's often no surveys for you to do.
Very low earning potential: Just like any paid survey sites, taking online surveys is really not worth your time because the amount of money you can make is just too limited.
Panel Opinion is definitely not a scam. It is a platform that offers legitimate online surveys which are easy-to-do.
Judging from the fact that it has a really high rating on multiple platforms, I'm sure it's quite clear that this is not some paid survey scams like Gold Opinions and Survey Money Machines.
However, all paid survey sites have one common disadvantage and that is the low earning potential.
Honestly, taking online surveys is a really stupid way of making money. Even a local part-time job can earn more than online surveys.
As always, I'll not recommend anyone to dive into survey taking despite Panel Opinion is a legit platform.
How I Make a Living Online...
Affiliate Marketing is my top recommended business model for anyone to make money online.
The reason is simple...
You don't have to recruit anyone to make money like what people usually do in MLM
You're building your own passive income stream for your financial freedom
It's Free to get started
In fact, with affiliate marketing...
I've personally created a 4-Figure Monthly Passive Income Stream and become financially independent at just 21 years old without any College degree or working experience!
Through my own hard work, I went from a broke restaurant waiter to living my dream laptop lifestyle in less than a year's time...
If you want to discover the secrets of how I did it at such a young age, click here!