12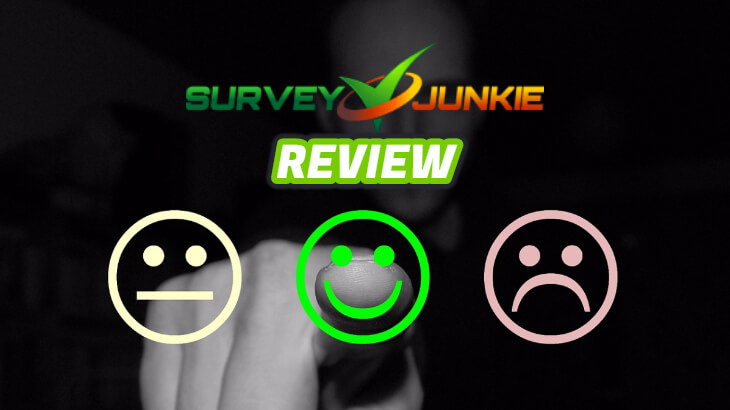 Survey Junkie Review: Is it Worthwhile Earning $2 Per Survey?
This is yet another paid surveys website review. Most paid surveys are simply scams but Survey Junkie is very different. It has a really high rating in the industry so I feel it's a good idea to investigate this website a little bit more and write this Survey Junkie review.
Survey Junkie Review Summary
Product Name: Survey Junkie
Founder: Founded by Armen Adjemian in 2005
Product Type: Paid Survey Portal
Price: FREE
Best For: Anyone who wants some extra cash
Summary: Survey Junkie is one of the very few legitimate paid surveys sites in the market. Members do earn what they deserve so it's a good opportunity to make some extra cash. But just like all other paid survey sites, none of them can make you rich.
Rating: 80/100
Recommended: Yes
Paid surveys will never make you rich. It only allows you to earn some extra cash. If you are looking for ways to make real passive income online so that you can achieve financial freedom, check out My Top Recommended Program Here!
More...
What is Survey Junkie & How it works?
Survey Junkie as its name suggest, it's a platform where you'll be rewarded for giving your opinions and completing surveys.
Many companies are working with paid survey sites like Survey Junkie to get feedback and opinions on their product or services to help them improve.
So these companies pay platforms like this to leverage the traffic they have. On the other hand, these survey platforms pay its members to help them complete the surveys.
This is roughly the same for all the survey sites out there. But like many of you already know, there are lots of scammy and spammy survey sites out there that are just wasting people's valuable time.
But Survey Junkie is different. I'm telling you upfront that this is one of the only few legitimate paid survey sites because they have valid surveys and they do pay their members on time. (You'll discover the benefits of Survey Junkie later on but just stick with me first)
How to Make Money with Survey Junkie?
The process of making money with Survey Junkie is quite simple.
Create an account here (completely FREE)
Fill in your personal particulars like age, contact info, your preference, etc. (Don't worry! Phone number is not required and Survey Junkie will not spam you or sell your information to other companies like some other platforms do.)
After signing up and filling up your info, you'll first be credited 25 points (=$0.25) for setting up your account.
You can start browsing through the available surveys that are relevant to you.
Different surveys will reward you with different amount of points depending on the length and time required.
Points can then be cashed out to your PayPal account or in the form of e-GiftCards (only for US residents).
Things to Take NOTE:
The main purpose of filling up some of your personal information and preferences is for them to send you relevant surveys that you're qualified for.
They do not give every member the same surveys simply because different surveys have different target audience.
Survey Junkie rewards you in the form of points at first. When you meet the threshold, you can cash out to your PayPal or via e-GiftCards (e.g. Amazon GiftCard).
1000 points = $10
It's average about $1 to $3 per survey
The minimum threshold for you to cash out your points is 1000 points.
Each survey takes about 5-20 minutes and you can earn anywhere between 50 to 450 points
For more detailed information, please visit Survey Junkie's FAQ page.
I'm Jerry!
I Created My Own 4-Figure Monthly Passive Income at just 21 Years Old!​
The Good
1. Low Threshold of $10
Some paid surveys companies have a payout threshold of $100 or more. A lot of people just can't get their money because of the high threshold required.
Survey Junkie is very different because its payout threshold is surprisingly low! This means that people can get their money faster and easier.
2. Large Survey Inventory
Survey Junkie has been in business since 2005. It not only has millions of members but there are a lot of companies working with them. So they definitely has a large survey inventory for everyone.
3. FREE & Easy to Signup
This requires no further explanation. The sign up process with Survey Junkie is pretty easy and it's completely FREE. (Stay away from those paid survey sites that requires you to pay!)
4. Survey Points have NO Expiry Date
You can keep the points you earn for as long as you want before you cash out. This means that you don't need to worry about your points even if you haven't reached your payout threshold.
The only requirement for this is that you need to complete at least ONE survey in a YEAR, which is very simple.
5. Payout is on Time
The points you earned for completing each survey will be rewarded to your account immediately after. Cashing out the points doesn't require much time also. Most important thing is that majority of the members have good experience for getting paid the money they deserved.
6. No Longer a Middleman
Survey Junkie used to be a "middleman" between survey takers and market research companies. Just like Survey Money Machines, you are required to keep signing up for different market research companies to take different surveys.
Survey Junkie no longer does that. You can now take surveys directly within Survey Junkie without going to different websites to sign up for even more surveys.
7. Good Overall Rating
Last but not least, unlike many other paid survey sites, Survey Junkie has a pretty good rating on TrustPilot and BBB Accredited Business Profile. It has a 4 out of 5 stars review on TrustPilot and an A+ review on BBB.
You can see some of the good reviews below:
---
The Bad
1. Spam
Just like many other paid survey sites, Survey Junkie used to receive a lot of complaints about sending lots of Emails and spamming people. But currently, they have improved a lot on this.
2. Account Deleted
There are instances where member's account gets deleted without notice. But that may probably because the user has violated some of the rules.
3. Not Rewarded for Completing Surveys
This is one of the more serious concern in my opinion.
There are complaints from members saying that after they've completed or almost completed a particular survey, Survey Junkie told them this survey is already full or they are not qualified for this survey.
So instead of getting the points they deserved, they are only rewarded with 2 points for the effort. This can waste a lot of people's valuable time for doing the survey.
4. Not as Many Surveys as Expected
Since they want to get high quality surveys, the surveys they offer each member are highly targeted according to your personal information and preferences. So sometimes you may find that the available surveys are quite limited.
By refreshing the page, there may have more surveys available for you.
5. Not Available Everywhere
Currently, Survey Junkie only accepts people residing in United States, United Kingdom, Canada and Australia.
Reason being is that the companies working with them are mainly from these countries. So targeting people in the same countries allow them to get more relevant surveys.
A Much Better Way to Make Money Online...
Despite Survey Junkie is a legitimate platform to make some extra cash, they are honest upfront telling you that you won't be rich taking surveys.
The most you can do with paid surveys is probably treat yourself and your family an additional good meal once a month or pay off some of your bills.
Everything you do with paid surveys still takes time and everyone's time is limited.
If you're happy with spending a few hours per week taking surveys to pay off some of your bills, then go ahead to sign up with Survey Junkie.
However, I just want to tell you that everyone has the capability to make a full-time passive income online and achieve financial freedom. It's just a matter of fact whether you are willing to put in the time, effort and investment to make it happen.
I'm serious. Literally, every single one of you who are reading this right now can make a full-time passive income online!
You just need to believe in yourself, have the right mindset and follow the right system.
I've personally created a 4-Figure Monthly Passive Income Stream and become financially independent at just 21 years old without any College degree or working experience!
Through my own hard work, I went from a broke restaurant waiter to living my dream laptop lifestyle in less than a year's time...
If you want to discover the secrets of how I did it at such a young age, click here!