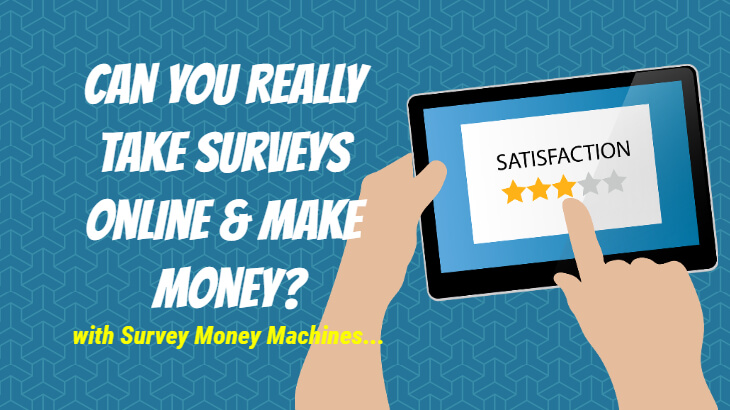 Survey Money Machines Review: Is it Even Possible to Make Extra Cash?
Making extra cash online by completing surveys has been hot for some time and there are many companies doing this. Survey Money Machines is just one of the many.
In this Survey Money Machines Review, let's take a look at whether SMM is yet another paid surveys scam or is it a legit opportunity for cashing in some extra pocket money.
Survey Money Machines Review Summary
Summary: Survey Money Machines is a free platform which will direct you to many different survey companies to do surveys and get paid. However, the time invested into signing up and doing all these surveys is not worth the small amount of money you may be making (if any) at all.
Rating: 20/100
Recommended: No
More...
What is Survey Money Machines?
Survey Money Machines is a platform that allows you to make some extra cash online by completing surveys. It claims that you can get paid by:
Doing online surveys
Answering phone surveys
Previewing movie trailers
Trying out new products
It is founded by Hailey Gates, who claimed herself to be a stay-at-home mom and making good money by doing surveys online.
However, you're not going to do surveys and get paid directly on SMM website. Instead, SMM is just a platform that collects a lot of survey companies or what they called the "market research company". So, you'll be directed to many different company websites to sign up and do surveys.
Hailey, the founder of Survey Money Machines, claims that they are partnering with more than 200 market research companies so you have lots of paid surveys opportunities while working with them.
In reality, she is affiliated with all these different companies so she'll get paid when you sign up with them.
I'm Jerry!
I Created My Own 4-Figure Monthly Passive Income at just 21 Years Old!​
How to Make Money with Survey Money Machines?
Firstly, you'll need to create a free account at SurveyMoneyMachine.com and Hailey will send you a 7-Day Email course which she said it's to help you get more paid surveys opportunities and make more money.
However, since she's affiliated with all these companies, she'll recommend you to sign up with as many survey companies as you can as the "strategy to get more opportunities and make more money". In reality, the more you sign up, the more money she will be making. Simple as that.
After you've signed up with the survey companies like Ipsos i-Say or Springboard America (the top 2 Hailey recommended me to sign up), they'll give you surveys to complete and reward you with POINTS, NOT CASH!
You need to accumulate your points to a certain threshold before you can cash out or redeem for other things.
The Good
Some of the surveys are legit and you can really make some cash by doing them
Instructions are easy-to-follow
No particular skills, knowledge or qualifications needed
The Bad
It takes up a lot of your time just to earn a few bucks (if you earn any at all)
It's not that easy to earn money like what Hailey had promised
Most of the survey companies have threshold for you to meet before they pay you. This threshold may take a long time for you to reach
Some of the websites Hailey recommends you to sign up for are not actually survey sites. In fact, Hailey is paid to refer you to these websites.
You'll be giving out a lot of your personal information if you decide to be honest with it
You'll receive a lot of spams despite Hailey promised that the websites she recommends won't spam you (that's why she warned you to read every company's Privacy Policy)
Hailey offers a 7-Day paid survey course which is seemingly helpful. But in reality, she is just recommending websites which pay her commissions to get you signed up
Hailey claims that this is only for residents in the US, Canada, UK or Australia
You're not actually rewarded directly with cash for doing surveys like what Hailey promised. In fact, you are earning points which can be used as sweepstakes to bid for auction items
Some of the companies requires you to purchase the items which they want your opinions on and they may charge you if you don't return the product
So, Should I Join Survey Money Machines?
Judging from so many disadvantages of SMM, I'm sure the answer to quite clear.
I can't call this a scam when it is completely free to join but it is just something that doesn't fully deliver to what it promised.
On top of that, you really won't get rich or even make a decent income from it.
How I Make a Living Online...
Affiliate Marketing is my top recommended business model for anyone to make money online.
The reason is simple...
You don't have to recruit anyone to make money like what people usually do in MLM
You're building your own passive income stream for your financial freedom
It's Free to get started
In fact, with affiliate marketing...
I've personally created a 4-Figure Monthly Passive Income Stream and become financially independent at just 21 years old without any College degree or working experience!
Through my own hard work, I went from a broke restaurant waiter to living my dream laptop lifestyle in less than a year's time...
If you want to discover the secrets of how I did it at such a young age, click here!