22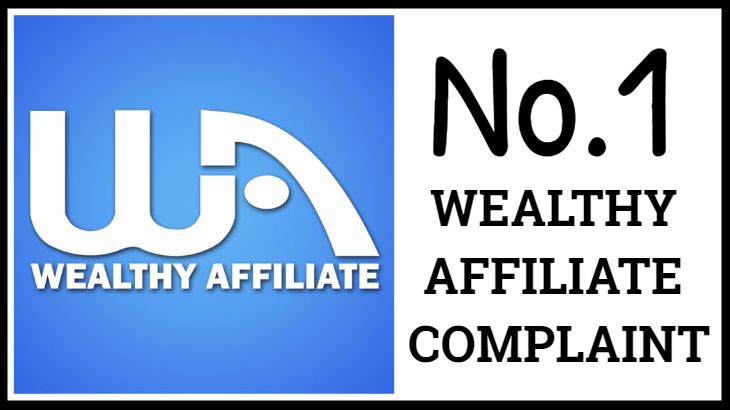 #1 Wealthy Affiliate Complaint (I'm Biased but You Gotta Read This!)
Let me be 100% transparent with you. I'm a member and an affiliate of Wealthy Affiliate.
I've been a Premium member of Wealthy Affiliate University since May 2016. Since then, I have been a pretty active member until today. And I'm sure I'll continue to be an active member for as long as I can.
The reason being is that WA is by far the best training platform for anyone to achieve success online and make a great passive income for life.
If you're a member of another program or you have been a critic of Wealthy Affiliate, I know exactly what you're thinking.
You're thinking that I am another scammer blatantly promoting WA and trying to "recruit" more members into the system, right?
Well, if you're having that kind of mindset, I would recommend you to take a few minutes and read this post thoroughly.
Because I'm going to tell you the number one Wealthy Affiliate complaint and why it is untrue. I'm also going to reveal to you the latest update in the digital marketing industry.
You gotta read this... I'm speaking with 100% honesty!
More...
The No.1 Wealthy Affiliate Complaint
Wealthy Affiliate is a very awesome platform. That's why there are not many disadvantages and drawbacks people can complain about, except ONE.
The most common complaint against WA is...
Wealthy Affiliate members are scammers because all they do is to call all other programs a scam and lure people into joining WA.
True or true?
I'm sure many critics of WA can relate to this, right?
I know where you are coming from and I can understand exactly why you may feel this way.
WA's Affiliate Bootcamp course is indeed teaching people how to build a website in the "Make Money Online MMO" niche and write reviews so that you can convince people to join WA.
But I want you to think about the 4 following points that I'm going to share with you, which I believe they will change your perspective towards Wealthy Affiliate...
1. I Apologize for the Newbie WA Members
Like I've mentioned just now that Affiliate Bootcamp is the course which teaches members how to invite people into WA by creating quality contents on our websites.
This is when people start to write reviews on all sorts of products and programs online and call them scams.
This is true but most of the WA members are completely honest when they're writing their reviews.
If you look closely, we don't anyhow call other programs scams unless they are really awful.
We acknowledge and appreciate the fact that each product has their own values and benefits. So what we are doing is to weigh their pros and cons against Wealthy Affiliate.
Most of the time, we will come to a conclusion that WA is a better choice because of whatever reason depending on the context.
The phrases we use are:
"XXX product is not recommended because..."
"My Top Recommended platform is..."
We won't call every program a scam unless it really it, for example if it's a very obvious pyramid scheme.
If you ever see any WA member keep calling other products a scam unreasonably, I'm sure he or she is just starting out and doesn't fully understand how this thing works.
I sincerely apologize for these newbies!
If you ever came across somebody doing this, let me know in the comments below or drop me a message through my contact form. I'll reach out to them and teach them the correct way of writing reviews.
2. WA is NOT MLM
Some of you may think that WA is a Multi-Level Marketing (MLM) because what we are doing is to "recruit" members into the system.
Well, that's totally untrue!
If you truly understand how MLM works, you'll know that they have a system which forms something like a spider web or a pyramid where downlines and uplines are all connected.
In WA, there are no downlines and uplines because we are only earning commissions from our direct referrals. We won't be compensated for new members joining under our referrals. So, it's pure affiliate marketing!
This is just like you can earn a small commission when you refer somebody to drive Uber. That is affiliate marketing. The commission you earned is known as your affiliate commission.
I'm sure you won't call Uber a MLM business just because you get paid to refer new drivers, right? That's the same concept with Wealthy Affiliate.
3. WA is NOT a Pyramid Scheme either
"A pyramid scheme is a business model that recruits members via a promise of payments or services for enrolling others into the scheme, rather than supplying investments or sale of products or services." - Wikipedia
Basically, it means that the system is a pyramid scheme if it's main purpose is to recruit members without providing any real products or services.
However, Wealthy Affiliate has a lot of tools and services offered in their platform.
Let me just list down some of the things you can get at WA:
Website Hosting
Website Domains
Website Builder
50+ Main Training Lessons to help you set up your own affiliate marketing business
Weekly Live Training Class with their Chief Trainer, Jay
And many many more...
What's more exciting is that you are not restricted to promoting WA membership. Instead, you can build your website in any niche you like and make money from it.
Their main training is called the Online Entrepreneur Certification (OEC) course. It's main focus is to help beginners set up their own website in any niche, preferably their hobby. After that, it teaches them how to create content, get targeted traffic and make sales.
This can be about literally any niche. You can build a website about swimming, travelling, your cat, your bird, anything...
So, this shows that Wealthy Affiliate is NOT just about promoting its membership because members have a choice of what business/niche they want to go into.
It's definitely not like a pyramid scheme where you can only promote the system to others.
(Anyway, if you're interested to find out more about what you'll be getting at Wealthy Affiliate, check out my detailed WA review post!)
3. Which Company doesn't have an Affiliate Program?
Now, we've made it clear that WA is neither a MLM nor a pyramid scheme. It's purely an affiliate marketing business. 
My last question for you is which company/program doesn't have an affiliate program?
Definitely, there are companies without an affiliate program or have a poor affiliate program. That's why they are suffering today in this digital world.
For example, Toys "R" Us didn't manage its affiliate programs properly and it's now going bankrupt.
Almost all successful websites/companies/programs have an affiliate program to grow their business. Wealthy Affiliate is no different.
I have apologized for those innocent newbie WA members. So, is there any more reasons to criticize WA's affiliate program now?
If there is, let me know in the comments below and I'll look into it. I promise!
The State of Digital Marketing (Latest Update!)
I'm sure you can agree with me that there are too many scams out there trying to make money unethically, be it online survey scams, pyramid schemes in disguise, etc...
That's why I feel WA members are doing a justice for the society to expose these scams and save some innocent people's hard earned money.
Just recently, a very popular system called Digital Altitude (DA) has been shut down by the FTC because they are being identified as a pyramid scheme scam!
In fact, way before that, I've already written a review on Digital Altitude and claimed that it is a pyramid scheme. Everyone should stay away from it.
However, if you were a member of DA or a critic of Wealthy Affiliate, you would see me as another WA scammer trying to call other programs a scam while promoting WA.
Now, FTC has already proven that DA is a scam and I'm right.
I can confidently say that all my reviews on this website are my honest opinions. My goal is to write unbiased reviews and help people make the best possible decisions for themselves.
Update: Another very popular program called My Own Business Education (MOBE) has also been shut down by FTC just like what had happened to Digital Altitude.
These case studies from MOBE & Digital Altitude can really tell us a lot about the state of the industry so far.
I hope you can trust me and agree with me by now 🙂
(Definitely, if I made any mistakes for any of my review, I'm willing to apologize and update my reviews so that they are as accurate as possible. Simply drop me a comment below any of my reviews if you find any mistakes. Feel free to let me know what you think as well.)
Conclusion: Is Wealthy Affiliate Legit?
Wealthy Affiliate is definitely 100% legit. The question is whether you want to look at it with a pair of filtered sunglasses or not. 
Once again, I apologize for those innocent newbie WA members who are not honest in their reviews. But from my personal experience, majority of the WA members are completely honest and unbiased in their reviews.
We can confidently say Wealthy Affiliate is the best platform while comparing it to many other programs because it really is the best!
Instead of criticizing WA, why not give it a try?
You can test-drive the system for FREE and see it for yourself if I'm being 100% authentic here 🙂