8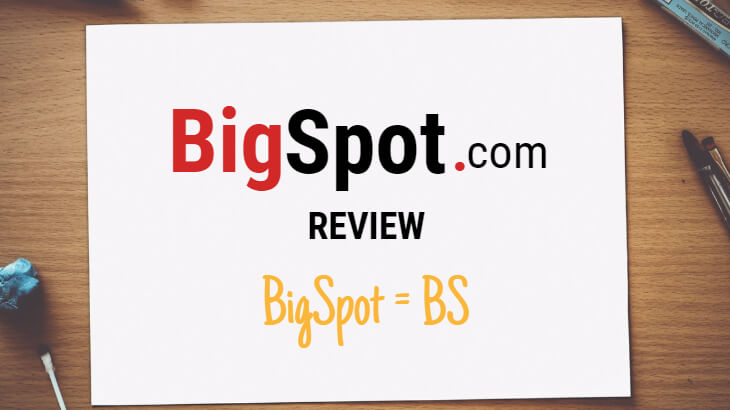 BigSpot Review: Is it just another SurveySay? (btw, BigSpot = BS)
BigSpot used to be promoted a lot on television advertising themselves as the reliable place for paid surveys. Is this true or is this just another paid survey scam? We'll find out in this BigSpot review...
BigSpot Review Summary
Product Name: BigSpot
Founder: Unknown
Product Type: "Middleman" between survey takers and survey companies​​​​​
Price: Free
Best For: The owner
Summary: BigSpot is not a scam but it is just another survey affiliate that is wasting your time. In fact, BigSpot is exactly the same as SurveySay.
Rating: 15/100
Recommended: No
More...
The Ugly Truths Behind BigSpot
1. BigSpot is NOT a Paid Survey Site
BigSpot is NOT a paid survey site. Instead, it is just a intermediary, or a "middleman", between survey takers and survey companies (i.e. market research companies).
So you won't be taking surveys directly on BigSpot's website and you won't be paid by BigSpot either. What you'll be doing is to sign up with other survey companies recommended by BigSpot and do surveys for them.
This is what happen after you sign up:
Enter your Email address, date of birth, gender and country (No password needed because they are just collecting your Emails and your personal information)
You'll be led to their offer page with five survey companies for you to sign up with.
They claim that the more you sign up the more survey opportunities you'll have
Your earnings will depend on each survey companies rules, which is totally none of BigSpot's business.
Being a middleman directing its users to different survey companies, the owner of BigSpot is actually earning money at the same time because the links it provides on its website are all affiliate links from these survey companies.
So obviously the biggest winner in this process is BigSpot. Their affiliate commission for referring you to other survey companies may even be higher than your earnings from taking surveys. This is highly possible. (I'm not 100% sure but it's just my guess)
3. BigSpot is Exactly the Same as SurveySay!
This comes the very interesting part.
Recently, I've just written a SurveySay review. I was shocked when I came across BigSpot because its EXACTLY the same as SurveySay. 100%
Let me show you the proof:
---
As you can see, every single page on BigSpot is exactly the same as SurveySay. Even the survey companies they recommend are the same. The only difference is just the logo. WTF!
Upon further investigation, I found out that these two websites are actually from the same company.
Take a look at their Terms & Condition page:
The company behind these two websites is called "Varsityplaza, LLC". I have absolutely no idea why this company wants to create two exactly same websites for the same purpose.
I'm Jerry!
I Created My Own 4-Figure Monthly Passive Income at just 21 Years Old!​
Since BigSpot is exactly the same as SurveySay, you can just see the detailed Pros & Cons from my SurveySay review. I'll just give you a brief list of pros & cons here:
The Good
The only advantage of BigSpot and SurveySay is just that they are free to use. But other than that they're pretty useless and time-wasting.
The Bad
You'll likely get spammed because you're giving your personal information away and they might even sell it to other companies
You'll just be wasting your precious time to sign up and get qualified for surveys
You'll hardly earn any money, if any
Taking up a part-time job is even more lucrative than taking online surveys
BigSpot has a lot of bad reviews on SiteJabber
Basically, BigSpot is exactly the same as SurveySay and they are even from the same company.
This kind of survey intermediary is not worth any single second of your time because the truth is that you can't earn a decent pocket money if you're lucky enough to earn some.
There's one interesting review on sitejabber that says...
"BigSpot = BS"
That's a very accurate explanation, LOL
How I Make a Living Online...
Affiliate Marketing is my top recommended business model for anyone to make money online.
The reason is simple...
You don't have to recruit anyone to make money like what people usually do in MLM
You're building your own passive income stream for your financial freedom
It's Free to get started
In fact, with affiliate marketing...
I've personally created a 4-Figure Monthly Passive Income Stream and become financially independent at just 21 years old without any College degree or working experience!
Through my own hard work, I went from a broke restaurant waiter to living my dream laptop lifestyle in less than a year's time...
If you want to discover the secrets of how I did it at such a young age, click here!