14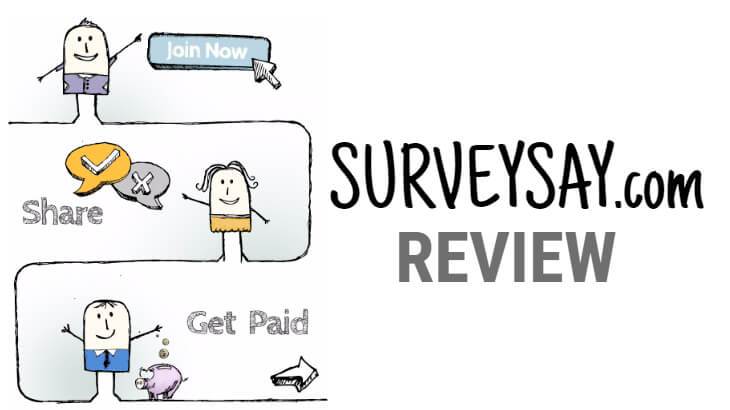 SurveySay Review: Not a Scam, but Pretty USELESS!
Once again, this is another paid survey review. Is SurveySay another paid survey scam or is it one of the few legit platform? Let's find out in this SurveySay review...
SurveySay Review Summary
Product Name: SurveySay
Founder: Unknown (Founded in 2008)
Product Type: Paid Survey "Middleman"
Price: FREE
Best For: The Owner
Summary: SurveySay is just a normal "middleman" affiliate site to refer you to other survey companies and make money in the process. Stay away from it because you will not earn anything much, if any.
Rating: 15/100
Recommended: No
More...
SurveySay is another very common platform that allows you to make money online by taking surveys. There are a lot of survey scams out there so you should be skeptical of this one as well.
However, let me tell you upfront that SurveySay is not a legitimate paid surveys portal because it is acting just like a "middleman" between survey takers and market research companies. This is the same for Survey Money Machines as well.
There are mainly two types of paid survey sites out there. One is where you can directly take surveys on their websites. Whilst, the other one is a "middleman" that directs you to other market research companies website to take survey and make affiliate commissions in the process.
So the owner of SurveySay is the one who makes most of the money from this process of referring you to different survey companies to take surveys. You won't be able to make much money, if any.
How to sign up with SurveySay?
Signup for SurveySay is completely FREE. Just go to their website here, enter your Email, date of birth, gender and your country.
Notice that they don't even ask you to set a password. This is because all they need is an Email from you so that they can send you more and more survey companies signup information. You're not actually creating and account, instead you're just opting in to their mailing list. That's all.
After you've opted in, you'll be led to the page where you are provided with 5 survey companies for you to sign up with.
In my case, they offer me the following five companies according to the information I entered:
Global Test Market
i-Say by IPSOS
Opinion Outpost
My Survey
Que Opinas
After clicking through their links, I can 100% confirm that they are just affiliate links. When you sign up with these survey companies, the owner of SurveySay will earn a commission.
How to Make Money with SurveySay?
For survey takers, you won't be making money directly from SurveySay. Instead, you'll need to follow the rules set by respective survey companies and they will pay you accordingly.
That's why there's no definite answer on how much you can actually earn because every company has different rules. Some people say you can make $0.50 per survey but all you need to know is that the money you can make out of taking surveys is just too little. A regular part-time job can earn you much more than taking surveys online.
There are 3 reasons why a part-time job is better than taking surveys:
The reward to get per survey is just not worth the amount of time spent. Your hourly earning will definitely be lesser than your part-time hourly wage.
Many survey companies have a threshold to be met before you can cash out your earnings. Some of these thresholds are just ridiculously high. $100 for many of them. As you know, making a hundred bucks online by taking surveys will take you a long time.
Some survey companies are even worse. They may not fulfill they payout for you because they say you violated some rules or whatsoever BS.
If you really want to take surveys online to earn some extra cash, Survey Junkie is one of the only legitimate survey companies which you can trust. And their threshold is just $10.
I'm Jerry!
I Created My Own 4-Figure Monthly Passive Income at just 21 Years Old!​
The Good
I guess the only good thing is that it is Free to join and you don't have to waste any money. Other than that, there's no other benefits of joining this platform.
The Bad
On the other hand, there are 2 main disadvantages:
Spam: By providing your information, you'll never know whether companies will sell them to others. Most resulted in a tons of spams in your Email. So, if you ever decide to try out paid surveys, make sure you sign up with a separate Email. Don't use the one you are currently using.
Wasting Your Time: Like I've mentioned above, you can't earn anything much, if you earn any. Many of them are just scams. SurveySay has no control in the quality of the survey companies because it is just a "middleman", an affiliate making money in this process.
Tons of Bad Review: As you can see on sitejabber, there are lots of negative reviews on SurveySay.
So, the conclusion for SurveySay is that it is not a scam because it doesn't charge you anything. All they are doing is to refer you to other survey companies and make money.
But it is just not a good place to make money, at least not for you!
How I Make a Living Online...
Affiliate Marketing is my top recommended business model for anyone to make money online.
The reason is simple...
You don't have to recruit anyone to make money like what people usually do in MLM
You're building your own passive income stream for your financial freedom
It's Free to get started
In fact, with affiliate marketing...
I've personally created a 4-Figure Monthly Passive Income Stream and become financially independent at just 21 years old without any College degree or working experience!
Through my own hard work, I went from a broke restaurant waiter to living my dream laptop lifestyle in less than a year's time...
If you want to discover the secrets of how I did it at such a young age, click here!