8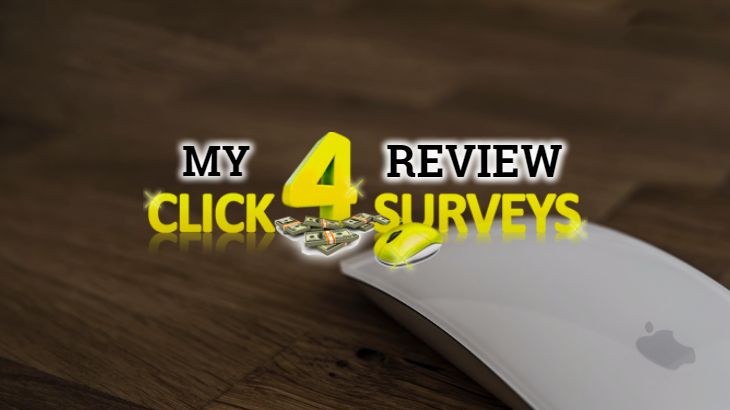 Is Click 4 Surveys Legit? (Fake website, fake testimonials…)
Does making $75 per survey sparks your interest?
Well, Click 4 Surveys claim that you can make up to $75 per survey with them.
I bet it excites some of you. But the first thing that comes to your mind, just like me, is whether Click 4 Surveys is legit.
Let me tell you upfront that Click 4 Surveys is a scam. In this review, I'm going to reveal to you 9 ugly truths behind this scam that you need to watch out for!
Click 4 Surveys Review Summary
Summary: Click 4 Surveys is a paid survey intermediary that requires you to pay to take surveys. They are using a lot of unethical methods to make money for their own so I conclude that it is a scam.
Rating: 5/100
Recommended: No
More...
Click 4 Surveys is a paid survey intermediary that allows you to sign up with survey companies and make money by completing online surveys.
Large companies around the world are spending money for market research to understand what their consumers want.
So they work with survey companies and survey companies pay you to do online surveys.
That's basically how the process of online paid survey works. Let's take a look at what Click 4 Surveys is promising you...
Click 4 Surveys Unrealistic Claims
As you can see from their sales page, they are offering a lot of unrealistic promises trying to lure innocent people into their system.
They promise you to:
Earn $5 to $75 per survey
$50 to $150 per hour
$500 to $3500 per month just by taking paid surveys
Change your life with Click 4 Surveys
Basically, they are using the standard marketing psychology to create false hopes in people's mind about the money they could make and how their lives would be.
If you read their sales letter closely, you can see that the guy named Daniel Cooper claimed that his life has totally changed due to taking surveys with Click 4 Surveys.
He went from couple hundred dollars in debt to earning couple thousand dollars per month just by taking simple surveys.
Let me tell you the truth, there's no way anybody can make a lot of money with online surveys. The most you can make is only some extra cash to pay your bills.
Click 4 Surveys is the only survey site I've seen that promised to change your life totally by taking surveys.
My answer is just one word...
IMPOSSIBLE!
Keep reading and you'll soon discover some of the ugliest truth behind Click 4 Surveys. It's really unethical I would say.
I'm Jerry!
I Created My Own 4-Figure Monthly Passive Income at just 21 Years Old!​
1. Fake Testimonials
We need to be aware of the fake testimonials today.
There are a lot of testimonials that are either made up by the creators or they hire "actors" to film those fake testimonials for their product to gain credibility.
In fact, there are people offering "fake testimonial service" on Fiverr.com. In the case of Click 4 Surveys, they are obviously using fake testimonial on their sales page.
Let me prove to you...
This is one of their testimonials:
And this guy is offering fake testimonial service on Fiverr!!
It's very obvious that this guy is just creating fake testimonials for sale to make money. You can check out his Fiverr gig offer page here.
The fact that Click 4 Surveys is using this shows that they are not honest at all.
Apart from this, I found out that they are using stock images for other testimonials.
Given this fact, do you still believe anything Click 4 Surveys promised you?
2. Fake Sample Survey
On their sales page, there's sample survey which you can try it out.
It's a survey with 11 questions which can be done within 2 minutes. But they claim that you can make $15 for completing surveys like this.
In this particular sample, they are asking simple questions like "How often do you purchase carbonated soft drinks?", "How often do you purchase bottled water?", "How many members are currently living in your household?", etc...
Seriously, if this kind of survey can make you $15 in just 2 minutes, everyone can be a stay-at-home millionaire just doing surveys everyday.
Again, this is just impossible.
3. Pay-to-Play
Pay-to-Play means you have to pay a fee in order to take the survey.
Click 4 Surveys is charging a one-time fee for anyone who wants to take advantage of their platform to make money. (I'll explain the cost to join C4S later)
According to wikiHow, there's no legitimate paid survey panel that requires members to pay any fee.
So Click 4 Surveys is obviously a survey site that requires you to pay-to-play. Simply stay away from such websites at all costs.
4. Fake Paid Survey Site
Another major reality revealed!
Click 4 Surveys is NOT a real survey panel which directly work with market research companies. That's why earlier on I described it as paid survey "intermediary".
In reality, C4S is just an affiliate website which refers members to sign up with various different survey companies.
Upon joining Click 4 Surveys, there will be some "training" to guide you along the platform. But in order for you to take surveys, they'll recommend you a list of survey companies for you to sign up with.
The truth is the more you sign up, the more money the owner of C4S is making. They earn a commission for every survey company you signed up with.
But for your information, all these survey sites can be found online for FREE. You don't even need to pay Click 4 Surveys in order to access these surveys.
In other words, all the money they claimed you'll be making in fake. Because they won't handle any of your money after you've paid them the one-time sign up fee.
The money you earned by completing surveys depends on the survey company you signed up with. The ones that will be paying you your earnings are those survey companies, NOT Click 4 Surveys!
5. Affiliate of an Affiliate
This is really interesting!
C4S is an affiliate website in the first place. However, they are offering their own affiliate program for you to refer more people into their platform.
If you become their affiliate and promote their platform, you're actually an affiliate of an affiliate. LOL!
6. Unknown Founder & Company
Click 4 Surveys uses the name of Daniel Cooper throughout their sales letter. But who knows if this is the real founder or even a real name or not.
Maybe it's just a fake name that they came up with because there's no way to find out who is the person or the company behind this platform.
I can understand why. If you're doing something bad and unethical, would you let people know who are you? Obviously not!
7. Shameless Downsell
Now, let's talk about their pricing options...
On their sales page, they didn't include any price. All they ask at the end of the page is your name and Email address.
They are pretty smart here because they are capturing your Email first before you even see the price. So they can follow-up with you afterwards even if you don't purchase it.
After you gave them your Email, you'll be led to a page with the pricing options.
The normal price they are charging is $97 which is ridiculous. But they have a discount code which I believe is there all the time.
After you enter the discount code, the price will be $34. However, if you didn't purchase it and want to leave the page, there will be a pop up saying that there's even more discount for you.
Eventually, C4S will be offering you their membership at $19. This downsell just shows how eager they want your money!
8. Unethical Upsell
After you enter their members area, you'll be greeted with a page like this:
​The first thing they want you to do is to click on the link to watch your FREE video.
If you click on it, you'll be led to different scammy upsell pages. For example, you'll be led to sites like:
My Mobile Money Pages
Auto Profit Replicator
Verified Trader
Insured Profits
Done-for-you Profits
These are all unrelated websites which C4S is affiliated with. What does trading has to do with taking online surveys?
If you try clicking on the link several times, you'll see that they're just leading you to different pages and sell you something.
This is really unethical. If you want to offer an upsell, at least offer something related.
9. Promise You to Change Your LIFE
Lastly, like I've mentioned earlier, Click 4 Surveys keep emphasizing that they are the online survey opportunity which can change your life forever.
Come on! We all know that is impossible. You can't even make a decent income with online surveys. Forget about changing your life!
Online surveys will never make you rich, but affiliate marketing will. So if your goal is to be financially free, you gotta check out My Top Recommended Program here!
What I Like about Click 4 Surveys
​1. 60-Day Money-Back Guarantee
The only good thing I can find is that Click 4 Surveys offers a 60-Day Money-Back Guarantee.
It is a ClickBank product so if you want to request for a refund, you need to go through ClickBank's refund procedure.
The problem with this is that sometimes it's hard for you to get your refund unless you have very good reasons. That's just how it works.
I've experienced before when ClickBank refuse to give my money back because the seller doesn't approve it.
Judging from all the unethical things Click 4 Surveys is doing, I would say it is a scam!
Click 4 Surveys is just a ClickBank product trying to make money for the owner. They are not real survey company offering you survey for money.
So, you should stay away from this product at all cost.
If you really want to make money by doing online surveys, I recommend you to read my Online Paid Surveys Guide before proceeding. I've compiled 10 things that you must-know for paid surveys.
However, the earning potential of online surveys is just too small. If you want to make some serious money online, you need to look for other opportunities!
How I Make a Living Online...
Affiliate Marketing is my top recommended business model for anyone to make money online.
The reason is simple...
You don't have to recruit anyone to make money like what people usually do in MLM
You're building your own passive income stream for your financial freedom
It's Free to get started
In fact, with affiliate marketing...
I've personally created a 4-Figure Monthly Passive Income Stream and become financially independent at just 21 years old without any College degree or working experience!
Through my own hard work, I went from a broke restaurant waiter to living my dream laptop lifestyle in less than a year's time...
If you want to discover the secrets of how I did it at such a young age, click here!