6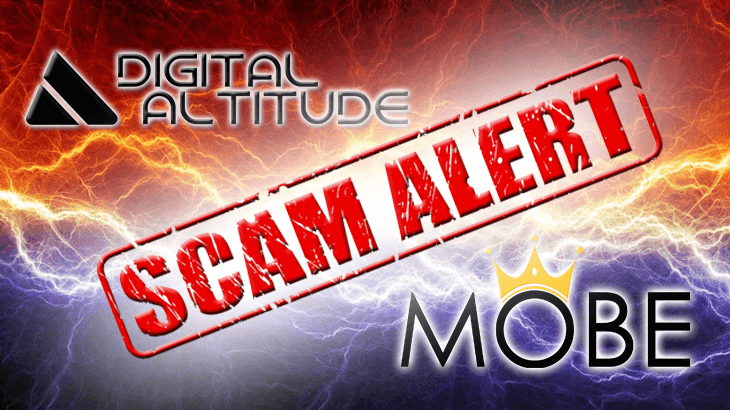 Digital Altitude, Now MOBE, Who is FTC's Next Target…?
For those of you in the internet marketing industry, you probably know that Digital Altitude was shut down by Federal Trade Commission (FTC) in the beginning of 2018. (Source: FTC)
Just recently (June 2018), MOBE (My Own Business Education), a very similar company was halt by FTC and they should be shut down anytime soon. (Source: FTC)
Ironically, there were quite a number of people praising these companies and criticizing Wealthy Affiliate.
MOBE had even sued Wealthy Affiliate before... Pretty ridiculous, right?
In this post, I'll be revealing to you the real truths behind all these programs and why are they being shut down while Wealthy Affiliate is still standing tall and strong!
I'll also be making some predictions on my own regarding what are the programs that are at risk of being shutting down so that you know exactly what to stay away from...
More...
The Truths About Digital Altitude & MOBE!
I've reviewed hundreds of digital products online, including both scams and legit products.
So I know exactly what YOU should look out for.
For Digital Altitude and MOBE, they both share a very similar business model...
Basically, they're just companies selling high-ticket membership products (up to $30K), claiming to help innocent people make big bucks online with minimal effort.
Yet, the only way for you to make money is by recruiting more people into the system.
That's not the worst...
In order for you to qualify for commissions, you have to personally spend thousands of dollars to acquire the membership level yourself first. If not, the commission will be going to someone else who has paid.
If you're experienced enough, you'll realize that this is very similar to a Pyramid Scheme. Pyramid Scheme is a business model where the only way to make money is by recruiting people and there's no real product or services being transacted.
However, they're not outright pyramid scheme because they managed to get by with their so-called "top notch training".
Each of them has their own training which they claim to teach people about internet marketing and how to make thousands of dollars online.
In reality, those training are just focusing on teaching you how to drive traffic and "recruit" people into their program.
As you can see by now, such fraudulent system is what resulted these companies in their situation today - being halt or even shut down by FTC.
What annoyed me the most is that the owners of these companies can still possible live a good life despite their company being shut down.
But the victims are still those innocent people trying to make a living online!
Why People Criticize Wealthy Affiliate?
Okay, so you should know by now that I'm an affiliate of Wealthy Affiliate. And I'm promoting their membership.
Some of you may be triggered by the fact that this is another WA member's website trashing other programs to promote WA.
I understand that this is the #1 Complaint against Wealthy Affiliate.
But I must say there are some misconceptions about this...
Yes, WA members write product reviews to drive traffic to our websites.
But just take a look at my website, especially all my product reviews, and answer yourself honestly, "Is this guy really just trashing other products to promote WA?"
If you think WA members are biased, why not reflect upon yourself. Are you really unbiased at all?
So, please put aside your limiting belief towards WA and examine my website thoroughly. You'll see that most of the WA members are actually doing a favor for these innocent people to avoid scams, just like the case for Digital Altitude and MOBE.
I understand there are inexperienced WA members who trash other products just to promote WA. I know they exist so I apologize to you for them because they are also learning.
It's time for you to take off your colored glasses when you look at Wealthy Affiliate.
There's a reason why FTC shuts down DA & MOBE instead of WA. There's also a reason why MOBE sued WA before, yet they're the one being investigated by FTC now.
Why Wealthy Affiliate is Still Going Strong? 🙂
I must say I'm proud to be a Wealthy Affiliate member. I'm not mad at people who criticize WA because I know they are just misinformed. With the right information, they'll be able to make the right decisions for themselves.
There are many reasons why Wealthy Affiliate is still so strong until today after being in business for more than 12 years.
Below are the 2 main reasons:
There's NO high-ticket upsells. The only 2 membership levels included are Free Starter Member & Premium Member ($49/month or $359/year)
Promoting WA's membership is NOT the only way to make money. In fact, the main training at WA teaches people how to build their own websites in whatever niche of their choice.
Unfortunately, these are also the exact reason that cause DA and MOBE to suffer today.
Can you start to see why I promote Wealthy Affiliate?
Making money for myself is NOT the only reason. It's because the system is really good and I firmly believe it can help a lot more people than those scammy products.
Seriously, how can a program that costs a few thousand dollars help people who are currently struggling financially? That doesn't make sense.
Yet, programs like DA & MOBE are trying to hide these high-ticket products in the back-end trying to upsell you once you join them.
Programs At Risk of Being Shut Down...
Since I've reviewed so many digital products online, I know exactly what you should avoid and why.
I'm not doing this for promoting Wealthy Affiliate. I'm doing this to provide value to YOU, my readers.
Below is the list of programs that are extremely similar to Digital Altitude and MOBE:
Take Note! I'm not saying that these programs are scams. Only FTC has the right to officially call any program scam.
But I'm just providing you with the information about these programs. I'm warning you that they are all using very similar business model like DA & MOBE which has obviously gotten themselves into serious trouble.
Not only that, there are sales funnel created to promote some of these programs.
For example, Laptop Lifestyle System is a sales funnel created to promote MOBE.
The Super Affiliate Success System and My Super Affiliate Mentor are sales funnels created to promote The Super Affiliate Network.
Once again, I don't conclude anything without real evidence. I've personally reviewed all these programs and provided you with real proofs to justify my claims.
If you're interested or you don't agree with me, please feel free to visit any of my reviews I've linked above and let me know what's your opinion.
I guess my recommendation is pretty clear. I'm inviting you to take off your colored glasses, if you have, and give Wealthy Affiliate a shot!
Once again, I'm not here to trash other products just to promote WA. I'm here to provide VALUE for my readers and innocent people who need help.
You don't need any credit card info to sign up with WA.
I'll be there to guide you personally 🙂