19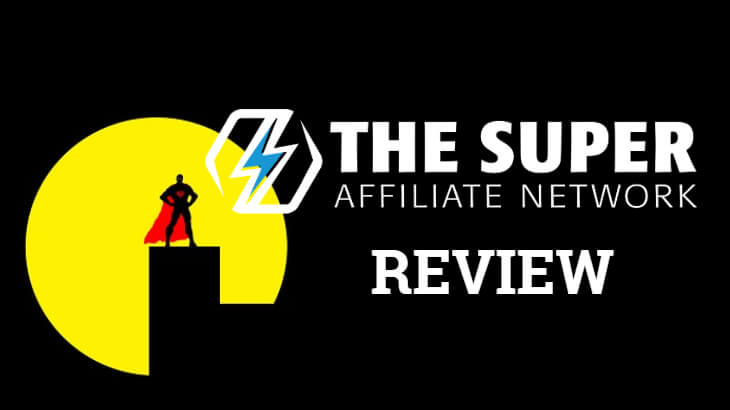 The Super Affiliate Network Review: What Misha Wilson is Not Telling You
There has been quite a lot of hype and promotion that is going on for The Super Affiliate Network (SAN) by the legendary internet marketer Misha Wilson.
If you want to find out whether SAN is legit and is it worth your time and money, keep reading this review because I have all the information you need in this post...
The Super Affiliate Network Review Summary
Product Name: The Super Affiliate Network
Founder: Founded by Misha Wilson in 2015
Product Type: Affiliate Marketing Training Course
Price: $37/month + UPSELLS up to $12,497
Best For: Misha Wilson himself and people who have the capital to invest
Summary: The Super Affiliate Network is a thorough affiliate marketing training platform. But its main focus is on Solo Ad, Email marketing and promoting its own membership. Plus, it has some pyramid scheme features which you should stay away from.
Rating: 45/100
Recommended: No
More...
What is The Super Affiliate Network?
It has created quite a lot of buzz around the internet because it is the brain child of Misha Wilson, who is known as the youngest and fastest growing traffic and conversion expert on the Internet.
If you haven't heard of this guy, you can read more about him on his website here.
Basically, he is a very young and successful multi-million internet marketer today and he achieved his success through affiliate marketing.
The Super Affiliate Network is the company that he started to help people achieve success in the same way as he did.
Having such a good background and successful founder, SAN should be a pretty good program theoretically, right?
But wait, don't come to conclusion just yet. Let me reveal to you what to expect if you are to join this program first.
I'll be sharing with you my personal view on SAN later on. In fact, I found out that The Super Affiliate Network has signs of a pyramid scheme. Read on and I'll prove it to you!
Basically, SAN's product line is all about membership, courses and upsell. Their membership can be classified into 3 main categories.
1. SAN Basic Membership ($47/month):
This Basic Membership's main focus is on a 3-week bootcamp course that focuses on the basics of affiliate marketing. They'll cover a wide range of topics include:
Mindset
Psychology
Email Marketing
List Building
Selling
Automation
This is a course that has 21 modules, which means you need to complete 1 module per day in these 3 weeks.
Once you join their program, you'll be assigned with a coach to guide you along. This is pretty good for complete newbies.
After every module, there will be a quiz for you to complete and you'll need to discuss with your coach before he or she will unlock the next module for you to make sure you understand all the details in each step.
Pricing + Upsell:
The normal price for this Basic Membership is $47/month with a $1 30-day trial. However, you can save $10 every month if you skip the $1 trial. This means that starting from the first month you'll be paying $37/month until you cancel.
However, immediately after you've purchased their Basic Membership, they'll be selling to you 2 more upsells - "Solo Ad Success Formula" and "Super Affiliate Monthly Newsletter".
Solo Ad Success Formula is an in-depth course on email marketing strategies that charges a $97 one-time fee for new members. (But I thought they will be covering Email marketing in the Basic Membership already?)
Super Affiliate Monthly Newsletter is a monthly video update from Misha Wilson showing things that are currently working for Misha himself and how to apply it. This cost a $47 one-time fee.
2. SAN Pro Membership ($2,497 One-time fee):
This is the membership for their more advanced training, support and help. This is for people who want to scale up their business with better marketing funnels, sales letter, strategies, etc.
You'll have access to monthly and weekly coaching as well as private Facebook Group for further support and mastermind.
3. Maui Intensive Mentoring ($12,497 One-time fee):
This is an exclusive 4-day mastermind event at Maui where you can work directly with Misha's team to help build your personal marketing funnels.
So far, this may seem like a pretty good program. But look at the price. And I'm going to reveal to you the ugly part of this program very soon in the pros & cons section below!
I'm Jerry!
I Created My Own 4-Figure Monthly Passive Income at just 21 Years Old!​
The Good
1. $1 Trial
I think this requires no further explanation. Being able to try the system at $1 is a pretty good offer.
2. 30-Day "Better Than Money Back" Guarantee
If you are not satisfied with the program within 30 days, they'll not just refund you but give you $100 for "wasting your time". This is for Basic Membership.
For PRO Membership, they'll give you $1,000 for "wasting your time".
This may sound very appealing and convincing but there are some criteria you need to know. For example, you need to complete all courses and have at least 3 calls with your designated coach.
You check read their refund policy carefully before diving into this program. But anyway, having such refund policy in place is still a good feature.
3. Very Detailed Step-by-Step Course
The Super Affiliate Network's video course are professionally recorded and their content are clear and detailed. They've even arranged them into different days of homework to complete so it makes things very clear especially for beginners to follow along.
4. Misha Wilson is a Real Person
As we all know, there are a lot of scam programs or companies out there that are unwilling to show their real faces to the public. Some hire actors while some simply hide their team and founders completely. All these are indications of a scam..
But in the case of SAN, its founder Misha Wilson is a real person who has achieved success that is known to the public. The fact that they are transparent about their founder and team is a good sign that this company is at least not a scam.
I'm sure Misha Wilson wouldn't want to risk his own reputation by creating scam products, right?
---
The Bad
1. Has Features of a Pyramid Scheme?!
Despite SAN has quite a lot of in-depth training, their main focus is to help its members to promote SAN membership and recruit more people into the system.
Also, you can only earn commission from the products or membership level you have personally purchased.
For example, if you're a SAN Basic Member and someone joins SAN to become a PRO Member through your affiliate link, you won't be able to earn any commission from this PRO Membership upgrade simply because you're not a PRO Member yourself.
I think that's just the strategy they are using to encourage more people to keep upgrading their membership and pay them more money. They claim that the higher your membership level the more commission you can earn. To me, this seems like a scam.
Although they do provide legit training and support, these are some signs of a pyramid scheme.
Take a look at the following video and you'll find out the price and commission for different membership levels:
In fact, this type of program is not uncommon. Take a look at Six Figure Mentors, Digital Altitude, Legendary Marketer and MOBE.
They all have very similar system...
High-ticket membership products
Focus on promoting themselves
Require members to pay expensive membership cost in order to be qualified for commission
I'm not saying they are scams but you should really think twice before joining any of these programs, including The Super Affiliate Network.
My top recommended platform, Wealthy Affiliate, can get started for Free and you can build your own online business in any niche you want. You're not restricted to only promote themselves.
2. Only Focus on Email Marketing (NO Website?!)
This is another huge concern I have. The Super Affiliate Network training focuses mainly on generating traffic via Solo Ad and making affiliate sales via Email Marketing.
These methods are legit and effective if you do it correctly but they totally missed out on building an authority website and generating free organic traffic.
In fact, Solo Ad can be very expensive and ineffective depending on the email list you target.
SAN doesn't have a proper system and technology in place for people to easily build and host their websites.
3. Courses are Locked
Like I've said above, the courses are locked. Each course will only be unlocked after you've successfully complete the quiz from the previous course and contacted your coach.
This prevents beginners from going too fast and skip the necessary details but for people with some experience, this will be very restrictive and annoying that you'll hit a roadblock everything.
The feeling is just not good. I'm sure many members will have the same feeling as me.
4. Pretty Expensive
The Basic Membership is not expensive and you can have the $1 trial. The expensive part comes after you've joined their platform. They'll be offering you upsells straightaway. And the price for PRO membership and Maui program is just not affordable for many people, especially beginners.
Not only that, the Solo Ad you'll be using in their training may also cost quite a lot of money like I've mentioned.
Overall, I just feel that this is pretty expensive and you're limited to use their resource and promote their products.
P.S. This program that has enabled me to generate a 4-Figure Monthly Passive Income at just 21 years old is FREE to get started and only cost $49/month fee to go full-time!
Is The Super Affiliate Network a Scam?
The Super Affiliate Network by Misha Wilson is not a scam because they have quite a lot of legitimate training resources and support.
But I just don't like their "pyramid scheme features" and their total lack of emphasis on building websites and Search Engine Optimization (SEO).
I'm sure you don't want to spend a couple thousand dollars just to be qualified to promote their products, right?
How I Make a Living Online...
I've personally created a 4-Figure Monthly Passive Income Stream and become financially independent at just 21 years old without any College degree or working experience!
Through my own hard work, I went from a broke restaurant waiter to living my dream laptop lifestyle in less than a year's time...
If you want to discover the secrets of how I did it at such a young age, click here!