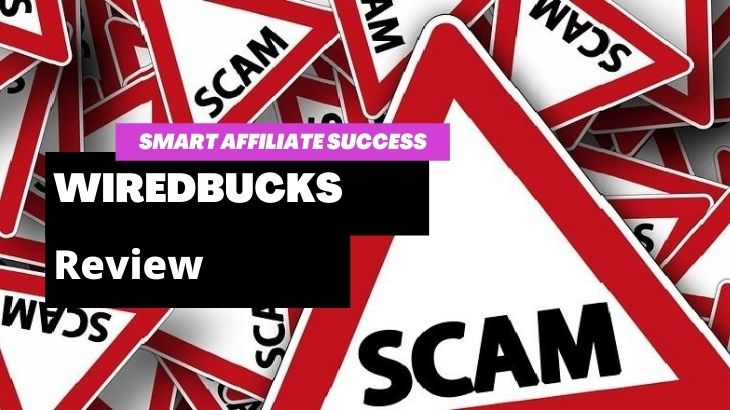 WiredBucks Review – Another Influencer Scam Exposed!
Welcome to my WiredBucks review!
Every week we stumble across a few of these influencer sites and we've collated them into a short list that allows us to keep track of these scams.
These scams do absolutely nothing for you, even amidst their promise of a large amount of income in a short period of time.
Today, we're reviewing another iteration called WiredBucks, and we're going to find out if it's part of their network or if this is another completely different scam.
First of all, I must Congratulate you for taking your time to do your own research before buying into any "seemingly good" product.
That's the way to avoid scams and find the legitimate way to make money online!
Let me be completely transparent with you, I'm not associated with WiredBucks in any form.
So, rest assured that I'm not here to pitch or sell anything to you.
Instead, I'm here to reveal what this scam is all about...
WiredBucks Review Summary
Product Name: WiredBucks
Founder: Not Disclosed
Product Type: Get Paid To Influencer Scam
Price: Free to Join
Best For: NO ONE!
Summary: WiredBucks is another one of those influencer scams and it's filled with fake everything. Fake testimonials, fake addresses, even fake income claims that could be debunked by quick math and some common sense.
Rating: 1/100
Recommended: No!
More...
WiredBucks, found at wirebucks.com, claims that it's the #1 influencer network and will help people like you make $200 a day wherever you are.
You read that right. You're going to be making that much money if you just do as you're told and if you do all of the tasks.
To make this claim even sweeter, they're even going to give you a $25 sign up bonus, which will show up on your member's dashboard the moment you login.
Why does this scam seem familiar? Oh probably because we reviewed other sites similar to WiredBucks such as:
WiredBucks makes the same claims as these websites, but it also follows the same MO as them.
WiredBucks claims that you can join for free and make money right off the bat.
You get a $25 signup bonus after completing the registration to make it even sweeter for you.
Then you'll be able to do the following tasks, which we'll list down below:
Making Money With WiredBucks
The main goal of WiredBucks is to make you some money. You're going to be doing these tasks that aren't exactly new because you'll find them in most legitimate survey and GPT sites.
There are three things that we need to look at for WiredBucks' income opportunity:
The Task Wall
The Referral System
The YouTube Videos
Their task wall promises that you can make $30 minimum for doing the tasks on it. These tasks are simply paid offers that ask for your credit card information and of course, your personal information.
They even go as far as promise you a new phone and $30 for your credit card information.
Sounds suspicious right?
Then they have their referral system, which is impressive if it was legitimate. You're supposed to get $2 per referral link click and $10 per signup.
Then you have a YouTube video submission and Social Media posting that nets you $50 per.
But we all know that these are just ploys to get you and your friends to fork over your information.
I'm Jerry!
I Created My Own 4-Figure Monthly Passive Income at just 21 Years Old!​
When It's Time To Cash Out?
Okay you're probably thinking of just signing up and cashing out the $25 bonus, right? Well, they won't let you do that.
They'll only let you do that if you meet their conditions. These conditions are:
Have at least one YouTube submission
Have X number of referral clicks
Have X number of referral signups
Do X number of tasks on the Task Wall
By the time you've finished these, you're probably at about $300 or so, plus the $25 signup bonus on top of it.
The second time you cash out is the time the scam is actually fulfilled. They'll block your account, they'll ignore your communication, and they'll get away with your personal information and credit card info.
If you ask them why you got blocked, they'll tell you that they found illegal activities done on your account and that the referral clicks and signups are fraudulent.
You won't even be able to defend yourself because they're going to ignore your emails.
Why Is WiredBucks Lying?
WiredBucks doesn't live up to the promises of making you $200 a day because their business model doesn't make sense at all.
The truth here is that WiredBucks just wants to get your personal information. The tasks on their Task Wall are probably affiliated with them, so they make money if you sign up through their links.
The Math Behind Their Money
WiredBucks claims that their money comes from "ad-spend revenue and sponsorship products".
But how much money are they claiming?
They claim that they've paid out more than $410 million at this time of writing. There's a reason why legitimate survey sites such as SurveyJunkie don't pay out that much money and I don't think WiredBucks has any proof that they cashed out that much.
Allow us to explain.
Legitimate survey sites and GPT sites pay you a commission of the total amount they receive from their clients. For example, a client will pay them this amount to get this task done. Let's say this task is a simple survey.
The client pays them $1,000 for the surveys to be filled out by 1,000 participants. Do you think they'll give you that entire amount? Nope.
Industry standards put it at 30% of whatever it is their clients are paying them. In this case, $300 is divided between the 1,000 participants that took the survey. That means each participant gets $0.3 for joining the survey. And that's already a generous amount!
So if they paid out $410 million, we assume that it's only 70% of their entire fee. That means their entire revenue for that payout was $585 million! To put it cleanly, $585 million was their total fee. 70% of that was paid out to the members, which is $410 million. The 30% they keep to themselves, which is about $175 million.
Let me put these numbers into perspective:
Primary sponsors average paying $5 million to $35 million for a Nascar Ad
A 30-second Superbowl Ad costs $5.25 million as of 2019.
Do you really think companies are paying millions of dollars to get tasks done when they could get Nascar and Superbowl ads for the same price?
Hell no! If you were as big as Nike or Adidas, you would never resort to paying survey sites to get your brand out. You're going for the big payouts.
WiredBucks is not meant for anyone because it's one big scam that goes after your personal information.
WiredBucks Ugly Truths Revealed!
#1 Personal Information Farming Scheme
As I mentioned earlier, some of these scams are nothing more than just farms for personal information. They'll take your personal and contact information, and worst case, your credit card info, and sell it to the highest bidder.
These will usually be scummy marketing companies or hackers looking to do something nefarious with the info.
#2 Fake Address
Their address is listed at A108 Adam Street New York, NY 535022, but no such address exists anywhere.
There are a few companies on that street, but it's not the same as listed on the company's address.
Besides, the zip code should only be 5 digits and not 6.
#3 Fake Testimonials
The people appearing on their site providing testimonials are all fake, at least the names are. The photos are just stock photos from royalty-free image sites.
#4 Fake Payment Proofs
WiredBucks uses fake payment proofs, and quite possibly, copy-pasted images from its sister scams.
Just check these out and see for yourself.
#5 Clone Of Other Scams
There are more than 30 scams that we know of that operate the same way as WiredBucks. There's no way that WiredBucks is not connected to any of them.
Some of the sites barely last a year and will only shut down to rebrand itself months after.
What I Like About WiredBucks?
There's nothing to like about the program because it's one big scam.
WiredBucks is a scam and we have all the evidence that we need. It's just nothing more than a rehashed version of the other influencer scam sites that we've exposed over the last few months.
Everything about the program is fake. The income claims are fake. The testimonials and payment proofs are also fake. Even their address is fake.
This site is only going after your personal information and credit card info.
Stay away from this program at all times!
Legit Ways To Make Money Online
How I Make a Living Online?
I've personally created a 4-Figure Monthly Passive Income Stream and become financially independent at just 21 years old without any College degree or working experience!
Through my own hard work, I went from a broke restaurant waiter to living my dream laptop lifestyle in less than a year's time...
If you want to discover the secrets of how I did it at such a young age, click here!