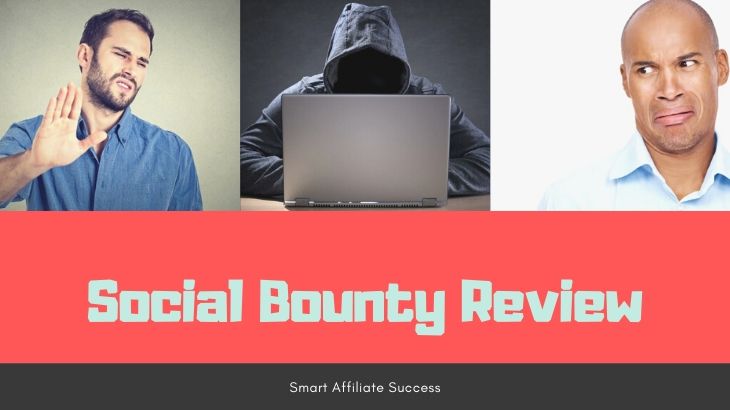 Social Bounty Review – It's Another Influencer Scam Exposed!
Welcome to my Social Bounty review!
Here we have another site that promises to turn you into an influencer and will pay you a lot of money for doing their tasks. But what most people don't know is that this one, and a few other like it, is a scam.
That's right. They've become so popular that even business accreditation websites are now issuing warnings against them.
This is Social Bounty.
First of all, I must Congratulate you for taking your time to do your own research before buying into any "seemingly good" product.
That's the way to avoid scams and find the legitimate way to make money online!
Let me be completely transparent with you, I'm not associated with Social Bounty in any form.
So, rest assured that I'm not here to pitch or sell anything to you.
Instead, I'm here to reveal what this scam is all about...
Social Bounty Review Summary
Product Name: Social Bounty
Founder: Kiya Kramaric
Product Type: Get Paid To Influencer site
Price: Free to jon
Best For: No one
Summary: Social Bounty appears to be an influencer site that promises tons of income for doing small tasks, but it's actually part of a huge network of influencer scams. Everything about their site is fake, from fake testimonials to fake founders to fake starting dates. They're even issued a warning by the BBB.
Rating: 1/100
Recommended: No!
More...
Social Bounty, just like its sister sites, claim that it's the number 1 influencer network in the world. It claims that it works with high-end brands and companies that can afford to give you the kind of income that they're advertising.
They'll ask you to sign up and offer you a $25 incentive for completing the registration. And to make the pot sweeter, the $25 even shows up on your Member's Dashboard.
Nice, right?
But everything they do, from the moment you sign up to the moment you cash out, is an outright scam.
And we'll break down their MO in this article.
Who Is Behind the Social Bounty?
On their site About Us page, they took the time to name drop and concoct a story about how their company started.
According to their profile, the company started back in 2012 and founded by CEO Kiya Kramaric, along with her team.
But a closer inspection of the site via WhoIs returned this information.
As it turns out, the website was launched just last December 2019.
Doing a search on Kiya Kramaric returns no results whatsoever. It's like she never existed.
The only time her name comes up is when Social Bounty is mentioned.
Coincidence?
Social Bounty entices you with a $25 signup bonus, which is how they get most of their victims. They even make it look legit by giving you the $25 on your Member's Dashboard.
But here's the kicker, you can't withdraw that amount immediately. You have to complete their list of requirements in order for you to do that. They'll ask you to:
Do the $30 Task Wall
Get a specific number of referrals
Get a specific number of referral link clicks
Watch a specific number of videos
How Do You Make Money with Social Bounty?
Referrals
Social Bounty promises $2 for every time someone clicks on your referral link, and $10 for every referral. They'll tell you to post this link on your social media accounts like Facebook and Twitter and just watch as the cash flows in.
Then to make things sweeter, they'll actually add money to your account on top of the $25.
$30 Task Wall
These are their own lists of surveys and paid offers, with promises of paying you as much as $30 when you complete the entire wall. But when you click on these offers, you'll be taken to third-party providers that are in no way related to Social Bounty. You will be asked for your contact information by these providers.
YouTube Submission
The last task that you need to do in order to qualify for the payout is to make a promotional video about Social Bounty. They'll promise to pay you $50 once the video is uploaded in YouTube.
I'm Jerry!
I Created My Own 4-Figure Monthly Passive Income at just 21 Years Old!​
How Social Bounty REALLY Works?
Now we get to the bottom of things. Remember those tasks that you need to do in order to cash out?
You're thinking that this is probably a feature that prevents people from just making dummy accounts, right?
Here's the thing. You don't really cash out anything. Once you do cash out after you do all of these tasks, your account will immediately get banned. They'll accuse you of faking those referrals and clicks the moment you contact their customer service.
What they actually do is just steal your personal information to use for themselves or to sell to different marketing companies.
Absolutely no one. This site puts you at risk for getting cold calls from telemarketers and your personal information could be used for nefarious reasons.
Social Bounty Ugly Truths Revealed!
#1 – Unprofessional Site
There are several typos on their website, so much so that we believe that this website was done in a hurry. They didn't even do their due diligence to correct these errors.
If you own a professional site, you're supposed to make sure that everything's presentable. At the very least, you spell out words properly.
#2 – Fake Founding Date
The fake founding date is a big red flag because they try to lie about their experience in the industry. Now that we found their actual start date, we have reason to believe that this might be an old scam that got exposed, shut down, and rebranded.
#3 – Fake Testimonials
The funny thing about Social Bounty is that they try so hard to look legitimate. They even try to create fake testimonials to add to the hype.
If you look closer at their images, the photos and names are all fake. The photos are no more than stock photos grabbed from different parts of the Internet.
Here's another funny thing. Their founder's picture is used as Maria on the Testimonial's page.
#4 – Fake Founding Members
Their founders are all fake. They don't have any social media profiles, no digital footprints, and their photos are stock photos.
Just look at these comparisons, and you be the judge.
#5 - BBB Warning Against Them
The Better Business Bureau has already issued a warning against these types of sites sometime last year. They uncovered a series of these sites that had the same MO and were actually just farming for personal information.
Here's the summary of their warning.
What I Like About Social Bounty?
There's a lot of red flags that we uncovered about Social Bounty. It's just suspicious, so it makes sense to not go for this site.
Social Bounty is without a doubt a scam. It tries so hard to be legitimate, but it stumbles even with its own landing page.
1. There's a lot of red flags here, ranging from the fake testimonials to the fake founding date. There's nothing honest about the information they post or the claims they promise.
2. They're only going to sell your personal information, and put you at risk for privacy and security issues.
Stay away from this site! It doesn't do you any good to sign up for this site. You won't be getting any money.
How I Make a Living Online?
I've personally created a 4-Figure Monthly Passive Income Stream and become financially independent at just 21 years old without any College degree or working experience!
Through my own hard work, I went from a broke restaurant waiter to living my dream laptop lifestyle in less than a year's time...
If you want to discover the secrets of how I did it at such a young age, click here!