17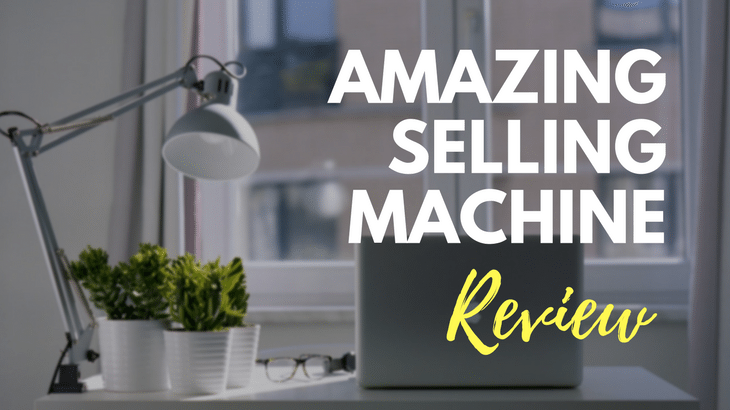 Is Amazing Selling Machine a Scam? (A Very Expensive $4K+ Machine)
Welcome to my Amazing Selling Machine review!
Chances are, you came across Amazing Selling Machine (ASM) via a promotional Email sent to you by an affiliate or via Matt & Jason's YouTube Ads. At least that's how I came to know about ASM.
If you've done some research, you might be in a dilemma of whether this program is for you.
Because on one side, you might have seen a number of very successful stories from ASM graduates. On the other side, you should be aware that this is a very expensive program.
Is Amazing Selling Machine a scam? Since it's very expensive... (you gotta prepare a couple thousand dollars)
Let me breakdown this program for you so that you can make your own informed decision.
Let's begin...
Amazing Selling Machine Review Summary
Product Name: Amazing Selling Machine (Click here to join)
Founder: Matt Clark & Jason Katzenback
Product Type: Amazon FBA training program
Price: Varies for every product launch (Typically around $4K)
Best For: People who want to make money from Amazon and have a couple of thousands dollars to invest
Summary: Amazing Selling Machine is a really great program for people who wants to make lots of money via Amazon FBA. But the major issue is that I believe it is overpriced. There are lots of cheaper alternatives out there.
Rating: 90/100
Recommended: Yes
For those of you who can't afford a couple thousand dollars of investment, I would recommend you to check out my #1 Recommendation here which you can get started for FREE!
More...
What is Amazing Selling Machine?
Amazing Selling Machine (ASM) is a 8-week step-by-step video training to help you make money selling products on Amazon.
The business model they're focusing on is called "Amazon FBA". And FBA stands for "Fulfillment By Amazon".
More on FBA later. I want to give you some background about ASM because it's actually quite confusing for beginners.
Some Facts Your Need to Know about ASM
Amazing Selling Machine was created quite a number of years back by Matt Clark & Jason Katzenback.
Over the years, they've successfully launched 8 versions of Amazing Selling Machines. Each version are more updated and more solid than the one before.
That's why you may have seen things like ASM6, ASM7, ASM8 on the Internet. All these are just different versions of the program.
Also, Amazing Selling Machine is not available all the time. They only accept new members for a limited duration.
I guess this is to ensure the quality of their community. The good thing is that when they said they're only going to open the course for a limited time, they really do so.
Unlike some other programs which is available all the time yet they're just using marketing strategy to create the sense of scarcity.
Amazing Selling Machine 9
Yes, ASM9 is around the corner. They will be launching their ASM9 from 17 April 2018 to 3 May 2018.
What's different in ASM9 is this:
It has upgraded launching and ranking system so that your products can move quickly to the top of the search rankings
There are additional training on several new tools that used to only be available to vendors
You're given a powerful product selection tool called Profit Spotlight for FREE
Okay, this is just a very brief explanation for those of you who are completely new to ASM.
Now let's understand how it actually works...
How Does Amazon FBA Work?
Watch the short video below to understand how Amazon FBA works:
Basically, Amazon FBA is a type of E-commerce business. It's similar to drop shipping but it's a bit different.
Some people may say FBA is a drop shipping business. Yes, they do share similar concept but the whole business model is still different.
Let me explain...
This the the overall process of an Amazon FBA business:
Choose a product to sell
Source for suppliers from China (via Alibaba)
Order your products in bulk with a wholesale price
Ship to Amazon Fulfillment Center
Market the product
Amazon will handle everything else for you (including packing, shipping, customer service and returns)
That's basically how this business works. There are definitely a lot more details within these steps. So it's really not that easy. That's why there are so many courses out there teaching people all these.
As for drop shipping, the difference is that the manufacturer will ship the products directly to the customer instead of going through a fulfillment center.
For Amazon FBA, sometimes you still have to handle the shipping from the manufacturer to Amazon Fulfillment Center.
So that's the difference.
Wait, the most prominent difference is that drop shipping and Amazon FBA require a totally different marketing strategy.
Drop shipping is more about how to run successful Facebook Ads campaigns while Amazon FBA is more about how to optimize your product in Amazon ranking system.
I'm Jerry!
I Created My Own 4-Figure Monthly Passive Income at just 21 Years Old!​
What is Included in the ASM?
(Please note that all the information here are based on ASM8 because ASM9 is not officially launched yet. I'll update the information when ASM9 is out.)
So here's what you'll get in the Amazing Selling Machine:
8-week online step-by-step video training
Downloadable PDFs for your reference
8 Weekly Training Webinar to watch LIVE walk-through + Q&A
1 year access (renewable subscription provided after 1 year) to tools for building and growing an Amazon business
Lifetime membership to the Amazing Selling Machine community and forum
Single admission to a 3-day live event in Las Vegas
ASM does host live events regularly. Below is an awesome presentation by Ryan Moran, an ASM1 graduate, at one of their live events:
As for the main training itself, these are the modules included:
Welcome Module: The ASM Business Process & Mindset
This module has 14 lessons and it takes around 1.5 hours to complete. They'll give you a brief walk-through around their membership platform and explain to you the basics of Amazon FAB.
Module 1: Building Your Product Opportunity List
This module consists of 23 lesson and it is where you start exploring the Amazon marketplace and setting up your accounts.
Most importantly, you'll learn the how to choose your first product to sell.
Module 2 : Suppliers, Samples & Profit Numbers
In this module, you'll learn how to source for suppliers in China, get sample products to test and calculate the profitability of the product.
Module 3: Ordering Your Inventory & Creating Your Brand
By this module, your sample product should be on the way to you but it doesn't mean it's time for you to take a break.
This module consists of 16 lessons. One thing I like about this course is that they teach you how to build your brand as a seller, instead of just selling the product.
I firmly believe branding is the way to achieve long term success so this is very useful.
Anyway, you'll learn how to order your inventory, for example, how much or how many you should order, etc.
Module 4: Building Your Brand Assets
The "assets" here refer to the tools you need to build a long term successful business.
For example, in this 14-lesson module, you'll be setting up your business social media accounts/pages, brand website and autoresponder to turn your one-time customer into a life-time customer.
Pretty awesome stuff!
Module 5: The Perfect Product Page
No matter how great your product is, it won't sell if you can't present it well in front of your target audience. That's why how your product page looks like is very important.
After all, most people judge the book by its cover.
So in this 13-lesson module, you'll learn how to "perfect" your product page to increase conversion rate.
Module 6: The Perfect Product Launch
This is where it gets more interesting and your adrenaline will start to increase.
Why? Because the product you've been preparing for so long is finally going LIVE.
This is the step where you need to perfect the entire check out process, including shipment, getting initial product reviews, using Amazon giveaways and rank your product in Amazon search engine!
Module 7: Advanced Marketing & Traffic Tools
This 11-lesson module will guide you on optimizing the performance of your business.
You'll learn more marketing strategies to drive traffic, both free and paid, so that you can get more customers.
Module 8: Taking Your Business to the Next Level
This 12-lesson module will teach you things like how to regulate your inventory, when and how to launch your next product, etc.
This is helpful once you start getting more and more sales on your first product.
(Once again, please note that all the information here are based on ASM8 because ASM9 is not officially launched yet. I'll update the information when ASM9 is out.)
The cost of ASM is different for each version. For example, ASM8 cost $3,997 if you pay in full. Or you can pay 5 payments of $997.
Whilst, ASM7 cost one-time $4,997 or 4 payments of $1,497.
So, we don't know the price of ASM9 yet but you can expect it to be a couple thousand dollars.
And that's not the total investment yet. There are still many other costs you need to consider which I'll cover in just a moment.
The Good
1. High Quality Course
There's no doubt on the quality of the course itself. Anyone who has gone through the course and TAKE ACTION will tell you the same thing that ASM is a great course with lots of valuable information & guidance.
Some people may say otherwise, simply because they didn't follow through and take action.
2. Contents Are Always Updated
Amazing Selling Machine is not like some other programs which were just being abandoned after some time and all the contents become outdated.
ASM keeps upgrading their content and adding more tools and resources to help people succeed with Amazon.
Just take a look at this...
ASM7 was laucnch early last year. And ASM8 was launched in Oct 2017. Now ASM9 is coming out in April 2018.
Look at the frequency they're upgrading their system and course.
They're not trying to make more money from you by launching new versions of ASM frequently. In fact, you'll be a lifetime member of ASM once you joined through any of the version.
3. Great Community Support
The 2 main ways to get support in ASM is Forum and Facebook Group.
Unlike many other low quality programs, they do not neglect and abandon their forum or FB Group.
In fact, there are quite a number of "ASM mentors" within the community who constantly offer help to fellow members.
These ASM mentors can be someone who has gone through ASM and achieved massive success. Basically, you're learning from people who actually succeed and have the knowledge & experience to share with you.
This is the same for their FB Group. Their community is pretty active.
Another thing I want to mention here is that they have an "Achievement Badge" system. Whenever you have any achievements, you'll be awarded with a badge.
For example, you'll earn a badge for selecting your product, for finding your supplier, for making your first sale, your first $1,000, etc...
All these will be shown to the community and people can see your achievements. What this also means is that you will be motivated by seeing other people's achievements.
4. Risk-Free Investment
Matt & Jason are so confident with their program that they're willing to offer a risk-free investment for you.
If you're not satisfied with the program in 30-days, they'll offer you a full refund with no questions asked.
But the question is that this is a 8-week course. Some people will ask if 30-day is enough for them to decide whether this program is suitable for them or not.
So apart from the 30-day refund policy, Matt & Jason also offer you a "6-month Buy Back Guarantee".
What this means is that if you've purchased your stocks (inventory) but you failed to sell them within 6 months, they will buy back the stocks from you up to $10,000.
I've never seen this kind of guarantee before. This just shows how confident they are with their program.
From this perspective, I would recommend you to give it a shot since it's risk-free.
But the pre-requisite is that you need to have a couple of thousand dollars to invest in the first place.
If not, check out my #1 Recommendation here where you can get started for FREE!
---
The Bad
1. Too Expensive
If you've read other reviews, the major drawback of this program is always its price.
I do agree that they are over-charging you for the program because there are lots of cheaper alternatives out there.
Yes, you can potentially make $10K or even $100K if you follow through and take action. But I don't think this program is worth four to five thousand dollars upfront.
I believe many people who wants to make money online don't have that capital to invest in the beginning.
However, I must say the good thing about being expensive is that they can ensure those who invest make the commitment to build their own successful business.
Those who pay this amount are much more committed and serious about making this work. That's why they have pretty good ratings and reviews all over the internet.
2. Hidden Cost
Other than the cost of the program, there are quite a number of other costs involved which they won't tell you upfront, such as:
Product research cost
Product (sample) cost
Freight Forwarder's fees
Cost of shipping to Amazon Fulfillment Center
Cost of Amazon's Seller Account
Amazon's Monthly Storage Fee (You think it's free to store your products in other people's storage?)
Amazon labeling fees
Amazon Fulfillment fee, etc
For more detailed explanation on the total cost to start your own Amazon FBA business, please refer to this post!
As you can see, there are a lot of costs involved prior to making your first sale.
Guess what?! These costs can easily add up to a few more thousand dollars in addition to your ASM cost.
So, you should expect to be spending a MINIMUM of six thousand dollars in order to start your business. At this point, there's no guarantee that your product will be successful.
Once again, you really need to consider your financial situation properly. Amazon FBA is actually quite an expensive business to start with as compared to my favorite Affiliate Marketing. (More on Affiliate Marketing later!)
3. Too Many Unethical Affiliates
Since Amazing Selling Machine is a pretty high-ticket product, the affiliate commission for its affiliates is really quite handsome.
So far, they've paid out more than $40 Million in commission to ASM affiliates. As an affiliate, you have the potential to earn $2,000 or more for each person you refer to ASM.
So what's the problem?
The problem is that since it's so lucrative, there are too many affiliates wanting to share a piece of the pie so it's hard to ensure the quality of their affiliates.
I've received the exact same promotional Emails for many people. They're simply using the exact same template to send to their list.
This is still okay. But a lot of them had zero experience with ASM. All they are looking for is lucrative affiliate programs to promote. That's why I said there are many unethical affiliates.
To investigate this further, I tried to sign up for their affiliate program. I clearly said I'm NOT a member of ASM but they still approved my application within a few hours.
So you can't really trust the affiliates promoting this program. Many of them didn't even tried the program themselves.
Is Amazing Selling Machine a Scam?
Nope, Amazing Selling Machine is NOT a scam. Many people thought it was a scam by just looking at its price.
Yes, it is pretty expensive but it's also a very good program if you have the capital in the first place.
Do not judge the book by its cover. Similarly, do not judge a program by its price.
However, I do not recommend this program for beginners and those with very tight budget.
Whether you're going to succeed in something totally depends on yourself. You're only going to make this work if you have the right mindset and you have enough money.
If not, you'll just keep worrying about losing money and not being able to make them back. This is the most common mindset that prevents people from succeeding.
My Recommended Way to Make Money Online
Like I've mentioned earlier on, I would prefer Affiliate Marketing rather than Amazon FBA.
The reasons are very simple:
Affiliate Marketing doesn't require thousands of dollars to start
You don't need to be concerned about your stock and whether you're able to sell them. If not, they become "Dead Stocks".
The interesting thing is that both Affiliate Marketing and Amazon FBA are leveraging Amazon to make money online. The difference is that one is the affiliate and one is the seller.
So, which one would you rather be? There's no right or wrong answer. Both are profitable if you do it right...
How I Make a Living Online...
I've personally created a 4-Figure Monthly Passive Income Stream and become financially independent at just 21 years old without any College degree or working experience!
Through my own hard work, I went from a broke restaurant waiter to living my dream laptop lifestyle in less than a year's time...
If you want to discover the secrets of how I did it at such a young age, click here!