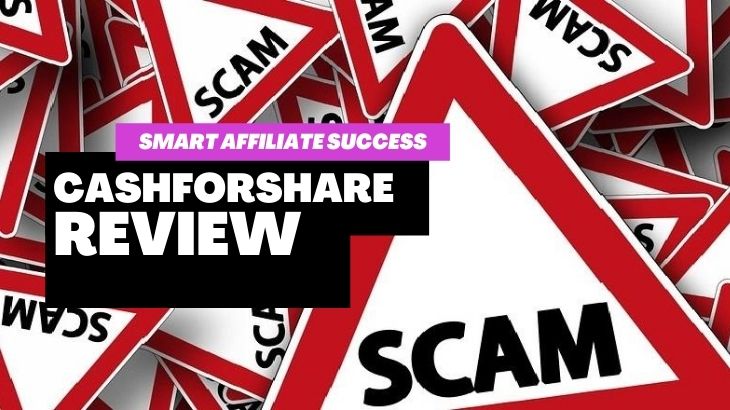 What Is CashForShare? Another Influencer Scam Spotted!
Welcome to my CashForShare review!
Over the past months, we here at Smart Affiliate Success uncovered a network of influencer scams that have made the rounds over the Internet. These were either rebranded or copy-pasted from their sister sites.
These sites promise huge payouts for easy tasks. These claims are easily debunked by both common sense and a little bit of math.
Today, we found another one called CashForShare.
First of all, I must Congratulate you for taking your time to do your own research before buying into any "seemingly good" product.
That's the way to avoid scams and find the legitimate way to make money online!
Let me be completely transparent with you, I'm not associated with CashForShare in any form.
So, rest assured that I'm not here to pitch or sell anything to you.
Instead, I'm here to reveal what this program is all about...
CashForShare Review Summary
Product Name: Cash For Share
Founder: Not Disclosed
Product Type: Get Paid To Influencer Scam
Price: Free to join
Best For: NO ONE!
Summary: CashForShare is another one of those influencer scams that we revealed in the past few months. This is nothing more than a clone of those sites and it shares the same content as the others. Don't ever trust this site.
Rating: 1/100
Recommended: No!
More...
CashForShare claims to be the #1 influencer site that provides numerous work-from-opportunities. And by work-at-home opportunities, we mean clicking links, referring friends, watching and uploading videos, and many more.
Upon registration, they dangle the sweet bait of $50 without having to do anything. And then another $10 for every referral you make hereafter.
You may have found CashForShare on social media platforms, which is something that was never done by most of its sister sites.
From the moment we read the $50 signup bonus, we immediately suspected there was something wrong with the program.
The company claims to be founded back in 2015 and has operated since then, but a quick domain search revealed that it was a lie.
The site just launched sometime this year, so there's no way they've been around for that long.
This simple search led us to unravel a series of red flag.
For the sake of being unbiased, we're going to explain how CashForShare works, and how they actually work.
Now, CashForShare appears to be a GPT or Get Paid To site, which allows you to make money by doing some tasks.
You get a signup bonus of $50 once you complete your registration, and then you'll be able to start earning right away.
You also earn money via referral. There's a $10 bonus for every person you sign up to the program.
The main source of income for CashForShare is through their link clicking program. They claim that you'll get $2 per link clicked. In other words, you earn an average of $30 for just about 10 minutes of work.
Downloading apps is also an option that allows you to make $50. We don't know the extent of these apps in terms of how legit they are, but we're pretty sure that CashForShare is going to make money off of you when you download and sign up for these apps.
Lastly, you'll be asked to create a YouTube video claiming how awesome CashForShare is. A testimonial video would earn you $50 per. So you could make 10 videos and earn $500 for that task alone.
Let me tell you right now that all of this is nothing more than a big fat lie.
I'm Jerry!
I Created My Own 4-Figure Monthly Passive Income at just 21 Years Old!​
How CashForShare ACTUALLY Works?
Now, this is where we unravel their income opportunity.
It's true that you'll get that $50 bonus credited to your account. You'll even see it on your dashboard. But here's the kicker. They'll actually ask you to do a few tasks before you can withdraw the $50.
Here's what you need to do:
Get your earnings up to $200
Get at least 5 referrals
Perform at least 10 clicks
Complete at least 5 tasks
Sounds simple enough, right? I mean with their rates, it's going to be easy to reach that $200 threshold.
Let's assume that you did all of this and even earned more than $200, which should be more than enough to be able to withdraw, right?
Well, they're going to delay your withdrawal by telling you that it's going to take 30 days to process the payout or block you from the site.
The latter often happens, and when you contact their customer support, they'll tell you that they found you doing illegitimate things to complete the tasks. They'll tell you that you acquired clicks by using bots and using fake accounts for referrals.
And they'll also hit you with technicalities. They'll say that you're not qualified to cash out because you're not 99 years or older, which they clearly state in their Terms and Conditions when you signed up.
But what are they scamming you out of?
The links they ask you to click or the apps they want you to download are nothing more than just bait. They're really after your account information, such as contact info and even your username and password pattern.
They can sell your personal and contact information to hackers, scammers, spammers, and even market research companies.
They're making money off of you in more ways than one.
Better Business Bureau Warns Against Sites Like CashForShare
The Better Business Bureau has even issued a warning against sites like CashForShare. According to their info, these sites collect personal information but won't pay you for doing the tasks.
The BBB states that these sites pretend they're market research firms and influencer platforms.
They also released a guideline of sorts to help you identify if it's a scam or not:
High income claims
High signup bonuses
High referral fees
High compensation for YouTube videos
All of these things and more can be found on CashForShare, so it goes to show that BBB was right all along with these sites.
CashForShare is not meant for anyone because it's obviously a scam.
CashForShare Ugly Truths Revealed!
#1 Fake Start Date
As I mentioned earlier, the fact that they lied about their start date means that they're working with a series of lies to make people believe they're legitimate.
Their proofs of payment were dated in 2015 and earlier than 2020, so there's no way that these were actually true.
#2 No Owner Information
I just find it odd that the #1 influencer site doesn't reveal who their owners are. If they're legitimate, their names would be all over social media and living up to the hype.
But we know that sites that don't reveal their owner information are up to no good and don't want to be legally liable.
#3 Clone Of Other Influencer Scams
In the next screenshots, you'll see that CashForShare is nothing more than a clone of some other influencer sites that were also recognized as scams.
All that was really done was to change the logo and nothing more.
CashForShare is connected to JustEarn, which is connected to other sites such as RewardDollars, PlentyBread, and Bonus Junkies.
#4 Fake and Copy-Pasted Testimonials
Here's a copy-pasted version of the fake testimonials used by CashForShare and JustEarn, the site I listed in point #3.
They're using the same copies, using the same pictures, and same group of people. These are probably stock photos with the real owners having no idea that their pictures are being used for nefarious means.
Also, they don't look 99 years old, so how did even make money from CashForShare?
What I Like About CashForShare?
There's just absolutely nothing to like about CashForShare. The program is a scam and will probably use your information against you.
CashForShare is 100% a scam, and we got all the proof we need to arrive at this conclusion.
They lied about their start date and they're hiding their owner information, so there's a lot of room to create fabricated claims of income.
The testimonials are fake and copy-pasted from their sister sites who belong to the same network of scams.
They'll use your personal information against you.
Stay away from this program!
Check Out These Survey Sites
How I Make a Living Online?
I've personally created a 4-Figure Monthly Passive Income Stream and become financially independent at just 21 years old without any College degree or working experience!
Through my own hard work, I went from a broke restaurant waiter to living my dream laptop lifestyle in less than a year's time...
If you want to discover the secrets of how I did it at such a young age, click here!