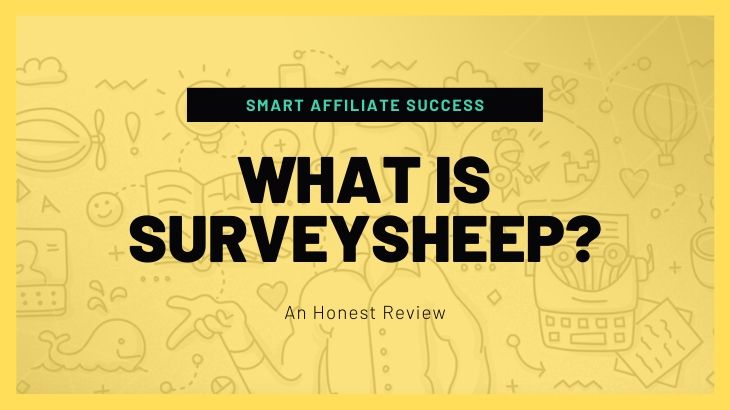 What Is SurveySheep? It's Another Survey Aggregate Site!
Welcome to my SurveySheep review!
This is another survey aggregator that provides you all of the surveys in one location. It doesn't host its own surveys, nor does it pay out its own cash.
But are these sites even legit? We'll break down how these programs work.
Today, we're reviewing SurveySheep.
First of all, I must Congratulate you for taking your time to do your own research before buying into any "seemingly good" product.
That's the way to avoid scams and find the legitimate way to make money online!
Let me be completely transparent with you, I'm not associated with SurveySheep in any form.
So, rest assured that I'm not here to pitch or sell anything to you.
Instead, I'm here to reveal how this program works...
SurveySheep Review Summary
Product Name: SurveySheep
Founder: Not Disclosed
Product Type: Paid Survey Aggregator
Price: Free to join
Best For: No one
Summary: SurveySheep is a paid survey site aggregator that lists a decent number of reputable and well-known survey sites. However, the overall income potential is low, and we'll show you the individual reviews of their survey sites. Then its membership is often restricted most of the time and will only entertain residents from USA and Canada.
Rating: 50/100
Recommended: No!
More...
SurveySheep looks like any other survey site at first, but when you take a closer look at it, it's actually a survey aggregator site.
This basically means that it's a directory of survey sites that it wants you to sign up for. It's a one-stop shop for you if you don't want to look for survey sites on Google. SurveySheep just makes it easy for you because it's already got the survey sites you need.
Now you're probably thinking. Why on earth would someone make a site like this? Wouldn't they make more money if they made their own surveys?
Well, aggregate sites are common not just in the paid survey industry. These sites are intended to look like a directory because they're affiliated with the sites they list.
You read that right. When you sign up for SurveySheep's partners, they make money the moment you sign up and when you do your first survey.
That's just how they work.
Is it illegal? No, unless they're partnered with suspicious sites. But upon closer inspection, the sites they're partnered with are very reputable and well-established in the industry.
The signup process is very simple. SurveySheep just needs your name, email address, and other important personal information.
Then you'll be directed to your member's dashboard where you'll find the survey sites they are partnered with, as seen below.
They'll also show what sites have the newest surveys up, which will show up in the middle column.
From there, it's another sign up process when you go through these different sites.
You'll have to individually complete your profiles on these different survey sites, take their qualification tests (when it applies), and move on from there. You'll also have to provide your payment information once you're signed up for a couple of sites.
How Much Can One Make With Survey Sheep?
There's not a lot of money to be made from doing surveys, and we've reviewed a lot of them already. At best, you're looking at a few bucks per week. Not per day. WEEK!
But SurveySheep is partnered with some of the reputable sites that are known to pay their members on time and with no issues, so we can definitely vouch for how well these sites do in terms of paying.
SurveySheep doesn't pay you for doing the surveys too. Rather, it's the site that you signed up for that will pay you for doing the surveys.
On average, surveys take about 10 minutes to complete and averaging at about $2 per. However, you'll find surveys to pay out more than that if it takes you far longer to complete.
Payouts are dependent on which site you signed up for. But the vast majority of their listed panels provide PayPal, Amazon Gift Cards, and Visa Debit cards as their payment methods.
Some of these sites will also have payment thresholds, or payout requirements, so you'll have to reach a minimum balance before you can cash out. Some of the sites listed on SurveySheep have an average requirement of $10, while there are others that go as high as $25.
I'm Jerry!
I Created My Own 4-Figure Monthly Passive Income at just 21 Years Old!​
Who Are SurveySheep's Partners?
We won't be listing all of them, but we'll mention who they're partnered with that we've also reviewed on this site.
How Legitimate Is Survey Sheep?
I don't see any reason to call out SurveySheep for any suspicious activities. They're as legitimate as they can get as far as we're concerned.
There's no liability here if the member does not get paid because they don't do the payments. The survey sites are the ones that pay out.
They're partnered with legitimate and well-known survey sites, so they know who they're sending people to.
SurveySheep is something that's meant for people who want to try their hand in paid surveys but don't know where to start looking or who to trust.
SurveySheep Ugly Truths Revealed!
#1 Limited Membership
SurveySheep is only available to certain countries such as Australia, US, and Canada. These are also countries where their partners operate, and also restrict memberships to. Their partners are very particular about demographics, and your location plays a big role.
#2 Low Income Potential
SurveySheep does not give you a full-time income. Let's get that out of the way. You're earning a few bucks every week, and does not even make it worth your while to do it full time.
It also takes you a long time to get your cash out because you have to meet various payment requirements. So you're not exactly guaranteed consistent timely payments.
#3 Screening Tests Can Be Tedious
Most of their partners will require you to pass screening tests because they work with high-end companies such as Coca Cola. They need to make sure that you belong to the demographics they are targeting for the survey.
These tests take a long time and you will not be compensated for it.
What I Like About SurveySheep?
#1 Free To Join
The site is free to join and does not require you to do anything else. You'll only provide your contact information and other info pertaining to demographics.
You'll be able to check out the sites they want you to join, which are also free to sign up for.
#2 Various Payment Options and Free Products
SurveySheep is partnered with sites that offer flexible payment options, along with the opportunity to get free products.
Survey sites such as Vindale Research is a product-testing site that lets you sign up to test various products and apps even. As a form of payment, you'll get to keep the product if you do a good enough job in reviewing it.
Your only concern here would be to make enough money to cash out.
SurveySheep is as legitimate as it can get, and we don't see any reason to think otherwise. They are partnered with some of the most well-established sites in the industry, so that's a huge plus.
However, we can't recommend this to people looking for a source of full-time income.
The income potential is low across the board. The sites that we reviewed that are on their partner list don't really offer that much, and you're averaging at about a few bucks a week.
The membership is limited to a few countries such as USA and Canada. This is meant to help their client's get the information they need based on demographics.
The screening tests may take a long time to complete, and you'll not be paid to do them. These are also required by some of their partner sites before you can start doing their surveys.
But if you just want a place where you'll be able to find legitimate and paying survey sites, SurveySheep can definitely help you with that.
How I Make a Living Online?
I've personally created a 4-Figure Monthly Passive Income Stream and become financially independent at just 21 years old without any College degree or working experience!
Through my own hard work, I went from a broke restaurant waiter to living my dream laptop lifestyle in less than a year's time...
If you want to discover the secrets of how I did it at such a young age, click here!