10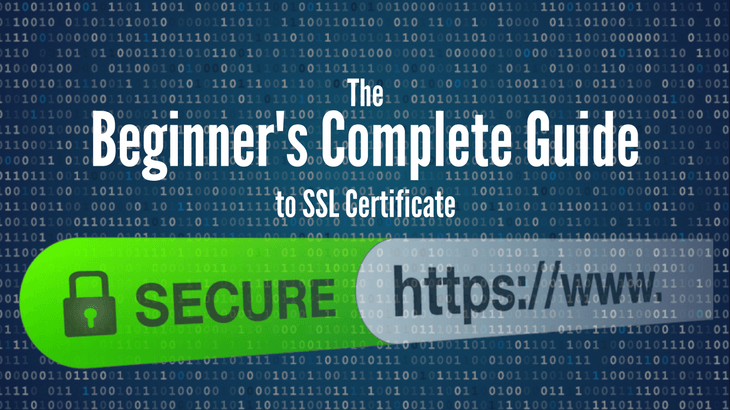 What is a Free SSL Certificate – The Beginner's Complete Guide
If you are a website owner or you want to build a website, you should pay attention to this post.
I'm going to tell you exactly what is a SSL Certificate​ and how it can benefit your site. Guess what, it can help you rank higher in Google as well!
I'll also offer you my #1 Recommended place to get a FREE SSL Certificate for your website. So by the end of this post, you will not only understand what is SSL, but also know how to get one quality certificate for FREE.​
Sounds great?​
More...
SSL Certificate in Layman's Term
​In order to understand what is a SSL Certificate, watch this 3-minute video first. It basically sums up everything you need to know about SSL Certificate in the easiest way to understand.
SSL stands for Secure Sockets Layer and it is a cryptographic protocol which secures all communications between hosting servers and web browsers. It allows a website to transfer data over an encrypted connection.
What you only need to know is that...
If your website has a SSL Certificate, it can accept personal information, and more specifically payment information like credit card numbers, social security numbers, telephone numbers, login details, etc. This means you can do whatever thing you want with your website, including transactions, in the most secured way possible.
Another benefit for you as I've mentioned earlier is that websites with SSL Certificate tends to rank higher in search engines as search engines like Google has announced a secured website as a ranking signal in their algorithm.​
For your info, SSL is now called Transport Layer Security (TLS) but they are both frequently referred to as "SSL".
How Does SSL Make Your Website Secured?
In the video above, it has explained every detail about how SSL works. But for the benefit of those who didn't watch, I'll list out the steps below.
Step 1: ​
When people enter your website, their computer will connect to your website's server.
Step 2:
Your visitor's computer will look at the SSL certificate and verify your website's identity with the Certificate Authority.
Step 3:
​After verifying the authority, your visitor's computer and your website's server will form an initial trust called "handshake". At this point, they will determine what kind of encryption to use. 
Step 4:
​Data will start to flow back and forth between them.
Step 5:
​All the data will be encrypted upon the agreed method of encryption while leaving one end.
Step 6:​
​The same data will be decrypted when arriving at the other end.
By encrypting the data while transmitting, it's impossible for anyone to decrypt it and steal your information even if the data are intercepted along the way.
How To Determine Whether a Website is Secured?​
To determine whether a website is secured and has SSL certificate, it's really simple. You just need to look at the address/URL bar of your browser. The following image shows how a secured website looks like in 5 different browsers - Chrome, Firefox, Internet Explorer, Opera and Safari (In this order)
A secured website will usually be denoted by a green address bar with a padlock icon.
Another way to find out is by looking at the URL itself. A URL of a secured website with SSL certificate will​ start with "https://" while a website without SSL with start with "http://"
So far so good?​
However, there's one thing you should take note!
When your website gets a SSL certificate and your website homepage has this padlock icon, this is NOT the end. Your website may not be secured yet.
You should go and physically go to all your pages to check whether the padlock icon is present. Not all your pages and posts will show the icon. As long as one of the page or post doesn't have the icon, your website is not secured.
Another situation is that your website doesn't have any padlock icon at all after installing SSL. Don't panic! 
Check out this post for further instructions on how to fix this.
​Do I Need SSL for My Website?
​To be honest with you, if your website does not involve transactions and does not require personal information, you DO NOT NEED SSL.
​Also, for all the legit and quality certificates I know, they all cost money (it's cost ranges from one hundred to a few hundred dollars per year. Here's an example of the pricing of SSL certificates offered by digicert), except one. And that's the one I'm going to introduce to you later in this post. Hang on!
I really doubt the free ones online about their legitimacy and quality (I never tried all of them so I cannot give you the definite answer). Some free ones are just for trial.
Of course if your website is a e-commerce site or it accepts people's personal information, it's a MUST to have SSL certificate. Other than that, you do not really need a SSL certificate if you need to pay for that.
However...
​Remember there is another benefit of SSL?
The potential for your site to rank higher in search engines.​
​This is a big one. We all want to rank higher in Google. So, this gives you a reason to consider having one. On top of that, with the free SSL SSL certificate I'm going to introduce to you, it makes a perfect match.
How To Install a SSL Certificate on Your Site?
​There are 2 ways for you to get your SSL installed on your website. And this depends on whether your hosting server provides SSL.
Firstly, if your hosting server provides SSL, it's very easy to installed one on your site.
Let me give you an example: GoDaddy.
GoDaddy is a hosting service provider and it also offers SSL certificates to protect your site. If you host your website at GoDaddy, you simply need to purchase their certificate and they will do almost everything for you.
This is a screenshot of the page on GoDaddy where you can purchase your SSL certificate.
The other method is when your hosting server doesn't provide SSL or you decide not to get the one from your hosting server.​ This method will be a lot more complex.
First you need to find a good certificate from a web service company who is a Certificate Authority - the entity that issues digital certificates. After that, they need to research and review your company/website, check references, assures identity. You also need to have access to your hosting details and provide to them.
Basically, it's just very troublesome as there are a lot of work to be done back and forth between you and the company you purchased the certificate from. This is because they don't host your website and don't have your hosting details. Also, there are a lot of verification process required.
So, getting SSL from your own hosting server is a lot simpler and easier.
The Best Place to Get a FREE SSL Certificate - Wealthy Affiliate
After explaining everything you need to know about SSL certificate as a beginner, it's time for me to introduce to you the FREE SSL certificate I kept on talking about. I'm sure you are very curious by now.
​Wealthy Affiliate offers FREE SSL Certificate to ALL the websites hosted there because the founders Kyle & Carson said:
As I'm a Wealthy Affiliate member and all my sites are hosted at WA, my sites are all encrypted with FREE SSL Certificate offered by WA.
Top 7 Features for WA Hosted SSL
​One

-

Click Activation

of SSL (Simply toggle On & Off)
No installation fees
No yearly fees
Automatically redirect all traffic from your "http" website to "https" website after activation
Automatically update all internal links

24hr Site Support

(Simply submit a support ticket if you encounter any issues)

Live Training/Webinars

available to guide you for more advanced techniques
Can you see why I love Wealthy Affiliate so much now? It is simply awesome!
Now, The Step-by-Step Guide
​Are you ready to give Wealthy Affiliate a try? Follow the steps below:
​Step 1:
Sign up for a Premium Account at Wealthy Affiliate HERE.
​It's USD$19 for the first month and USD$49 per month from the second month onward. The reason I need you to sign up for premium is because FREE SSL is only available to Premuim WA members.
If you are not ready yet, you can sign up for a FREE account at Wealthy Affiliate HERE​ first or read my honest Wealthy Affiliate Review before you make a decision.
I know I've been saying "Free" SSL from the start. And you may be wondering why you need to pay here.
Yes, I do earn affiliate commission if you decide to purchase anything through my link, but I need you to sign up for Premium Member here is not because of the little commission I might get; instead, I want to help you get the best possible SSL certificate and hosting for your website so that you can scale your business to the next level.
Watch the comparison video at the end of this post and you will understand how troublesome it is if you want to get SSL from elsewhere.
Step 2:
After entering the WA dashboard, hover your cursor over to the SiteRubix at the left sidebar and click on "SiteDomains"
Step 3:
If you don't have a website yet and wish to create one, you can search at the search bar and purchase a domain of your own. (A domain costs either US$13.99 or US$15.99 per year)
If you already have a website which is hosted at other hosting companies, you can use the transfer domain to WA option.
Step 4:
Hover over to SiteRubix at the left sidebar again and click on "SiteManager"
Step 5:
Click on "SitePlus+" in your website details.
Step 6:
Toggle on the SSL for your website.
---
Comparing WA SSL Install V.S. Other Places
Here's a video comparing the setup process of SSL between Wealthy Affiliate and other places (the method where you need to purchase certificate yourself from Certificate Authority)
It's a 12-minute video but the first 9min 15sec is all about how complicated and troublesome it is if you want to install SSL elsewhere.
It only takes a couple of seconds within Wealthy Affiliate as shown in the last few minutes of the video.
Conclusion
That's the end of this SSL Beginner's Guide. I hope I have made thing crystal clear for you regarding SSL. Should you have any questions, please leave them in the comments below and I'll  be more than willing to help you out.
If you find this post helpful, please help me share it with others. Thanks!​