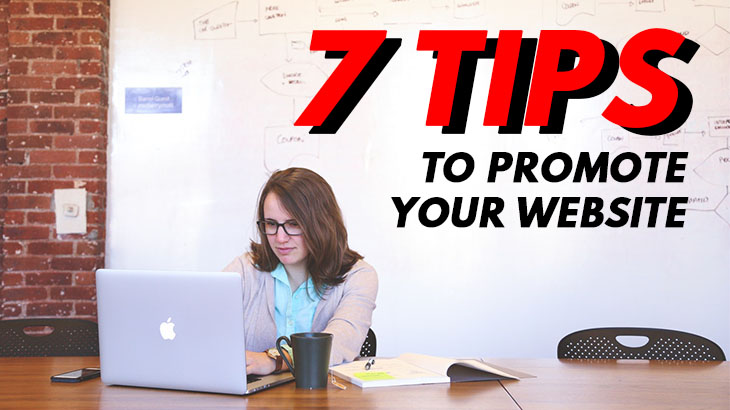 Promote Your Website Effectively With These 7 Tips
Creating a website is one thing, but giving it out for the world to see is a whole different thing. Compared to promoting your website, creating it is like stealing candy from a baby. By learning how to promote your website, you will be one step closer to monetizing it.
The good thing is, it doesn't have to cost anything. Of course, there are paid marketing solutions that will probably work faster than the free solutions. But if want to go absolutely free, you definitely can.
Why do I need to promote my website?
You can sell the best service or product in the world. But without a good promotion, nobody will know about it. Your website being online doesn't mean that people can see it. In fact, it's most likely that they can't – Not in a literal sense, of course.
What I mean is that people will have no way of hearing about your website. It's like searching for Facebook on Google, but it's on the third page and you're most likely to click the first few links.
#1: Strengthen your SEO
Learning how to promote your website starts with SEO. SEO (Search Engine Optimization) is the most powerful tool to effectively promote website for free. It is a free way of getting your website ranked higher on Google, Bing or any other search engine. It's basically telling the search engine how to display the website in their results.
The downside with this free marketing tool is that because it's so powerful, everyone uses it. The competition is literally endless. The good thing is, a lot of websites don't have good SEO. This gives you the upper hand. Good SEO means that you'll soon outrank those with bad SEO.
Google uses a lot of factors to determine how your website ranks in search results. There are a lot of variables you control that can increase your ranking in search results. The first thing you should start doing is to plan your keywords with a keyword research tool like KWFinder. Other things that will improve your SEO score are optimized headings, image alt text, and others.
Hostgator are obviously doing something right, because their website ranks first for the keyword "hosting", which is what they're selling.
#2: Make sure your website is fast & optimized
Google also ranks your website by speed. Even if they don't, Google's research shows that bounce rate increases drastically with every second the website takes to load. The need for faster-loading websites grows bigger and bigger. It's not wrong to say that we need fast websites as much as we need to breathe.
Before you do any website promotion, make sure you purchase great hosting because that can't be optimized if it's slow. Then, optimize your website files like CSS and most importantly JS files to load faster and not block any rendering that happens. A good tool you can use to optimize your website is Google PageSpeed Insights. This tool will tell you exactly what is causing your website to load slowly.
If you have a website that uses PHP, you can serve the visitors a cached HTML version of the pages that don't need to be live updated. There are plugins for WordPress or any other platform that can help you implement this.
#3: Start a blog
Blogging has become a very main-stream hobby. More and more people are getting into blogs every year. Some of these people start blogging with the hope of creating an income source from it.
But money doesn't have to be the only thing to be accomplished with a blog. Starting a blog also helps you promote your website free. Regularly writing articles on that blog can help you increase your website's SEO score, ultimately ranking higher in search results.
The unintentional benefit will be that you will start researching your market much more often and you'll become an expert. By increasing your skills in your market area, you will ultimately reach more people and even sell more if that's what you're trying to do.
Guest blog posts
Guest blogging has recently become a very popular marketing tactic. It's a mutually beneficial way of building a following for both involved parties. It usually involves another person from the same industry writing a post on your blog.
This allows you to attract some of that person's network to your blog. The guest has the same benefit, there are usually backlinks in the post that lead back to their own website. This allows them to attract some of your audience to their website.
It's recommended that you become a guest blogger, but also let someone guest post on your blog. This will definitely enlarge your network, and the backlinks definitely help in increasing your SEO score.
#4: Extensively utilize Social Media
Knowing how to promote your website starts with knowing how to utilize social media. Social media can be used for a lot more than contacting your friends from high school. Social Media is the ultimate tool for businesses and just about anyone trying to promote something.
The best way to promote your website on social media might be to just create an account and start interacting with your customers. 80% of consumers use social media to engage with brands, this should be enough for you to start promoting on social media.
But, if that's not enough, it also costs 6 times more to solve a customer support issue through calls compared to social media. Additionally, buyers that get replies from brands on Twitter might spend more than 20% more when buying their products.
Wendy's is doing this the right way. They are playing the game and winning at it. They sometimes engage in roast battles that attract a lot of attention.
#5: Do email marketing
Over 59% of professional marketers say that email is their biggest source of ROI. That is because once you invest in gathering email subscribers, they will most likely remain in your subscription list. After that, it's basically free marketing, sending promotions, products, newsletters, you name it.
A nicely written newsletter can bring you a ton of visits or even sales. The most important thing to consider is writing the newsletter in a tone that will press the user into clicking the link or button. If you practice this enough, you'll get to a point where your email marketing brings you a lot of visits and even sales.
There are plenty of services that will help you with website promotion through email marketing. There are plenty for free until a certain number of subscribers. The best thing is, you don't even need them. Depending on your hosting, you might be able to utilize WordPress plugin like "Newsletter" to do this.
#6: Post quality content
The best way to promote website free is to post quality content. Think about it. You get up in the morning and most likely open twitter and read what the people you're following have posted. If some of them post a huge quantity of content, to the point that it harms their quality, you unfollow them.
You need to keep this in mind when posting. There's no need to extensively post content. If you try to post three 1000 word blog posts in a day, you will most likely have no free time and even degrade your quality.
Quality is what brings people back to your blog. Quality is what makes people click the "Subscribe" button after writing their email in the box. It's quality that will boost your blog, not quantity.
The best thing to do is to find the sweet spot between quality and quantity, that will bring in the most visitors and have a high retention rate.
#7: Paid advertising
If you want to learn how to advertise your website, look no further than Facebook and Google. They're the two main services to do your paid advertising with. Facebook is a little cheaper and will reach a lot more people. But Google will ultimately provide it to people who are looking for it.
Advertising on Facebook is like begging people to buy, they're not necessarily looking for a new alarm clock, but an alarm clock ad appears anyway. A very small percentage will click on it, and an even smaller percentage will purchase.
Google, on the other hand, shows ads to people that are searching for them. It's similar to how the search engine works. The Ad is latched to some keywords and it will appear at the top of the search results for those keywords.
Conclusion
The best way to learn how to promote your website is to keep trying. Take these tips into account, because they are definitely going to make your website promotion easier.
By far, the most important thing promote website free is SEO, there's no tool that is more powerful for website promotion. Mastering SEO will enable you to rank high on Google, and that ultimately will bring in more visitors and increase retention.
Don't forget that Google also ranks the website based on speed, optimization, design, ease of use and many more factors. The best way to make sure your website is fast is to purchase great hosting. You can fix the broken code. But you can't fix slow web hosting, migrating can become hard if your website has a lot of data on it.
Remember that paid advertising services don't always bring a lot of visitors. Even if they do, the visitors aren't going to come back if your content isn't of high quality. Make sure to focus on quality, that way you'll increase your viewer retention and many more people will click the "Subscribe" button.