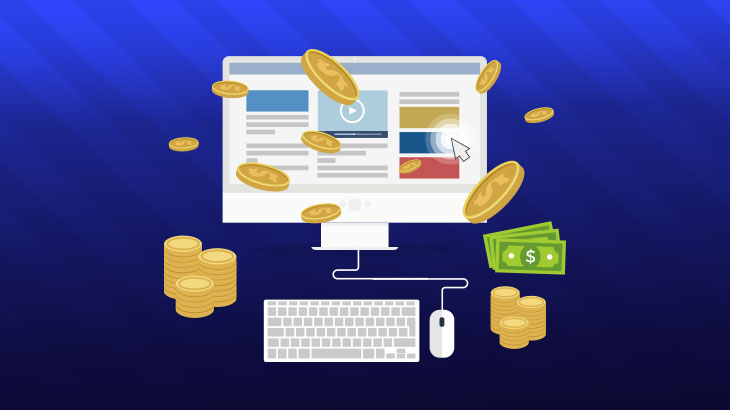 Best Web Hosting Affiliate Program: Why Cloudways is The Clear Winner
Hey, my fellow affiliate marketers!
We all know that Web Hosting is a kinda like a necessity for everyone who wants to build an online business and make money online, right?
So, as an affiliate marketer, have you ever wondered...
What's the best & highest-paying web hosting affiliate program out there?
This post highlights the details of Cloudways' affiliate program - A company that offers one of the best hosting affiliate programs for online marketers!
Imagine this:
It's the end of the month. For a person working at a 9-5 job, this is the time he needs to be careful with his spendings. The pay cheque is about to come but it hasn't yet.
What if I were to tell you that this does not necessarily have to limit you?
You can continue to live your life without any worries, as thousands of dollars flow to your account.
Yes, I'm not kidding. This is possible through 'Affiliate Marketing'.
Thousands of bloggers and website owners across the world are earning passive income through these affiliate programs.
Many of them are doing it by promoting web hosting...
More...
Why You Should Become a Web Hosting Affiliate
With so many products and services to promote, why do you opt for web hosting?
Let's answer the question by giving you some statistics:
The statistics above show that web hosting is something that's in very high demand. After all, who doesn't need a website these days?
What's more, it solves a crucial problem, that is, web hosting ensures that your website stays up and running.
This means that you as an affiliate marketer is not just earning money, you are also providing value by referring a service that will help your audience.
Editor's Note: Another benefit of promoting a web hosting affiliate program is because it's an on-going service. In other words, you'll be earning recurring commissions!
I'm Jerry!
I Created My Own 4-Figure Monthly Passive Income at just 21 Years Old!​
Cloudways Affiliate Program - One of the Best Hosting Affiliate Programs
Now that you are convinced that promoting web hosting is the way to go (you're still reading), the next question is what web hosting service to promote?
The question is valid as there are quite a few web hosting services out there.
The first thing to focus is to only promote products or services that you have used. This way, you will be promoting them with conviction and your audience will surely trust you.
Cloudways, based in Malta, is an incredibly reliable managed cloud hosting service. They provide a fast and secure hosting platform to digital agencies, ecommerce stores, developers, bloggers and freelancers.
They also offer a very lucrative web hosting affiliate program. Your earnings can reach upto $6K per month.
That's awesome, right?
I will talk about their commission structure in greater detail in subsequent paragraphs, but first, let us take a look at what makes Cloudways Affiliate Program one of the best hosting affiliate programs:
1. Dedicated Team of Affiliate Account Managers
Cloudways has a team of expert affiliate managers who are on top of their game. Their seasoned team of professionals are always ready to help.
As an affiliate marketer, you surely have questions. Their experts are always there to answer them. Moreover, they also provide free guides to help you grow further.
2. Incredible Learning Resources
With Cloudways, you can get a ton of learning resources. These resources help you understand the art of online selling and get better at it.
They include blogs, guides, monthly newsletters, tutorials, educational and benchmark articles, ebooks and so on.
With Cloudways, you not only earn better, you also learn more.
3. Accurate Real-Time Tracking
Being a technology-driven company, Cloudways is heavy on Analytics. Once you have partnered with Cloudways, they provide you with a comprehensive dashboard that gives greater control.
To make your life easy, it has cookies that track visitors and referrals to ensure accurate assessment. You know exactly where your audience is coming from. This helps you optimize campaigns for future.
4. Amazing Performance Reporting
Cloudways also helps you generate reports. This again allows you to know exactly how and from where your traffic is coming. You can evaluate the performance of your links and take actions accordingly.
Let's Get to Know Cloudways' Commission Structure
Cloudways lets you earn commission through its three structures.
They give you greater choice and flexibility making them one of the highest paying web hosting affiliate programs.
Their three commission structures are: Slab, Hybrid and Custom. Each of them gives affiliate marketers a different kind of earning potential.
Let me explain each one in greater detail:
1. Slab
Slab is a ​Cost Per Acquisition (CPA) or a performance-based model. It allows affiliate marketers to earn depending on the number of referrals that converted. The more you are able to sell, the more you will be able to earn.
The great thing about Cloudways is that your commission per sale keeps on improving with the number of conversions.
Let me give you an example...
Let say 25 of your referrals have converted to Cloudways. This means that you will be earning $100 per sale.
However, once your conversions reach 50 or more, your commission will be $125 for every sale.
This commission structure is great for media publishers, entrepreneurs and performance marketers.
Here's a complete breakdown of Slab:
2. Hybrid
The hybrid model is basically a recurring commission model.
What this means is that you can continue to earn a monthly share as long as your referred customer stays with Cloudways.
First up, as soon as a referral converts, you get an upfront bonus of $30. After that, you continue earning recurring commission. This amount is 7% of the referral's total monthly invoice.
Hybrid structure is great for bloggers, developers, freelancers and digital agencies.
Here's what the Hybrid structure looks like:
3. Custom
This commission structure is specifically for savvy, high-performing affiliate marketers. It is Cloudways' way of rewarding them. It is basically a combination of both hybrid and slab and allows them to have the best of both worlds.
If you are an affiliate marketer that converts more than 80 customers in a month, this structure is for you. After 80 conversions, you can earn a commission of up to $200 for each sale.
Are you ready to grow as an affiliate marketer and enhance your earnings?
Cloudways can be an amazing choice.
The company's affiliate program helps you in every step of the way. From audience tracking to hands-on support, Cloudways aims to helping affiliate marketers succeed in the long run.
Their flexible commission structures allow you to earn depending on your potential. Whether you are a beginner or are an affiliate superstar, the company offers value to you. This makes Cloudways one of the best hosting affiliate programs.
Did you like this review? Do let me know your thoughts in the comments' section below.
This is a guest post by Shoaib from Cloudways