8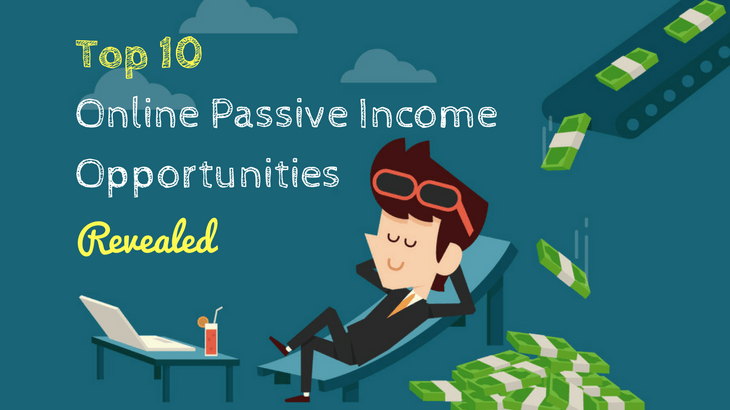 What is a Passive Income Stream & How Can it be Applied Online?
I'm sure many of you today have heard of the phrase "Passive Income". But do you really understand it?
​And do you know how to make it?
In this post, I'm going to let you fully understand ​the concept of passive income stream through a parable video. After that, I'm going to give you 10 actionable passive income opportunities online.
​Ready?
More...
​What is a Passive Income Stream?
A passive income stream is the channel in which a person earns money consistently without a real time presence.
How is this possible?​
Since young, many of us were all taught to study hard, go to good schools, get a degree and a high-paying job. This path surrounds the concept of active income. ​
We spend our time to work for the company and get a paycheck in return. In other words, we are trading time for money, correct?
To be honest, this is not sustainable.
Imagine if you are laid off one day or you run into a car accident or you are diagnosed to have a cancer. (Don't get me wrong! I'm not cursing you. I'm just giving some examples.) In all these situations, you are no longer able to spend your time and work for the money so your income stops.​
Passive income is the concept of building ​up an automated system for the money to work for you so that your income will never stop even if you are not working.
I'll be explaining about the "automated system" and how to do it later in the post.
But now, let's take a look at an interesting 10-minute parable video that shows the difference between working for an active income and a passive income.
As seen in the parable, Bruno chose to work for money while Pablo chose to work to develop a stream of passive income.
After watching this story, I'm sure you've got a much better understanding and importance of a passive income stream. This is the perfect demonstration.​
---
Passive Income Opportunities Online
After understanding what is a passive income stream and it's importance, let's take a look at some of the passive income opportunities online.
Below are 10 ways that are proven to work and they are great passive income opportunities.
1. Affiliate Marketing
​Affiliate marketing is a type of online marketing where you become the middleman between sellers and buyers.
You connect them by building a niche website helping buyers make the best and informed decision about the products you promote as an affiliate.
​To be more specific, you include affiliate links provided by the sellers in your website. Whenever your visitor clicks on the link and makes a purchase, you earn commission.
​This is a passive income stream opportunity because once your website is setup and your contents are there, it is working for you 24/7. Your website will be there all the time and your visitors can be coming from all around the world.
The potential of affiliate marketing is huge. This can be proven by many successful affiliate marketers like Pat Flynn, Steve Razinski, Alex Sol, Dom Wells, Tung Tran, etc.​
Click here to learn the best way to get started with affiliate marketing.​
2. Blogging
​I'm sure all of you know what's blogging.
Actually, blogging and affiliate marketing are related. Affiliate marketing requires you to post blog posts and deliver good contents for your visitors before they will make the decision to purchase.
However, there are other ways where you could monetize your blog.
For example, you can earn passive income by using Google Adsense, having sponsors and other website advertisements or sell your own products on your blog.​
Google Adsense can be a good passive income because whenever someone clicks on the Google Ad on your website, you earn a few cents to a dollar.​ If your traffic is huge, this can be lucrative.
You can also offer or "rent out" places on your website for relevant companies to put their ads and you charge them on a monthly basis.​
Anyway, there are a lot of ways you can earn passive income with a website​ so blogging is definitely a good opportunity.
3. Sell Stock Photography
​If you have a passion in photography, you can sell stock photos online.
The way it works is by being a contributor to websites like​ istockphoto.com, shutterstock.com, dreamstime.com, flickr.com, etc. For every photo you contribute, you will earn a passive income of a few cents to a few dollars whenever someone purchases it.
The rules of different sites differ so it depends on which platform you use. But ultimately, it's a type of online passive income for you as there are people buying photos all the time and you can be selling 24/7​.
Click here to learn more about selling stock photos.​
Another way to earn passive income as a photographer is again through blogging and affiliate marketing.
You can be an authority blogger blogging about photography tips and tricks. At the same time, you can have advertisements on your website and selling your recommended cameras and equipment as an affiliate marketer. ​
In this way, you have multiple passive income streams! How awesome is that?!​
The choices are wide open for you to choose from. The opportunities are there for you to discover!​
4. Sell eBooks
​You don't have to be a writer. But if you have something valuable to share, writing an ebook is also a good option.
​Here is an excellent guide by Pat Flynn for writing ebooks: eBooks The Smart Way!
There are 2 platforms where you can sell your eBooks on once it's done: Your website and Amazon.com.
​Firstly, if you have a website, selling eBooks on your website allows you to have control on almost everything. So you can do some testing here and there to achieve the maximum result.
Secondly, if you don't have a website, you ​can self-publish it on Amazon Kindle and Amazon will do the marketing and promoting for you.
​5. Teach Online Courses
​Again, you don't have to be a teacher. As long as you have knowledge and expertise in certain area, you can teach.
This course can be anything. If you have some skills in Photoshop, Logo design, Website building, marketing, etc, you can create a course instantly.​
There are more and more platforms today for you to teach online courses and earn a passive income at the same time.
Some common ones include Udemy and Lynda.​ These platforms allow you to create courses online and help you reach your target audience around the world.
Other tools like Zippy Courses, WP course​s and teachable allow you to create courses on your existing WordPress website.
6. Drop Shipping
​Drop shipping is a unique business in which not many of the people are aware of.
In drop shipping, the seller doesn't own the product. Instead, it purchases the product from a third-party and ships it to the customer directly.
This way, the merchant doesn't need to have an inventory, so less capital and overhead are required.
Since you don't have to worry about product creation and inventory, you can earn a passive income if you do it properly because you have third-parties managing stuffs for you.
Many people do drop shipping on sites like Amazon and eBay. It's easy to get started.
Here's a thorough guide to drop shipping.
7. YouTuber
​Today, there are more and more successful and well-known YouTubers who are earning a full-time income online. Simply because there are tons of opportunities in the online world today.
​As an YouTuber, you can earn passive income via Google Ads, sponsors, sell affiliate products directly on your channel or link it to your website.
​Again, being an YouTuber can earn a lot of money from quite a number of ways once you have a huge following and influence. This takes time and hard work, so do any other passive income streams.
But I'm sure you know how powerful it is when you have certain level of influence. Apart from ads and selling products, a lot of companies will start working with you to advertise their products.
Read this: 11 Creative Ways to Make Money on YouTube
Literally, anyone can be an YouTuber as long as you have access to the Internet and you have a smartphone. I'm sure most if not all of you who are reading this right now do meet the criteria.​
There are more and more people who are just like you and me become popular online through YouTube or Facebook. From this fact, there's no reason for you to not taking actions should you decide to work on this area.
8. Software/Online Tool Developer
​The above 7 opportunities do not require much technical skills. So most people are able to adopt any of them and succeed with consistent hard work and commitment.
The last 3 opportunities require more specialized technical skills to handle.​
Firstly, if you have the programming skill, you can develop a software or online tool to help individuals or corporations in certain services. Many of the tools today charges a monthly fee for its users. So it's definitely a passive income.
Since the service can be running 24/7, you can earn passive income by having a team of programmers to maintain and support the service for you.
9. Membership Sites (Web Developers)
​Another thing you can do if you have the skill is to build a membership site that charges a recurring fee.
​The site can offer services, tools, content, advice, etc. There are many kinds of site you can build. Just think creatively and do the necessary research.
Again, you can hire people to run and maintain the site for you to make it more passive.​
10. App Developer
​Lastly, this can be huge. The demand and market for this is there. So if you know how to develop an App, I'm sure you know what to do to turn it to a huge passive income stream for you.
Firstly, you can insert ads into your App. Secondly, you can charge people for downloading your App. You can also produce relevant products around the App. This can be in the form of in-App purchases.
There's another popular way to charge people with your App and it's called the "Freemium Upsell". This requires a second version of your App (an upgraded version) that is paid.
If you have a great app, you have potential to become a millionaire or billionaire with just that one app.​
---
Conclusion
The list of opportunities are pretty much endless. There are so many opportunities out there today while more and more are being discovered or invented.
What I would like to urge you is to invest your time and effort NOW to build a passive income stream so that you can enjoy later.
Find a passion of yours and build on it to make the income passive.
Here's an advice for you:
There's no point saving the money if it doesn't come from a Passive Income Stream.
What this means is that you should invest the money you earn now into building that channel/pipeline of passive income. You hear that?
I'm not saying you should quit your active income job. You keep it, for now. But you plan your schedule well so that you have time to develop your passive income stream.
Just like the parable at the beginning of the post, Pablo still carry water physically to earn the active income to support his daily expenditure. But he put more effort in building the pipeline everyday until he finally can stop carrying the water personally and his income just grow exponentially.
Please take note that it is not easy to build a passive income stream. It may take months or even years. But please don't give up!
Most Things that are Worth Doing are NOT Easy!
​Trust me, it will pay off if you have the consistency and perseverence.
YOU are able to build a passive income stream for YOURSELF.
It's just a matter of time. Everyone has a different path, luck. and timeline.
---
I know this has been a pretty long conclusion but I just want you to have the right mindset so that you can succeed.
Thank you for reading this and I wish you all the best in your passive income journey.
I would love to hear your story or your passive income stream if you've built one in the comments below. If you have any questions about passive income, don't hesitate to ask below as well:)​