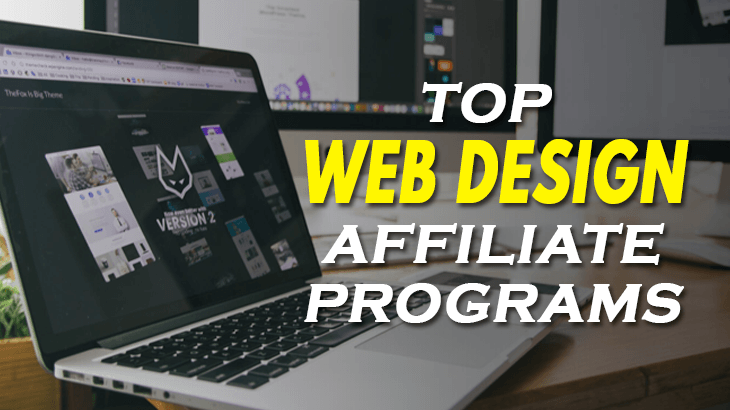 Top Web-Design Affiliate Programs to Make Lots of Money
It is a completely obvious thing that many people start considering affiliate marketing to be a great way to make a living.
When it comes to the web-design industry, a number of affiliate opportunities start getting even bigger.
There is a tremendous amount of affiliate programs out there. Yet some people may have doubts about choosing the most profitable or reliable one.
Are you among these people who want to join the most effective affiliate program?
Do you want to find out more about the most popular ones?
In this case, we wrote this article exactly for you.
More...
It will not take you long to be familiar with the most crucial details about the following affiliate programs:
TemplateMonster
ThemeForest
ElegantThemes
MOJO Marketplace
Creative Market
Wix
Actually, there are a lot of capital aspects that you should pay your attention to while choosing your perfect affiliate program.
In order to make it easier to compare them, we chose the most important ones. Among them, you can find:
The diversity of digital products that a company sells
Who can become a part of the affiliate program
Commission rate
How much money can you get per sale
Common paycheck for customers of the company
Minimum payout
Payout process (including payment methods)
Affiliate tools provided by the company
Cookie duration
Bonuses that you can get together with the chosen affiliate program
Below you can find a stunning infographic that includes all the necessary information about the most widely-recognized web-design affiliate programs these days.
MOJO Marketplace provides its users with an impressive collection of templates for a bunch of platforms.
As an example, you can find various ready-made solutions made for Tumblr, WordPress, Joomla, and eCommerce. The total number of goods that you can find on the website equals to somewhere around 2,000.
If you decide to select this affiliate program, you will not need to exert yourself.
The first thing that you need to do is to create your account on Mojo Themes and you can become their affiliate right away.
Your username will become your affiliate ID. In addition to this, it will be used in all of your referral links.
When a person buys a product using your affiliate link, you will get 30% on the initial purchase.
The cost of the digital products on Mojo Marketplace is around $35 which means that your earning for each sale will turn out to be $10.
By the way, you can easily get familiar with all the necessary information about your income. It will be saved in your personal account at the end of each month.
If your earnings are lower than $50 at the end of the month, you will need to work harder in order to make a needed sum of money the next month.
Mojo Marketplace cares about your affiliate campaign. For this reason, it provides its partners with eye-catching logos and banners.
Without a doubt, people will become more interested in multiple products and bring you hundreds or even thousands of dollars.
ThemeForest has one of the largest sets of website templates on the web.
With ThemeForest, it's possible for you to make money in a number of ways.
Why is it so?
Maybe, you are already familiar with a marvelous Envato Marketplace.
ThemeForest is one of its parts that allows buying and selling of ready-made solutions for a wide range of CMS.
In other words, you will get commission not only from ThemeForest sales but also from the sales of goods that are presented on Envato.
Are you already intrigued? Do you think that it is difficult to become a part of this exciting affiliate program?
Everything is a little bit easier than you may imagine.
To begin with, you need to create your account on Envato. Then, you will need to wait in order to receive an approval. After this, it will be possible to generate your personal referral link and start making your bread.
On each initial purchase, you will get 30% commission.
Different products have different prices.
When it comes to ThemeForest, people buy their ready-made solutions from $10 to $30 (but keep in mind that users also choose different eCommerce templates at the price somewhere about $79).
Long story short, the average price people pay for products on ThemeForest is $30. You will get $9 from every successful purchase through your referral link.
And the minimum payout is $50.
ThemeForest does not deprive of your chance to make a perfect affiliate campaign.
You can make use of logs and banners to make it good for both you and your partner.
TemplateMonster offers a great affiliate program that gives people the opportunity to receive lots of privileges.
First of all, you should know that this company offers more than 26,000 ready-made solutions made for a wide range of purposes.
All of them were created by professionals according to the latest trends in web-design.
Everyone who dream of joining TemplateMonster's affiliate program can easily do it.
In contrast to some other affiliate program, there is no need to get an approval before you can start promoting.
Your referral link will allow you to get 30% commission on the first purchase and 10% on following sales.
One more thing that you need to pay attention to is the fact that you will get your earnings for every purchase.
You will earn $28 per sale (a typical payment of customers is $90) and the minimum payout is $100.
Also, you can get paid via a number of payment methods.
In order to capture attention of your readers, you can take advantage of the stunning banners, landing pages, showcases, ready-made shops, WordPress plugins, widgets, presets, and many other tools.
Do not forget that you can speak with your personal affiliate manager if you want to get a great piece of advice.
We will not give special attention to Creative Market, ElegantThemes, and Wix.
You can find all necessary information about their affiliate programs in the infographic on the top. It is presented in a user-friendly and understandable way.
As you can see, there are a lot of ways to earn money from various affiliate programs.
To avoid choosing the wrong one, you should consider the following things:
What payment methods does the company support?
What's the minimum payout?
How can you benefit from different affiliate tools they offer?
Commission rate
Consider these before choosing your perfect affiliate program.
Pay attention to all of its advantages and disadvantages before selecting an effective affiliate program.
Thanks for reading!
I'm Jerry!
I Created My Own 4-Figure Monthly Passive Income at just 21 Years Old!​