1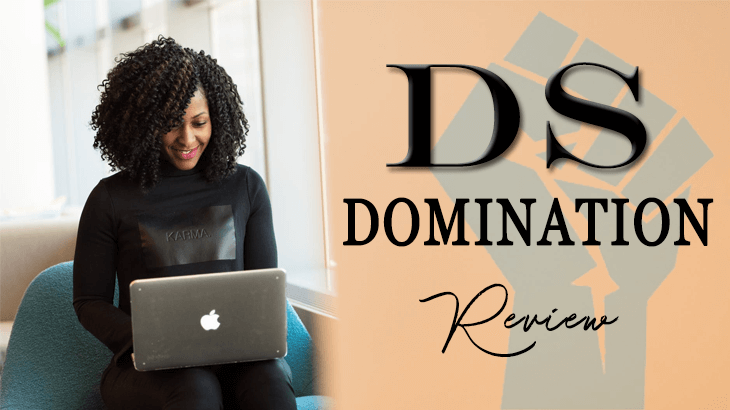 DS Domination Review – Run For Your Life, Here's WHY…
Welcome to my DS Domination review!
First of all, I must Congratulate you for taking your time to do your own research before buying into any "seemingly good" product.
That's the way to avoid scams and find the legitimate way to make money online!
To be completely transparent with you, I'm not associated with DS Domination in any form.
So, rest assured that I'm not here to pitch for sell you anything.
Instead, I'll prove to you 3 things:
Why DS Domination is actually a Pyramid Scheme in disguise?
Why people seem to be saying lots of positive things about it despite it's a crap product?
Why this entire business model is INVALID?
Is DS Domination a scam? Let's dive right into it...
DS Domination Review Summary
Product Name: DS Domination
Founder: Roger Langille, Kevin Hokoana and Hitesh Juneja in September 2013
Product Type: Dropshipping Course Marketed through MLM Business Model
Price: From $19.95/month all the way to $1,499
Best For: Owners & People promoting this MLM (If you're good at recruiting, it can be profitable for you)
Summary: DS Domination may not be an outright scam but it's very close to one. The only good thing is that at least they have some decent training. But the entire business model they're using and teaching is just crap.
As always, I don't criticize anything without evidence. If you want to see the proof, check out my full review below. If not, you can just skip this and discover my #1 Recommendation through the button below!
Rating: 10/100
Recommended: No
More...
DS Domination actually stands for "Drop Shipping Domination".
As its name suggests, it's a program teaching people about how to make money online via E-commerce, and more specifically through the dropshipping business model.
To understand DS Domination, we have to first understand dropshipping...
So, What is Dropshipping?
Like I've said, dropshipping is a type of E-commerce business.
In traditional E-commerce business, a seller has to handle a lot of different tasks including:
Sourcing of products
Stockpiling
Selling
Shipping & handling
Customer Service
Return & refunds
However, in dropshipping, you don't have to handle any inventory, shipping, customer service, refunds, etc.
All you need to do is:
Research for profitable markets & products
Find suppliers who offer you products at wholesale price
Market the product and sell it at a higher price with a markup
That's all.
Whenever someone purchases a product from you, the supplier will ship the product directly to the buyer without going through you but you'll earn the difference between the wholesale price and the selling price you set.
That's why you don't need to handle all the shipping and stuff.
Because of its many advantages, dropshipping is pretty common nowadays and a lot of young entrepreneurs have been really successful with this business model.
Just take a look at these young entrepreneurs like Tanner Planes and Hayden Bowles.
They are killing it!
I'm sure you've probably seen a lot more and there are quite a lot of dropshipping Ads going around on Facebook and Instagram as well.
So let me tell you this...
Dropshipping is a legit and profitable business model that works BUT DS Domination DOESN'T WORK!
Here's Why...
Although DS Domination is based on the dropshipping business model, the way they do dropshipping is outdated as it was created back in 2013 (despite they had updated it a bit along the way).
Today, dropshippers will always find their wholesale suppliers from China, especially through a platform called AliExpress, because that's the way for you to get products at really low wholesale price.
However, DS Domination teaches you to find products on Amazon and the products on Amazon are already selling at the retail price instead of a wholesale price.
After finding products on Amazon, this is what they teach you:
Copy all the information from Amazon
Paste everything on eBay and sell the product at a higher price than the price listed on Amazon
When someone orders through your eBay listing, you'll then purchase from Amazon and put their shipping details directly into Amazon
Can you start to see why this model is not going to work?
First of all, you're simply taking items off of Amazon at full retail price and then listing them on eBay for resale. (something like an arbitrage)
Only people who are too lazy to do their research will probably buy from you. If they've done their research, they'll find the exact same thing on Amazon which is cheaper, right?
Not only that, for those who purchase from you, they'll receive their product which is using Amazon packaging.
Don't you think they'll find out that you're just reselling them something which is cheaper from Amazon?
Is this how you want to build your online business?
Do you want to wake up every morning thinking to yourself, "I hope I can find someone dumb enough to pay more for something which they can find on Amazon at a cheaper price."
So, this is kinda like going to Costco, buying a 10-pack of Jack Daniels for $300 ($30 per bottle), then selling each bottle for $40 (40 x 100 = $400).
Yes, it can work (for some people). But it's definitely not a sustainable and most importantly not an ethical business model, am I right?
I'm Jerry!
I Created My Own 4-Figure Monthly Passive Income at just 21 Years Old!​
Why is DS Domination a MLM too?!
What I've just covered is the part about their actual course.
But there's one more part to this program which is the Multi-Level Marketing (MLM) structure they have within their system.
Another way for you to make money with DS Domination is to recruit people into their program and upsell them all the different training they have:
PRO Training: $19.95/month
Elite Training: $99.95/month
Unleashed Training: $249 one-time
Monopoly Training: $499 one-time
Genesis Training: $1,499 one-time
I won't go into the details for each training. But basically they divide their course materials into different upsells. Higher upsells have more advanced training and resources to help you.
Here's what you can earn by promoting these training:
For example, you've just recruited Alice into DS Domination and she purchased the PRO Training ($19.95). You'll earn 50% from her purchase which is $9.98.
If she purchased the Genesis Training ($1,499), you'll also earn 50% which is $749.50 just from one sale alone. (because she is your direct referral)
However, this is assumed that you've already purchased Genesis Training yourself. If you haven't, this commission will be passed up to the your upline who has purchased this training.
In other words, you can only earn from what you've personally purchased.
If Alice recruited Bernice into DS Domination, Bernice will be considered as your second level referral. And you'l earn 10% from all the purchases made by Bernice, provided that you've purchased the products yourself.
This can go all the way to level 10 referral which is a 1% commission for you.
Can you start to see why this is a MLM business as well?
There's a upline and downline system and you can make money from multiple levels.
By the way, there's another rule to this...
If you only have less than 13 referrals, you're considered as "Normal Affiliate" and you can only earn from level 1 to level 5 of your downline.
If you have more than 13 referrals, you're considered as "Dominator" and you can earn from level 1 to level 10 of your downline.
I hope I'm not making things more complicated but this is what their compensation plan is all about.
By the way, if you want more explanation on their compensation plan, check out this video:
Inside DS Domination's members area, to be honest, there's nothing special or insightful. It just filled with a bunch of their upsells for more expensive training (to earn your sponsor and the owners more commissions).
Basically, they have instructional videos & articles that teach you how to operate an e-commerce business.
At the same time, they have software tools & platform to help you with your researching, managing and marketing of products to automate your business.
If you really want to learn about dropshipping and how to get started, I would rather recommend you to sign up with Shopify and check out the "Ultimate Guide to Dropshipping by Shopify".
Let me tell you this...
Shopify is the best platform for you to build your dropshipping business. It's the exact same platform Tanner and Hayden are using for their businesses as well.
So, why do you want to pay DS Domination which teaches you something that doesn't work anymore.
What's even more shocking is that it's also a MLM business as well.
Doesn't make sense right?
Shopify should be the way to go if you want to start your dropshipping business!
DS Domination Ugly Truths Revealed!
1. FAKE Affiliate Program
I forgot to mention that if you want to promote their products to earn commission, you have to pay $9.95/month to become their "affiliate", at least that what they called.
Now, we know that they're not an affiliate marketing business but a MLM business.
Apart from that, I've been doing affiliate marketing for over 3 years at the point of this writing.
I've actually created a 4-figure monthly passive income stream and become financially independent at just 21 years old through affiliate marketing.
So, I know exactly how affiliate marketing and affiliate programs work.
The truth is...
Real affiliate programs are FREE to join. You shouldn't be paying anything to become an affiliate because you're actually helping other people to promote their business or product, right?
That's why I can guarantee you 100% DS Domination has NO "affiliate program".
The $9.95/month fee is for you to become their MLM distributor.
2. Pyramid Scheme in Disguise
First of all, I need to make this clear...
Anyone who is recommending or promoting DS Domination are trying to recruit you and earn commission through their MLM compensation plan.
Are they really benefiting from the training and making real money in dropshipping?
I doubt so.
I understand that DS Domination has real products and services so they're not a pyramid scheme. But from what I see, they're close to one.
That's why I said they're a "pyramid scheme in disguise".
Let me prove to you by using MOBE and Digital Altitude as examples...
Here are the similarities between DS Domination and these two programs:
You need to pay a fee in order to promote their products (Pay-to-play scheme!)
They claim themselves to be doing affiliate marketing but in reality, their business models are close to MLM or even pyramid scheme
They have multiple levels of memberships/products (In other words, lots of upsells)
You can only earn commissions from products you've personally purchased
And if you don't know yet, let me tell you...
Both MOBE and Digital Altitude has being shut down by FTC because they're operating as a pyramid scheme.
From all the similarities I've just shown you, I'm sure you can see why I classify DS Domination as a "pyramid scheme in disguise", right?
3. Invalid Business Model
Nobody is doing dropshipping by getting products from Amazon.
That's even illegal according to Amazon's Terms of Service, which I'll explain in a second.
If you want to make money from Amazon, the business model you should follow is the one called Fulfillment By Amazon (or Amazon FBA).
That's another topic on its own so I won't discuss that here.
Like I've explained earlier, real dropshippers don't resell retail products. They find suppliers from China who offer them wholesale price.
That's the right and ethical way for you to do dropshipping. Not selling something on Amazon at an even higher price.
4. Expensive Startup Costs
I've listed the different prices of their training earlier on.
Let me tell you, if you add everything together (for you to earn maximum commission), the total amount you have to invest is...
$2,376.85!!
This hasn't include all the monthly fees and the costs you need to run your dropshipping business and to promote DS Domination.
Another thing is that they have a NO Refund Policy which basically means you can't get any refund after you've paid for any of the products.
P.S. This program that has enabled me to generate a 4-Figure Monthly Passive Income at just 21 years old is FREE to get started and only cost $49/month fee to go full-time!
5. Violates Amazon's TOS
DS Domination violates against the Terms of Service of Amazon for multiple reasons.
First of all, if you're copy and pasting descriptions and photos from a seller on Amazon, that is copyright infringement:
Secondly, if you're using Amazon Prime to do this, it's against Amazon's rule because according to them...
You can't purchase products through Amazon Prime for the purpose of resale or use Amazon Prime to ship products to your own customers:
Proofs are right in front of you!
6. Just a Hype!
Take a look at the Google Trend for DS Domination:
As you can see, DS Domination was really popular during 2014 and 2015. But afterwards, it basically died.
Apart from that, the main founder Roger Langille decided to bail on the company out of nowhere. He couldn't even offer up a reason for the quick exit, stating "I would like to keep the reason for my decision private."
Additionally, in the past few years, the co-founders of DS Domination has shifted their focus to another program called "Infinii", which is just another very similar program about eBay and Amazon arbitrage training.
Same face but different name.
What does this suggest?
7. Most People FAILED!
DS Domination's Income Disclaimer clearly states that the average annual income for affiliates is around $500-$2,000.
That's only around $41.67 to $166.67 per month.
They also state that, "These numbers do not reflect the likely costs incurred in building a DS Domination business."
Can you see that this is a high costs business with a very low earning potential?
Not exactly.
In my opinion, DS Domination is not an outright scam because they have decent training for the money you invest.
So, you're at least paying for something valuable in that sense.
However, like I've explain earlier on, the way DS Domination approaches dropshipping no longer works.
Today, all the successful dropshippers are using Shopify.
Anyone recommending DS Domination to you is not making a great deal of money from dropshipping.
Instead, they're only recommending you DS Domination because they want to recruit people and earn commission from their MLM compensation plan.
So, despite it's not a complete scam, you should really avoid this program or even run for your life!
How I Make a Living Online...
Like I've said, I'm an affiliate marketer and I make my money via affiliate marketing.
In fact, with affiliate marketing...
I've personally created a 4-Figure Monthly Passive Income Stream and become financially independent at just 21 years old without any College degree or working experience!
Through my own hard work, I went from a broke restaurant waiter to living my dream laptop lifestyle in less than a year's time...
If you want to discover the secrets of how I did it at such a young age, click here!