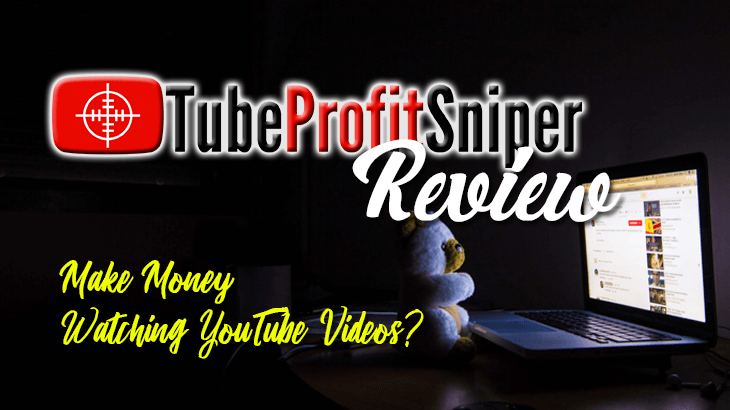 Tube Profit Sniper Review: Make Money Watching YouTube Videos?
Welcome to my Tube Profit Sniper review!
First of all, I must Congratulate you for taking the time to do your own research before buying into any "seemingly good" products.
That's the way to stay away from scams and find the real legitimate way to make money online.
Tube Profit Sniper claimed that you can make $2.3K per day from YouTube...
Is that really possible? Or is Tube Profit Sniper a scam?
Let's dive into today's review...
Tube Profit Sniper Review Summary
Product Name: Tube Profit Sniper
Founder: Launched by Unknown Owner on 4 June 2018
Product Type: Video Training on how to make money from YouTube
Price: $37 + downsell to $17 + upsells
Best For: The owner and affiliates promoting this product
Summary: Tube Profit Sniper is a low quality training product created by an unknown serial scam artist. The training provided is too basic for you to even make a dime on YouTube. All the information can be easily found online for Free.
Rating: 15/100
Recommended: No
More...
What is Tube Profit Sniper?
According to themselves...
"Tube Profit Sniper is a unique, underground system that creates FREE viral traffic and allows you to siphon profits from that pool of $70 billion website called YouTube..."
They claimed that:
You'll get paid when other people watch their favorite videos on YouTube
The system does all the hard work and technical stuff for you (A typical scammy sales pitch!)
Your only job is simply click a few buttons and get paid (Obviously not true)
ALL of their students are making up to $500/day (I highly doubt so)
You too can make up to $500/day with almost no work within 24hours
It only takes 17 minutes to set up
To be honest, my scam alarm went off multiple times throughout their sales video.
It's very obvious to me that this is another hyped-up and completely misleading product created by a scam artist who is just trying to make more money for himself/herself.
I never accuse anyone without proofs. Let me show you the proof in a second.
But before that, let's first understand how exactly this product work?
How Does Tube Profit Sniper Work?
Below is the unreal process they claimed in the sales video:
Pick a subject you're passionate about on YouTube
Create YouTube Channel
Connect to Cash Siphon (What?!)
Sit back, relax and wait for money to show up in your bank account
That's impossible!
Here's the real process of how to make money on YouTube...
Pick a Niche
Create a YouTube channel
Invest in camera and video editing software
Publish quality video contents on your YouTube Channel & market it
Build a following (subscribers) & Email list
Monetize your channel by either promoting your own product, affiliate product, or incorporating Google AdSense to make money via Google Ads
The truth about making money from YouTube is that it takes a lot of time and hard work just like any other businesses.
That's how all the successful YouTubers become famous and start making lots of money.
But Tube Profit Sniper is eliminating or even hiding the entire process that requires you to put in lots of effort. Instead, they make it seems like a turnkey solution where you can just plug into the system and the money will just come in on its own.
I understand that it may seem appealing to beginners but I urge everyone to be extremely careful when you're surfing online.
A lot of scam artists are just playing with your psychological triggers to lure you into something.
One important rule of thumb is that...
If something seems too good to be true, it most probably is!
I'm Jerry!
I Created My Own 4-Figure Monthly Passive Income at just 21 Years Old!​
Inside Tube Profit Sniper
Within TPS, there are 9 video modules with a total 2 hours worth of training materials.
Here are the topics covered:
Creating a YouTube Channel
Customize your Channel to make it look professional
Keyword research and content ideas
Analyze competition
How to produce videos
Video uploading and ranking process (title, description, tags, thumbnails, etc...)
As you can see, yes there are legit and helpful training in this product but it's pretty shallow and incomplete.
Think about it...
There are only 2 hours worth of training material and they're covering all these topics. How much value do you think they can offer? No much, right?
In fact, ALL of the information can be easily found online for Free.
You can learn how to make money from YouTube on YouTube itself. There are lots of valuable videos teaching you about it.
The best way to monetize your YouTube Channel in the long run is to become an authority figure in your niche (i.e. personal branding).
But it definitely takes time and hard work. No YouTubers achieve success overnight. ALL of them spend hours with their cameras shooting videos and in front of computers editing them.
That's why you shouldn't trust what Tube Profit Sniper promised you!
Tube Profit Sniper Ugly Truths Revealed!
Now comes to the most exciting part of today's review because we're exposing the ugly truths with real proofs!
1. FAKE Testimonials
Once again, this is another scammy product which has hired actors on Fiverr to create fabricated video testimonials.
Below are the proofs I've found for you to see...
These guys are offering "spokesperson service" on Fiverr for a couple of bucks. They've definitely not tried any of the products they offer testimonials for.
In fact, many of them are very familiar because they've appeared in many scam products before.
Take Fake Testimonial #1 as an example, this exact same girl appeared in another product I've reviewed before called The AZ Code!
So please don't trust any of the video testimonials online. You never know if it's just a fabricated testimonial from Fiverr.
If Tube Profit Sniper is really that good and you can make up to $500/day or even $2.3K/day, then why are they using these fake testimonials?
It just shows that this product doesn't work at all. Make sense?
2. FAKE Social Proofs
There's a "LIVE Social Proof" section in their sales page as shown below.
From the first glance, this looks pretty fake to me so I was about to do some Google Image Search to see if these are real.
BUT!!
Without doing my research, I immediately confirmed that this is another fabricated proof by looking at the screenshot above.
The owner used the exact same photo for two different people's testimonials. One is called Scott Sibley and another is Howard Myers, yet they have the same exact profile picture.
So I guess this requires no further proof. It's already a proof itself that this "LIVE Social Proof" is just a scam.
3. FAKE Income Proofs
Once again, they're also using another fake income proof showing you that there are people making money with Tube Profit Sniper...
To be honest, they have no right and ability to know how much money you're making with YouTube. So it's impossible for them to know exactly who is making how much.
Thus, this kind of income proofs are fabricate as well.
4. Completely Misleading Sales Video
Another misleading fact is that they claimed that they're showing you a LIVE Streaming on their sales page.
But the reality is that it's just a pre-recorded YouTube video:
They even claimed that there are 13K people watching LIVE but if you click on the YouTube logo, you can see that the uploaded YouTube video only has 1.2K views as of this writing:
As you can see, their sales page is full of fake proofs and misleading info.
Do you really think legit programs will use such techniques to sell their product? Absolutely NO!
5. No Traffic = No Business
So Tube Profit Sniper claims to make fast money with YouTube. But they never teach you anything about traffic generation.
If you want to get fast results, the only way is to run paid YouTube Ads.
But they only teach you the very basics of how to create YouTube channel, choose niche and how to upload videos.
Without traffic, there's no business and you're definitely not going to earn any money at all!
6. The Owner is a Serial Scam Artist!
Okay, this is the most important part among all the ugly truths...
Listen carefully!
The mysterious owner of Tube Profit Sniper is a serial scam artist because I have reviewed two other very similar products.
Take a look at the following two sales pages...
The first one is a scam product called 60 Minute Profit Plan and the second one is Tube Profit Sniper. They're obviously created by the exact same owner because the layout and design is exactly the same:
Not only that, there's another scam product called eCom Profit Sniper, which as the name suggests, it should be founded by the same founder as well.
Last but not least, all these products are inter-related because within the members area, they're actually cross-promoting each other.
So, you should really question is intention of this owner...
Is he/she really trying to help you or help himself/herself to make more money?
I think the answer is quite obvious, right?
What I Like About Tube Profit Sniper
Okay, I know I'm very negative and critical towards TPS but that's its true identity.
But I must mention 2 benefits of this product for balance's sake...
1. Step-by-Step Video Training
Yes, there is step-by-step training on how to get started with YouTube marketing but it's just a very brief introduction.
So, you shouldn't expect much.
2. 60-Day Money-Back Guarantee
Another benefit is that since this is again a ClickBank product, there's a 60-day refund period.
So, it's good that at least you can get your money back for those of you who are too innocent to buy into this product.
Is Tube Profit Sniper a Scam?
It's really hard to determine if Tube Profit Sniper is a scam or not because it's pretty subjective.
From the fact that at least it has some legit training for your money, it's not a scam.
But from the fact that this mysterious owner is a serial scam artist and there are lots of fabricated info, it is a scam.
No matter what, I'm sure it's clear that you should stay away from this product at all cost.
Let's face it...
You're told that you can change your life by just investing $17. That's way too good to be true. It's impossible!
Once again, please stay away from things that seem too good to be true! It's one of the most simple ways to avoid scams.
Who is Really Making Money with Tube Profit Sniper?
Despite this is a really lousy product, there are still people making money, not just this mysterious scam artist...
In fact, the affiliates who are promoting this product is making money too.
As you can see in the screenshot above, affiliates can earn up to $367 per sale on this "super high converting ClickBank Biz Opp Offer".
If you're wondering why affiliates are making $367 when you're only paying $17, this is because there are upsells waiting for you to maximize affiliates' earnings.
So, the truth is that the real winner is the mysterious owner and the affiliate marketers.
Affiliate Marketing - My Top Recommended Business Model...
As you can see, that's why affiliate marketing is my top recommended business model to make money online.
Of course, I'm not asking you to promote scam products like this.
But there are huge potential and opportunities out their for you to create passive income streams via affiliate marketing.
In fact, with affiliate marketing...
I've personally created a 4-Figure Monthly Passive Income Stream and become financially independent at just 21 years old without any College degree or working experience!
Through my own hard work, I went from a broke restaurant waiter to living my dream laptop lifestyle in less than a year's time...
If you want to discover the secrets of how I did it at such a young age, click here!