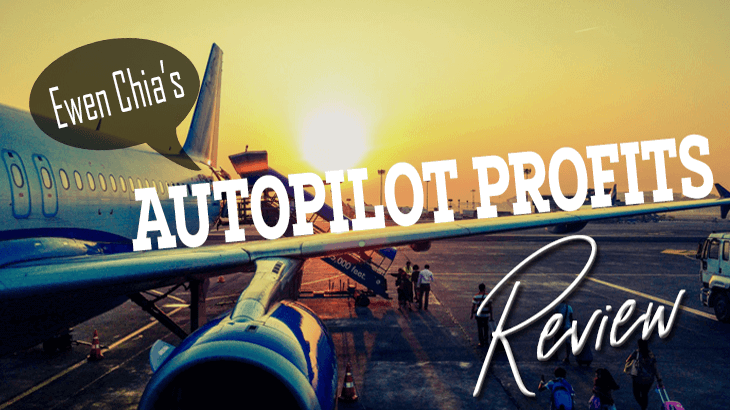 Is Autopilot Profits a Scam? (Ewen Chia's Scam Exposed Again!)
Welcome to my Autopilot Profits review!
First of all, I must congratulate you for taking your time to do your own research before buying into any "seemingly good" products.
That's definitely the right way to avoid scams and find the legitimate way to make money online.
Ewen Chia, the founder of Autopilot Profits, claimed that you can make $3460.25 within 24 hours simply by plugging into his "Autopilot Income Machine"...
Is it really possible? Or is Autopilot Profits a scam?
To be honest, this sounds like an outright scam to me since I've been in this industry for quite some time and I've reviewed hundreds of products before.
But let's not judge a book by its cover and dive into today's review...
Autopilot Profits Review Summary
Product Name: Autopilot Profits
Founder: Ewen Chia
Product Type: PDF ebook + video training
Price: $37 + 14 upsells!!
Best For: Ewen Chia & affiliates promoting it
Summary: Unsurprisingly, Autopilot Profits is a low quality training product where Ewen's main goal is just to cross promote his other digital products on ClickBank. You won't learn anything valuable enough to make any money online for sure! (I don't want to be so critical and negative towards any product but that's the true identity of this scam product.)
Rating: 5/100
Recommended: No (Scam Alert!)
Wanna Make Money Online but Tired of SCAMS?
More...
What is Autopilot Profits?
Autopilot Profits is another extremely hyped-up and misleading ClickBank product because it uses the standard sales techniques scam artists are all using...
For example, it claims that:
You can make $3.5K in just 24 hours
There's NO product, NO website, NO hosting, NO domain name and ALL traffic will come hands-free
It's your "Online ATM Machine" which you can withdraw money anytime you need
It requires NO setup and you can have your business up and running in 5 minutes time
You don't need to do anything. All you need to do is to plug into the push-button system and they'll help you swap your payment info and turn on the "traffic button"
There are many more. To be honest, their sales page is full of lies after lies.
95% of the information is either exaggerated or isn't true at all. They're just scammy sales pitches to lure you into their products.
I understand that all these can be appealing to complete newbies. So I urge everyone to be extremely careful when you come across such program that is too good to be true.
If something seems too good to be true, it most probably is...Remember that!
I'm Jerry!
I Created My Own 4-Figure Monthly Passive Income at just 21 Years Old!​
Basically, Autopilot Profits is just a course claimed to help you make thousands of dollars online by building affiliate marketing websites in the niche of your choice.
The members area consists of a 59-page eBook which seems like a PLR content or something Ewen just outsourced it to freelance writers.
Also, it has 20 training videos on how to set up your affiliate marketing business online, including setting up a WordPress website.
But each video is only around 5 to 10 minutes and they're all very generic and basic information which can be easily found online for FREE.
I'll talk about the red box I've pointed out in just a second. But let's see what we've got in the Autopilot Profits members area.
The main content I mentioned about eBook and video training are all included within the first few tabs on the left sidebar - Introduction, System Step 1, 2 & 3 and Top Bonuses.
The rest of the links are ALL different upsells which I've reveal to you in the next section below.
Below are the content provided in each of the step:
Step 1: Learn the basic system (How affiliate marketing works and how to create WordPress website & landing page)
Step 2: How to drive traffic through Solo Ads (one of the paid traffic methods) and how to get your affiliate links to promote
Step 3: How to profit from the Done-For-You system and a little more training on traffic generation
Autopilot Profits Sales Funnel Revealed!
Like I've mentioned in the beginning, Autopilot Profits is just a low quality product for Ewen to cross promote other products from him.
In total, there are 14 upsells in the entire sales funnel with numerous downsells along the way.
Autopilot Profits is a $37 product which downsell at $27:
Below is the list of all the upsells he has put in place to take money from you...
Autopilot Profits - $37 (downsell $27)
Mega Traffic Package - $67
Autopilot Social Profits - $147
Instant Websites - $197
Ultimate Free Traffic Software - $297
Traffic Millionaire - $19.97/month
Shortcut to $10K - $9.97
Super Affiliate Millionaire Online Workshop training - $297
Cash Biz - $29.97
Traffic Avalanche - $37
Copy Paste Income - $37
Complete Business Setup - $297
My Top Tier Business (MTTB) - $49 + $19/month + $1997
Pure Leverage - $24.95/month + $19.95/month
If you add everything up together, it's a whopping $3804.75! That doesn't even include all the monthly recurring fees for some of the products.
I'm sure nobody is stupid enough to buy everything but this just shows how desperate Ewen is trying to take your hard earned money.
Autopilot Profits Ugly Truths Revealed!
1. Another Hyped-Up Useless Salespage
If you've taken a look at Autopilot Profits' salespage, you'll realize that it's exactly the same as all those scam products.
Ewen mentioned nothing about affiliate marketing and how his "system" works. All he did is keep offering you unrealistic claims, income proofs and hyped-up sales pitches.
That's why I said it's a standard salespage for a scam product.
Come one, earning $3.5K in 24 hours is possible if you're a seasoned marketer. But that's not gonna happen for a complete newbie by just plugging into a "magical system".
Scam artists are just trying to play with your psychological triggers to lure you into their scams.
2. Upsells Galore
I think this requires no further explanation as I've shown you how many upsells Ewen has in place waiting for you.
Below is a screenshot of the checkout page for Autopilot Profits. Look at the number of immediate upsells right at the point when you're just purchasing Autopilot Profits:
I know they put it as "optional but recommended". However, I've never seen so many immediate upsells for any products before. This is insane!
3. Promoting MLM?!
Having lots of upsells is not the worst...
Have you noticed the last two upsells I listed above? One is called My Top Tier Business (MTTB) and another is called Pure Leverage.
These are not Ewen's products. But I've reviewed them before.
MTTB is the front-end product from MOBE (My Own Business Education).
And both MTTB and Pure Leverage are Multi-Level Marketing (MLM) programs.
I really don't understand why is Ewen promoting MLM products when his product is teaching about affiliate marketing.
After some research, I now understand the reason behind it...
It's ALL about MONEY. Ewen is just trying to make more MONEY for himself. Why do I say that?
Because Ewen is personally involved in these MLM companies. By promoting their memberships, he is able to make even more money.
Here's the proof:
Ewen is a Diamond Consultant with MOBE. Above is a video from MOBE showing how successful Ewen has achieved with MOBE.
Update: By the way, MOBE has been officially shut down by FTC for operating as a pyramid scheme which has scammed lots of people's money. That's why the video was removed.
4. Totally Worthless Training
To be honest, the training is so brief and generic that it's almost impossible for you to make any money at all.
He is only teaching you the basics of how affiliate marketing works and how to set up your WordPress website.
The only traffic generation method he taught is Solo Ads yet he claimed that his "magical traffic source" can be "turned on like a button", which obviously is just a lie!
5. Blackhat Techniques
Ewen started his internet marketing career since 1997 (the year I was born, LOL).
So he is considered one of the successful pioneer in the internet marketing industry. But this comes with another problem...
Technology has improved and changed drastically over the past few years. The techniques he used back then to achieve his success doesn't really work today.
For example, he's using strategies like auto blogging, link exchanges, submitting contents to article directories for backlinks.
These techniques worked in the past. But some of these are considered "blackhat techniques" which can actually sabotage your own website today.
What I Like About Autopilot Profits
1. Real Founder
There are simply too many scams today where the founder is kept unknown or they simply use some fictitious name to act as the founder.
So, I must commend on the fact that Ewen is a real person. Not only that, he is a speaker who has shared stage with some renowned people worldwide...
But I really don't understand why he has to create such scam products when he is so well-known. That's the only thing I couldn't figure out...
2. Ewen Chia's Confidence
Like I've said, Ewen is not a mysterious person hiding behind his own laptop. Yet he has so many scammy products for sales.
On the side note, I really respect and admire his confidence for doing that!
3. You Can Promote Products in any Niche
Another benefit of Autopilot Profits is that this product doesn't restrict you to only resell the same product to other people. That's exactly what many programs are doing.
Instead, Autopilot Profits allows you to build your website in whatever niche of your choice, just like what Wealthy Affiliate, my top recommended program, has to offer.
4. 60-Day Money-Back Guarantee
Lastly, since this is a ClickBank product, you're entitled to a 60-day refund period.
Is Autopilot Profits a Scam?
Despite it has some legit training, I have to conclude that Autopilot Profits is a scam because everything Ewen has claimed in this salespage is not true. And the main purpose of the product is just for Ewen to make more money for himself.
To be honest, the name of the product is already a red flag itself because there isn't any business that is "Autopilot" unless you put in lots of time and work to build up your system.
So, please stay away from this product at all cost.
If you're still reading until this point, I think you'll be interested to find out who is really making money with this product...
Who is Really Making Money Autopilot Profits?
Ewen himself is obviously making money. But there's another group of people who is also making money from this scam product...
The affiliates who are promoting Autopilot Profits is making good money as you can see from the screenshot above.
Affiliates can earn up to $477 per sale because there are so many upsells within the members area.
So, do you want to be the victim of this scam or the smart people who can actually make money even it's a scam product?
Of course I'm not asking you to promote scam products to make money for yourself. That's not the right thing to do.
That's why I'm reviewing all these products and guiding people to the right direction.
My top recommended program to help people make money online via affiliate marketing is Wealthy Affiliate!
Wealthy Affiliate has all the necessary training, tools, resources and support you need to get started with your own affiliate marketing.
The best part is that there isn't any upsells like Autopilot Profits. The founders of Wealthy Affiliate is truly genuine to help people like you and me to succeed online.
In fact, thanks for Wealthy Affiliate, I've just reached my 4-Figure Monthly Passive Income Milestone at the age of 20 and my business is still growing exponentially every single month!!
I'll be there to guide you personally 🙂