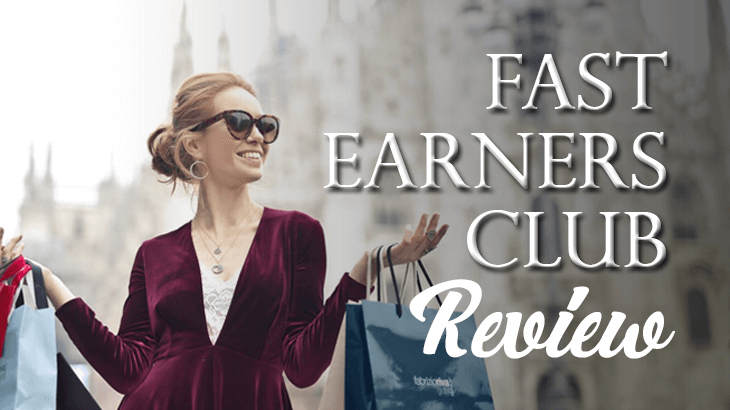 Fast Earners Club Review: 4 Ugly Truths Revealed! [Scam Alert]
Welcome to my Fast Earners Club review!
First of all, I must Congratulate your for taking your time to do your own research before buying into any "seemingly good" products.
That's the only way to stay away from scams and find real legitimate ways to make money online.
The mysterious owner of Fast Earners Club claimed that you can make up to $1,000 per day in the next 30 minutes...
To be honest, I can straightaway tell you that is impossible.
But let's don't just a book by its cover and let me show you what's really inside Fast Earners Club...
Fast Earners Club Review Summary
Product Name: Fast Earners Club
Founder: Unknown
Product Type: Extremely brief PDF documents
Price: $39 + $149 Upsell
Best For: The mysterious owner and affiliates promoting this product
Summary: Fast Earners Club is an absolute scam product because all the hyped up sales pitches are not true and the actual materials inside the members area can all be found online for Free. Most importantly, this product is created by scam artist who is just trying to make money for himself/herself.
Rating: 5/100 (Scam Alert!)
Recommended: No
Wanna Make Money Online but Tired of Scams?
More...
What is Fast Earners Club?
Here's a pretty good analogy to describe what Fast Earners Club really is...
Imagine a stranger walking up to you and show you a box. He explained that the materials inside the box are the answers to all your financial hurdles.
The problem is that you can't see what's inside the box until you pay $39 for it.
In this case, would you trust this stranger and pay him $39?
99% of you won't. Am I right?
This analogy perfectly explains what Fast Earners Club is.
In their sales video, the narrator did not mention anything about what the "secret" or the "system" is that can change your life.
All she was doing is keep on selling you a dream or a false hope that you can make money easily by plugging into their Done-For-You system.
She even tried to play with your psychology by asking you questions like...
"What is Freedom worth to you?" and "How badly do you want to quit your job?"
Scam artists often use such techniques to take advantage of your inner desire to make money fast.
That's not the end...
She even said that if you know the answer of 1+1, then you're qualified to use their system and make money. What the hell?!
I really laughed when I saw that. That's just ridiculous!
I'm Jerry!
I Created My Own 4-Figure Monthly Passive Income at just 21 Years Old!​
To be honest, you really can't find out anything about this product without going through their members area.
So here I am, revealing to you what's inside this extremely hyped-up product...
The only materials inside Fast Earners Club are 4 very generic and outdated PDFs. These PDFs are are the main "training" or the main "product" you're purchasing for $39.
And they are:
As you can see, these are just different types of eCommerce business model. What they are doing is simply offering you some very basic information on the different ways to make money online via e-commerce.
But they're not teaching you how to actually execute them.
In fact, all these different business models require a ton of training on its own before you can get the real hang of it.
Making money as a beginner is even harder. So, forget about making money within your first day or even within 30 minutes. That's just not possible!
What's even worse is that these PDFs are just PLR type of contents.
Xtreme Edition
There's a "Xtreme Edition" within the members area which has 9 video training on topics like:
Reddit
Blogging
Social Media Marketing (Facebook, Instagram, Pinterest)
Video Marketing
Again, these are all very generic and basic information (not even a training!) which can be easily found online for FREE.
FREE Alternatives
So, I've compiled a list of FREE resources for you to learn the different e-commerce business models if you're interested.
As you can see, there are a lot of Free resources online which are even much better than the one provided by Fast Earners Club.
But that's not the end. Let me reveal to you all the ugly truths about this scam product...
Fast Earners Club Ugly Truths Revealed!
1. FAKE Testimonials
At the very beginning of the sales video, there are 3 video testimonials claiming how much money they have made with Fast Earners Club in such a short period of time.
I must say these are definitely fake testimonials. They're just actors offering freelance services on Fiverr.
Hiring actors to create fake testimonials is not uncommon. It's a strategy being used by many scam artists.
Just take a look at products like The AZ Code, 30 Minute Money Method and 60 Minute Profit Plan. These are all the scam products that I have exposed for using fake testimonials.
Below is the Fast Earners Club sales video, you can take a look for yourself how fake they are:
2. Extremely Hyped-Up Sales Pitch
I think this requires no further explanation. Like I've said, the narrator is basically selling a dream and false hopes to you.
Literally everything in the sales video is not true and it's extremely misleading.
I don't want to be so critical towards Fast Earners Club but that's just what it really is.
3. Extremely Contradicting
In the completely useless sales video, the narrator claimed that Fast Earners Club is NOT:
An affiliate marketing course
Useless push-button software
Bogus MLM or network marketing
Something that involve generating traffic
But seriously, if it's not an useless push-button software, why is she claiming that you can just login to the platform, sit back and wait for money to come in?
Isn't that contradicting?
Also, she claimed that this is NOT an affiliate marketing course yet there are video inside the members area talking about affiliate programs.
Last but not least, she claimed that all you need to do is to "Download an Application" and "Follow the Done-For-You Signals"...
When you go to their members area, the first question you'll be wondering is "Where is the F**king App?"
There's no App inside the members area.
So I highly suspect this sales video is just being reused from another product!
4. No Traffic = No Business
Another problem with Fast Earners Club is that you won't learn anything about traffic generation.
In fact, the narrator claimed in the beginning that this business model doesn't require you to drive traffic.
Once again, that's just a false sales technique to sell you the product. Without traffic, how are you going to get customers and buyers to make money?
Isn't that common sense?
What I Like About Fast Earners Club
1. 60-Day Money-Back Guarantee
Honestly speaking, the only good thing about Fast Earners Club is that at least it has a 60-Day Money-Back Guarantee as it's a ClickBank product.
It's still possible for innocent people to get their money back once they found out it's a scam!
As much as I want to write a balanced product review, there really isn't anymore benefit I can find about this product.
Is Fast Earners Club a Scam?
Unfortunately, YES, I have to conclude that Fast Earners Club is a scam.
The entire sales page and sales video is full of untrue and misleading information. When you get into the members area yourself, the material is not just limited, it's totally different from what's being promised in the sales video.
So, please stay away from this product by all means. Or even run for your life!
Who is Really Making Money with Fast Earners Club?
To be honest, it's impossible for you to make any money by investing in Fast Earners Club.
But apart from the mysterious owner, there's a group of people that's benefiting from this scam product...
This group of people are affiliates promoting Fast Earners Club.
As you can see from the screenshot above, it's possible for affiliates to make up to $180 per sale but this product only cost $39...
That simply means there are upsells to maximize affiliates' earnings.
I'm not recommending you to promote a scam product to make money. I'm just proposing to you that affiliate marketing is my top recommended business model to make money online.
So, would you rather be the victim of this product or affiliate marketer who has the potential to earn hundreds of dollar even by promoting a product that doesn't work?
If you're interested to learn more about affiliate marketing and how I build a 4-Figure monthly passive income at 21 years old, check out Wealthy Affiliate!
It's by far the best platform for you to earn and learn from affiliate marketing.
You can have access to:
Real step-by-step training
2 Free websites
24/7 technical support
Keyword research tool
And most importantly, an amazingly helpful community!
I'll be there to guide you personally 🙂