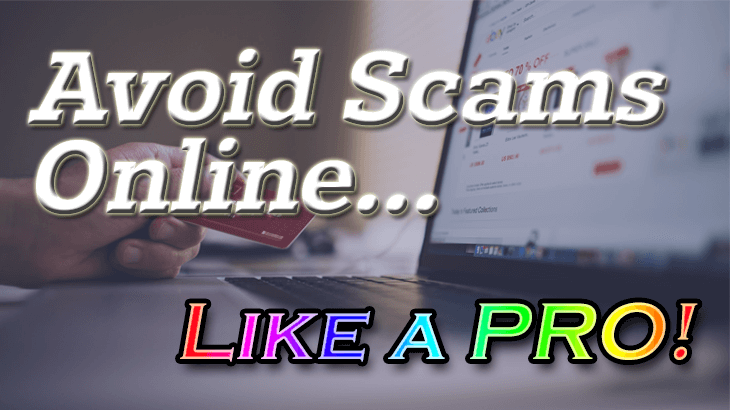 9 Ways on How to Avoid Scams Online – Let's Make Money Safely!
I know I only have a few seconds to capture your attention because there are a ton of boring information on how to avoid scams online.
So very quickly, why listen to me?
I've personally reviewed hundreds of digital products on this website SmartAffiliateSuccess.com
I've found the right system to earn 4-digits passive income per month at the age of 20
That's why I'm very familiar with all the sales techniques scammers are using.
Just by going through some of the reviews on my site here, you can see that I expose scams with real proofs, not just my own opinion.
In this post, let me reveal to you all the RED FLAGS you need to beware of and how to stay safe online.
But before that...
More...
Top 9 Ways on How to Avoid Scams Online
1. Too Good to be True? AVOID!
If I tell you now that I have a "secret system" you can use to make thousands of dollars per month, per week or even per day...
Not only that, you don't have to do anything much because I will be doing ALL the hard work, the heavy lifting and ALL the selling for you.
What would you think?
Most of you will think I'm crazy and I might be scamming you, right?
Because this kind of claims sound really too good to be true.
However, clever scammers know how to play with your psychology using effective copywriting or sales pitch.
That's why many people are still being scammed despite such claims can be easily noticed.
Some examples of such programs are Earn Easy Commissions, Fan Page Money Method and 30 Minute Money Methods, just to name a few.
They always tell you lots of stories and how their lives were changed with just one automated system.
Remember...
If something seems too good to be true, it most probably is!
---
2. Don't Trust Testimonials
After reviewing so many digital products, what I've found is that FAKE Testimonials are more prevalent than you think.
Just take a look at programs like 60 Minute Profit Plan, Free Ad Cash System and Quantum Ad Code, I've exposed numerous scams before with fabricated testimonials and success stories.
There are 2 main types of fake testimonials:
Fake video testimonials from Fiverr actors
Fake image testimonials with online stock photos
Firstly, many scammers today hire actors on Fiverr to create fake testimonials. There are many people offering such services for just 5 bucks.
Secondly, some lazy scammers just use stock photos from sites like iStockPhoto.com and put in some fabricated texts to make it seems like a real testimonial.
A very convenient way to find out the legitimacy of a testimonial is to use Google Image Search.
Simply upload the photo and Google will tell you if it's a stock photo or someone else's photo.
So, please don't make any purchasing decisions based on any of the online testimonials.
I can tell you that more than half of them are not real.
---
3. "Done-For-You" Always Comes with a Catch
Yes, you heard that right. There are many programs out there claiming that they have a "Done-For-You system" to help you make money online easily even if you have absolutely zero experience.
You need to understand that this is just a sales technique. There's literally nothing out there that are completely DFY in the make money online world.
If you want to make money online, there's no shortcut. For all these DFY system, you still have a lot to do in order to make money. That's why I said they always come with a catch!
Haven't Made Your First $1 Online?
Studies have shown that more than 70% of the people who want to make money online have not made their first dollar yet. So you're not alone!
Wanna Check Out My Top Recommended Training?
---
4. Assigned Mentor/Coach
Another common sales technique is the use of mentor/coach.
Some programs like MOBE, Digital Altitude, Six Figure Mentors and Legendary Marketer, you'll be assigned with a coach once you join them.
For most people, it seems like a really good feature and support.
To be honest, yes it is a good support to a certain extent. But you need to understand the real purpose and intention of these "coaches".
Most of them are just telesales person trying to upsell you their high-ticket memberships on the back-end.
Some of you involved in such programs may disagree with me but I've personally gone through that process of being pushed to purchase more and more expensive products in order to make more money.
I know this may not apply to all coaches but you need to understand that many of these coaches get paid based on the number of sales they can generate.
So persuading you to purchase their upsells is definitely one of their main goal.
---
5. Online Reviews? Not all of them are Honest!
Another controversial topic...
Like I've said earlier on, I've personally reviewed hundreds of products online. So I'm one of the internet marketers who write reviews.
But you need to be aware that not all reviews are honest. I've seen way too many online product reviews written by marketers who are simply promoting the product even though the product is a scam.
For me, I always write my reviews based on my thorough research and my honest opinion.
My top recommended program for now will always be Wealthy Affiliate and that's only because it is the best platform I've ever found so far for anyone to make money online.
I can promote other high-ticket products to make even more money for myself but I choose not to do that because I want my readers to get access to the most cost-effective program to succeed online.
In short, I care about my readers more than making money myself.
You can be skeptical or criticize me if you're a critic of Wealthy Affiliate. But that won't benefit you at all neither will it affect me in any way.
For beginners out there, just remember there are many BS reviews on the internet.
One obvious example is this site called GlennReview.com. This guy has reviewed tons of digital products on his website but his is literally "highly recommending" all of them.
Most of the contents are just hyped up and not true.
---
6. Think "More Than Twice" Before Buying into any High-Ticket Products
The owners or the affiliates of those high ticket products will definitely recommend you those expensive products because they claim that you can make much more money with high-ticket products.
They often use the example of selling 1,000 units of a $10 product versus selling 10 units of a $1,000 product. And they'll ask you which one do you think is easier...
Yes, I agree that selling high-ticket product is a good way to make money online.
BUT!
It's not necessary for you to buy into a high-ticket product.
Many of such are just high-ticket membership products. You'll get some training but your main goal is just to resell the high-ticket membership to others and earn high-ticket commissions.
Not only that, they'll offer you a low-cost front-end product to you (like less than $100) before upselling you membership levels that cost thousands or even up to $30K like Digital Altitude and many similar programs.
Let me tell you, making money online doesn't require so much money. Please don't waste your hard earned money on empty promises.
From my own experience, I can build my 4-figure passive income business in 6 months' time at 20 years old by just investing in this affordable program called Wealthy Affiliate.
If you don't have much experience making money online, that's the place I recommend you to start with.
---
7. Beware of ClickBank Products
ClickBank is a payment processing platform to help connect sellers, affiliates and buyers.
Sellers can sell their digital products on ClickBank for affiliates to help them promote.
When someone purchases any products, both the affiliate and sellers are paid.
ClickBank is one of the largest online marketplace for digital products. But it's also notorious for the quality of the products being sold.
Some people said that ClickBank has improved its product inspection system before the product can go LIVE.
But to be honest, there are still tons of low quality products or even scams being sold on ClickBank. Many of the scam product reviews on my site are from ClickBank.
So next time when you see a ClickBank icon at the bottom corner of the screen like the one below, please be extra careful:
At the bottom of the sales page, they'll often have a line telling you that...
"ClickBank is the retailer of products on this site..."
While there are still legit products on ClickBank, you should be extra careful because there are tons of low quality product being sold through this platform.
---
8. Take Note of Refund Policy!
The "Money-Back Guarantee" technique is very prevalent and it's being used in many product today.
While this is a good feature to have, it's often just a sales technique.
Some products have complicated refund requirement. To prevent you from getting a refund, those scam products will have some very restrictive rules to make it extremely hard for you to get your refund.
So, please read through the refund policy page for the product you intend to purchase.
If it's from ClickBank, it usually has a 30-day or 60-day refund period. Make sure you have a solid reason for requesting a refund if not sometimes they will keep questioning you and refuse to offer you a refund.
---
9. Research, Research, Research...
Last but not least, the best way to avoid scams online is to really do your own research before buying into any products.
I know this is very obvious but a lot of people are still being scammed everyday due to imperfect information and lack of research.
So please don't be lazy and spend time to investigate the product thoroughly before buying.
Reading reviews on my site is a good way to understand the true identify of any digital products because I always give my 100% with complete honesty to write product reviews.
Need Me to Review Any Products for You?
If you trust me, please follow my recommendation to check out Wealthy Affiliate for yourself.
I credit all my success online to this amazing community which has helped me a lot all the way from a complete newbie to an experienced internet marketer.
But if you have any products you want me to investigate, please leave them in the comments below and I help you take an insider look.
I'll be there personally to guide you 🙂