12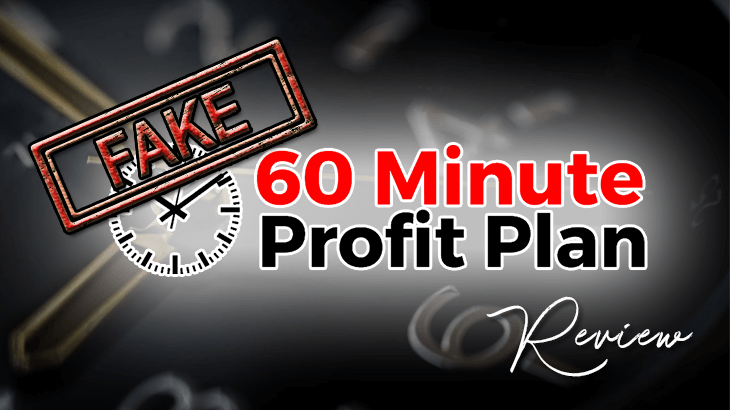 Is 60 Minute Profit Plan a Scam? (Yes, Everything here is FAKE!)
Welcome to my 60 Minute Profit Plan review!
I'm really glad you're here because it means that you're doing your own research before buying into any products. So, give yourself a pat on your back for landing on this page because with my review, I'm going to save you time and money.
60 Minute Profit Plan claimed that they've found a "Free Money Loophole" for you to make at least $500 per day:
Is that really possible? Or is 60 Minute Profit Plan a scam?
I think the answer is quite clear from the title of this review. But stay tuned because I'm going to reveal to you some of the ugliest truths about this product.
You'll be shocked by the ethical extent scammers will go beyond just to take the hard earned money from your pocket...
60 Minute Profit Plan Review Summary
Product Name: 60 Minute Profit Plan
Founder: Launched by Brittany Francis Unknown on 28 April 2018
Product Type: Mini Email Marketing Course
Price: $37 + Downsell & Upsells up to $97
Best For: The owner
Summary: 60 Minute Profit Plan is a really lousy product with low quality training resources. They try to teach you 4 different methods to make money online but everything in the product can be learnt online for FREE. The course even have videos taken directly from YouTube and they're selling such product to you.
Rating: 5/100
Recommended: No
More...
What is 60 Minute Profit Plan?
60 Minute Profit Plan is a training course aim at helping people to make money online.
If you've seen their sales video, you'll see that this is a extremely hyped up product that is promising innocent beginners to make a ton of money without any hard work.
Just take a look at the following screenshots:
In the beginning of the sales presentation, the narrator called Brittany Francis, kept showing different income proofs and claimed that anyone can achieve these results by following her instructions in 60 Minute Profit Plan. (A very common strategy scam artists adopt!)
Brittany, the alleged founder which apparently was not, told a really sad story about herself and how her life was totally changed after she discovered this system to easily make lots of money online every single day. (Once again, a typical sales technique.)
After watching the entire sales video, I asked my self, "So, what exactly is this 60 Minute Profit Plan about?"
I don't know!
"Brittany" didn't talk anything about how her system works, how you'll be making money online and what you're expected to do. Literally nothing!
The entire 20+ minute sales video is just stories after stories with lots of sales pitch techniques.
The only way for you to find out is by purchasing the product yourself or by reading online reviews like this.
So let me explain to you what's inside this "mysterious" product in the next section...
By the way, this product is called "60 Minute Profit Plan" because Brittany claimed that you can set up everything in 60 minutes and start making money within an hour:
I'm Jerry!
I Created My Own 4-Figure Monthly Passive Income at just 21 Years Old!​
How to Make Money with 60 Minute Profit Plan?
The 4 methods to make your $500 day according to "Brittany" are:
Email Marketing
Online Surveys
Website Tester
Freelancing
And these form the foundation of the entire 60 Minute Profit Plan course as you can see in the screenshot below:
The respective training are:
Method 1: Make $10K Under 90 Days! (via Email Marketing)
Method 2: 13 Best Apps to Make Money by Taking Surveys
Method 3: Test Websites for Fast Cash
Method 4: Freelancing / Virtual Assistant / Data Entry
Let's discuss each of them one by one...
1. Email Marketing
Email Marketing is the process of collecting people's Email Address, follow-up with them via Email and eventually monetize your Email list by sending promotional offers.
Here's a flowchart demonstrating how Email Marketing works:
In 60 Minute Profit Plan, there are a total of 12 videos and the total length of all the videos is merely an hour long.
What they cover is only the basics of Email Marketing. So, it's just an introductory course about Email Marketing which you can easily learn online for FREE. The most popular place to learn is definitely watching YouTube videos.
Do you really think you're going to master a skill and make $500 a day by just watching an hour of video training?
It's impossible to achieve the kind of result Brittany promised you with her training.
To be honest, Email Marketing takes a lot of time and hard work. You need to spend time set up your landing page, your autoresponder and drive traffic.
I can confidently tell you that Brittany's promises are not real. They're just a part of her sales pitch to lure you into buying her product.
You definitely won't start making money within an hour with Email Marketing. But it could be possible with online surveys...
By the way, my top recommended Email Marketing course is Inbox Blueprint by Anik Singal.
2. Online Surveys
Paid Online Surveys are pretty self-explanatory. Basically, you get paid by completing surveys.
So for this part, it is still possible to achieve Brittany's promise of start making money within an hour. But it'll definitely not be hundreds of dollars going into your account.
With online surveys, you're only making cents. If you're fortunate, you can earn up to a few bucks per survey depending on the type and length of the survey.
The problem with online surveys is that the earning potential is often too small to even compete with a local part-time job.
So you can definitely earn money with online surveys but earning hundreds and thousands of dollars like Brittany said is just not possible.
If you're interested in making some extra cash with online surveys, make sure you check out my online survey guide here before diving into any of the program!
3. Website Tester
Testing website is another legitimate way to make money online. What you're required to do is basically browsing certain websites, giving your feedback to the owner and get paid.
However, it has the same problem as online surveys. It's impossible for you to make $500 per day or even $30K per month as what Brittany promised.
4. Freelancing
​Lastly, freelancing allows you to make some pocket money by offering your Gigs on Fiverr, a freelancing platform.
For example, if you're good at writing, you can offer writing service and get paid for your work.
Yes, it's possible to earn $500 a day with freelancing but it's very hard. You need time and a lot of hard work to build up your Freelance portfolio and move up the seller rank.
So it's definitely not possible to start earning hundreds of dollars in a few hours time.
Oh yes, the worst part about 60 Minute Profit Plan is...
Method 2, 3 and 4 only consist of one video each and the videos are directly taken from YouTube. Not only that, the video on Freelancing has even been taken down by the original uploader.
60 Minute Profit Plan Ugly Truths Revealed!
So after understanding the "mysterious" course, I'm sure you can make a decision for yourself already. It's pretty clear that this is not the product you'll want to invest in for sure.
But that's not the end!
Let's take a look at these jaw-dropping facts...
1. Fake Success Stories
In Brittany's sales video, she used 2 of her "students" as success stories for her product. But let's see what I've found.
Below are the screenshots I've taken directly from her sales video with each "student's" picture. When I did a Google image search, I found out that both of their photos are actually stock images which have been used on other websites as well.
This second image has even been used on adult dating website as you can see above.
2. Fake Testimonials
Not just success stories, testimonials are not real too!
They are just actors offering their freelance services on Fiverr which we've talked about earlier on.
See the screenshots below:
In fact, this technique has been widely used by many of the scam artists so hiring fake spokesperson is not something new.
After reviewing so many scam products, some of these faces have even become familiar.
So whenever you see any video testimonials online, keep in mind that they could be fabricated. Please don't buy into any product because of any testimonials you've seen, alright?
3. Fake Social Proof
Okay, here's more...
Below is a screenshot of the social proof section in the sales page but I can tell you that this entire section is fabricated as well.
You know why?
First of all, take the first guy "Tony Jeffries" as an example. This profile image can be found other websites but with different names:
In this testimonial, this person is called "Justin Morely". So is he Tony or Justin? I believe they are just random names.
Not only that, I couldn't like or comment on any of the "LIVE Social Proof". And if you're observant enough, you'll find that the "like" icon for Twitter is quite weird.
Twitter uses a heart shape instead of a start shape.
4. Fake Founder
Wow wow wow, that's still not the end. Look at what I've found once again.
After doing the same Google Image search, I found that Brittany Francis is another fictitious character and her photo is also a stock photo!
In fact, she has updated her sales video that the narrator didn't even introduce about her name and show this picture. I guess too many people have found out the truth and that's why she has taken it down.
I wonder when will this product been taken down...
60 Minute Profit Plan Sales Funnel
60 Minute Profit Plan costs $37 upfront. But if you try to leave the page by moving your mouse to the top of your screen, this pop-up will appear:
They'll offer you a downsell of 30% discount and charge you only $27.
But I guess this person's math is not good. 30% discount of $37 should be $25.90 and not $27, LOL.
Anyway, that's not the main point. After you've purchased their front-end product, they'll immediately offer you a "Premium Version" upsell which allegedly can help you make even more money online...
This first upsell costs $97. Immediately after, you'll be bombarded with the second upsell which is also $97.
Again, this one claimed to help you 100X your earning potential which obviously is just another sales pitch.
Take note! These 2 are known as "one-click upsell", which means your card will be charged directly after you click on the "get started" button.
The reason is because you've already entered your payment info while paying for your front-end product so ClickBank already have your payment info. So they'll charge directly once you click on the button.
Be careful of this because I'd fallen into this trap before.
The Good
1. 60-Day Money-Back Guarantee
Seriously, after revealing all the fake stuffs about this product. I couldn't find any benefit to it.
The only good thing is that at least you can still get your money back within 60 days if you finally realize it's not the right product that will help you make real money online.
---
The Bad
I think all the negative points about this product has been pretty clear but let me just summarize all the drawbacks of this scam product...
1. Extremely Over-hyped
The narrator did not explain anything about how the system works
Everything she talked about was how much money anyone can make with very little effort
Start making hundreds of dollars within an hour is just not possible
2. Very Low Quality Training
The entire "training" is only an hour long
Only talks about the basic introduction to Email Marketing
They even took videos directly from YouTube
One video is not available and there are invalid links
3. Everything is FAKE!
Like I've shown you earlier on, every single thing in this product is not real. This includes:
Success stories
Testimonials
Social proof
And even the founder
4. Absolutely ZERO Support
Yes, you heard that right! Not only the training is really low quality, you can't get any help except the refund support from ClickBank.
5. Unethical Marketing Method
There's one more thing I haven't talked about. Within the product, there's a section where they're recommending another product:
If you click on the link to claim their highest recommended product, you'll be led to The AZ Code sales page.
Recently, I've just written a review on The AZ Code. Again, this is a scam product where the founder is unknown and they also hired actors to make up their testimonials.
I believe this link from 60 Minute Profit Plan is their affiliate link. So, they're basically making money from those innocent newbies who happen to buy into yet another scam.
Is 60 Minute Profit Plan a Scam?
YES, 60 MINUTE PROFIT PLAN IS A SCAM!
I repeat that... 60 Minute Profit Plan is a SCAM!
Some people want to be more unbiased so they said this is not really a scam as you're getting something for your money.
But seriously, just look at all those fake claims, fake testimonials, fake founder... Judging from this point alone, I can confidently conclude this as a scam.
No questions asked!
How I Make a Living Online...
I've personally created a 4-Figure Monthly Passive Income Stream and become financially independent at just 21 years old without any College degree or working experience!
Through my own hard work, I went from a broke restaurant waiter to living my dream laptop lifestyle in less than a year's time...
If you want to discover the secrets of how I did it at such a young age, click here!