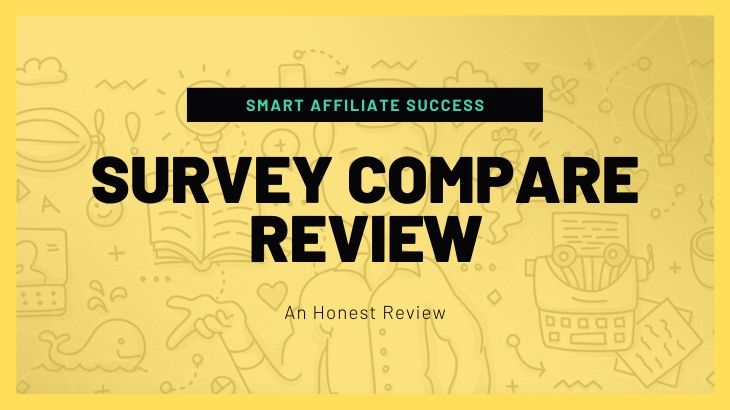 Survey Compare Review – A Survey Aggregator Site Reviewed!
Welcome to my Survey Compare review!
There's a lot of survey sites that are available at any given time, so it can be difficult to pick out which one's the best. At the very least, it's difficult to pick out which one actually pays out.
Then there are sites like Survey Compare, who collect all of the survey sites they think are good and make it easy for you to compare.
But is it worth joining this program? We'll find out…
First of all, I must Congratulate you for taking your time to do your own research before buying into any "seemingly good" product.
That's the way to avoid scams and find the legitimate way to make money online!
Let me be completely transparent with you, I'm not associated with Survey Compare in any form.
So, rest assured that I'm not here to pitch or sell anything to you.
Instead, I'm here to reveal what this site is all about...
Survey Compare Review Summary
Product Name: Survey Compare
Founder: Marketing VF Ltd.
Product Type: Survey Aggregate
Price: Free to join
Best For: No one
Summary: Survey Compare is a survey site aggregate that contains a lot of survey sites that they are partnered with. But the income potential is low, so I wouldn't advise you to join this if you're looking for a source of full-time income.
Rating: 50/100
Recommended: No!
More...
Survey Compare is an internationally-renowned paid survey aggregator, meaning it does not generate its own surveys. Rather, it's partnered with several survey sites (most of them we've reviewed here) and it recommends that you join them.
We tested their platform by registering with our dummy account, so everything you see here is based on what we found out (and verified with other sources).
Who is Behind Survey Compare?
Survey Compare is operated by a company called Marketing VF Ltd. The company was founded back in 2009, but it's not exactly what you think.
Both of their LinkedIn and Bloomberg don't mention Survey Compare on their list of sites. They own several other sites, including a solar-panel comparison website called theecoexperts.co.uk.
So what does this tell us?
We're not saying that the program is a scam, or is disowned by Marketing VF. In fact, a lot of sites aren't really officially recognized by their parent companies for a lot of reasons. We think that it may be just belong to one of their partners, and Marketing VF doesn't have full ownership of it.
Survey Compare is not a market research company like InboxDollars or SwagBucks, so they don't generate their own surveys or host surveys from their clients.
Rather, Survey Compare is an affiliate site of the survey sites that they recommend, or what we call a survey aggregator.
Every survey site they recommend on their program is affiliated with Survey Compare, so when you sign up through Survey Compare, the company earns money for doing so.
There's nothing wrong or illegal going on here, but it's a smart approach to do business.
What does this mean in terms of privacy and security?
Well, the moment you sign up for a survey site partnered with Survey Compare, it means that the partnered site will be the one to take care of you. Survey Compare will also have its own separate privacy policy because it asks for your personal information.
So if you signed up with a survey site they're partnered with that's run by a market research company, expect to get some promotional emails or cold calls from marketers.
I'm Jerry!
I Created My Own 4-Figure Monthly Passive Income at just 21 Years Old!​
How to Join Survey Compare?
You just need to sign up and provide your information such as your name, email address, and zip code. Their partnered survey sites will have different registration requirements, but most of them are probably similar in more ways than one.
Once that's done, you get access to the Dashboard that shows you the different survey sites they want you to sign up for.
Valued Opinions
InboxPounds (UK Counterpart for InboxDollars)
These are the only sites that we recognized since we've already reviewed them, but they have a lot of sites they're partnered with.
How Much Money Can You Make?
It depends on the survey site you signed up for. Survey Compare doesn't provide you with any income, so their partners will do it for them.
Everything you're earning comes from the site itself. For example, if you signed up with Toluna and Valued Opinions, your earnings will come from them.
On average, survey sites pay you for about a dollar a day. It's rare for these sites to pay out a few bucks for an hour's worth of work.
So is it going to be worth your time? Probably not if you want to look for a source of full-time income.
How Does Survey Compare Pay You?
Again, Survey Compare doesn't cash out any payment. All payments are made by the sites you signed up for. They all have different payment thresholds and forms of payments. This can get confusing, so let me list down the common ways you'll get paid:
PayPal
Free products to test or keep
Gift Cards
Visa Debit Cards
Minimum cash out requirements will be anywhere between $5 and $25. Ideally you want to choose those that offer lower payout requirements.
Who's Survey Compare For?
Disappointingly, we can't recommend this program to anyone, and that's because it's just an aggregator for survey sites.
Survey Compare Ugly Truths Revealed!
#1 Survey Compare Makes Money From You
In reality, Survey Compare is making money from you the moment you sign up and do surveys from their partner sites.
It makes it confusing to keep track if you do join more than one site because each site has different cash out thresholds, different pay out methods, and other requirements.
#2 Suggested Sites Are Not Good Enough
Some of the sites they're suggesting are not decent enough to give you a solid stream of income online. We've reviewed a handful of them and it's safe to assume that you're not going to be earning a lot of money across the board.
#3 Do You Really Need Survey Compare?
You don't really need Survey Compare because there's no incentive if you sign up from their site. You're only making them money, and that's about it.
You could just individually look at these sites and sign up directly from them. You don't owe anyone commissions for referrals.
What I Like About Survey Compare?
Honestly, there's nothing to like about Survey Compare. It's just a collection of survey sites they're affiliated with.
Is Survey Compare a Scam?
Survey Compare doesn't have anything suspicious or illegal going on. They've done one of the best aggregations for survey platforms online, but it's not something that we can highly recommend if you're looking for a source of full-time income.
The sites that they're partnered with don't really have a high-income potential. In fact, you're going to earn about a few bucks a week, and that's saying something already.
You don't really need Survey Compare to sign up for these sites. You're just helping them make money. Just go directly to these sites and sign up.
Some of the sites aren't even good enough to guarantee you a decent stream of income.
If you just want to narrow down a list of websites that are at least legitimate and that pay their members, then this site might come in handy.
How I Make a Living Online?
I've personally created a 4-Figure Monthly Passive Income Stream and become financially independent at just 21 years old without any College degree or working experience!
Through my own hard work, I went from a broke restaurant waiter to living my dream laptop lifestyle in less than a year's time...
If you want to discover the secrets of how I did it at such a young age, click here!