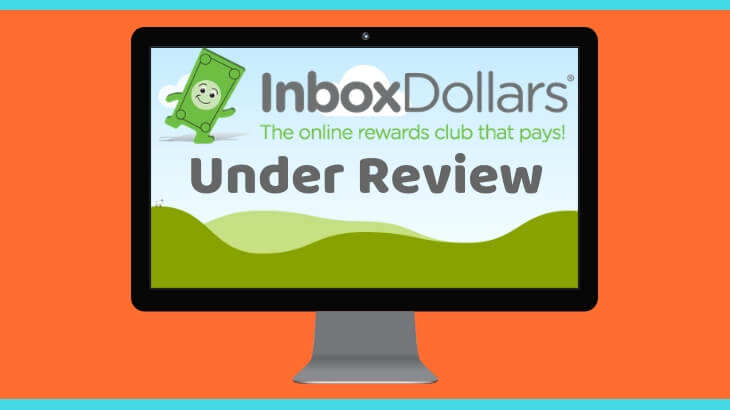 Is InboxDollars A Scam? Finally A GPT Site That Got It Right!
Welcome to my InboxDollars review!
Out of the hundreds GPT or Get Paid To rewards site online, I can only count on my fingers the number of sites that got it right.
One of them is InboxDollars.
First of all, I must Congratulate you for taking your time to do your own research before buying into any "seemingly good" product.
That's the way to avoid scams and find the legitimate way to make money online!
Let me be completely transparent with you, I'm not associated with InboxDollars in any form.
So, rest assured that I'm not here to pitch or sell anything to you.
Instead, I'm here to reveal why InboxDollars is not your ordinary GPT site and why it's one of the most professional GPT sites there is.
Is InboxDollars a scam?
It probably isn't, but you'll find out more in this article.
So read on...
InboxDollars Review Summary
Product Name: InboxDollars
Founder: Daren Cotter, under CotterWeb Enterprises Inc.
Product Type: Get Paid To Rewards Site
Price: Free To Join
Best For: People looking to earn a few dollars online and who have time doing what InboxDollars has to offer.
Summary: InboxDollars is a very legitimate GPT or Get Paid To rewards site, backed by a multi-awarded corporation. But I am quite disappointed that I cannot recommend this program to anyone. First, they have issues with account terminations, and I'll explain in this article. Second, the payout is potentially low. It's not exactly surprising for a GPT site, but I will still show the math to back my claim. Lastly, their cash payout requirement is way too steep. It's going to take a long time to get to that payout requirement. But I will say that if you're looking for options to earn income online, InboxDollars is still worth a try.
Rating: 50/100
Recommended: No
More...
The company, Cotterweb Enterprises, is a recipient of the prestigious Inc. 5000 Award (Years 2008 through 2012 and 2014).
The Inc. 5000 is an annual list of the 5000 fastest growing-US-based companies that are privately held and independent.
This list is compiled by Inc. Magazine and is ranked based on % revenue growth over a 3-year period.
Daren Cotter was also recently honored as Technology CEO in the 2017 Titans of Technology Awards.
Unlike Vindale Research and Level Rewards, InboxDollars is not a market research company in guise of a GPT rewards site.
It's a cash rewards club that's 100% intended for helping people make money online.
Never judge a site by its domain name, and in my case, I had thought of InboxDollars as nothing more than an ordinary GPT website.
I even assumed the site to be fraudulent because of the name.
But I assumed wrong.
The credentials of the company notwithstanding, InboxDollars is one of the few GPT rewards sites and paid survey intermediaries that you can't go wrong in signing up with.
It's probably safe to put InboxDollars in the same list as ClixSense and PrizeRebel in terms of reliability and opportunity.
But don't sign up for the site just yet till you finish reading this review.
InboxDollars, like all the other GPT sites, pays you for completing certain tasks like completing surveys and using their search engine.
InboxDollars pays you for completing a variety of tasks, reading emails, watching videos, and even using their search engine to name a few.
But what makes InboxDollars probably more impressive than any other GPT site is their opportunities.
How To Make Money With InboxDollars?
I won't list them all, but I'll focus more on the opportunities that could get you paid consistently.
1. Complete Surveys
Surveys are the most popular when it comes to earning money via InboxDollars.
Their survey listings show the dollar amount you'll earn, along with the estimated time to complete each survey.
They also include the topic of the survey, which is nice to know before you start.
2. Read Emails
InboxDollars pays its members just for reading emails. Once you opt-in for this part, you'll receive emails and prompts you to open them.
These are just advertisements for products and offers.
Regardless if you want to take them up on the offer or not, you still get credit for "confirming the email".
The more active you are in this category, the more opportunities will be given to you.
3. Watch Videos
There's nothing more fun than getting paid to watch videos. These videos may not be Hollywood-material, but they're enough to help you earn money.
These are just random clips of an interview, or a chef preparing a meal.
At least it's still free money, right?
4. Use Their Search Engine
InboxDollars pays you to use their search engine, and they'll pay you with cash.
If you make four searches through their engine, you earn a penny and three chances in joining the sweepstakes drawing.
You might also make a little money from the sweepstakes as well.
5. Product Offers and Services
This is probably similar to Vindale Research's opportunity for getting paid to review items.
InboxDollars has its members sign up for offers on products that interest them, like a book club or a video streaming website.
These offers will let you choose which products you'd want to try, and you're in no obligation to continue with the subscription if it's a paid membership.
6. Play Games
I don't know of any GPT site that allows you to get paid while playing a goofy online game.
But InboxDollars does. This is one of their most entertaining tasks to make some quick cash.
So, if you're bored with surveys, play a game or two in between.
7. Answer "Learn and Earn" Polls
InboxDollars posts a Poll called Learn and Earn regularly for their members and answering these could help you earn a few cents.
It's quick and easy, but it's not the fastest way to earn a few cents.
8. Complete Your "My List" Tasks
This is probably a feature that I haven't seen in most of the GPT sites that I've reviewed, which makes it a little unique.
InboxDollars gives members a list of tasks to complete, like complete X amount of surveys.
Once the task list is complete, members get a $0.50 bonus.
9. Get Cashback for Shopping
InboxDollars also provides a cash back service for people who love to shop online.
Through their site, InboxDollars offers a small percentage of cash back for shopping at different online stores like Kohl's or Walmart.
The cash back rate is quite low at around 1.5% to 4%, depending on the store. If you want bigger cash back rates for your online purchases, I would suggest Paribus.
10 .Referrals
Every time you refer a friend, you earn 10% of their income. So, that's about $3 in passive income if they cash out.
For me, that's a very good rate in the realm of GPT sites and paid survey intermediaries.
I am not even joking when I say that you can probably get to the minimum payout requirement easily if you refer a lot of friends to do most of the heavy lifting.
I'm Jerry!
I Created My Own 4-Figure Monthly Passive Income at just 21 Years Old!​
Getting Paid with InboxDollars
InboxDollars is quite better than most GPT sites because there's no point system involved.
There's no need to earn X amount of points to earn Y amount of dollars.
In your profile, you're shown the amount you've earned in real time, and that's a neat feature.
The minimum payout is $30, which is quite steep compared to other sites.
Payment options include:
eGiftcards (45 choices)
Donations to charity (14 options)
Prepaid Visa card
Check
As of this writing, they don't offer PayPal option, which is a big bummer, but it's not that detrimental to how you're still going to earn with their program.
Earn an Instant $5 Bonus Just for Signing Up
InboxDollars offers a $5 bonus for new members signing up. They'll just need to enter their email, create a password, and then confirm their account.
Then, they'll complete a survey that will help determine which survey panels they go on.
The survey takes about 10 minutes or so, and once that's done, the bonus is as good as yours.
Someone who just wants to earn a little bit of money online
Someone who has just the decent amount of free time to do the things that InboxDollars asks
Someone who wants to get paid by doing regular stuff on the Internet like use a search engine or watch videos
Who Should Avoid InboxDollars?
Those who think they can turn this into a full-time income machine
Those who think this is a "get rich quick" scheme
InboxDollars Ugly Truths Revealed!
#1 – Issues With Account Termination
This is probably the biggest factor why InboxDollars is not going to be something I'll recommend to the readers.
I've read some reviews where people pointed out that their accounts get terminated when they try to cash out.
This is probably because InboxDollars has a rule that you must be active on the site every 10 days, or the site will consider your account inactive.
It says so in their Terms and Conditions:
Insert InboxDollars Account Terminated Due To Inactivity
But even then, that's only part of the reason why some members got their accounts deactivated.
I looked at their BBB profile, and I found different complaints about cashing out, so it's not just really about inactive accounts.
And if you look at their profile, they've closed 66 complaints in the last 3 years, 44 of which were related to their accounts being terminated or compromised.
But I will give them the benefit of the doubt since these might be isolated incidents.
I mean 44 people complained about their accounts in the span of 3 years, so that's about 1 complaint per month within those three years.
That's not a bad number at all. That complaint number could be a lot higher if it happened to a lot of the members.
#2 – Potentially Low Payout
This part is going to contain a little bit of math because as much as InboxDollars is impressive, it's payout is the exact opposite.
As of 2014, a total amount of $35 million has been paid out in cash to InboxDollars members and $50 million by 2017.
So between those three years, their total payout increased by $15 million.
That's about $5 million per year.
Let's assume that the $5 million is their average cash payout and divide that by 2 million customers.
Each member earned $2.5 on average from the site.
But here's the catch, you only get paid when you reach $30.
So how many people ACTUALLY GOT PAID?
Realistically, only 166,667 members out of the 2 million customers received a minimum payout of $30.
That's 0.8% of the entire population!
But then again, this is a GPT rewards site and there are worse sites out there in terms of how much they're paying their members.
#3 – The $30 Payout Requirement Is Way Too Steep
This is probably one of the biggest reasons why the payout that I've computed above is relatively low.
It takes a serious amount of time to get to that $30, and if you're only completing surveys or using their search engine, it's going to take you a while to get paid out.
What I Like About InboxDollars?
#1 – They Provide Different Options For Earning Income Online
Okay, InboxDollars is cutting it close to being just "one of those GPT sites".
But in all honesty, they do provide a lot of options for earning income through their site.
I mean, I listed around 10 ways for you to earn through their site (and there's probably more too), so that immediately kills the monotony of just answering surveys.
Now if you really want to earn some serious income online without answering surveys, check out my step-by-step guide on affiliate marketing.
#2 – Their Company Is the Most Impressive One Yet!
I will say that Cotterweb Enterprises, the company behind InboxDollars, is very impressive and it adds to the legitimacy and reliability of the program.
So, there's no worry at all for this company to just shut down the next morning and not give you your earnings.
At the rate they're growing, they're probably going to be around for a few more years.
InboxDollars is not a scam at all, and don't let the name fool you like it did me. It's a legitimate program created by a multi-awarded corporation and has awarded over $50 million in total to its members.
But even with their company's credentials and their unique line-up of tasks, I cannot recommend this program to anyone.
First and foremost, they terminate accounts when you attempt to cash out. I pointed out that it was mentioned in their terms and conditions that accounts are terminated when they're inactive.
But further reading showed that there were other reasons why accounts got terminated, and to me, this is a big factor. Then again, these might be isolated incidents, so I won't hold it against them.
Second, the payout is potentially low. I showed you the math and not only did I show much members earned, but also the number of members who were paid the $30.
Lastly, the payout requirement of $30 is too steep. If you're only doing tasks that pays in cents, then it's going to take you a long time to cash out.
But I will say that if you're looking for a reliable site to earn a little cash, InboxDollars is still worth looking into and giving it a try.
How I Make A Living Online?
I've personally created a 4-Figure Monthly Passive Income Stream and become financially independent at just 21 years old without any College degree or working experience!
To follow my footstep and find out how I managed to create such passive income stream at such a young age, please click on the button below. I've prepared a Special Video to explain to you 🙂