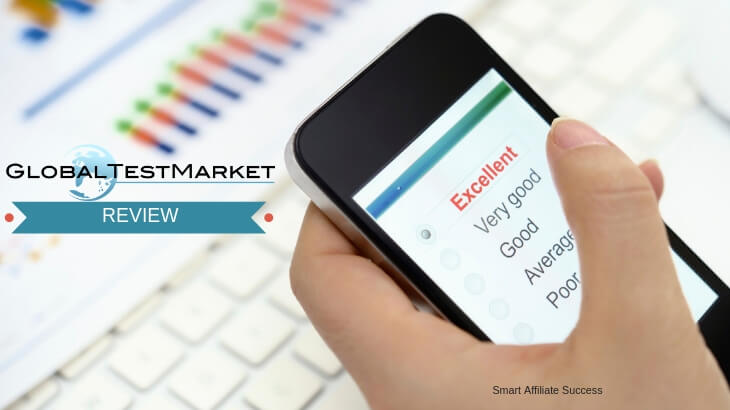 Is Global Test Market A Scam? A Survey Site With A Shocking Secret!
Welcome to my Global Test Market review!
It's been a while since I last reviewed a survey intermediary or a GPT (Get Paid To) Site.
Now, this survey site has been around for close to 20 years, so it's a dinosaur. You'd think that with age, they'd know any better at all when it comes to handling their program.
Global Test Market begs to differ.
First of all, I must Congratulate you for taking your time to do your own research before buying into any "seemingly good" product.
That's the way to avoid scams and find the legitimate way to make money online!
Let me be completely transparent with you, I'm not associated with Global Test Market in any form.
So, rest assured that I'm not here to pitch or sell anything to you.
Instead, I'm here to reveal why this 20-year old program is not enthusiastic about helping you make money on their program.
Is Global Test Market a scam? It isn't, but what I have to show you may shock you.
Global Test Market Review Summary
Product Name: Global Test Market
Founder: Lightspeed Research
Product Type: Paid Survey Intermediary
Price: Free to join
Best For: People who have time to spare to answer surveys that may or may not get credited
Summary: Global Test Market is a market research company that gathers data for their clients via their paid survey program. Despite being a veteran in the industry, it's a program that I cannot recommend to anyone. There are several things about their program that makes me think that it's not actually helping you make money. One factor that makes me think that is there are issues with survey completions and qualifications, which is their program's lifeline. If customers can't secure their main source of income on this site, then it's pointless to stay.
Rating: 10/100
Recommended: No
More...
What is Global Test Market?
Global Test Market is a paid survey intermediary that was founded and owned by Lightspeed Research, a Kantar-groups company.
Established in 1999, Global Test Market remains one of the world's leading providers of market research, serving clients in about 60 countries worldwide.
First and foremost, they are a market research company that gathers data through surveys. Other companies would then pay GTM for carrying out their surveys and forwarding the data back to them.
A small portion of their client's payments would go to their survey panelists.
Through their survey platform, they've been able to reward close to $30 million to their survey panelists in 2016 alone.
Another company that's similar to Global Test Market is Pinecone Research and Vindale Research.
Inside Global Test Market
Global Test market is a pure survey site, so you're only going to be earning money by answering surveys.
Other sites that offer different tasks are classified as GPT or Get Paid To sites. These sites would have you answering surveys, watching videos, clicking on emails, and so on.
According to customer feedback, Global Test Market sends out survey invitations at least 5 to 8 times a week.
Customers receive these invitations via email, along with the corresponding topic and the rewards.
This makes it easy for you to decide if a survey is worth taking or not.
But most of the time, you end up taking these surveys to build up on your points.
What's The Signup Process?
The signup process is easy, since you only need your name and a valid email address.
Then you'll be asked to fill up a survey questionnaire to match you with qualified surveys.
Unlike other GPT sites and paid survey intermediaries, GTM is accessible to anyone around the world.
Earning Lifepoints
Points are assigned to each survey, depending on the length and the complexity.
The site will then have its own point conversion where the points are turned into real life currency.
This is pretty much a standard for every GPT and survey site that I've reviewed.
With Global Test Market, their point system is referred to as Lifepoints.
Qualifying For Surveys
Like most survey sites, you're going to be screened out at the start of your registration process to determine if you qualify for some of their surveys.
Because these companies require specific demographics, you may or may not qualify for all of the surveys available.
This is a limiting factor to your income potential. For example, a weekly survey totals to about $10 in potential earning.
Out of the $10 value, you only qualify for about $3 of the total surveys.
This puts you at a loss of about $7 because you didn't even get the chance to earn it.
What's The Conversion?
23 points equals to $1.00
250 points equals to $10
I'm Jerry!
I Created My Own 4-Figure Monthly Passive Income at just 21 Years Old!​
Can You Do Anything Else to Accumulate Points?
To make up for your lost income potential, GTM offers three different ways to augment your earnings.
1. Sweepstake Entries
GTM has a quarterly sweepstakes where 103 winners split a prize pool of about $2,000 worth of Lifepoints.
You receive these sweepstake entries on some occasions in case you don't complete a survey.
Sometimes, you also get sweepstakes entries as rewards for a survey.
2. Refer a Friend
Referrals are always good for providing some form of passive income and to build up your rewards when you're not doing anything.
Each friend that you refer to GTM and every time they complete a survey will earn you Lifepoints.
I couldn't find how much you're going to earn via referral, but I found out that not all countries have the referral system available.
3. The Lifepoints Mobile App
Their mobile app is a great way to boost your earning potential.
The app is both available on iOS and Android.
By installing the app, you earn about 5 Lifepoints.
From the app, you'll need to access the Booster Area of the app, which boosts your earning potential by 100%.
To reach this target, you have to link your Facebook account to your GTM account. This will then earn you 5 points.
Turning on your notifications earns you 10 points, and turning on locations will allow you to get location-specific surveys on your area.
Turning on your locations will also earn you 50 points, and you'll earn more points for leaving this enabled.
The payoff here is that you're sending your location data to these survey companies, which you may or may not be comfortable with.
You can also complete surveys on your mobile app too.
Redeeming LifePoints
Apart from redeeming your Lifepoints for cash, you can also turn them in for gift cards.
Again, this is sort of a norm for most GPT sites and survey intermediaries.
Under their Rewards Section, you can look up the different rewards available for the number of Lifepoints you've accumulated.
You can also search via retailers.
What's The Minimum Payout?
Cashing out on your Lifepoints is only available once you reach the $50 payout threshold.
You can request a cheque or have it deposited on your PayPal account if you want to receive cash.
If not, you can always go for Gift Cards, which depends on the availability of the retailers in your area.
Who's Global Test Market For?
Global Test Market is a great platform for earning a few bucks online. However, it's not intended for anyone.
If you feel that you meet one or all of these conditions, then GTM may be for you:
It's fine for you to spend a couple of hours every day earning a dollar or less
You don't find answering long surveys boring and tedious
You've accepted the fact that this is not something you can turn into a full-time job
Global Test Market Ugly Truths Revealed!
#1 – Qualification Issues With Some Surveys
This is a common issue that plagues a lot of survey intermediaries and GPT sites, and unfortunately, GTM is not exempted from this problem.
Now, this is a big deal because surveys are your main lifeline to earning Lifepoints (see what I did there?).
If you can't answer surveys, or if there's something that prevents you from earning from a survey, then that just basically defeats the purpose of ever joining the site.
And the feedback that I've seen doesn't stop there. I've read quite a few more about how people got booted out in the middle of the survey or don't even get credited for a completed survey.
#2 - $50 To Cash Out? Seriously!?
Let me put it to you this way.
You have a site that may or may not credit you for your surveys, then you combine that with the site's low conversion rates and the highest minimum payout I've seen.
What do you get?
That's right. Absolutely nothing from this site.
It will take you a long time to reach the $50 threshold, and I'll do some quick math to prove it to you.
Assuming that each survey that gets you $1 takes about 30 minutes to complete on average.
That means that every hour, you're earning $2, which is not that good.
Remember, minimum wages are much higher than $2 (and it doesn't matter which part of the globe you're in).
At that rate, it should take you 25 hours or 50 surveys to get to that payout.
But based on GTM's survey frequency, you're only seeing 8 surveys per week.
Even if you do qualify for those 8 surveys, it will take you about 3 weeks to cash out.
Even longer if you don't qualify for all 8, or none for the week.
#3 – No Other Earning Options
The $50 minimum threshold would've been understandable if they offered a lot more than just answering surveys.
When it comes these sites, it's all about speed and frequency. If you can fill in the hours for not answering surveys with other tasks that could get your more points, then that's a fair compromise.
This is why GPT sites are far more superior than paid survey intermediaries.
What I Like About Global Test Market?
As much as I want to say something positive about their site, I don't think there's one aspect of them that I like (or would like to positively praise in this article).
For me, this survey site appears to be nothing but a waste of time. If you can't secure your points, then there's no way for you to secure your earnings.
It's really that simple.
Is Global Test Market A Scam?
Global Test Market is a legitimate market research company that gathers data for their clients via their survey program.
However, I wouldn't recommend their program to anyone at all.
The fact that the site appears to be dealing with survey completion and qualification issues means that there's no way for you or any other user to secure their earnings.
This, when combined with a high cash payout requirement of $50, makes it nearly impossible to actually get the money that you earned.
There are better ways to make money online, and there are far more rewarding survey intermediaries and GPT sites.
How I Make A Living Online?
I've personally created a 4-Figure Monthly Passive Income Stream and become financially independent at just 21 years old without any College degree or working experience!
Through my own hard work, I went from a broke restaurant waiter to living my dream laptop lifestyle in less than a year's time...
If you want to discover the secrets of how I did it at such a young age, click here!