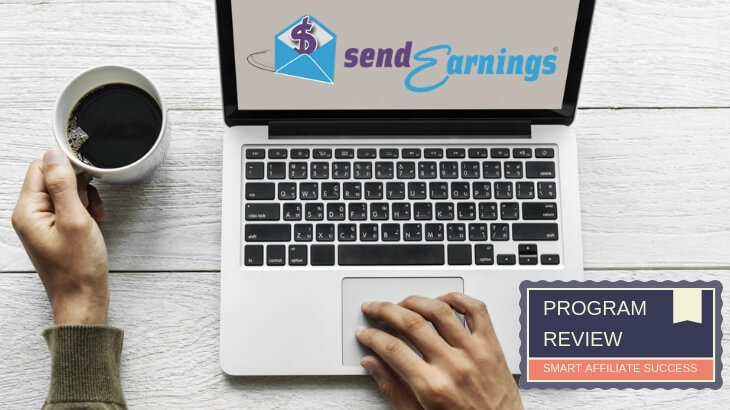 SendEarnings Review – Not Another Mediocre GPT Site!
Welcome to my SendEarnings review!
Let me guess.
You did a search for "paid surveys" on Google, and this site showed up. It piqued your interest and now you're reading this unbiased honest-to-goodness SendEarnings Review.
Good for you.
First of all, I must Congratulate you for taking your time to do your own research before buying into any "seemingly good" product.
That's the way to avoid scams and find the legitimate way to make money online!
Let me be completely transparent with you, I'm not associated with SendEarnings in any form.
So, rest assured that I'm not here to pitch or sell anything to you.
Instead, I'm here to reveal the mechanics behind SendEarnings' program and to see if they're legitimate or not.
So, find out if it's a scam or not by reading my SendEarnings review.
SendEarnings Review Summary
Product Name: SendEarnings
Founder: Not disclosed. Built in the same network as CotterWeb Enterprises.
Product Type: Get Paid To Rewards Site
Price: Free
Best For: People who have the time to complete surveys and other mundane tasks for a few cents daily.
Summary: SendEarnings is a GPT or Get Paid To Rewards site that's built on the same network as InboxDollars and DailyRewards. But like its sister sites, it's a program that I cannot recommend. The income potential on this site is lower than I anticipated, and there are also a few more reasons why you're earning lower than average as well (you'll see what I mean in this article). It's a legitimate website for sure, and if you actually earned decent income from their program, this review would've gone a different way.
Rating: 30/100
Recommended: No
More...
SendEarnings is a GPT or Get Paid To Rewards Site that shares its revenue from advertisers to its members.
SendEarnings also belongs to the CotterWeb Enterprises, which runs the InboxDollars and InboxPounds GPT networks, and DailyRewards (a rewards site for Canadians).
And on that note, SendEarnings is a pure rewards-driven site, and is not a market research company in disguise like Vindale Research. SendEarnings get their money from CotterWeb Enterprises' deep financial connections.
SendEarnings is available to all international residents aged 18 and above.
Much like InboxDollars, SendEarnings rewards you when you participate in their numerous online activities with cash.
But l know what you're going to ask...
How SendEarnings Earns Revenue?
Right, the principle is very straightforward. Companies pay SendEarnings in order to reach customers like you and me.
These companies will pay for information (like name and other pertinent details) and our opinion on products and services.
It's a pretty lucrative industry, and no, they are not doing anything illegal.
In this snippet of their Privacy Policy, you'll see three important highlights that will show you how your information is being used, when it is being gathered, and on what instances it will be shared.
I would advise you to read their Privacy Policy in full if you want to know more about how they are going to protect your information.
How To Make Money With SendEarnings?
Now back to the review portion of the article. SendEarnings has different ways for you to earn some money, and I'll list them down along with how much you're going to make off of them:
1. Completing Surveys
What's a GPT site without surveys, right? SendEarnings will match its members with corresponding surveys based on their demographics, and pays them to complete each survey.
Average earnings are about $0.50 to $3.00 with an average length of 15 minutes to 50 minutes.
2. Reading Emails
SendEarnings pays its members by opening and reading emails that they send.
Emails are sent out 4 to 8 times a day and average at around $0.02 for every email opened.
3. Completing offers
Offers from SendEarnings are pretty similar to what other GPT sites offer. You'll get an average of $0.50 to $10 (depending if it's a free offer or a paid offer). Just make sure to cancel the subscriptions on your credit cards after.
4. Playing Video Games
That's right, you get paid to play games with SendEarnings. But I am not talking about your mainstream video games (like Dota 2 or Starcraft).
You're accessing their games via a site called World Winner. If you play games through that site accessed via SendEarnings, you get your earnings into your SendEarnings account.
5. Watching Videos
SendEarnings pays you to watch videos and pays a few cents each, so it's not really that much given that you'll need to spend a minimum of 30 seconds to about 3 minutes to get credited for the task.
6. Clipping Coupons
SendEarnings also has coupons that you can print using their coupon printer.
You can select from about 300 coupons per day, and every coupon redeemed in store pays about $0.10 per coupon.
So it's not that bad, but not that good either. But hey, free coupons!
7. Use Their Search Engine
Every 2 searches on their search engine earns you $0.01. Search 4 out of 7 days a week and get a $0.5 cent bonus.
8. Referrals
SendEarnings allows you to earn 10% of all your referrals qualified earnings.
I'm Jerry!
I Created My Own 4-Figure Monthly Passive Income at just 21 Years Old!​
What's The Minimum Payout?
Instead of using a point system (like PrizeRebel and GrabPoints), you're awarded with the actual dollar value for completing each task.
SendEarnings doesn't really have the same payment scheme as the other GPT sites.
Your minimum payout is at $30 (similar to InboxDollars), and is a lot higher than most GPT sites (which average at about $25). And then there's a processing fee of $3.
How To Get Paid By SendEarnings?
SendEarnings pays only by checks, and does not even offer PayPal or gift cards.
You have to put in a payment request once you reach the minimum payout, and then there's a 10-16 day procession period. Checks will be mailed on a Wednesday after the period.
I don't know why they're so specific with this, but hey, at least they payout.
But there's a bonus too if you reach the minimum payout. You automatically become a Gold Member.
Becoming A Gold Member
The minimum cash out amount for Send Earnings is $30. I know a little high, but once you reach the minimum payment once you become a Gold Member.
This allows you to enjoy the following benefits like:
More Referrals – People who signed up for SendEarnings but we're not referred by other members get put in a pool and distributed throughout the Gold Members. This boosts their income through referrals.
Faster Payments – Processing periods of 10 to 16 days are gone when you become a Gold Member. You get paid on the following Wednesday.
Exclusive Offers – You also get exclusive offers only available to Gold Members. The nature of these offers, I do not know, but I'd like to think they're decent.
Let's get down right to it. SendEarnings is for you if:
You think you have a few hours or so to make a few cents online
You don't find completing 30-minute surveys boring and dull
You're patient enough to get to that $30 payout
SendEarnings Ugly Truths Revealed!
#1 – There Are Not Enough Surveys
SendEarnings, like most GPT sites and paid survey intermediaries, just act as middlemen between company that conduct the surveys and the people.
And sometimes, there aren't enough surveys available to distribute to millions of survey takers online daily.
Surveys are also based on supply and demand, so if your demographic profile doesn't meet what companies are looking for, then you're not going to qualify for a survey.
That's just the nature of SendEarnings and every other GPT site out there. And this brings me to my next point.
#2 – Low Income Potential
The income you earn from SendEarnings (or any other GPT) is relatively low, and this is because you're only earning in cents.
Sure, you can argue that you can make up for it in volume, but I would like to counter that with duration.
Allow me to illustrate.
Your minimum payout is $30. Supposing you only complete surveys all throughout and supposing you're earning $0.50 per survey.
How many surveys do you think you need to complete to get to $30? 200 surveys
Supposing the average time it takes you to complete a survey is 15 minutes, how long would it take you to get to 200 surveys? 3,000 minutes or 50 hours or 2 days and 2 hours, to be exact.
So, you're willing to lose that amount of time to get to $30? And don't forget that you have to qualify for the survey as well. So might as well double that duration.
If you don't believe me, check out what people are saying about how absurdly long it takes for them to get to that $30 payout.
Now, I can't imagine wasting my time for a couple of bucks that may not even be worth it at all.
#3 – Issues With Completing Offers Not Being Credited
To cripple whatever income potential this site had, members also had issues of offers not being credited to their account once they're completed.
This is really bad because on top of you not earning enough, you still have to worry about these offers not being credited to your account.
What I Like About SendEarnings?
#1 – There's No Point System
I absolutely hate survey sites or GPT sites that require you to convert points into cash.
I don't want the hassle of doing math just so I'll know how much my potential earnings are.
In the case of SendEarnings and InboxDollars, they're two of the few sites that don't use a point system and actually track your cash earnings in real time.
I mean, with low income potential, the least they could do was take the hassle of guessing how much you're earning.
I would say that SendEarnings is far from being a scam, and it's not because it belongs to a legitimate network of GPT sites.
It's not a scam because it does what it's supposed to do and provides what it needs to provide: provide surveys, give cash rewards.
However, I would not recommend their program to anyone because the income potential is very low. I am not saying that it needs to help you earn a full-time income, but it doesn't even come close to that.
At best, you're looking at losing a couple of days you'll never get back to earn $30.
What's worse is it's not even the duration or the amount that you earn that makes its income potential low.
It has issues with its surveys and offers that hinder people from earning more than they should.
However, I don't find any issues with them not paying their members, so at least that's a good sign that you're still going to get paid (one way or the other).
How I Make A Living Online?
I've personally created a 4-Figure Monthly Passive Income Stream and become financially independent at just 21 years old without any College degree or working experience!
Through my own hard work, I went from a broke restaurant waiter to living my dream laptop lifestyle in less than a year's time...
If you want to discover the secrets of how I did it at such a young age, click here!