2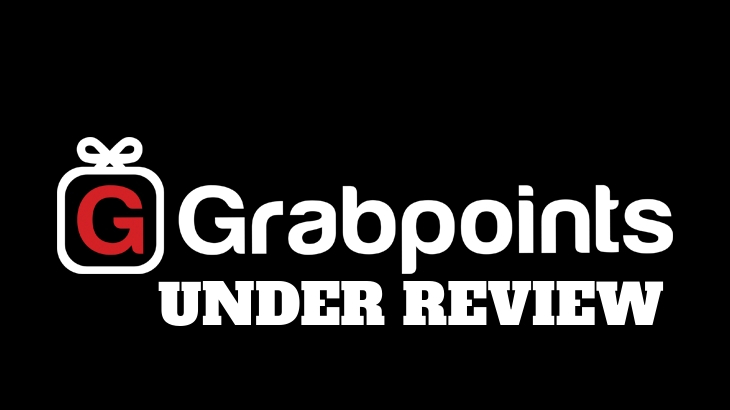 GrabPoints Review – Another Rewards Site UNCOVERED
Welcome to my GrabPoints review!
Probably one of the few legitimate and reliable Get Paid To / Rewards site, GrabPoints tries to stand out from the rest of its competitors.
First of all, I must Congratulate you for taking your time to do your own research before buying into any "seemingly good" product.
That's the way to avoid scams and find the legitimate way to make money online!
Let me be completely transparent with you, I'm not associated with GrabPoints in any form.
So, rest assured that I'm not here to pitch or sell anything to you.
Instead, I'm here to reveal why GrabPoints is not all that cracked up to be, and I'll show you in my GrabPoints review why it's both good and bad.
GrabPoints Review Summary
Product Name: GrabPoints
Founder: Grab Rewards LTD
Product Type: Get Paid To Rewards Site
Price: Free
Best For: People who want to make their idle Internet usage more productive by earning a little money and not intended for people who expect to make some serious cash.
Summary: GrabPoints is one of those legitimate GPT or Get Paid To rewards site that has no complaints about people not getting paid. However, I cannot fully recommend this program to anyone if they're looking to earn some serious cash online. The income potential is seriously low (I'll prove it in this article) and it takes a long time to make it worth your while. Second, the Paid Offers can be an issue if users don't read through the agreements or disclaimer.
Rating: 50/100
Recommended: Yes and No
More...
GrabPoints is a Get Paid To (GPT) Rewards Site that started out when parent company Grab Rewards LTD bought the website Zoombucks, which then led to a series of updates and resulted in a cleaner and more professional looking site.
No other information has been posted about its founders or where they are currently located. The only available information was that they were founded in 2014.
On a side note, this company is not in any associated with Grab, a ride-hailing app provider.
GrabPoints is a GPT or Get Paid To site that provides rewards for watching videos, completing surveys and offers, and downloading apps.
How Does GrabProfits Work?
Users can earn points by completing different types of tasks. They can also earn points for sharing GrabPoints on their social media networks or referring people to join.
These points can then be redeemed for gift cards from retailers like Amazon, Walmart, and PayPal.
Members can also use these points and convert them into cash.
How Do You Earn Points With GrabPoints?
GrabPoints uses a point system (hence the name) to track people and their activities throughout the site.
This means that everything that you do on the site – from completing surveys to referring people – has a point equivalent.
These points can be redeemed for cash or gift cards.
So, here's how you can earn points:
1. Completing Surveys
GrabPoints is just like any GPT site because it still asks you to complete short surveys online. These are all from 3rd party provider and you'll make anywhere between 200 and 2500 points.
The longer the surveys, the more points you get.
2. Completing Offers
There are two categories for the offers that GrabPoints asks you to complete: Free Offers and Paid Offers.
The Free Offers require you to sign up for something that's free, like signing up for another GPT site. These pay less than their paid counterparts and can range anywhere between 500 and 2000 points.
The Paid Offers will offer require you to buy into something or to sign up for a free product trial which will require your credit card info.
The pay for these paid offers range anywhere between 2000 and 10000 points.
3. Watch Videos
It's awesome to be paid to watch videos, but it's not going to be about cute kittens or your favorite rock group.
GrabPoints provides you with a daily list of videos that you'll be able to watch. These are mostly 2 to 3 minutes long.
The pay for watching videos is around 10 points, which is not that impressive if you ask me.
4. Downloading and Installing Apps
This feature reminds me of ChampCash, which is a GPT site that asks you to download and install apps as its main avenue for earning points.
GrabPoints will also pay you to download apps, where they'll provide you with a list that you can download.
Along with the list are the points that you'll earn after downloading and its requirements.
Most of the time, it's easy and all you have to do is to download the app to get the points and then you can remove it from your phone.
Some of them will also require you to use the app for a certain period of time.
5. Promote GrabPoints
Of course, you're also going to be earning points if you promote GrabPoints on your social media networks.
These ads will be posted on Twitter, Facebook, and other online forums. People don't need to click on the ads for you to get paid.
6. Referral Program
A GPT site would be incomplete without a referral program, and you'll earn 10 points for sending your friends an FB, Twitter, or G+ invitation to join GrabPoints.
When your referral reaches 1000 points, you'll also earn additional points based on their country.
These countries are separated into three groups.
Tier 1 (500 points) – US, CA, GB, AU
Tier 2 (300 points) – NL, SE, DK, NO, CH, FR, HK, IE, NZ, JP, SG, ES
Tier 3 (100 points) – All other
One drawback to this feature is that there's no referral link, so you can't directly invite people using your content.
You have to ask them to manually install the app and manually input your Promo Code (which is your referral code).
I'm Jerry!
I Created My Own 4-Figure Monthly Passive Income at just 21 Years Old!​
How Much is a Point Worth at GrabPoints?
Each GrabPoints point is equal to $0.001.
To put it simply, you need 1000 points to earn $1.
How Does GrabPoints Pay You?
Members can redeem their points by availing of retailer gift cards or PayPal payouts (cash).
Gift cards start at $10, which is around 10,000 points. For cash payouts, GrabPoints has a $2 minimum payout threshold.
Users then receive a redeemable gift card reward code directly in their email within 72 hours.
GrabPoints Rewards
A lot of users redeem their points via PayPal cash because they can use it anywhere, and the minimum cash amount for that is $5, or 5000 points.
The cheapest reward that users can get would be an Amazon gift card, which starts at $3 or around 3000 points.
These are two of the most popular rewards that GrabPoints users opt for, but there are other rewards in their system as well.
How to Get Started With GrabPoints?
GrabPoints is free to join for anyone who has a desktop, laptop, smartphone, or tablet.
You only need to sign up with your email address, Google account, or Facebook information.
Then you can proceed to download the app on any Android or iOS device and start earning points.
GrabPoints is for people who have a lot of spare time on their hand and want to make their idle Internet time a little bit more productive by earning money.
GrabPoints is not for people expecting to use this program as a replacement for their full-time job or expecting to earn thousands of dollars a year.
What I Don't Like About GrabPoints?
#1 - Low Income Potential
For 1000 points per dollar, it's going to take a while to make a decent amount of cash through their site.
Which is probably the explanation why no one has bragged about earnings tons of money using GrabPoints.
Let me break it down for you. Let's assume that surveys are 200 points for this argument. The time it takes for you to complete a survey is 13 minutes on average.
In the USA, the federal minimum wage is around $7.25 per hour. To convert that into points, that's around 7500 points.
To get to that 7500 points, you're going to need to complete 38 surveys at 200 points each.
That's going to take you 494 minutes or 8 hour and 24 minutes to complete the 38 surveys or roughly 4 surveys per hour!
On top of that, you also need to answer unpaid pre-qualification questions that may or may not let you into the actual survey questions.
There's still a chance that you get rejected for these surveys.
If you want something consistent, you'll want to look at Affiliate Marketing.
#2 - The Paid Offers Require Reading
The Paid Offers that GrabPoints provide can be difficult to manage because some of them may require you to read through the different agreements and disclaimers.
Now, this is probably protocol for any third-party providers who partner with GrabPoints for these offers.
But if people don't read through these agreements or disclaimers, they could be charged for more than they signed up for or worse, get bombarded with calls from various marketers.
If you sign up for a paid offer for 3000 points but you end up paying $50 on your credit card, you just lost money.
At this point, it's best to just sign up for the paid offers and then cancel the subscription on your credit card.
What I Like About GrabPoints?
#1 - People Got Paid
Unlike other GPT Rewards site, GrabPoints does pay to their customers.
Most of the GPT sites that we've reviewed here on Smart Affiliate Success usually have the issue of payouts, with some customers complaining that none of them ever get paid.
Again, if you don't mind the amount of money you're earning, then GrabPoints is a reliable source for quick online cash, especially if you just want some money to go into your PayPal.
GrabPoints puts itself out there alongside PrizeRebel in terms of being a legitimate GPT rewards site. As much as it doesn't disappoint in terms of payout, I can't wholeheartedly recommend GrabPoints as a decent method of earning money online.
Here's why. First, you're not going to earn enough money based on their point system.
It's going to take you quite a while to accumulate points, which could be better spent on more financially rewarding activities like affiliate marketing.
Second, the Paid Offers can cause people to lose money if they don't read through the disclaimer or agreement or if you forget to cancel the subscription.
If there are serious issues that needed to be resolved, like a compromised credit card or a payout that wasn't completely paid, then it's going to take quite some time for your issue to get resolved.
However, if the amount you earn doesn't matter and you just want some extra cash lying around online, then GrabProfits can help you.
How I Make A Living Online?
I've personally created a 4-Figure Monthly Passive Income Stream and become financially independent at just 21 years old without any College degree or working experience!
Through my own hard work, I went from a broke restaurant waiter to living my dream laptop lifestyle in less than a year's time...
If you want to discover the secrets of how I did it at such a young age, click here!