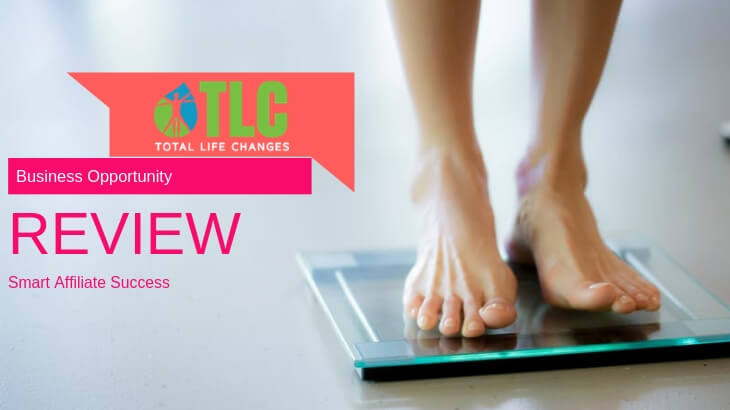 Total Life Changes Review – 100% Nothing Life Changing Here
Welcome to my Total Life Changes review!
When you first heard of the company name, you were probably thinking that this had everything to do with mindfulness or meditation.
Who wouldn't, right? I even guessed the company to have something to do with Yoga.
This company, my dear friends, is Total Life Changes.
First of all, I must Congratulate you for taking your time to do your own research before buying into any "seemingly good" product.
That's the way to avoid scams and find the legitimate way to make money online!
Let me be completely transparent with you, I'm not associated with Total Life Changes in any form.
So, rest assured that I'm not here to pitch or sell anything to you.
Instead, I'm here to reveal a little history behind the company and if they have something to offer apart from their unique company name.
Check out my Total Life Changes review and find out if it's a scam or not.
Total Life Changes Review Summary
Product Name: Total Life Changes
Founder: Jack Fallon
Product Type: Health and Wellness MLM
Price: $39.95 for Business Starter Kit + $40 Monthly Autoship
Best For: People who are confident in their ability to help people lose weight.
Summary: Uniquely named but with absolutely no life-changing opportunity, Total Life Changes is an MLM company that sells health and wellness products, specifically designed to help people lose weight. But if their products could help you lose weight and make your wallet fatter, this review would've went the other way. Sadly, it doesn't. It only helps you lose weight and not help you earn a decent income because their income potential is just that low. That's why I can't recommend their business opportunity. On top of a low income potential, there's also the risk of side effects for one of their natural ingredients (you'll find out later in this article).
Rating: 50/100
Recommended: No
More...
What is Total Life Changes?
Total Life Changes was established back in 1999 by Jack Fallon, who currently serves as the company's CEO. It all started out from the garage of Jack's home in Chesterfield, Michigan.
Total Life Changes, or TLC in this article, is a MLM or multi-level marketing company that focuses on nutritional supplements and health and wellness in general.
Their vision? To help individuals achieve a healthier lifestyle through affordable and natural products while providing them with a profitable business opportunity.
Now where have I heard that kind of spiel before?
Oh, from MLM companies like Herbalife, Purium, and It Works! I suppose.
TLC now operates in over 140 countries around the globe with around 49,800 distributors and boasting an $88 million revenue for 2018.
So, it's not that bad.
If you want to know more about their story, check out this video:
Total Life Changes Product Line
Total Life Changes has a very broad product line, but they did start out selling nutritional supplements when they first started out.
Now they have a wide range of products, which can be viewed by clicking this link here.
These are their major product categories:
Health and Wellness
Beauty and Hygiene
Coffee and Tea
Essential oil (that's right, Young Living, they are coming for your niche too!)
Do They Have A Flagship Product?
Yes, they do. And it's called Iaso Tea.
This is by far their most popular product in their catalog, boasting a wide range of ingredients that's supposedly combined to provide you with lots of health benefits like:
Detoxification
Relieving indigestion
Reducing inflammation
Improving skin health
And of course, helps greatly with weight loss.
What makes this tea interesting is that it also comes with a weight loss program that allows you to lose weight in just 5days.
Now, the company also doesn't provide any clinical studies to back these claims (who does, anyway?).
Does The Product Work?
The product may or may not work for a lot of people. That's just the sad truth of it all.
And I am not just talking about Total Life Changes either.
Almost all products or programs that involve weight loss are circumstantial in terms of their results because it all boils down to one thing: the human factor.
You can create a decent enough program and fill it with all the nutritional supplements possible, and you'll still have people not be able to lose weight.
Simply because they were either not disciplined enough to follow through or the products worked differently for them.
In the case of Total Life Changes, their products and programs had mixed reviews.
The negative reviews, which I found after reading their BBB or Better Business Bureau Profile, seem to target their weight loss program.
Exhibit A:
Exhibit B:
Both reviews claimed that a distributor approached them and guaranteed that they'll lose weight in 5 days with TLC's weight loss program.
But I would be inclined to think that there's human factor involved as to why the program didn't work.
First, their BBB profile only shows 22 complaints in the last 3 years.
13 of that are complaints on the products and service. That's about 4 people complaining about their program each year.
That's not a bad number at all. If the program or product didn't work, that number would be a lot higher.
Now on to the people praising their products.
Exhibit A:
Exhibit B:
These reviews, found on their various products over at Amazon, claim that the product and program worked for them.
And again, I would have to attribute this to the human factor and not the program.
Anyone can eat 1200 calories a day and lose weight if they just followed through. There's nothing fancy about the science behind it.
In fact, the logic is simple: eat more to get big, or eat less to get small.
Does this mean that these customers are overselling their claims because they're distributors?
That could be a possibility since they are selling the product, but there's also the possibility that these reviews (negative and positive) are as sincere as I can be when it comes to creating this review.
I'm Jerry!
I Created My Own 4-Figure Monthly Passive Income at just 21 Years Old!​
How To Make Money With Total Life Changes?
When you get right down to it, Total Life Changes is still an MLM company that provides the most generic options for earning money. And those are:
Direct sales
Commissions from direct sales
Bonuses and incentives
And like any other MLM company, they probably rely on these different forms of marketing:
Word-of-Mouth Marketing
Traditional Marketing
Social Media Marketing
That's probably how you even heard of their business in the first place.
Someone told you about a great weight loss program that could get you to drop excess weight in just 5 days and decided to look into it.
How To Get Started With Total Life Changes?
Total Life Changes distinctly separates customers from distributors.
Distributors are those that are selling products and earning commissions, while customers are those that just buy the products for personal use or to sell without earning commission.
Distributors must first start out with a Business Starter Kit, which costs around $39.95 and then subscribe to a monthly autoship of $40 in order to get commissions and other incentives.
This allows them to earn up to 50% commission on every product they sell.
That's not a bad rate at all.
Customers, on the other hands, can just buy the products from the website at full retail value.
They may become distributors at any given time if they purchase the Business Starter Kit and subscribe to the autoship.
There are also three starter packs to choose from:
Basic Builder Pack priced at $104.95
Professional Pack priced at $154.95
Entrepreneur Pack priced at $309.95
Distributors get about a 50% discount on all products, which is good if you want to secure stocks for display or for sampling purposes.
Total Life Changes Compensation Plan
Total Life Changes' Compensation Plan follows a binary structure and offers the following options for supplementing a distributor's income.
As mentioned above, autoships are required to qualify for commissions and bonuses.
Retail commissions – 50% retail commissions on all products. PV is generated at 25% and added to the stronger leg in a distributor's team.
Fast Start Bonus – 50% bonus for the recruiting affiliate with 25% of the PV generated on the order paid in binary commissions
Residual Binary Bonus – Residual commissions paid out at the end of a payable month
Binary Commissions Match – 50% matching bonus is paid on a distributor's binary earnings for every new distributor they sign up.
Corporate Expenses Account – Amount of this bonus is not disclosed, except that they can earn "up to $1000" to spend as they wish
Car Bonus – Unlike the car bonus of Mary Kay, TLC's car bonus appears to be a cash payout.
I won't explain their compensation plan in great detail. Instead, you can check out this video:
Total Life Changes Ugly Truths Revealed!
#1 - Low Income Potential
Despite having a high commission rate, the income potential of their business opportunity is terribly low.
Let me illustrate.
Last year, they bagged $88 million in revenue. And to date, they have about 49,800 distributors.
Now, because they don't have an income disclosure statement, I am inclined to assume that these are all active distributors and that they are earning commissions and other bonuses.
How much did each distributor get that year?
Just about $1,767 and some change. POTENTIALLY.
Note that the $88 million wasn't probably all from distributor sales either. I don't know the percentage of just the retail sales, so the potential earnings could be even lower!
But okay, I will try to be fair. Supposing that 60% of the $88 million is distributor sales, so that's $52,800,000.
And let's assume that 80% of the 49,800 are active distributors, meaning these are the people earning commissions. That's about 39,840.
How much did they earn?
Just about $1,325 and some change.
With those two illustrations above, no one's really earning a lot of money with their business opportunity.
#2 - Possible Side Effects With Ganoderma
Ganoderma Lucidum is one of their natural ingredients for some of their supplements.
According to WebMD, this herb is a natural blood thinner that prevents a person's blood from clotting properly and may lead to intestinal bleeding and platelet dysfunction.
Other side effects of Ganoderma include diarrhea and constipation, itching and rashes, and body pain.
Nasal discomforts are also common, but minor compared to chest pains and difficulty in breathing.
But like most natural health supplements, it still depends on the concentration of this ingredient in each product.
I have not read anything that says that people have experienced these side effects, but it's still worth noting in this review.
#3 - Autoship! UGH!
If there's just one thing I hate about MLM business opportunities, it's their autoship concept.
This is a monthly requirement for TLC distributors that need to comply with in order to get the commissions.
Now, while their autoship is relatively lower compared to other MLM's, it's still a financial burden to distributors because it just means they will continue to receive stocks until they unsubscribe.
What happens then when they're unable to sell the previous month's products and the next month's products come rolling in?
There you have the problem of every retail store: overstocking.
What I Like About Total Life Changes?
#1 - They Do Help You With Weight Loss
What probably makes them different from other MLM companies is that they are willing to help you lose weight, and not just by flooding you with a lot of their own products.
According to what I've read, you're only given their Iaso Tea (their flagship product) and a meal plan that restricts your calorie intake to about 1,200 per day.
So there's also this added pressure on these distributors to make sure that their customers are following the meal plan. This means they're similar to nutritionists or fitness coaches (minus the credentials).
If you really want to lose weight but you're faced with an overweight distributor from TLC, take your money elsewhere and hire a real fitness expert.
This is a product line where their distributors need to "walk the walk and talk the talk".
Is Total Life Changes A Scam?
Total Life Changes is a legitimate MLM company and has been around for almost 20 years, so I wouldn't say that they're a scam.
However, their business opportunity is somewhat less desirable and I can't recommend this to anyone.
Why would I even recommend a business opportunity that doesn't even guarantee you a decent income stream?
The income potential is low enough as it is, and it's probably going to take you a long time to get your money back from bonuses.
On top of that, there's the added risk of side effects from one of their natural ingredients, and that's something that I don't want to burden my customers with.
If I wanted an income stream that allows me to help people become more healthier, I'd rather be a fitness trainer than be a TLC distributor.
How I Make A Living Online?
I'm not a fan of MLM, not because it's illegal or not profitable, but because of all the restrictions and the expensive costs involved.
Instead, Affiliate Marketing is my top recommended business model for anyone to make money online.
The reason is simple...
You don't have to recruit anyone to make money
You have the freedom to promote any products you want and not being restricted to only promote the products from one MLM company
It's Free to get started
In fact, with affiliate marketing...
I've personally created a 4-Figure Monthly Passive Income Stream and become financially independent at just 21 years old without any College degree or working experience!
To follow my footstep and find out how I managed to create such passive income stream at such a young age, please click on the button below. I've prepared a Special Video to explain to you 🙂