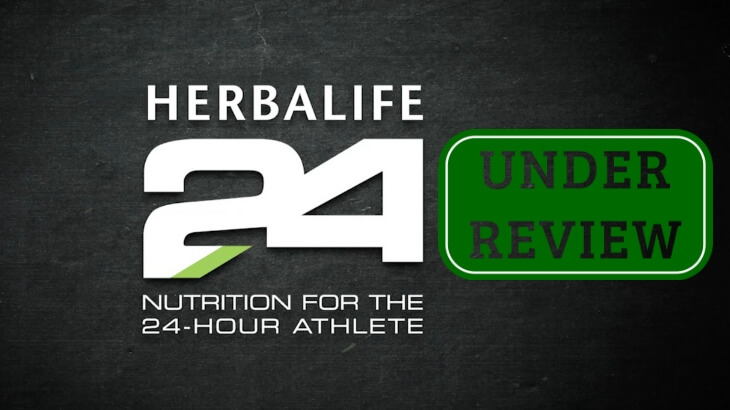 Is Herbalife a Scam? The Most Expensive Way To Lose Weight Yet
Welcome to my Herbalife review!
Herbalife is a company that needs no introduction. You've probably been sold its shakes, pills, and other products at one point in your entire life.​
Maybe you've even got invited to their business presentations.
First of all, I must Congratulate you for taking your time to do your own research before buying into any "seemingly good" product.
That's the way to avoid scams and find the legitimate way to make money online!
Let me be completely transparent with you, I'm not associated with Herbalife in any form.
But I have personally tried their products, so I have some shocking first hand experience to share with you.
So, rest assured that I'm not here to pitch or sell anything to you.
Instead, I'm here to reveal the secrets behind Herbalife's MLM opportunity, and why it's the most popular MLM company to date.
Is Herbalife a scam, or a pyramid scheme, or an actual legitimate way to earn some cash?
Read on and find out...
Herbalife Review Summary
Product Name: Herbalife
Founder: Mark Hughes
Product Type: Health and Wellness, Skin Care MLM
Price: $94.10 for International Business Pack or $124.10 for Super Starter International Business Pack + Upsells
Best For: People who are good at doing presentations and are familiar with health and wellness products and its jargon.
Summary: Herbalife is one of the most popular MLM companies in existence, and it's far from being a scam. But despite being a popular MLM, I cannot recommend their business opportunity to anyone. First and foremost, they were almost classified as a pyramid scheme by the FTC after hearing several accusations from its distributors (I'll go into more detail in the article below). Second, no one's earning anything from their opportunity (and I have the evidences to prove it). Third, their products are more expensive than other commercial brands. Lastly, there's a lot of recruitment involved. That's why they got in trouble with the FTC in the first place.
Rating: 20/100
Recommended: No
More...
Herbalife is the brainchild of Mark Hughes, which he founded in 1980.
But Herbalife didn't start out as a huge corporation. He started selling his products from the trunk of his car.
Originally, he just wanted to build a platform for his weight management products.
Now, Herbalife is a giant in the MLM or multi-level marketing industry under the health and wellness niche.
The company and opportunity spans over 90 countries and has brought in a total revenue in excess of $4 billion as of December 2017.
Herbalife Product Line
Herbalife doesn't sell their products in any retail store, unlike Amway.
Instead, they rely on their network of distributors to sell their products via an MLM business model.
Herbalife sells products that are aimed to help people live healthier lifestyles.
Herbalife has 50+ products under their distribution, and are broken down into 4 categories:
1. Healthy Weight
Healthy Weight is their product category for their famous protein shakes and bars, healthy nuts, and their multivitamins.
Their shakes and bars go for about $30 on average per item, and the weight management programs are somewhere between $100 to $230.
2. Specialized Nutrition
As the title says, this category is dedicated to a wide variety of pills to help with:
Heart health
Women's health
Men's health
Children's health
Aging health
Digestive health
3. Energy & Fitness
This product line is geared towards athletes to help deliver key nutrients for faster recovery and optimal performance.
The products under this line will either come in pill or powder form.
4. Skin & Hair Care
Soaps, creams, and gels are part of the products listed under this category.
Their products include common ingredients like Aloe Vera and Shea Butter.
To view their full product catalog, you can check this link here.
Do The Products Work?
For an MLM company to earn $4 billion in sales last year, you'd expect their products to work.
Sadly, that's not the case.
People who've taken Herbalife products complained of various side effects including upset stomach, nausea, and liver damage to some extent.
On the other hand, there are others who also claimed that the Herbalife products worked for them.
Some of the positive reviews even argued that Herbalife may not work for some people.
You can also check their Consumer Affairs profile for more reviews about their products.
On a personal note, I also had a negative experience with Herbalife and their products.
A couple of years ago, I was also invited to purchase Herbalife products, specifically their meal replacement products.
My wife and I bought a couple of bottles of their protein shakes, and it didn't pan out exactly as I thought it would.
The meal replacement shake gave my wife and I diarrhea for days.
One might argue that this could just be lactose intolerance, but I've taken other brands of protein shakes and none of them ever gave me diarrhea.
This is just my personal negative experience with Herbalife. But it's definitely something you should take note if you're considering.
I'm Jerry!
I Created My Own 4-Figure Monthly Passive Income at just 21 Years Old!​
How To Make Money With Herbalife?
Herbalife provides the following options to earn money:
Profits from Direct Sales
Various Bonuses and Incentives
And I'll go into the specifics of these options in the next few sections.
How To Get Started With Herbalife
To become a distributor for Herbalife, you'll need to purchase either of the following kits:
International Business Pack - $94.10
Super Starter International Business Pack - $124.10
These kits include the following:
Discounts on Herbalife products
Training and Support
Ability to sponsor others
Herbalife Compensation Plan
According to their brief yet concise compensation plan, there are 7 ways their distributors can earn money via Herbalife.
According to the website there are 5 ways a member can earn with Herbalife:
Retail Profits – Herbalife distributors get between 25 to 50% product discount, depending on the member's rank
Daily Wholesale Profits – This is profit you earn from selling your product to your downline.
Monthly Royal Override – This is paid out on a unilevel compensation structure. Commission rate is at 5% on the PV of group organization.
Monthly Production Bonuses – Bonuses are at 7% by the top achievers of the team.
Cash Bonus for Recruiting - $500 is given to distributors for achieving Active World Team.
Vacations for Recruiting – Various vacation bonuses given out as rewards for recruitment.
Mark Hughes Bonus – 1% of the entire company's annual revenue is divided among the top of the pyramid.
This video should explain their compensation plan in great detail, so I don't have to:
Herbalife Ugly Truths Revealed!
#1 - Herbalife Was Sued By The FTC!
Herbalife has been a target of controversy, mostly of how it's been called out as a pyramid scheme.
And the accusation has reached the eyes and ears of the FTC or Federal Trade Commission.
In 2017, the FTC took Herbalife into court. The company settled a whopping $200 million lawsuit against the FTC.
Along with the settlement, Herbalife also agreed to restructure its compensation plan to become more compliant with FTC's standards for MLM.
This agreement has allowed the nutritional company to avoid being charged with operating a pyramid scheme and facing imminent shutdown.
The full details of the lawsuit can be viewed here.
Some companies weren't as fortunate or as rich as Herbalife.
Companies like Life Force International and Visalus were also flagged by the FTC as pyramid schemes, but weren't shut down.
This is important because if a company is flagged as a pyramid scheme, it means that the focus of the rewards is on recruitment and not on sales.
For Herbalife to be taken into court by the FTC, it meant that there was something fraudulent about their compensation plan.
#2 - No One Earned Any Real Money
I have not one, but two, income disclosure statements to prove that no one made any real money with Herbalife.
First, let's talk about the income disclosure statement from the USA. The most recent one was from the year 2016.
93.3% of their distributors earned less than the annual federal minimum wage of $15,080. This is computed at $7.25 per hour at 40 hours per week at 52 weeks per year.
That's 67,030 of the 71,870 active distributors for that year.
And 10,299 of that 66,839 earned no income for that year.
Here's the income disclosure statement from the UK, which is from the year 2017.
97.4% of their total active distributors earned less than the annual government-mandated minimum wage of GBP17,542 or US$22,597.
That's around 3,327 out of the 3,399 active distributors accounted for that year.
497 people out of the 3,327 earned no income for that year.
And you wonder why they got hit by a huge fine by the FTC?
#3 - Products Are Expensive!
On top of their ineffective products, their products are just way too expensive for anyone to purchase.
As someone who works out, I use what I call a recovery stack.
These are my pre-workout, intra-workout, and post-workout supplements that help me with my goals, be it for weight loss or for lean muscle building.
This is the current cost of my supplements:
Pre-workout: MusclePharm Assault (30 servings) - $21
Intra-workout: Scivation XTend (30 servings) - $29
Post-workout: Optimum Nutrition Whey Protein (30 servings) - $29
That's a total monthly spending of $79, or $2.63 per day.
Their weight management programs are priced between $119.05 and $229.30, which is probably made up of different products to help the customers achieve their goal.
The staggering difference with their lowest priced program and my stack is $40.05.
That's a lot of money that could be saved by someone else who wants to actually achieve their goals.
And remember, my wife and I suffered from diarrhea for days because of consuming their products.
Others weren't as fortunate as we were because I've read that some people even got liver damage after taking Herbalife products.
#4 - Lots of Recruitment Involved
On my personal experience, I've seen Herbalife distributors hold weekly seminars to prospective recruits for their team. These even come with fancy posters and trial products.
Most of the time, they do get leads and they get converted into downlines. These people will then hold the same seminars but in different venues.
MLM companies don't get flagged by the FTC as a pyramid scheme as long as there is not too much focus on recruitment.
But Herbalife does focus its compensation more on recruitment than sales.
That's why they got hit by a huge settlement and an agreement to re-do their compensation structure.
And with their income disclosure statements above, it's clear who's making a lot of money: those at the very top of the pyramid!
Thanks to the Internet, I'm constantly getting at least 20 leads per day for my business without doing any cold-calling, hard-selling or recruiting.
And I've already achieved financial independence at just 21 years old earning 4-figure monthly passive income.
What I Like About Herbalife?
#1 - They Are Everywhere!
Herbalife is everywhere.
And that is made possible with the help of the celebrities and athletes endorsing their brand.
One of which is soccer player, Cristiano Ronaldo.
On top of that, they also have sponsorships provided to 130 world-class athletes over 60 professional teams.
Now that's an impressive way to acquire customers, and an even more impressive way to showcase a company's brand.
Herbalife is not a scam. It's a very legitimate MLM company that provides health and wellness products in the industry.
But even with celebrities and athletes endorsing the company, I cannot recommend this business opportunity to anyone.
First, they were almost classified by the FTC for operating a pyramid scheme. But in order to avoid being classified as one and to avoid shutting down, they had to pay a huge settlement.
Second, no one's earning any money from their opportunity. I presented two income disclosure statements from different countries.
Both showed that more than 90% earned less than minimum wage.
Third, their products are expensive. On top of being riddled with side effects, the products are priced at the high end – even higher than other commercial and more popular brands of supplements.
Lastly, there's a lot of recruitment involved. You're not going to be earning any real money unless you recruit a huge team and have them make a lot of sales.
That's why they got in trouble with the FTC in the first place.
How I Make a Living Online?
I'm not a fan of MLM, not because it's illegal or not profitable, but because of all the restrictions and the expensive costs involved.
Instead, Affiliate Marketing is my top recommended business model for anyone to make money online.
The reason is simple...
You don't have to recruit anyone to make money
You have the freedom to promote any products you want and not being restricted to only promote the products from one MLM company
It's Free to get started
In fact, with affiliate marketing...
I've personally created a 4-Figure Monthly Passive Income Stream and become financially independent at just 21 years old without any College degree or working experience!
To follow my footstep and find out how I managed to create such passive income stream at such a young age, please click on the button below. I've prepared a Special Video to explain to you 🙂