1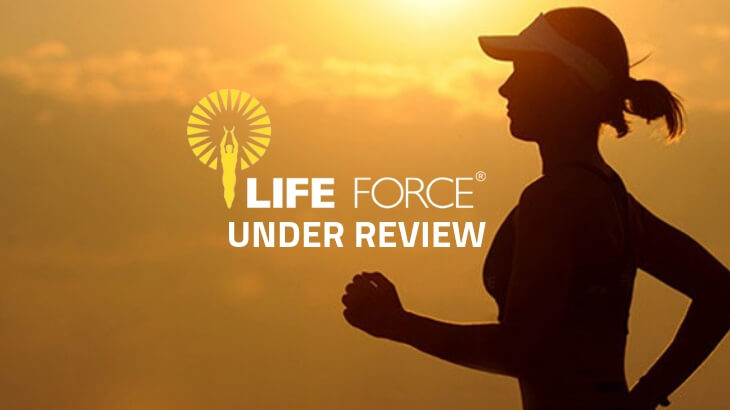 Is Life Force International a Scam? Another Pyramid Scheme CAUGHT!
Welcome to my Life Force International review!
There are hundreds of MLM companies that sell and distribute health and wellness products, each vying for the title of being the best company in the world. And one of the contenders is Life Force International.
First of all, I must Congratulate you for taking your time to do your own research before buying into any "seemingly good" product.
That's the way to avoid scams and find the legitimate way to make money online!
Let me be completely transparent with you, I'm not associated with Life Force International in any form.
So, rest assured that I'm not here to pitch or sell anything to you.
Instead, I'm here to reveal what Life Force International is all about, from their product line to what makes them valuable to the industry.
Is Life Force International a scam? Or is it a legitimate business opportunity provider?
Let's find out...
Life Force International Review Summary
Product Name: Life Force International
Founder: Wayne and Gerri Hillman
Product Type: Health and Wellness MLM
Price: Not disclosed
Best For: No one.
Summary: Life Force International is a legitimate MLM company that distributes health and wellness products. But in an industry that's already crowded, there are other reasons why I can't recommend this business to anyone. First, the company is flagged as a pyramid scheme by the FTC (I have the document to prove it) and it should tell you enough about their money-making opportunity. Second, the requirements to stay as an associate are strict. Signing up for a monthly autoship volume based on your rank is a deal breaker. Lastly, the products are expensive, and in an already crowded industry, customers will always want to buy the best product for their buck.
Rating: 1/100
Recommended: No
More...
What is Life Force International?
Life Force International or LFI is a MLM or multi-level marketing company that specializes in health and wellness products.
But before becoming a huge global brand, it all started inside a garage.
LFI was founded by husband and wife team Wayne and Gerri Hillman in their San Diego garage in 1994.
Just like how their business started, they didn't market their opportunities to other countries just yet.
The founders originally restricted the operations, products, and opportunities within the USA. But as they grew, their reach increased.
Now, the company can be found in Australia, Canada, New Zealand, and Singapore.
LFI is another player in this already crowded niche of MLM, and they are competing alongside companies like doTERRA, Isagenix, Jeunesse, and Melaleuca just to name a few.
Life Force International Product Line
Life Force International distributes health and wellness products as part of its business opportunity.
Because of the numerous products that they have, I'll just list their product categories. You'll find more information about their products on their website.
Daily Wellness
Body Balance
Re-Balance, Recharge and Recover
Benew Weight Loss
Bone and Joint Health
Athletic Nutrition
Healthy Immune Support
Energy and Relaxation
Cleanse and Beautify
Do The Products Work?
Life Force International boasts of using superfoods and sea vegetables as their main ingredients for their products.
For the price that you pay for these products, one would expect at least decent results.
However, the reviews say otherwise.
The most common complaint about their product is that they don't work, or the product doesn't do anything for them.
This is probably because the superfood and sea vegetable content in their product are not enough for it to make a difference in their customers' bodies.
But note that information on MLM products, its contents, and even their reviews should be taken with a grain of salt.
We all know that a lot of MLM products are more hype than substance, and LFI appears to be just that.
I'm Jerry!
I Created My Own 4-Figure Monthly Passive Income at just 21 Years Old!​
How Do You Make Money From Life Force International?
Like any other MLM structure, LFI provides you with two ways to earn money:
Direct sales (retail)
Earn money from recruitment
How To Get Started With Life Force International?
Any MLM company would require you to pay a joining fee or purchase a starter kit before you get in to their business opportunity.
However LFI doesn't have any information about how much it costs to get started.
Upon checking their website, it seems that you have to get in touch with their company via the Contact Us page to know more about their business opportunity.
Life Force International Compensation Plan
LFI comes with an interesting compensation plan, and here's a snippet from their document.
As you sell through their products, you earn points which will get you through the rankings.
With that said, you still need to sign more people in order to make money from their opportunity.
Life Force International offers you several ways to make money with them.
1. Retail Sales
Life Force International members can purchase products on wholesale price direct from the factory and sell them at retail price. Their profit comes from how they mark up the products.
2. Fast Start Bonus
Fast Start gives out a 55% bonus for each person that you bring into the opportunity. This is the one of the many indicators that recruitment is the key to earning a lot from them.
3. Achievers Club
15% of the company FTO (First Time Order)BV is divided monthly among recruiters who recruited members with an accumulated BV of over 750. Again, another sign of recruitment.
4. Residual Income
Recurring commissions from people you brought into the opportunity who purchase LFI products.
5. Generational Power Bonus
12% of the company BV is pooled into a monthly payout based on volume contributed by each leg to total volume.
I won't go into too much detail because it's going to take me a long time to write it out.
Check out this comprehensive 20-minute video about their compensation plan, instead.
Life Force International Ugly Truths Revealed!
#1 - They Were Flagged As A Pyramid Scheme by the FTC
As seen on the document, Life Force International and the 249 opportunities have all these Red Flags on their compensation plan.
Note that this does not mean that they are doing anything fraudulent.
It's only their compensation plan that's being scrutinized by the FTC, and thus a warning was issued to consumers and proponents of MLM.
Unless proven otherwise, Life Force International is a legitimate company.
Coincidentally, another health and wellness MLM company is found on the same document as Life Force International: Visalus.
#2 - Strict Requirements To Stay In Business
In order for an associate to stay within the business, he or she needs to make monthly BV inventory purchases, and these increase as the ranks progress.
A level one associate is required to purchase 25 BV units while a level three associate needs 104 BV unit purchase.
To guarantee this, associates are signed up to autoship purchases, regardless if they sold out on their stocks or not.
This makes it troubling for the new members because inventory will just keep on piling without any means to get rid of them as fast as they can.
#3 - Products Are Expensive
To make things even more complicated for sellers, the products that LFI sells are way more expensive than commercial brands on the market.
The product price list can be accessed on their site and here's a snippet of some of their prices:
A 2 Quarts (1.89 L) bottle of their flagship product, Body Balance, costs about $58.28 at retail price.
I checked Amazon for their superfood powdered mixes and drinks, and sorted it based on the average customer reviews and priced between $30 and $50.
There are 5 products that are decently rated by customers and the highest one within that bracket costs around $46.
That's about $12 worth of difference.
When you're in the health and wellness industry, price matters a lot.
No one wants to pay a lot of money for placebo effect, which is what most LFI products seem to be about.
P.S. This program that has enabled me to generate a 4-Figure Monthly Passive Income at just 21 years old is FREE to get started and only cost $49/month fee to go full-time!
What I Like About Life Force International?
#1 - Money-Back Guarantee
LFI offers a 90-Day 100% money-back guarantee for customers who are not satisfied with their products.
Despite being flagged as a pyramid scheme, it's good to know that customers can get their money back. I did enough research to check if there have been complaints on their refund procedures.
To my surprise, I found no complaints, so it's safe to assume they're doing a good job with these refunds.
Is Life Force International a Scam?
Life Force International is a legitimate MLM company that sells health and wellness products.
In an already condensed and crowded industry, there are more reasons why this business opportunity is not intended for anyone.
First, it got flagged by the FTC as a pyramid scheme and that should tell you enough about their money-making opportunities.
With its income generation relying heavily on recruitment, it's going to be difficult for anyone to make any real money.
Second, it has strict requirements for members to stay in business. Requiring their members to sign up for autoship is a deal breaker.
Members will definitely have issues with inventory and space the longer it takes for them to dispose of products.
Lastly, their products are expensive. And in a cutthroat industry like health and wellness, people will always want the best bang for their buck.
If members find out they paid $60 for placebo, I'm pretty sure they're going to find other brands and tell people about their experience at the same time.
How I Make A Living Online?
I'm not a fan of MLM, not because it's illegal or not profitable, but because of all the restrictions and the expensive costs involved.
Instead, Affiliate Marketing is my top recommended business model for anyone to make money online.
The reason is simple...
You don't have to recruit anyone to make money
You have the freedom to promote any products you want and not being restricted to only promote the products from one MLM company
It's Free to get started
In fact, with affiliate marketing...
I've personally created a 4-Figure Monthly Passive Income Stream and become financially independent at just 21 years old without any College degree or working experience!
Through my own hard work, I went from a broke restaurant waiter to living my dream laptop lifestyle in less than a year's time...
If you want to discover the secrets of how I did it at such a young age, click here!