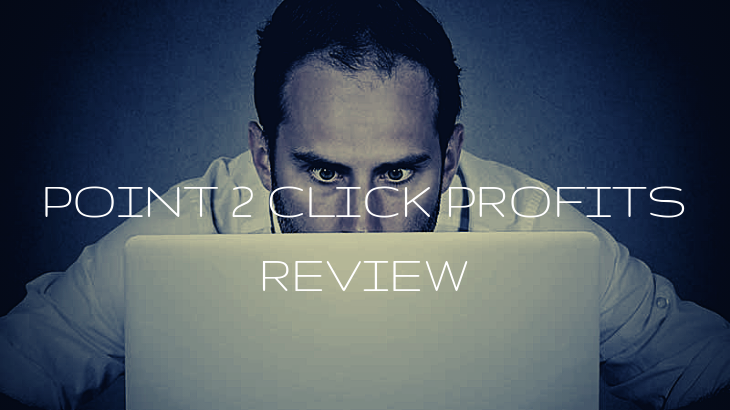 Point 2 Click Profits Review – No Profits Here, Folks!
Welcome to my Point 2 Click Profits review!
Some programs advertise as get-rich-quick schemes without explaining how they work. They fill up their sales video and landing pages with ridiculous claims from the owner or their supposed members.
But here at Smart Affiliate Success, we aim to uncover these programs for the scam that they are.
Here's Point 2 Click Profits.
First of all, I must Congratulate you for taking your time to do your own research before buying into any "seemingly good" product.
That's the way to avoid scams and find the legitimate way to make money online!
Let me be completely transparent with you, I'm not associated with Point 2 Click Profits in any form.
So, rest assured that I'm not here to pitch or sell anything to you.
Instead, I'm here to reveal what this scam is not telling you and why it's not worth your time.
Point 2 Click Review Summary
Product Name: Point 2 Click Profits
Founder: Charles MacAllister (Not a real person)
Product Type: Affiliate Marketing Program
Price: $47 plus upsells
Best For: No One!
Summary: Point 2 Click Profits is an affiliate marketing program that claims to help you make money through Amazon, but that's all they're telling you. Nothing about this program is legitimate, and that's proven by the fake testimonials and fake owner. On top of that, I have proof that this is a rehashed version of another scam we reviewed.
Rating: 1/100
Recommended: No!
More...
What is Point 2 Click Profits?
Point 2 Click Profits showed up under my radar when I received an email about this program a few days ago. Developed by a marketer named Charles MacAllister, he claims that this is the solution to your financial woes.
According to the sales video, you'll be making thousands of dollars in a month without explaining how the system works. It just says that it's going to give you a "black box" that allows you to earn $500 a day through Amazon.
Granted that Amazon does give you income opportunities through its Amazon Affiliate Program, but I doubt that this system is going to use that.
To be honest, it feels and looks exactly like the other programs that I've reviewed recently:
Inside Point 2 Click Profits
Throughout the sales video, Charles mentions the word Amazon many times, but he doesn't really give us details as to how the program associates with Amazon.
The reason behind that is there's no legitimate business model that you can set-up overnight and expect it to churn thousands of dollars online. That's not how affiliate marketing works.
The marketers who claim that the system works are part of the sales pitches developed by the people behind Point 2 Click Profits.
We assume that from the sales pitches, he talks about Amazon for its affiliate program, but I doubt this is the case.
The testimonials that you find on his sales page appear to be nothing more than copy-pasted statements from actual successful programs with real members.
I'm Jerry!
I Created My Own 4-Figure Monthly Passive Income at just 21 Years Old!​
How Much Does It Cost?
After a few minutes of watching their sales video, I found out that the program costs $47 to join, and you'll be able to sign up for their program.
But the money doesn't stop there. You're going to be flooded with upsells that cost more than the actual product and will have nothing to do with making you more money.
The program, and its upsells, are designed to milk a lot of money from unsuspecting marketers and the uninformed.
Who's Point 2 Click Profits For?
Point 2 Click Profits is a scam that's not meant to be joined by anyone. At this point, the moment you see its name anywhere, don't click on it. It's only going to waste your time.
Point 2 Click Profits Ugly Truths Revealed!
#1 – Rehashed Version of Older Scams!
I knew my BS detector wasn't going crazy when I felt that Point 2 Click Profits felt like an old scam that I previously reviewed. And sure enough, I was right.
It looked like how Money Sucking Websites, which I recently reviewed. Check out this side-by-side:
My guess here is that the programs before this one was exposed a lot of times than anticipated so they decided to close their doors and rebranded into another scam.
And this is quite a common modus operandi for these scams to rebrand.
#2 - Fake Testimonials
We know that there's something up with the program, especially with how people are quick to say that the program has made them wealthy. But a quick Google search revealed that these testimonials are fake.
You have to admit that programs such as Point 2 Click Profits and the other scam sites have to make use of stock photos and even paid spokesperson videos to really sell their scheme.
Here's a good example of Benjamin Tinsman, who says that he's made a lot of money and even showed us how much he's earned.
Obviously, Benjamin is not a real person as far as the scam is concerned and here's the actual stock photo and used by an actual corporation for non-scam purposes.
If the system did in fact work, why the need to use fake testimonials?
#3 - No Contact Information
Charles MacAllister and the team of Point 2 Click Profits don't make it easy for you to get in touch with them in case you get problems.
But in reality, these sites are meant to be not accessible by anyone so they don't have to deal with the people they scammed.
If they're a legitimate corporation, the least they could do was have a support team to tend to their customers' needs.
#4 - No information about Charles MacAllister
Charles MacAllister is not a real person as far as this site is concerned. In fact, the photo he used for this site is actually a stock photo, and you'll see down at the bottom the proof that it's stock:
On top of that, here are other sites where this photo was being used.
To remove all doubts, I did a quick Google search just to be sure that Charles did exist via his digital footprints. Sure enough, there weren't any. Everything I found about Charles had everything to do with Point 2 Click Profits.
Again, I can't believe the lengths as to which Point 2 Click Profits and its other fellow scams are willing to go.
What I Like About Point 2 Click Profits?
There's nothing about this program I like because it's an obvious scam. I don't want to even give this program a saving grace by saying something good about it.
Is Point 2 Click Profits a Scam?
Let's see. Fake owners, fake testimonials, and no contact information? Well, those are just the red flags that were raised during the review and is proof enough that Point 2 Click Profits is a scam.
The sad thing here is that once Point 2 Click Profits gets exposed enough, they're just going to shut down and then just rebrand into a different program with a different name. And then the cycle starts over.
How I Make a Living Online?
I've personally created a 4-Figure Monthly Passive Income Stream and become financially independent at just 21 years old without any College degree or working experience!
Through my own hard work, I went from a broke restaurant waiter to living my dream laptop lifestyle in less than a year's time...
If you want to discover the secrets of how I did it at such a young age, click here!