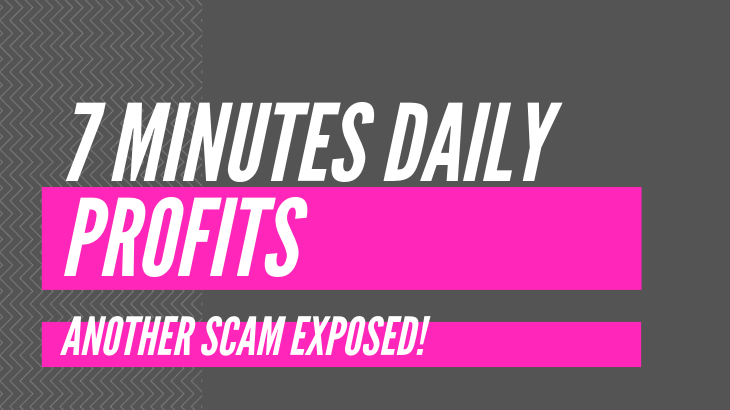 7 Minutes Daily Profits Review – Another Biz-Opp Scam Exposed!
Welcome to my 7 Minutes Daily Profits review!
There's just something about scams that always makes them stand out, no matter how legitimate they try to appear.
Maybe it's the name. I mean, if a program is named something like 7 Minutes Daily Profits, then it's safe to say that there's something up.
First of all, I must Congratulate you for taking your time to do your own research before buying into any "seemingly good" product.
That's the way to avoid scams and find the legitimate way to make money online!
Let me be completely transparent with you, I'm not associated with 7 Minutes Daily Profits in any form.
So, rest assured that I'm not here to pitch or sell anything to you.
Instead, I'm here to reveal what this biz-opp is trying to get out of you, and what it's all about!
7 Minutes Daily Profits Review Summary
Product Name: 7 Minutes Daily Profits
Founder: Vince Howard
Product Type: Affiliate Marketing System
Price: $9 plus Upsells
Best For: No One!
Summary: 7 Minutes Daily Profits is an affiliate marketing system that you can access for a measly $9! The system claims that it can help you generate as much as $500 per day. But this system is just blowing BS out of its own rear end. The fake testimonials and the fake owner information are just two of the RED FLAGS that were raised in this review. Completely BS product right here.
Rating: 1/100
Recommended: No!
More...
What is 7 Minutes Daily Profits?
This program was introduced to me when I was reading a comment on a recently reviewed product, Bulletproof Profits, and how 7 Minutes Daily Profits was awfully similar.
I checked out the program and needless to say, something is definitely up and I could tell just by looking at the landing page.
The website claims that you can make $500 a day easy using a free software developed by someone named Vince Howard.
He also pitches that he used to be an ordinary truck driver barely making ends meet when he stumbled across the "secret" to making money online.
Now he's making millions and has been featured on the news and so on.
And because he's a good guy, he's letting you in on the secret for only $9.
This is all amazing because there are even testimonials coming from other "ordinary" folks who made money too.
Let me tell you right now that everything you see on their website and everything about the program is BS.
Inside 7 Minutes Daily Profits
7 Minutes Daily Profits is a ClickBank products, so it's quite disappointing to say that you'll find other programs like these on the marketplace.
7 Minutes Daily Profits' sales video goes on about how you can make easy money by using their free software. The $9 that you pay will be used to pay for "server" access.
But in the video, he doesn't really explain how the software does what it does to get you $500 a day.
In fact, the process is not mentioned anywhere else on the site.
What's happening here is that 7 Minutes Daily Profits tries to sell you the product by providing you with fluff sales pitches to get you so hyped up that you no longer need to ask "how it's done".
What Happens When You Pay $9?
There's nothing free about this software, and there are a lot of things that could make you spend more than $9.
And no, you're not getting a free software either.
You're getting outdated information on how to make money online via affiliate marketing.
Then there's the upsells, which claim that you can make more money if you purchase these products.
The upsells may not be the owner's programs, but he is affiliated with those so he earns a commission from every purchase.
Luckily, ClickBank gives you a 60-day money-back guarantee if you think that you've bought into a scam.
Affiliate Marketing Is A Legitimate Business Model
7 Minutes Daily Profits and other programs like it crap on a legitimate business model, which is affiliate marketing.
Affiliate marketing is where you sell other people's products and earn a commission from selling.
And no, it's not a dropshipping business model either.
What affiliate marketers are basically doing is just to make good enough content to sell an affiliate product.
Do this good enough and you might be earning $500 a day, but this doesn't happen overnight. This takes months, if not years, of hard work.
Any legitimate affiliate marketing system will not run any automated software or bots to generate money. That's not how it works. This is how you find out if a program is an outright scam or not at a glance.
Who's 7 Minutes Daily Profits For?
No one.
The program's absolutely full of crap and does not do anything to make you any real money.
If you are eager to get started with affiliate marketing the right way, come check out my FREE 1-HOUR TRAINING and I'll show you all of the SECRETS that's made my SUCCESSFUL.
7 Minutes Daily Profits Ugly Truths Revealed!
#1 – Vince Howard Is Not a Real Person!
I'm not surprised that Vince Howard is not a real person. Whether or not he's the owner, he's the only name associated with the program.
And if he was featured on the news or publications, then that was a lie too.
I did a search for Vince Howard and there was nothing about a man earning $500 a day using a software.
The only time his name comes up is when this program is mentioned.
You'll also find that his photo on the sales page is actually nothing more than a stock photo.
I don't really believe that he's a real person and I think it's safe to say that this program is 100% bad news because there's no information about the real owner.
#2 –Testimonials From Paid Actors!
Another red flag here is that they are using paid actors from a site called Fiverr to create the video testimonials that you see on their sales video.
You'll find that programs like 7 Minutes Daily Profits use fake testimonials to add legitimacy and hype to their products.
I also recognized these actors because they also appeared in testimonials for another program called Insiders Cash Club.
#3 – Upsells!
The program doesn't only cost $9. When you do pay the $9, you'll get access to their member's area and then you'll be introduced to a lot of upsells that will do nothing to enhance your income.
But the upsells will claim that they do.
You'll end up spending hundreds of dollars more for programs that are probably scams to begin with, or have been known to be terrible affiliate marketing products.
What I Like About 7 Minutes Daily Profits?
There's nothing that I like about this product because it's a scam. It's completely full of BS, and it's making affiliate marketing look bad.
Is 7 Minutes Daily Profits a Scam?
It's safe to say at this point that 7 Minutes Daily Profits is a scam due to two red flags that were raised on this review.
There's no information about the real owner, so the site has no liability whatsoever on what happens to your money afterwards. They only care about making money from you.
The fake testimonials are so obvious that it doesn't take a genius to find out that there's something up about the program. The spokespersons for the testimonials were even found on another scam. How low is that!?
Stay away from this program! You're not going to earn any REAL MONEY!
How I Make a Living Online?
I've personally created a 4-Figure Monthly Passive Income Stream and become financially independent at just 21 years old without any College degree or working experience!
Through my own hard work, I went from a broke restaurant waiter to living my dream laptop lifestyle in less than a year's time...
If you want to discover the secrets of how I did it at such a young age, click here!