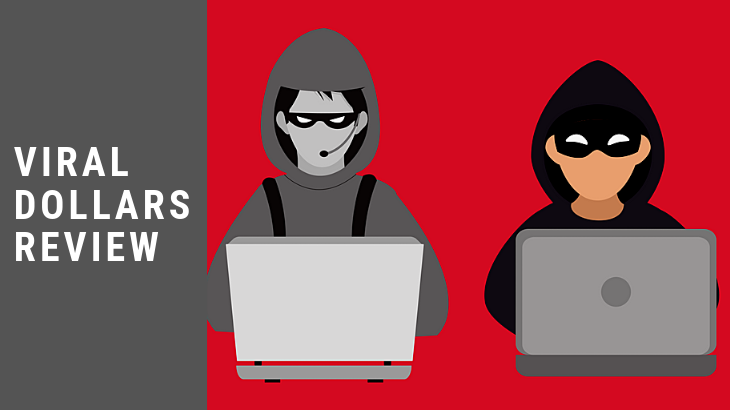 Viral Dollars Review – No Dollars, All Scam! Here's Why!
Welcome to my Viral Dollars review!
This program claims a lot of things that it can give you, and apparently has the proof to back it up. Sadly, all of them are just as false as they can be.
At first glance, you might think they're legit, but let me bring you in for a closer look.
This is Viral Dollars!
First of all, I must Congratulate you for taking your time to do your own research before buying into any "seemingly good" product.
That's the way to avoid scams and find the legitimate way to make money online!
Let me be completely transparent with you, I'm not associated with Viral Dollars in any form.
So, rest assured that I'm not here to pitch or sell anything to you.
Instead, I'm here to reveal why this isn't even worth your time at all.
Viral Dollars Review Summary
Product Name: Viral Dollars
Founder: Not disclosed
Product Type: Affiliate Marketing Platform
Price: Free to join
Best For: No one.
Summary: Viral Dollars is an affiliate marketing program that promises you $500 on your first day, but that leaves a lot to be desired. In fact, there are several red flags that were raised during this review that makes this site just funny and questionable. On top of the fake testimonials, their business model doesn't make complete sense because they provide fake computations of their payouts and they don't even pay their members.
Rating: 1/100
Recommended: No!
More...
Viral Dollars is an affiliate marketing program that you can sign up for and earn money with the way their payment program is structured.
It's free to join this program and you can immediately get started once you sign up.
According to their website, you'll be able to "Make $500 Today" and that's the first thing that you're going to see as well:
According to 3rd party information, the company is based out of Australia and was launched in 2018.
However, there's no information about who owns the website or who runs it.
The premise of the site is simple. You join the site, share link which earns you $10 every time someone joins (supposedly), and cash out.
That's pretty easy, and pretty awesome if you ask me. That's why a lot of people have signed up and shared their links so they could earn money.
The income opportunity is alluring, but it's just too good to be true.
But if you've had suspicions that this program might be a scam, you're probably right too.
I'm Jerry!
I Created My Own 4-Figure Monthly Passive Income at just 21 Years Old!​
What Happens After You Join?
Once you sign up, you're taken to your member's dashboard, which looks like this:
The dashboard looks as legit as it can be, but it's all fluff and filler.
Below the dashboard, you'll find the $30 Task Wall that looks like this:
Now, I've reviewed a lot of survey websites and GPT programs to know that there's never been a program that pays out this amount for any task.
And for a good reason.
Let's do the math really quick.
If you have 100,000 members doing one $30 task, the site pays out a total of $3 million.
I don't think these third-party companies that are providing the tasks are paying that much money to get their tasks listed on Viral Dollars.
Their business model and the way their income opportunity is set up just doesn't make enough sense for a sustainable business at this point.
Things Look Fishy!
As I dug deeper into the website, the more that it looks like a scam.
Another thing that I want to mention here is that they have 225,000 members signed up and have paid out a total of $68 million.
You want to know why this is complete BS?
Each member only earned about $302 based on their total payout, barely half of the promised $500!
While it may look like it's a legitimate proof of payout, one just needs to do basic math to unravel everything.
What's Going On Here?
I don't know what's going on with their program, but I do know what this company is doing to you.
This is not a legitimate website as far as I am concerned, and the business model is just a bastardized version of paid survey intermediaries and GPT (Get Paid To) Rewards program.
My guess here is that this company is data harvesting, meaning they're collecting as much information as they can such as emails, contact numbers, names, and then selling it to third-party companies.
Don't be surprised if you suddenly receive cold calls from telemarketers after joining this website.
Can You Really Make Money?
Don't even bother with this program.
There's no proof at all that everyone got paid at all.
All I'm going to say here is that I would not waste my time.
No one.
At this point, I believe that this program is a scam and does nothing for you but get your information to sell to other companies.
There were several red flags raised during this review, and I'll discuss each of them in the section below.
Viral Dollars Ugly Truths Revealed!
#1 – Their Referral System Is Just Off!
They say that you could make $5 or $10 every time someone joins through your link, or when someone clicks on a link that you shared.
That's just very expensive for a single click. Viral Dollars is free to join, but this doesn't make sense at all.
If Viral Dollars is paying this much for a click, then the advertiser is paying them more than that, which is where they get their profits from.
If you have 220,000 members having their links clicked at $10, that's a single payout of $2.2 million per click.
There's no way that advertisers are paying that much money for an ad. That's more than the price of a Superbowl Ad!
Again, all it takes is some basic math to unravel their scheme!
#3 – Fake Testimonials!? You Bet!
There are video testimonials on their site where members say that they've earned a lot of money through their programs.
But these are all fake.
As you can see here, these ladies (and then more) come from a site called Fiverr, a freelance content marketplace where you can get content (including testimonials) created for as little as $5 to $10.
Why do they do this, you ask?
Well, Viral Dollars wants to appear as legitimate as they could be, and having ordinary Joe's and Jane's say something about their program just adds to the legitimacy and the hype!
Again, all fluff and filler!
#3 – Already a Rehashed Version Of Another Scam!
If you feel that Viral Dollars is familiar, then you're right. Viral Dollars was formerly known as Viral Pay, which I exposed as a scam in a recent review.
If you type in ViralPay.co, you'll be redirected to Viral Dollar's landing page.
#4 – Members Got Scammed!
I was not surprised to see that their members actually dropped a review about their website, and they all said that they got scammed.
Check out what they said here on their TrustPilot profile:
A lot of them complained about not getting paid or not being able to cash out.
So it's not just me that's exposing them, but it's these people that actually joined their website!
What I Like About Viral Dollars?
Nothing!
There's just nothing good about this program that could ever salvage this review.
Yes, it's safe to say that this program is a scam due to the red flags that were raised.
Unrealistic claims of income running on a faulty business model can't hide the fact that there's nothing legitimate about their program.
The fake testimonials are nothing compared to what their members have said about the program!
And all it took to unravel their scheme was basic math.
Stay away from this program!
How I Make a Living Online?
I've personally created a 4-Figure Monthly Passive Income Stream and become financially independent at just 21 years old without any College degree or working experience!
Through my own hard work, I went from a broke restaurant waiter to living my dream laptop lifestyle in less than a year's time...
If you want to discover the secrets of how I did it at such a young age, click here!