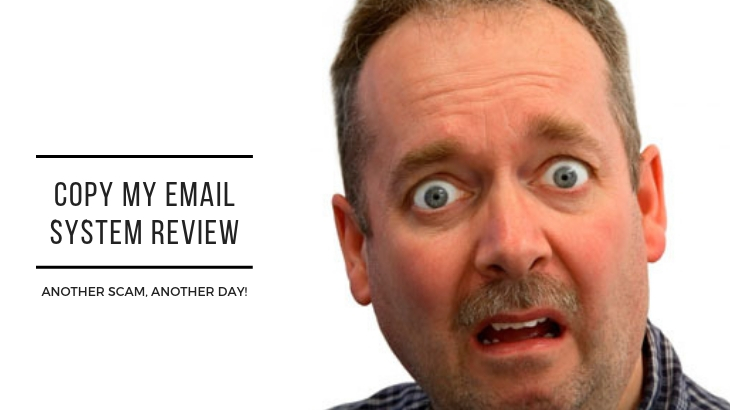 Is Copy My Email System a Scam? You Bet It Is, And Here's Why!
Welcome to my Copy My Email System review!
If you've been following the site for quite some time now, then you'll know that I'm on a crusade to unveil some of the most notorious, if not obvious, money-making schemes in the market today.
And one of those products right now happen to be Copy My Email System.
First of all, I must Congratulate you for taking your time to do your own research before buying into any "seemingly good" product.
That's the way to avoid scams and find the legitimate way to make money online!
Let me be completely transparent with you, I'm not associated with Copy My Email System in any form.
So, rest assured that I'm not here to pitch or sell anything to you.
Instead, I'm here to reveal why this program is a scam, and I have three pieces of evidence to show you!
Copy My Email System Review Summary
Product Name: Copy My Email System
Founder: Brian James and Michael Beeson (Probably Fake!)
Product Type: Affiliate Marketing Platform
Price: $1.65 one-time fee, plus monthly renewals and upsells!
Best For: NO ONE!
Summary: Copy My Email System is a shameless affiliate marketing platform that promises you can make money by sending emails of various affiliate products. But obviously, this is a scam, and in this article, I'll prove it to you in three different ways. On top of that, people actually called them out for removing their members' area access for no reason. Then you have your usual bouts of fake testimonials and improper use of news clips to add credibility to their program, which doesn't work.
Rating: 1/100
Recommended: No!
More...
What is Copy My Email System?
Copy My Email System or CMES claims that it's a money-making system that you can use to earn up to $400 per day just by sending emails from home.
On their landing page, you'll see a news clip about how people are making money online.
Insert Copy My Email System Landing Page
And I can't count the number of times that I see sites use news clips like these to get people hyped up for their program.
But what you probably do know is that these news clip don't mention CMES or any other program that has it.
This is similar to other scams that I've recently reviewed such as:
I don't like these programs because they use these news clip to supposedly build up their credibility, even though it has NOTHING TO DO with their brand.
All the news clip talks about is how people are now working from home, and that's about it.
Inside Copy My Email System
Somewhere on their landing page, you'll find the form to sign up and make a small payment to gain access into their program.
Note that this won't be the only payment you'll make.
In fact, you're going to have to pay more after your trial period is over, which is something they don't tell you.
You initially sign up for a small fee of $1.65, but this is just the starting price.
After that, you'll be rebilled after a set period of days if you decide to stay as a member.
How Does Copy My Email System Work?
So, assuming you pay the $1.65, you'll immediately get access to their members' area where you can start watching videos on what to do next.
You'll then be instructed to purchase an email sending account to start sending emails and make money.
The account will cost you another $1.95 for the first 5 days and an additional payment of $97.
Then the next video you'll see will tell you that you can jumpstart your commissions for 10 weeks if you buy a package of 5000 subscribers for a one-time fee of $199.
But wait, there's more!
They have an affiliate program that allows you to earn up to $300 a month in commissions.
Supposedly.
They're offering three packages of referrals or emailers:
20 referrals for $297
5 emailers for $97
2 emailers for $47
I'm Jerry!
I Created My Own 4-Figure Monthly Passive Income at just 21 Years Old!​
Where Are They Getting Subscribers?
If they're selling you subscribers or leads, I wonder where they got these in the first place.
Will these subscribers be even interested in the emails they're receiving?
What about the referrals? How do you know these are real people?
These questions and more are not explained properly, and these details are important to know in order to make an informed decision.
What's The Actual Deal?!
So after you set up your account, you'll be able to start sending emails and when people click on these links, you'll start to earn commissions.
This is what they tell you.
But what they don't tell you is that you need $500 to claim your payment, something that's not easy to do if the clicks cost only a few cents.
In my opinion, the system that CMES promises does not work and you'll not be able to make money (and I'll prove that in the next few sections).
The system is only designed for the affiliates of the products they are promoting (the creators of CMES) and not their customers (you).
Who's Copy My Email System For?
I don't think this program is meant for anyone because it's a complete scam, and I'll give you three reasons why I think this is a scam!
Copy My Email System Ugly Truths Revealed!
#1 – People Got SCAMMED!
Apparently, CMES decides that once people have paid a few dollars, they'll decide to get them off the program by cancelling their membership or preventing them from accessing their income.
And as you can see here, a lot of people have complained about that.
Somehow, this happens when you probably purchase an upsell or spent X amount of dollars on their site.
In all of the scams that I've reviewed, this is probably the first that actually has people complaining about not being able to access anything.
I mean, the vast majority of the scams that I reviewed will still let you keep your membership access or the access to the materials, but this one just takes the cake!
#2 – Fake Testimonials!
And just like any of the scams that I've reviewed, CMES uses fake testimonials to once again add credibility to their system.
And as you can see from the screenshot below, these testimonials are bought for as little as $5, and with a matching script or green screen.
But why use fake testimonials?
Fake testimonials are used by CMES and other programs to make people think that ordinary Joe's and Jane's are earning thousands of dollars per day without doing any work.
And these testimonials can look and sound legitimate if you have no idea what to expect from affiliate marketing.
That's why programs like CMES only prey on those who are new into the world of affiliate marketing.
#3 – No Information About The Owner And Company!
No one in their right mind would use their real name or address if they wanted to scam people over the Internet.
And this is what CMES does.
There's no information about who the owners of the system are, or the company behind it.
You'll only find the information about two people named Brian James and Michael Beeson, who are probably nothing more than just fake names to throw people off.
What I Like About Copy My Email System?
I don't think there's anything positive worth mentioning about such a notorious and obvious scam.
I don't think people would enjoy getting scammed as well, so there's no point in me selling this program to you.
Is Copy My Email System a Scam?
Yes, without a doubt.
Copy My Email System tries hard enough to pass itself as a legitimate make money online scheme, but everything they do backfired.
The fact that they remove people's access to the members' area after receiving their money means that they don't care at all about you or their customers.
They also use news clips and testimonials to add credibility to their program, but doesn't work because the news clips are not mentioning any brand or program and the testimonials are proven to be fake.
How I Make a Living Online?
I've personally created a 4-Figure Monthly Passive Income Stream and become financially independent at just 21 years old without any College degree or working experience!
Through my own hard work, I went from a broke restaurant waiter to living my dream laptop lifestyle in less than a year's time...
If you want to discover the secrets of how I did it at such a young age, click here!