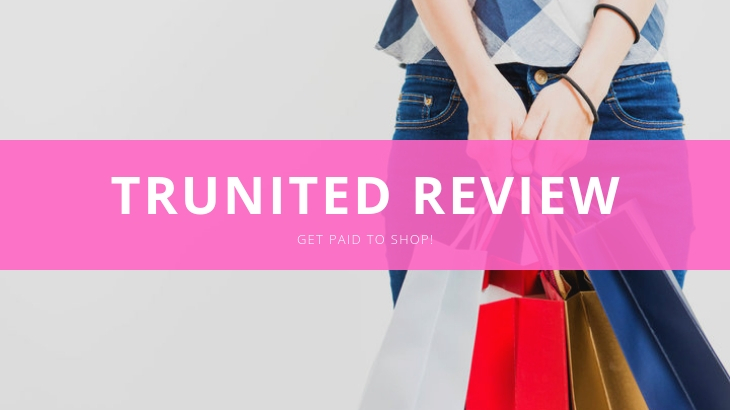 Is Trunited a Scam? No! You Get Paid To Shop! And Here's How!
Welcome to my Trunited review!
What if you get paid for every time you shopped online?
As crazy as that question might sound, there is one program that can make that possible.
You get paid when you shop online, and that's all thanks to Trunited!
First of all, I must Congratulate you for taking your time to do your own research before buying into any "seemingly good" product.
That's the way to avoid scams and find the legitimate way to make money online!
Let me be completely transparent with you, I'm not associated with Trunited in any form.
So, rest assured that I'm not here to pitch or sell anything to you.
Instead, I'm here to reveal what this program is all about and how it works!
Trunited Review Summary
Product Name: Trunited
Founder: Dr. Nicolas Porter
Product Type: Get Paid To Shop / Shopping Portal and Platform
Price: Free!
Best For: People who love to shop online!
Summary: Trunited provides you and other people a unique shopping experience by paying you when you shop on their platform! The program is free to join and you get access to exclusive discounts from over 400 partnered stores and brands!
Rating: 80/100
Recommended: Yes!
More...
Trunited is an online shopping portal/platform that rewards you with discounts, perks, and money-back to consumers who shop with their partnered sites through them.
Think of it as a "shopping" community.
The Company
Trunited is a unique shopping platform that rewards you just by shopping online through their portal.
The idea behind this program is that ordinary folks like you and me get to shop regularly online and get paid to do so.
Trunited provides you with the opportunity of shopping online in the most convenient way possible while enjoying perks, discounts, and of course, passive income.
Once you become a member of the Trunited sites, you can access different shopping sites such as Apple, Amazon, Bloomingdales, and Walmart just to name a few.
They are currently located in Scottsdale, Arizona, and are operating 24/7/365!
The Founder
The man behind the program is Dr. Nicolas Porter, who established the program in 2015 and launched in 2016.
He's a practicing dentist in the Arizona and Colorado region.
So, Trunied is a shopping platform that allows its members to earn a commission from their affiliated stores and brands every time they shop through their portal.
Trunited is partnered with over 400 brands and stores, and they'll pay Trunited a commission for sending customers their way.
This is how they make money.
In return, Trunited shares a percentage of their commissions back to you and its members using the points through their Pay Plan 360 Program.
I'm Jerry!
I Created My Own 4-Figure Monthly Passive Income at just 21 Years Old!​
More On Pay Plan 360 Program
This compensation structure is similar to how MLM's or Multi-Level Marketing companies pay their customers.
The difference here is that you not only earn commissions from people you refer, but also from purchases made by the network.
The compensation structure is similar to an MLM (multi-level-marketing) company. The difference is that you not only earn a commission from your downline (people you refer), but also from all the purchases made by the entire network.
How is the money distributed?
Trunited uses an algorithm to compute for your earnings, which will be proportional to how much money you, your referrals, and the network generates.
Each product from every brand and store is assigned a reward point value, which is determined according to the size of its contribution to commissions.
The higher the commission a vendor pays, the higher the value of the reward point.
In a nutshell, the program allows you to earn points when you shop using Trunited Platform and when you refer people to their system.
The points can be accumulated and converted into cash.
How To Get Started With Trunited?
If you want to be a member of Trunited, just visit their official website and complete the registration form.
Once the signup is complete, you'll be given your personal account which you can use to shop on their platform.
How Much Money Can You Make With Trunited?
The amount of money you earn from Trunited depends on the following:
How much money you spend in a month using their platform.
The total amount of money spent by other members
The amount of Trunited's operating costs in a month.
Trunited deducts its operating costs from the total money earned that month, and whatever is left is the company profit.
This profit is then divided across its members.
Trunited Affiliate Program
Another way for you to make money is through their affiliate program.
To become an affiliate member, you must complete the following requirements:
Earn $100 in your account
Refer at least one person to the site
The person you referred must make at least one purchase a month
Once you qualify as an affiliate, you can make money based on your personal monthly points and the points of all your referrals.
If this still feels confusing, check out their official video right here:
Trunited is basically for anyone who loves to shop online, whether it's for gadgets, clothes, or groceries.
Trunited is partnered with over 400 brands, so there's always a store out there for you that you can shop in.
What I Like About Trunited?
#1 - Free to Join
The best thing about Trunited is that it's free to join, and that there are no upsells or prior purchases required.
The idea here is that Trunited wants you to shop as soon as possible through their platform, and they don't want you to jump through the hoops.
#2 - Save Money When You Shop
The discounts provided by Trunited can range between 3% and 80%, but this is purely dependent on the brand or store where you're shopping from.
But having to enjoy these exclusive discounts for free is just a huge plus for people who love to shop online!
#3 – Get Paid While You Shop!
A program I recently reviewed that pays you while you shop is Paribus, but they're more focused on providing you with cash back for your purchases.
But Trunited actually pays you for shopping in their 400 stores.
#4 – Wide Range Of Partnered Stores And Brands!
Trunited is partnered with major brands and stores, which means you'll have a variety of choices for shopping.
Groceries, clothes, books, food, and even gadgets are all accessible through their platform, and you get to enjoy discounts too!
Trunited Ugly Truths Revealed!
#1 – Slow Website
The website loads slowly, and this might be an issue for members who are shopping in a hurry.
It takes about 10 seconds for the entire page to load, but if you can wait, then this shouldn't be a huge problem.
#2 – USA Only!
At the time of writing, Trunited's services are only available to residents in the USA, most likely because some of the partnered stores are based and operate within the USA only.
This is a bummer for people outside the USA who would love to take advantage of their program.
Trunited provides you with a unique shopping experience on their platform by paying you to shop!
Even though you're not going to be making a lot of money on their program, you're earning income from the things you buy through their program.
You also get access to exclusive discounts available only to Trunited members, so there's another incentive as to why it's good to use this program.
And did I mention that you get to enjoy all of their benefits for free?
How I Make a Living Online?
I've personally created a 4-Figure Monthly Passive Income Stream and become financially independent at just 21 years old without any College degree or working experience!
Through my own hard work, I went from a broke restaurant waiter to living my dream laptop lifestyle in less than a year's time...
If you want to discover the secrets of how I did it at such a young age, click here!