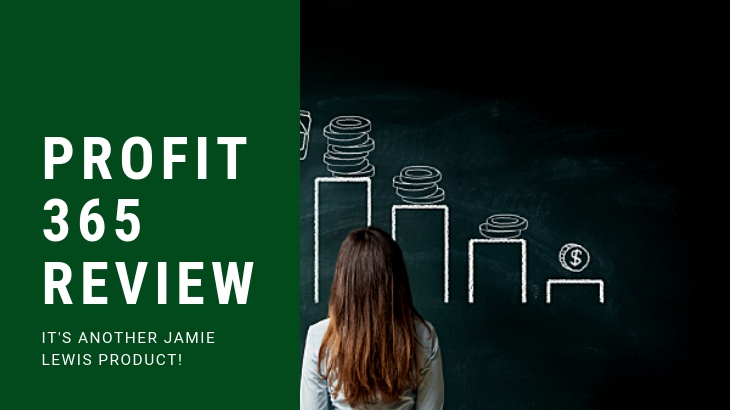 Profit 365 Review – Another Jamie Lewis Product EXPOSED!
Welcome to my Profit 365 review!
Imagine being sold a system that you could turn on and off for earning money.
Imagine a system that could literally earn you thousands of dollars per day.
Sadly, a system like that doesn't exist.
But one product says they are offer the same features as that system.
That product is Profit 365.
First of all, I must Congratulate you for taking your time to do your own research before buying into any "seemingly good" product.
That's the way to avoid scams and find the legitimate way to make money online!
Let me be completely transparent with you, I'm not associated with Profit 365 in any form.
So, rest assured that I'm not here to pitch or sell anything to you.
Instead, I'm here to reveal the inner workings of Jamie Lewis' products and why it's not worth anyone's time!
Profit 365 Review Summary
Product Name: Profit 365
Founder: Jamie Lewis
Product Type: Affiliate Marketing / Paid Advertising Platform
Price: $34 one-time fee + UPSELLS!
Best For: NO ONE!
Summary: Profit 365 is another affiliate marketing platform being sold on ClickBank by Jamie Lewis. This one promises that you can make money through ads and affiliate products just like turning a lightbulb on and off. But the promises of the sales video are far from what the product actually is. With its expensive upsells and their curation of questionable affiliate products, I can't recommend this program to anyone because there's no way that this program works!
Rating: 10/100
Recommended: No!
More...
Profit 365 is another money-making system from Jamie Lewis, the same person behind such as other programs Auto Chat Profits and Profit Injector.
I've written reviews about his programs as well, and this one just looks similar to both of them.
And just like the rest of his programs, he shows you how you can automate the process of earning money without lifting a single finger.
And that all you have to do is turn it ON and OFF.
Let me tell you in the next few sections as to why that's complete BS.
In the sales video, Jamie Lewis talks about how the system is like flipping a switch for making money.
He came up with the system that will flood your affiliate products with traffic all across the Internet.
He also continues to talk about how his friends and family are using the same system and are now making money from the system.
Now, whether you believe him or not is completely up to you.
But from my point-of-view, he describes the software as if it's the best thing that you've come across online.
It doesn't work that way. I've been in the industry long enough to tell you that systems like Profit 365 won't work as promised.
On the upside of things, Profit 365 shows you how affiliate marketing works, but they don't show you how it's done properly.
That's the reason why these programs are targeted to people who don't know anything about how affiliate marketing works.
I'm Jerry!
I Created My Own 4-Figure Monthly Passive Income at just 21 Years Old!​
How Does it Really Work?
Once you sign up on their landing page, you'll be greeted by another welcome video by Jamie, and he'll show you the different methods to create your income stream.
Which is done via:
Solo ads for email marketing
PPC ads to drive traffic to your ClickBank affiliate offer
ClickBank for product inventory to sell
So, you basically get 40 solo ad templates which Jamie has deemed perfect for profitable niches, along with handpicked keywords to use with your PPC ads and a list of ClickBank products that you can promote.
While these methods are proven to drive traffic, there are a lot of things to consider.
And one of them is how well you know affiliate marketing and how the system works (not Profit 365's).
Internet marketers don't dabble with paid ads on Facebook, Google, or any other platform because it's an expensive investment and it's not a decision to be made lightly.
What Are Solo Ads?
Solo ads are purchased through different platforms online.
Here's the lowdown of how solo ads run:
You provide the email you want to send the platform you want to advertise on
You pay the platform a fee per click that their ad generates, roughly around $0.10 to $1.00 per click.
This is a legitimate way to advertise, but it can get expensive really quick because you're only paying for traffic, not a guarantee that the people will buy from your products.
What Is PPC Advertising?
PPC or Pay Per Click advertising is a supplementary method of affiliate marketing where you pay a fee each time your ad is clicked.
It's like buying visits to your affiliate promotions rather than getting organic traffic for free from Search Engines.
But search engines like Google also offer PPC services that allows you to bid for ad placement or sponsored links whenever someone searches for a keyword related to your product.
But PPC advertising is a lot more than just finding keywords to advertise on. And Profit 365 barely scratches the surface.
How Much Does It Cost?
You only need to make a one-time payment of $34 to get all of the products listed above.
You also get the program for life and then get access to the members' area.
There are also upsells as well. One of which is their Platinum Elite Customer Service where you're paying for guaranteed replies on your inquiries within 24 hours.
Then there are other upsells, probably products from Jamie Lewis, that total to about $300.
He promises that these other products will enhance your money-making experience with Profit 365 but that's not true.
Profit 365 is not a program for anyone who wants to try affiliate marketing because it has a lot of lapses in terms of providing a solid foundation for making money online.
If you want to get started with affiliate marketing, check out my step-by-step guide by clicking on this link right here.
It's free and it doesn't require you to sign up for anything.
Profit 365 Ugly Truths Revealed!
#1 - Expensive Upsells!
If a program was indeed perfect, then there would be no need for upselling other products.
Profit 365 shows you a list of other products from Jamie Lewis, or probably he's affiliated with, that totals to $300.
This is nothing more than a scheme to get you to shell out more money.
#2 - Advertising Is Expensive!
Allow me to do the math here.
Advertising on the Internet via solo ads or PPC can be expensive. You have to treat is as a business expense, which counts against your total income.
So, if you spend $50 on an advertising campaign and you only earned $25 out of that campaign, you lost money.
You have to recoup the costs of the advertising campaign from your sales, which is $50, and only then will you earn profit.
#3 - Low Quality Affiliate Products!
The products that Profit 365 provides are from ClickBank.
While the marketplace has a few niches that are actually good, you'll find that the products curated by Profit 365 may not be of high quality.
More likely, the products Jamie Lewis curates are the same products he promotes on his other programs.
And I say this with enough confidence because affiliate marketing programs such as Profit 365 are selling products that are affordable but not effective.
What I Like About Profit 365?
#1 - Money-Back Guarantee!
If you find yourself not satisfied with the entire thing, and their upsells, you can always get a refund from ClickBank.
There's a money-back guarantee for all products listed under ClickBank, which is probably the only saving grace of this program.
Profit 365 is an affiliate marketing program that combines paid advertising and affiliate products to generate sales.
However, it's far from what it promised on its sales video because this is not how affiliate marketing works.
Paid advertising is an expensive business cost, and is something that's done only when you're guaranteed profits from a campaign. This is something that Profit 365 doesn't guarantee.
The affiliate products that Lewis curated have questionable quality, so they're probably the same money-making products that Lewis is affiliated with.
Long story short, this is not a product that's worth looking into.
How I Make a Living Online?
I've personally created a 4-Figure Monthly Passive Income Stream and become financially independent at just 21 years old without any College degree or working experience!
Through my own hard work, I went from a broke restaurant waiter to living my dream laptop lifestyle in less than a year's time...
If you want to discover the secrets of how I did it at such a young age, click here!