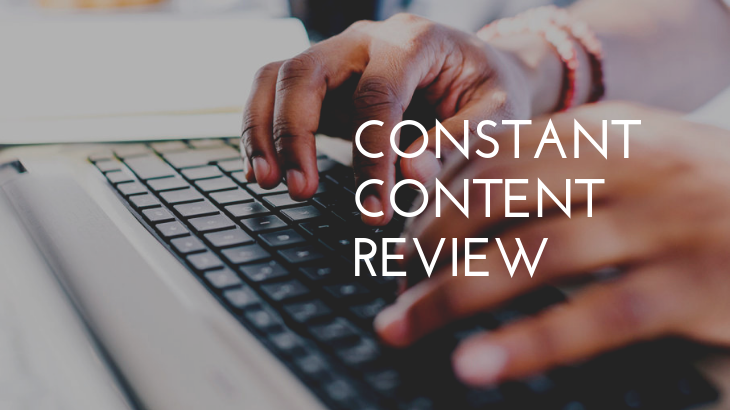 Constant Content Review – Make Money by Selling Articles
Welcome to my Constant Content review!
A lot of these work-at-home opportunity platforms provide you a decent amount of income, but sometimes, they don't really guarantee it. You'll find that you're going to earn at least a hundred dollars a month if the program is legitimate.
One of those programs is Constant Content, a content marketplace for freelance writers.
First of all, I must Congratulate you for taking your time to do your own research before buying into any "seemingly good" product.
That's the way to avoid scams and find the legitimate way to make money online!
Let me be completely transparent with you, I'm not associated with Constant Content in any form.
So, rest assured that I'm not here to pitch or sell anything to you.
Instead, I'm here to reveal how this marketplace works and if you can truly make money from their program.
Constant Content Review Summary
Product Name: Constant Content
Founder: Not disclosed
Product Type: Content Marketplace
Price: Free to join
Best For: Experienced writers who want to sell their content online.
Summary: Constant Content is a content marketplace that allows writers to sell their content to their high-end clients. There is a possibility to make a lot of money here, but it's not guaranteed, so don't quit your day-job just yet. My biggest issue with this program is that they take out a higher commission fee out of your pay, so it may not even be worth your time if you're only selling at a lower rate. However, it is worth checking out if you just want to earn a few bucks every now and then.
Rating: 50/100
Recommended: Yes and No!
More...
What is Constant Content?
Constant Content or CC is a supplier of custom and high-quality pre-written articles, hiring more than 100,000 writers working for over 50,000 clients. Part of their clientele is large corporations such as Target.
Constant Content was founded in 2006 and currently located in Victoria BC, Canada, and is known as one of the highest-paying content mills in the industry, but they come with a price.
Constant Content has strict standards and it may be difficult to get hired, but if you do, you'll end up working on projects such as:
Blog posts
Newsletter editorials
Articles and Listicles
Copywriting and Copyediting projects
SEO (search engine optimized) content
Press releases
White papers
Technical reports and tutorials
Product descriptions
One more thing. Unless it's a special request, Constant Content's main requirement is that writers not write in first-person POV, and they don't want personal anecdotes, opinions, and clichés to come out of your writing.
This can get difficult for some writers as they tend to delve deep into their own experiences about a particular topic, so if you're one of these writers, this may not be the gig for you.
Compared to sites such as Upwork and Guru, Constant Content is a mixed marketplace. You can search for clients and topics and they can search for you, just like any other marketplace. But your writing projects are still under scrutiny by their editorial staff before it gets submitted to the clients.
On more than one occasion, Constant Content also coordinate group projects for larger projects, which is uncommon with these content marketplaces.
Registration
Their registration involves a 3-step process:
Complete their profile questionnaire
Complete their short quiz with about 6 to 7 questions that test your grammar and contextual competency
Write a 250-word sample on a given topic and following their guidelines
I'm Jerry!
I Created My Own 4-Figure Monthly Passive Income at just 21 Years Old!​
Requirements
Constant Content is free to join and as far as this review is concerned, there are no other special requirements other than the writer being 18 years of age and above, access to a working PC, and stable Internet Connection.
They also employ writers from all around the world, so I don't think they have any exclusions of any form.
Selling Your Content
If your application gets accepted, you can start to sell your content, which is done in one of three ways:
Content and Catalog Submissions – This is how you usually get started. You start to search for topics to write about, submit your article for review, and if accepted, have it added to the Constant Content catalog. Depending on the topic, some articles get sold as soon as it gets listed. But sometimes, you'll have to wait for a few months.
Content Requests – You can submit content based on client requests, and if you established good working relationship with their clients, they may even request for you specifically.
Writer Pools – Constant Content may hire you to work with a large group for certain projects such as product descriptions and details for online catalogs, or jobs that may require multiple experts in a particular field.
Pay Rates and Income Expectations
Constant Content claims that their best writers earn up to $90,000 a year, but for a content mill, I don't know how that's possible.
They have strict standards and very high profile clients, but they are known to pay more than just $3 per article, so who knows.
Most writers earn an average of $0.10 per word or about $50 for 500 words, which is quite high compared to other content mills, so this is a huge bonus.
However, Constant Content hangs on to a 35% commission so your net pay of $50 is now reduced to $32.50, so you're not getting the full amount.
Pay is transferred during the first week of the month via PayPal.
At the end of the day, you're trading in hours for dollars and it's still a job, and not a business online.
Who's Constant Content For?
Constant Content Ugly Truths Revealed!
#1 - No Guarantee Of Income
You're posting your articles for sale, so even if the price for the article is $50 to $100, there's no guarantee that you're going to earn that amount within the next 24 hours. It's still a waiting game, just like you would list an item on Amazon or eBay and wait for it to get sold.
You're also competing against thousands of writers as well, who may or may not be as good as you, but that just adds to the reason why it boils down to your income playing the waiting game.
#2 – Payment Issues
To be honest, I wasn't able to find out how much the minimum cash out threshold is because it's not mentioned anywhere on the site. So if you know how much it is, leave it at the comment section below and I'll update the article.
From what I researched, you would need $500 for a wire transfer, which is very high, and then $100 for PayPal. It may not be the right amount but it's still very high to my liking.
Then there's the issue of getting 65% of your entire fee because Constant Content gets a 35% commission, and that's kind of high.
#3 - Usage Rights
I honestly don't know why they offer this. Google hates duplicate content, and most of their clients know this. When you purchase a content with usage rights, that means that the same article can be used on another 100 sites.
This may not be a big deal for you, but for the blog owner who gets their content from Constant Content, they're not guaranteed that they're the only ones buying your article. Worst case, someone else buys them and they get penalized with duplicate content.
What I Like About Constant Content?
#1 – It's A Unique Business Model!
It's unique in a sense that it doesn't really commit you to set period of hours just like any other content marketplace platform and that you're posting your content on for sale. Think of it as an Amazon for articles.
There's still that potential of earning a lot of money from the site, but it may not even equate to a full-time income. But it does a good job at paying better than most survey sites, GPT programs, and even other content mills.
Is Constant Content a Scam?
Constant Content is not a scam, and is a very legitimate content marketplace that provides writers with a decent opportunity to make some serious coin.
However, I cannot fully recommend this as a source for full-time income because at the end of the day, there's no guarantee that your articles are going to sell within the next 24 hours. Even if you do manage to crank out 10 articles priced at $100 each in a single day, those are not going to sell immediately.
However, if you just want to have some form of passive income that doesn't require you to commit hours per day, then this program might be worth checking out.
How I Make a Living Online?
I've personally created a 4-Figure Monthly Passive Income Stream and become financially independent at just 21 years old without any College degree or working experience!
Through my own hard work, I went from a broke restaurant waiter to living my dream laptop lifestyle in less than a year's time...
If you want to discover the secrets of how I did it at such a young age, click here!