33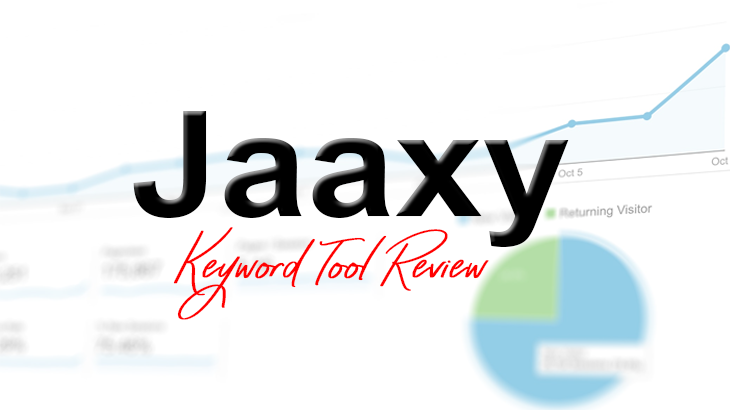 Jaaxy Review – Your Unfair Advantage in the Game of SEO!
Welcome to my Jaaxy review!
Are you looking for a keyword research tool that can help you rank your article in the top Google ranking?
Or are you looking for a tool that can help you do proper keyword research for your new website?
Regardless of what you want to achieve, Jaaxy is an indispensable tool you need as long as it's related to keyword research and Search Engine Optimization.
By the end of this Jaaxy review, you'll understand why I call Jaaxy "your unfair advantage in the game of SEO"
But first things first, I am an affiliate of Jaaxy keyword tool.
The most important reason for being an affiliate of Jaaxy is not because I want to make money but because I LOVE JAAXY and I'm using it every single day since I started my Affiliate Marketing journey.
In fact, one big factor for me to create my own 4-Figure Monthly Passive Income Stream at the young at of 21 without any College degree is because of Jaaxy!
That's why I really want to share with you this awesome tool that has allowed be to achieve financial independence at such a young age.
Jaaxy Review Summary
Product Name: Jaaxy Keyword Research Tool
Founder: Kyle Loudon & Carson Lim
Product Type: Web-based Keyword Research Tool
Price: Free Trial (30 searches), $49/month or $99/month
Best For: Affiliate marketers, bloggers, content marketers, freelancers, website owners, etc.
Summary: Jaaxy is one of the best keyword research tool in the market. There are definitely some drawbacks, just like any other products do as well. But it's more beginner-friendly than many other competitors and it has all the essential tools for you to use.
Rating: 95/100
Recommended: Yes
More...
What is Jaaxy Keyword Tool?
Jaaxy is a web-based keyword research tool, which means it's an online platform and you don't need to download any software. (suitable for both PC & Mac)
It's created by Kyle & Carson, who is also the founder of my favorite online education platform called Wealthy Affiliate.
For the sake of those complete beginners, let me briefly explain what a keyword tool does...
We all know that Google is currently the biggest search engine in the world.
So, if you're able to rank your articles, blogs, videos on the first page of Google, you're able to get FREE TARGETED traffic from Google to your website, landing page or whatever thing you want to promote.
But in order for that to happen, your content need to target the right keyword so that Google will know which keyword should the algorithm ranks your content under.
And Jaaxy is one of the most beginner-friendly keyword research tool to help you with that.
It only provides you with the necessary data and not ALL the data to confuse you.
On top of that, Jaaxy can also help you research for your niche, domain name and even affiliate programs.
Let's me show you what's inside Jaaxy...
Inside Jaaxy Keyword Tool...
Jaaxy has 6 main feature and I'll show you their respective screenshots for your reference.
Feature #1: Keyword Research Made Easy
Since it's a keyword research tool, the main feature is definitely the place where you can analyze which are the better keywords to target.
As you can see, the only thing you need to do is to enter any keywords in your mind and Jaaxy will provide you with the necessary data.
Not only that, it's give you all the relevant keywords as well for your reference.
I know this can seem complicated for beginners but it's really one of the simplest keyword research tool I can find.
Let me explain to you what each data means and you'll soon be able to fully leverage the power of Jaaxy...
Avg - Avg stands for "Average". That column will show you the average number of searches that particular keyword receives a month.
Traffic - Number of visits to your website if you achieve first page ranking in the search engine for that particular keyword.
QSR - Stands for "Quoted Search Results". It simply means the number of competing websites ranked in Google for this exact same keyword.
KQI - Stands for "Key Quality Indicator". It's just an easy-to-understand way to tell you whether that particular keyword is a good keyword to target.
SEO - This column will show you a score based on the traffic and competition of the keyword. The higher the score, the better the keyword is to target.
Quite easy-to-understand, right?
I'll show you how to use these data in a second.
By the way, there's also a "domain" column which will show you whether a domain name (.com, .net or .org) is available for that particular keyword.
Feature #2: Alphabet Soup
I understand some of you just can't come up with keyword ideas. 
Don't worry, Jaaxy has you covered!
This alphabet soup feature is very powerful:
All you need to do is to enter one topic/keyword and then drag the slider which represents alphabets from A to Z.
Jaaxy will give you keyword suggestions based on the alphabet you choose.
Pretty cool, right?
For example, I typed in the word "Jaaxy" in the screenshot and my slider is set at alphabet "A".
And Jaaxy give me keyword suggestions like "Jaaxy affiliate program", "Jaaxy affiliate keyword tool", "how accurate is Jaaxy keyword tool", etc...
Can you see why I love Jaaxy a lot?
Feature #3: Keyword List Manager
When you come across good keywords or you want to do some comparison, you can leverage the Keyword List Manager feature:
You can add all the relevant keywords under the same category and analyze them together.
This is also useful when you've found certain keywords that you want to save for future use.
Feature #4: Search Analytics
Another cool thing is that within Jaaxy, you're able to view real-time Google Page 1 search results for your keyword:
Not only that, as you can see, you're able to view the details of your competitors.
For example, you can see their:
Meta Description
Meta Keywords
Word Count
Links on Site
Backlinks
Alexa Rank
And if they're using Google AdSense
Pretty cool, huh?
To be honest, competition research is as important as keyword research. You need to know who are your competitors and how to outrank them!
Feature #5: Affiliate Program Research
This feature is very useful for affiliate marketers...
You can put in your keyword and search for relevant affiliate programs you can join and promote:
The 4 affiliate networks that are included in Jaaxy's search are:
Commission Junction
Link Share
Digital River
ClickBank
This can be a huge time-saver as compared to searching one by one on different affiliate networks.
Feature #6: Site Rank
Last but not least, you're able to check how well are your posts performing in Google, Bing and Yahoo:
Simply type in the keyword your post is targeting, Jaaxy will be able to tell you which position is your post right now for that particular keyword.
Not only that, Jaaxy is able to help you track your post performance over time:
As you can see from the screenshot, there's a graph which shows the changes in position for your posts.
Ready to Give Jaaxy a Shot?
How to Use Jaaxy Keyword Tool?
After knowing the top 6 features of Jaaxy, let me give you the steps to effectively use Jaaxy so that you can rank your posts easily in Google...
What Makes a Good Keyword?
Generally, there are 3 simple rules to follow:
Average search >100
QSR (competition) <100
The keyword makes sense
Yup, it's that simple!
Since I'm a cat lover, let's use the keyword "best toy for cat" as an example.
As you can see from the screenshot, the two I highlighted with red boxes are the better keywords to target because they meet the 3 requirement.
"Best interactive toys for cats":
Avg: 110
QSR: 17
This keyword makes sense
Isn't that seems like a good keyword to target?
If you're passionate about cat, you can use this data and create relevant content to reach your target audience.
Ultimately, we want the keyword to have more searches and less competition.
Does that make sense to you?
How Much Does Jaaxy Cost?
Jaaxy has 3 different membership levels:
(1) Starter - FREE
This is the Free Trial where you'll be able to test the tool with 30 keyword searches.
On top of that, you can try most the features including:
Affiliate Program Finder
Keyword List Manager
Keyword Competition Data (Search Analytics)
Checking of Site Rank
(2) Pro - $49/month
I'm personally subscribed to this Pro plan.
Instead of having a 30 searches limit, you have unlimited searches with Pro.
The only limitation with Pro is that the search results of your keyword may not always load automatically. Sometimes, you have to click on them manually to load.
(3) Enterprise - $99/month
The difference between Enterprise and Pro is that you're able to get more search results at a faster speed with everything loaded automatically.
This Enterprise is more for people who are looking for higher efficiency because in order to do that it requires more bandwidth.
So, if you're just getting started, I would recommend you to try out the Free Starter plan first and then upgrade to Pro when you're ready.
Pro is more than enough and Enterprise may not be necessary depend on your need.
Below is a pricing table that summarizes all the 3 plans:
Ready to Give Jaaxy a Shot?
What I Like About Jaaxy Keyword Tool...
1. Simple-to-Use (Beginner Friendly!)
I know there are many other popular keyword research tool out there and Jaaxy may not be the most famous tool.
But there's one common issue with many of the sophisticated keyword tools...
You don't need to many different data and functions!
Some companies want to impress you by having lots of cool features and lots of data.
But the truth is that it often confuses beginners even more.
That's why I really love Jaaxy because it's very suitable for beginners and any bloggers, affiliate marketers or freelancers out there.
It offers you the tools you need. Just nice, nothing more, nothing less!
2. Fast & Accurate
Also, from my years of using Jaaxy, their results are fast and accurate.
I've been using Jaaxy for years with my affiliate marketing business.
One of the main reasons why I'm able to generate a 4-Figure Monthly Passive Income at just 21 years old is because I'm able to rank lots of my posts on page 1 or even page 1 position 1 for some of them for their respective keywords.
This allows me to get hundreds of visitors to my websites every single day.
As you can see, my traffic simply took off since January 2018.
Within 6 to 7 months' time, my daily traffic went from less than 50 per day, to currently almost 900 visitors daily.
3. Lots of Relevant Features
Like what I've explained earlier on, the features provided by Jaaxy are really useful.
Alphabet soup - For brainstorming and more keyword inspirations
Keyword List Manager - Saving good keywords all in one place
Search Analytics - Allow you to analyze your competitors
Affiliate Program Finder - Pretty self-explanatory!
Site Rank - Allows you to track your post performance in search engines
Can you see that all these are very helpful for any bloggers, affiliate marketers or freelancers?
What I DON'T Like About Jaaxy Keyword Tool...
Nevertheless, there are 2 limitations of Jaaxy...
1. No Local Search Results
All the keyword research results in Jaaxy are based on the searches from the entire world.
There isn't a function for people to only target certain location.
This is not a big issue but with that function, it can greatly help people who are in the local businesses.
2. Only in English
Also, Jaaxy keyword research tool is only useful in English. You can use it to search for keywords in other language.
However, this is also the same limitation for almost all keyword research tool.
So far, I couldn't find any keyword research tool that is powerful enough to include more than one language.
1. Jaaxy VS Google Keyword Planner
Google Keyword Planner is one of the most popular and famous keyword tool in the world because:
It's created by Google
It's completely Free to use
However, for those of you who have tried Google Keyword Planner before, you'll know that it's not very useful since it's free anyway.
There are 2 main problems:
It doesn't provide you with exact data. Instead, it only gives you a range. (E.g. The number of searches for a particular keyword is 1K-10K per month)
This Keyword Planner is mainly for people who are doing Google AdWord so all the functions and data are geared towards keyword research for Google PPC. (P.S. Keyword research for PPC is totally different from keyword research for SEO!)
2. Jaaxy VS Lo
n

g Tail Pro
Long Tail Pro is another popular premium keyword research tool.
It's advantage is that it has the functions for local searches, advertising competition and suggested bids for Ads.
So, if you're doing Pay Per Click (PPC), you can't really use Jaaxy. Instead, Long Tail Pro is a much better option.
However, if you're not doing PPC, I would recommend Jaaxy.
3. Jaaxy VS Market Samurai
Market Samurai is even worse than Long Tail Pro.
It's similar to LTP in the way that it also has functions for suggested bids metrics. However, Market Samurai has a major flaw and that is the poor SEO competition research.
It simply shows you Google's SERP and you're left on your own to analyze.
I hope I've given you more than enough information about Jaaxy, the Keyword Research Tool I use every single day!
Like I've said, I really love its simplicity and its accuracy.
You can't deny the fact that it has helped me to get so much traffic to my website and enabled me to be financially independent at just 21 years old.
If you're a blogger, affiliate marketer, freelancer or any form of content creators who can benefit from SEO, I would highly recommend Jaaxy as the best keyword research tool.
Ready to Give Jaaxy a Shot?