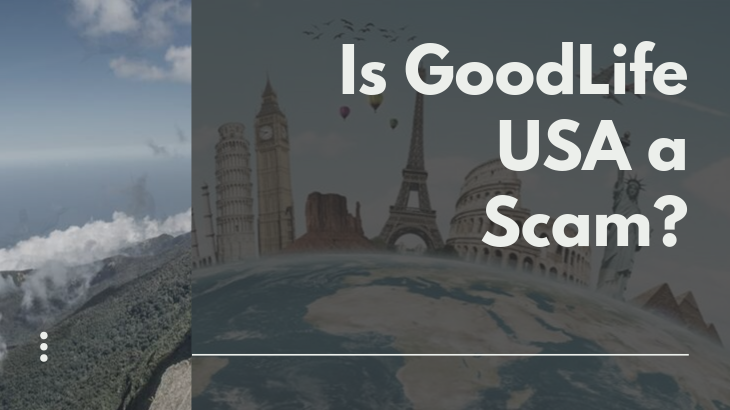 Is GoodLife USA a Scam? Another Travel MLM Exposed!
Welcome to my GoodLife USA review!
There are several travel-based MLM companies out there in the market today, offering discount travel packages and other perks.
Today, we're taking a look at one of them. They're called GoodLife USA.
Are they better than their competitors? Or are they simply a dime-a-dozen company?
Let's find out…
First of all, I must Congratulate you for taking your time to do your own research before buying into any "seemingly good" product.
That's the way to avoid scams and find the legitimate way to make money online!
Let me be completely transparent with you, I'm not associated with GoodLife USA in any form.
So, rest assured that I'm not here to pitch or sell anything to you.
Instead, I'm here to reveal what this MLM company can provide you and if it's worth the time and money...
GoodLife USA Review Summary
Product Name: GoodLife USA
Founder: Mark Seyforth and Edward Dovner
Product Type: Travel Package MLM
Price: $79 to $379 plus various fees
Best For: no one
Summary: GoodLife USA is a legitimate MLM company that markets discounted travel packages through their membership program. Despite being an exciting opportunity, there are several issues that make me not want to recommend this program to anyone. They have a lot of issues with customer service that makes this program not worth anyone's time, and you'll see what I mean in this article.
Rating: 30/100
Recommended: No!
More...
GoodLife USA is a travel-based MLM or multi-level marketing company founded by Mark Seyforth and Edward Dovner. They are currently located in Florida, USA.
Mark Seyforth has quite the background in MLM, but Dovner is quite a mystery when it comes to his MLM background.
Seyforth started a MLM company called Seyforth Laboratories in 1975. Years later, he partnered with the now popular Herbalife and was responsible for creating their operational procedures and compensation plan.
Seyforth also has another MLM company in operation called One24.
GoodLife USA Product Line
In a nutshell, GoodLife USA is essentially a discount club for traveling, and this includes plane fares and hotels.
More discounts and more accommodations are promised for people who sign up as members.
In the past there were three tiers of membership, namely:
Silver ($11.95 permonth)
Gold ($39.95 per month + $99 signup fee)
Platinum ($59.95 per month +$199 signup fee)
But now there are only 2 packages to choose from:
Starter
One-time Setup Fee: $79
Monthly Business Maintenance Fee: $9.95 per month
Platinum
One-time Setup Fee: $379
Monthly Subscription Fee: $49.95
Monthly Business Maintenance Fee: $9.95 per month
I'm Jerry!
I Created My Own 4-Figure Monthly Passive Income at just 21 Years Old!​
Does the Product Work?
Well, in terms of what they offer, their discounts average at about 25%, depending on the season. They have a wide selection of partner airlines and hotels, so you have different options to choose from.
So the real question here is will their packages help you save money in booking? Well, the answer might be yes. A 25% discount on airfare or any accommodation can go a long way, especially if you're going with a lot of people.
GoodLife USA is similar to these MLM companies in more ways than one:
How To Make Money With GoodLife USA?
To make money with GoodLife USA, you have to sell their VIP Club cards and to recruit new members, but first you have to sign up as a member yourself.
How To Get Started With GoodLife USA?
To become a bonafide member and to take advantage of their compensation plan, you'll have to complete a registration form found on their website and then pick a VIP club card of your choice.
To get the most incentives, you'll have to sign up for the Platinum VIP Card.
GoodLife USA Compensation Plan
You need to understand that GoodLife USA's compensation plan has you signing up for an autoship service that charges your bank account right away.
You'll need to recruit 2 people in your downlines to earn commissions or gather as many as 20 customers to purchase these cards.
Their compensation plan follows a 2x20 compensation structure that has you creating a left and right leg at 20 levels down.
Shared Social Network Commissions
Through their 2x20 structure, your downlines will be responsible for building your levels, and their downlines will be responsible for theirs.
From the 1st up to the 15th levels, you get 5% commission bonus and 2% for the 16th to 20th.
Your first 2 affiliates in your downlines are called your partners, and not exactly your downlines so you and the partners get 5% of the commissions divided equally.
Fast Start Bonuses
Another bonus based on their downline system. Members and customers can both take advantage of the Customer Fast Start Bonus which means they earn bonuses every time someone you refer to the program buys a product.
Rank Advancement Bonuses
Your overall performance is based on your sales generated and your referrals, so your promotion is based on how well your team is as well.
Moving up in ranks will have you earn bonuses from luxury holidays and other things, depending on the rank attained.
You'll understand their compensation plan better by watching their official video:
GoodLife USA Ugly Truths Revealed!
#1. Not BBB-Accredited Business
It disappoints me to know that GoodLife USA has not earned an accreditation status from the Better Business Bureau, and this means a lot of things.
One of them is that they won't be held accountable for the questionable schemes that are used by their members, and they won't be accountable for the customer service they provide because it doesn't affect their profile.
Which brings me to my next point.
#2. Horrible Customer Service
Apparently, some clients wanted GoodLife USA to stop their subscription and contacted them for it, but they haven't received any feedback at all.
On their TrustPilot and Yelp, there are several people calling them out as scam.
They're complaining that GoodLife USA is still charging their accounts, or that there are certain delays to stopping the automatic billing.
#3. Nullified VIP Club Cards Without Notice
Another complaint about their program is that some VIP cards are nullified or voided without notice.
As seen on this complain, a guy named Terry gave out 280 cards to different clients, and instead of expecting commissions, GoodLife USA nullified these cards and forced him to go back from square one.
#4. No Refunds
Customers who signed up for travel discounts also found it a hassle to ask for a refund, as seen on this complaint below.
They emailed their customer service, only to find out that they don't really care about giving the money back.
Again, you'll find several of these stories on their Yelp and TrustPilot page.
What I Like About GoodLife USA?
It's kind of difficult to list something positive about the program when it doesn't try hard enough to be likable in the first place.
In fact, I don't think there's anything positive that could turn the issues listed above around.
GoodLife USA is a legitimate MLM Company that offers travel discount memberships, but they don't act like one.
A lot of the issues they have boil down from their poor customer service and I think that's more than enough to not recommend this program to anyone.
The fact that they make anyone jump through hoops to address their issues means that the company doesn't really care at all to attend to their customers and members' needs.
How I Make a Living Online?
I'm not a fan of MLM, not because it's illegal or not profitable, but because of all the restrictions and the expensive costs involved.
Instead, Affiliate Marketing is my top recommended business model for anyone to make money online.
The reason is simple...
You don't have to recruit anyone to make money
You have the freedom to promote any products you want and not being restricted to only promote the products from one MLM company
It's Free to get started
In fact, with affiliate marketing...
I've personally created a 4-Figure Monthly Passive Income Stream and become financially independent at just 21 years old without any College degree or working experience!
Through my own hard work, I went from a broke restaurant waiter to living my dream laptop lifestyle in less than a year's time...
If you want to discover the secrets of how I did it at such a young age, click here!