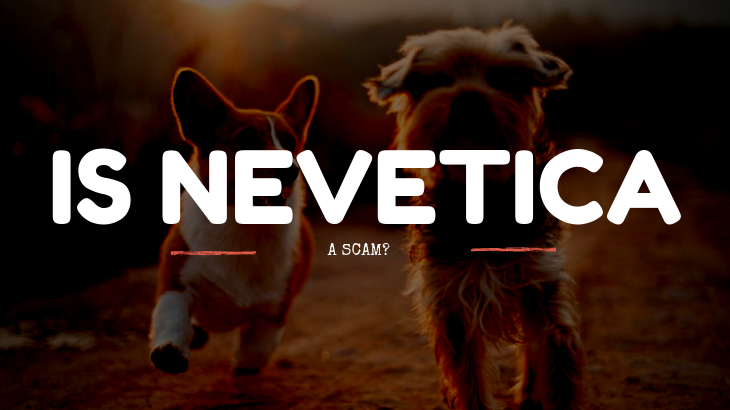 Is NeVetica a Scam? It's a Pet Care MLM Reviewed!
Welcome to my NeVetica review!
Over the past few weeks I've encountered a lot of new MLM companies, and some of them as unique as they can be.
But this is probably the most unique of them all.
This is NeVetica, and you won't believe what they market even if I told you.
First of all, I must Congratulate you for taking your time to do your own research before buying into any "seemingly good" product.
That's the way to avoid scams and find the legitimate way to make money online!
Let me be completely transparent with you, I'm not associated with NeVetica in any form.
So, rest assured that I'm not here to pitch or sell anything to you.
Instead, I'm here to reveal what this program can offer you and if it's worth getting into.
NeVetica Review Summary
Product Name: NeVetica
Founder: Not disclosed
Product Type: Pet Care MLM
Price: $225 for the starter pack + $475 for the Product Pack
Best For: No One
Summary: NeVetica is a new MLM company that markets pet care and health products. However, I cannot recommend this program to anyone at this point. I say this because the MLM company is barely 3 years old and does not have enough reputation to go against big brands, and that would make it difficult to market the product.
Rating: 50/100
Recommended: No!
More...
NeVetica is a MLM or multi-level marketing company that markets pet products and supplements.
You read that right.
They market pet care products ranging from dental health to nutrition to hygiene.
They are unique in a sense that there's not a lot of MLM companies marketing within this niche, let alone being a completely legitimate one.
NeVetica was established in 2016 but there's no information on where they operate or who founded them. All that people and its members know is that they are legitimate.
NeVetica Product Line
So now we're going to focus on the kind of products that NeVetica has to offer.
As mentioned earlier, they are focused on selling health and wellness products towards pets, such as dogs and cats. There's no mention on exotic pets, so that's a bummer as well.
These are their famous products in their catalogue:
Training Pads – These pads are used to train puppies and dogs that are uncontrollable. It is like an absorbent quilted pads
Pet air freshener – This is like a perfume of dogs, its main purpose is to eliminate odour using the NeVetica's aerosol freshener.
Shampoo and Conditioner – Of course, we all know what the purposes of these products are, it is used when they are taking baths
Carpet Cleaner – This is intended for your home, it will be used in eliminating stains and odours that your dogs have left on your carpets. It will make your home smell fresh and clean.
Dental Chews – To help remove tartar in the teeth of your dogs
Breath Freshener – This will help you make your dog's breath clean and fresh
Hip and Joint – These are types of biscuits for dogs that will help support their joins to be strong.
First Choice Toppers – This is a dog food that should be taken regularly. The purpose of this product is to enhance and improve the health of your pets, and the enhancement of this product will manifest after 90 days of daily usage
NeVetica Nutrition – This was said to be an all-natural, customized and premium nutraceuticals that address to help the pet's dietary nutritional deficiencies and enhance the help enhance their health.
Most of the products are focused on health maintenance and hygiene, and are organic and GMO-free.
I'm Jerry!
I Created My Own 4-Figure Monthly Passive Income at just 21 Years Old!​
Does The Product Work?
Well this is pretty difficult to gauge since I can't seem to find any reviews, both positive and negative, about their products.
There are reviews about their app, but that's completely irrelevant since we're looking for how well the products work.
More importantly, I think the absence of negative reviews would most likely be one of two things:
That the product is adequate enough that it meets the pet owner's needs
That there's no one buying the products so there are no reviews to begin with
How To Make Money With NeVetica?
NeVetica is your typical MLM opportunity that provides you with the following ways for earning money:
Commissions from making direct sales
Bonuses from recruiting
Bonuses from team sales
How to Get Started with NeVetica?
To join their business opportunity, it would cost you $225 and this would include the Business Builder Pack, which contains different NeVetica products that would allow you to make a profit if you sell them all.
Listed below are the prices of the packs that members can purchase for retailing purposes:
Nevetica Business Builder Pack – $199.
Buying this pack costs $199 and will contain NeVetica pet products, training manuals, banners, magazines, and much more.
There's on list of what products are included, but you're surely getting samples for the sales that you're having.
Nevetica Product Pack – $475
To resell the product packs themselves, you'll have to purchase this one. Just like the pack above, there's no list of what's included in terms of products.
Nevetica Tech Pack - $24.99 a month
Not a lot of information about this pack, but based on my research, it's a website that's given to you by NeVetica to help you sell products online.
I'm pretty sure that there are cheaper ways to establish your own website online.
NeVetica Compensation Plan
Just like any other MLM company, NeVetica offers different ranks that allow you to earn more money as you progress.
I won't go into too much detail but here are the different ways for you to earn money:
Personal Sales with Cash Bonuses
First Order Bonuses (which you will be earning 15% commission on your personal referrals)
Unilevel Bonus (you will earn here 10% on your sales volume)
Turbo Infinity Bonus (the ones who will be able to get this bonus are those members who are in the President rank)
Income Match Bonus
Leadership Advancement Bonus
Global Pool Bonus
Nevetica Sponsored Vacations
Executive Leadership Council
On top of the cash incentives, there are also carpool bonuses and leadership bonuses.
This video should help shed more light about their business opportunity:
NeVetica Ugly Truths Revealed!
#1 Relatively Expensive Startup
Starting this business would cost you up to $500, and this is way more than people are anticipating for a niche such as pet care.
Don't get me wrong. I'm pretty sure that people are willing to spend money on their pets, but not in terms of selling products.
And you also have to buy your way into the rights for selling the products, which is also expensive than the starter pack.
#2 Lack of Transparency
So there's no information about who the owners are or where they are located, so that's a red flag in most consumers' point of view.
How would they trust someone if they don't even know who's running the company?
Or how is the lack of owner information supposed to build confidence in the consumers that the company is not going to run away with their money?
#3 A New Company
There's nothing wrong about being a new company, but it's not exactly to invest in one either.
For something as specific as pet care, people are more likely to stick to the brands that they're accustomed to, regardless if it's cheaper or more expensive than NeVetica.
As a pet owner, I can totally relate to how majority of pet owners would feel about a new brand getting into the market. It would be filled with skepticism and I would be completely hesitant to try it out completely unless I read reviews about it.
And because they lack the product reviews, I don't think anyone's willing to test these products out for themselves.
What I Like About NeVetica?
#1 It's a Company For Pet Lovers!
If people are willing to try out the products and personally vouch for the quality, then this opportunity might not be difficult to market.
However, it's worth noting that the competitors are going to be the big brands such Alpo, Pedigree, and other high-end brands.
Despite being a unique and legitimate MLM company, NeVetica is still relatively new in the industry and for that reason I cannot recommend this to anyone just yet.
The program's barely three years old and there are no indications that anyone's made money from their opportunity, so it's too early to tell if this is going to be a lucrative investment that's worth your while.
How I Make a Living Online?
I'm not a fan of MLM, not because it's illegal or not profitable, but because of all the restrictions and the expensive costs involved.
Instead, Affiliate Marketing is my top recommended business model for anyone to make money online.
The reason is simple...
You don't have to recruit anyone to make money
You have the freedom to promote any products you want and not being restricted to only promote the products from one MLM company
It's Free to get started
In fact, with affiliate marketing...
I've personally created a 4-Figure Monthly Passive Income Stream and become financially independent at just 21 years old without any College degree or working experience!
Through my own hard work, I went from a broke restaurant waiter to living my dream laptop lifestyle in less than a year's time...
If you want to discover the secrets of how I did it at such a young age, click here!