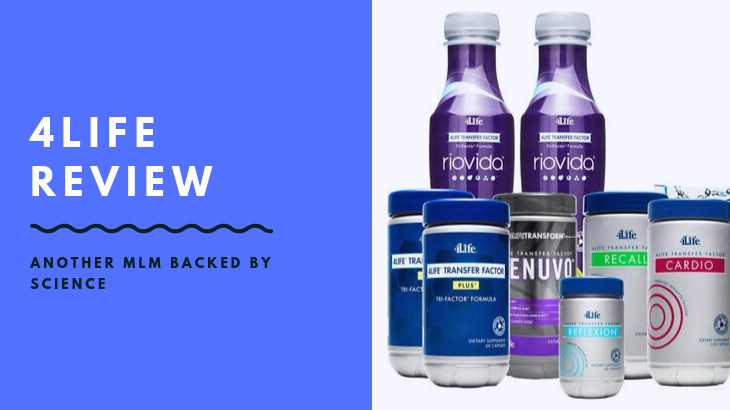 4Life Review – An MLM Company Backed By Science!
Welcome to my 4Life review!
MLM companies have several niches, but the biggest one in my opinion would be the health and wellness niche.
There are tons of MLM companies operating under this umbrella, and a few of them have produced successful distributors through their network.
Some have even quit their day jobs to become a full-time distributor for the MLM company.
Today, we're taking a look at 4Life, another health and wellness company, and determine whether their business opportunity is good enough for you.
First of all, I must Congratulate you for taking your time to do your own research before buying into any "seemingly good" product.
That's the way to avoid scams and find the legitimate way to make money online!
Let me be completely transparent with you, I'm not associated with 4Life in any form.
So, rest assured that I'm not here to pitch or sell anything to you.
Instead, I'm here to reveal what makes this science-backed MLM one of a kind and if it's worth getting into. 
4Life Review Summary
Product Name:  4Life 
Founder:  Bianca and David Lisonbee
Product Type:  Health and Wellness MLM
Price:  $40 annual membership fee + monthly autoships
Best For:  People who are confident in marketing health and wellness products.
Summary:  4Life is a health and wellness MLM company that's been around for more than 20 years. It's very legitimate and has produced thousands of distributors around the world. However, if you're looking for a source of full-time income, it might be difficult to achieve that with 4Life. There's enough proof that no one's making any money at the lowest tier, and I'll show you in this article. 
Rating: 50/100
Recommended:  No!
More...
4Life is a MLM or Multi-level marketing company established by Bianca and David Lisonbee in 1998. Their company provides advanced nutritional supplements that can boost the immune system and fight against the aging process.
The company not only employs distributors but also doctors, scientists, and researchers to help create their supplements. According to the company's claim, no other MLM company can match them in terms of their immune system supplements.
4Life operates in more than 50 different countries and lists down 100,000 worldwide. They're quite similar to the other MLM companies that have established themselves as authority figures in the health and wellness niche:
4Life Product Line
4Life's flagship product is called Transfer Factor Plus, which operates on a biological process called transfer factor.
Transfer factors in biology refers to the small messenger molecules that play a role in regulating the immune system's ability to fight off infections and its responses to stress factors.
According to 4Life's research team, they were able to isolate the transfer factor from a chicken yolk and cow colostrum and have made it a viable ingredient in their products.
And so all of their products contain this ingredient.
Their core product, which is Transfer Factor Plus, is a product of a cow colostrum transfer factor mixed with other natural sources.
You'll find a complete list of their products on their page by clicking this link.
I'm Jerry!
I Created My Own 4-Figure Monthly Passive Income at just 21 Years Old!​
Does The Product Work?
Most of the product reviews from 4Life are positive, as seen on their Amazon page, however it's worth noting that the company has had issues with authorities such as the FDA.
Here's a snippet from the FDA's statement dated in 2010:
But just like any other supplement, 4Life's efficiency may be difficult to determine because health and wellness products are reliant on the user's body.
So several factors will also come into play here, such as their body's receptiveness towards the supplement and how they react to it.
All in all, I would take positive and negative reviews about the product with a grain of salt.
I checked their products on Amazon and each of them had at least a 4-star rating on them with an average of at least 20+ written reviews on it.
How To Make Money with 4Life?
4Life isn't your typical MLM opportunity because you only have to earn a commission from making sales.
There's also no recruitment involved here, so that's a plus. Your progress here in the program is determined by how well you sell the products.
How To Get Started with 4Life?
To join the business opportunity, you'd simply have to purchase their Distributor Kit worth $40. The fee also covers a 1-year subscription to the 4Life MLM business opportunity, so you'll end up renewing.
The subscription covers the following:
Company training
Wholesale Pricing
Access to promotions and contests
Earn Profit rewards
Commissions and bonuses in the compensation plan
Sponsoring other members and rank advancing
As you can see, there's a lot of incentives provided for the annual subscription so you're not exactly losing any money at this point.
For the MLM side of things, this is where you buy products based on your budget. You'll also go up in rank as you make more sales. The drawback here is that you'll have to maintain a monthly autoship as you move up in ranks.
Diamond 4life – 100LP monthly with a first order of 400LP minimum.
Leadership 4life – Maintain a monthly autoship of 100LP with a first order of 100LP.
Associate – 50 UP Monthly autoship with no first order requirement. You're required to purchase a $29.95 compass system.
Preferred Customer – no requirements. You can just shop from the website at retail price.
4Life Compensation Plan
Their compensation plan is called the Life Reward Plan, where you need to sign up as a distributor first before you can make money with their program.
As mentioned above, the $40 distributor kit is necessary to become a distributor and this covers your yearly membership fee as well.
Your minimum sale requirements are intended to maintain the rights to earning a commission as well.
Their compensation plan allows 4 payouts a month and earn up to 64% of Life Points.
So if you sell 100LP worth of products, you get back at most 164LP to incentivize you and to help you move up in ranks.
You can also watch this video to help understand their compensation plan better:
4Life Ugly Truths Revealed!
#1 – No One's Making Any Money!
As far as I'm concerned, their business opportunity leaves a lot to be desired. According to their 2015 compensation plan, only 3% of their distributors succeeded in terms of making a full-time income every month.
At the lowest rank, associates averaged $21 a month on commissions and earning $252 on commissions annually.
That puts a daily rate of $0.70 for 8 hours of work, which is completely far off from any minimum wage from any government.
This does not mean that their business opportunity is bad. It could be a lot of things as to why majority of their distributors failed to earn a full-time income.
#2 – Issue With The FDA?
Their issue with the FDA is a deal breaker for those who want to be part of the company.
While it may not be at risk for getting shut down, the company still struggles with non-compliant marketing and a major lawsuit.
#3 – Issue with Flagship Product!
Transfer Factor, the company's flagship product, is not entirely well-received by the medical community, despite being a product of proper medical research and development.
Customers may share their sentiments about why the product worked for them, but there are a handful of sites that are skeptical about them.
The reason why they're not being received by the medical community is that there's not enough research done on the effects of transfer factor on pregnant women and breastfeeding. There's also not enough research on long-term use for transfer factors.
#1 – Involvement with Charity!
4Life pursues a philanthropic mission called Together, Building People. In the countries they operate in, they are involved in charities that work with children and their families and they aim to secure a child's needs including shelter, education, and nutrition.
#2 – Backed by Research Teams!
When it comes to health and wellness, a big factor in determining whether a company is good enough or not is through their products.
For 4Life to have their products backed by a dedicated team of researchers, it's no wonder that people are drawn into them.
You're ensured that the products are at least safe to consume and that there's going to be some promise of the product working.
4Life is a legitimate MLM company that operates under the health and wellness industry, but if you're looking for a source of full-time income, I wouldn't recommend this program at all.
Their income disclosure statement says it all, and there's no one earning real money at the lowest level.
But this doesn't mean that their products are useless or doesn't work. It could be that there's difficulty in marketing the products to target consumers.
However, I would note that the products are high-end and that they are well-developed and well-researched so you can't go wrong with pursuing their opportunity. Just don't quit your day job yet.
How I Make a Living Online?
I'm not a fan of MLM, not because it's illegal or not profitable, but because of all the restrictions and the expensive costs involved.
Instead, Affiliate Marketing is my top recommended business model for anyone to make money online.
The reason is simple...
You don't have to recruit anyone to make money
You have the freedom to promote any products you want and not being restricted to only promote the products from one MLM company
It's Free to get started
In fact, with affiliate marketing...
I've personally created a 4-Figure Monthly Passive Income Stream and become financially independent at just 21 years old without any College degree or working experience!
Through my own hard work, I went from a broke restaurant waiter to living my dream laptop lifestyle in less than a year's time...
If you want to discover the secrets of how I did it at such a young age, click here!