10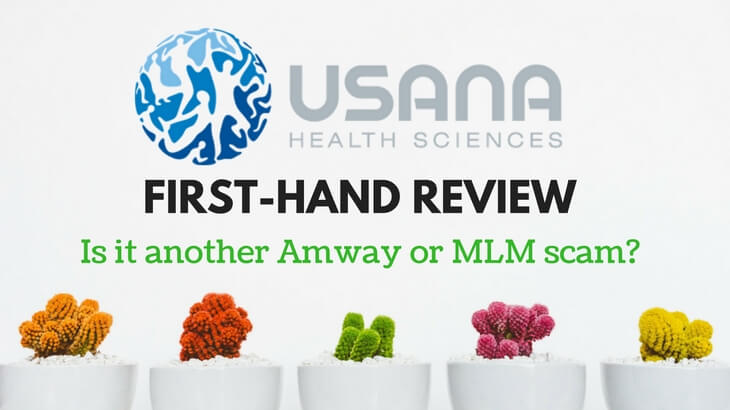 USANA Health Sciences Review: Is it Another Amway or MLM Scam?
"Health and personal care" is one of the biggest and growing pie in the market these days. A lot of companies are tapping into this huge opportunity and Usana Health Sciences is one of them.
However, many of these Multi-Level Marketing companies have very bad reputation especially when their distributors promote products using inappropriate or even unethical methods.
I have a first-hand experience with Usana so I would like to share my honest opinion in this Usana Health Sciences review.
USANA Health Sciences Review Summary
Product Name: USANA Health Sciences
Product Type: Health & Wellness Network Marketing/Multi-Level Marketing (MLM)
Founder: Founded by Dr. Myron Wentz, Ph.D. in 1992
Price: $29.95 Welcome Kit + $100+/month for product purchase
Best For: Top 2-3% Associates & Owners
Summary: Usana Health Sciences is a high quality MLM company that produces world-class nutritional supplements and personal care products. Usana's products are the best in the world so you can be a consumer and let Usana takes care of your health. But it's very hard to make good money via their MLM system. So, I would recommend you to become a consumer of Usana and not an associate.
Rating: 75/100
Recommended: Not really
More...
Usana is a direct selling / network marketing / multi-level marketing (MLM) company that produces science-based nutritional and personal care products word-wide.
Their products cannot be found in the normal retail markets because they sell their products solely via their own "independent distributors" or also known as "associates". Basically, they are the salesperson in their MLM system.
Take a look at the following short video and you'll understand a lot more about what USANA really is about:
Founder of Usana: Dr. Myron Wentz
Dr. Myron Wentz is a true scientist with PhD. in microbiology and immunology. He is not a salesman who wants to make money. Instead, what differentiates USANA from all other competitors is that USANA's products are all based on SCIENCE!
Dr. Myron Wentz has a team of scientists who are dedicated to science, research and development to produce the best products for our human body and cells.
The quality of their products cannot be denied and it can be seen from the various awards and and achievements USANA has accomplished which I'll talk about that later on.
In addition, Dr. Myron Wentz has been recognized as an outstanding humanitarian and philanthropist by establishing much-needed medical centers in Cambodia and Uganda.
In 2007, he was awarded the prestigious Albert Einstein Award for outstanding achievements in life sciences.
Dr. Myron Wentz Vision
"I dream of a world free from pain and suffering. I dream of a world free from disease. The USANA family will be the healthiest family on Earth.
​

Share my vision. Love life, and live to its fullest in happiness and health."
Dr. Myron Wentz

-

Founder & Chairman of USANA Health Sciences, Visionary, Scientist, Philanthropist & Entrepreneur
Usana's World-Class Products
Usana's products can be broadly categorized into 3 groups:
Nutritional Supplements
Diet & Energy
Personal Care
I won't go into the details because there are just too many products, innovations, technology and science included.
What I want to focus on is that "WHY Usana's products are World-Class?"
There are 3 main reasons to this...
#1 Usana has quite a number of patents for its different products.
#2 Usana is the Top Rated Nutritional Supplement Company according to Comparative Guide to Nutritional Supplement's study
#3 Thousands of World-Class Athletes Trust USANA
I'll provide you with more evidence in this post below. You can also find proofs by doing a simple search online.
People today are living too short and dying too long from degenerative diseases and I believe that proper nutrition is the answer to that.
~ Dr. Myron Wentz
How Can I Be a Part of USANA?
There are 2 ways you can be a part of Usana: Preferred Customer or Associate.
1. Usana Preferred Customer
If you just want to purchase Usana's products, you can become an Usana Preferred Customer. Being a preferred customer, you're able to purchase Usana's products at 10% discount.
On top of that, if you set your purchase as "Auto-Order", you can get another 10% discount. That means you'll get a total of 20% off for each purchase.
Auto-order means that you're purchasing the products every month and they'll process the purchase automatically for you.
Click here or contact me, if you want to become an Usana Preferred Customer.
2. Usana Associate
If you want to make some money while sharing Usana's top notch products with your friends, you should become an Usana Associate.
Here's what you can do as an Usana Associate:
Purchase Usana products at discounted price
Sell Usana products and make retail profits
Help Others to become Usana Associates (your downline) and earn commission from their sales
I'll explain Usana's compensation plan in the next section.
Click here or contact me, if you want to become an Usana Associate.
USANA Binary Compensation Plan
Here's a very clear and detailed video showing you how USANA's compensation plan works and how to make money with Usana:
Basically, you are going to "recruit" people and put them on the left and the right side of the "business center".
There are 2 main things you need to do:
Sell products directly and earn retail profit
Train your downlines to recruit people and sell Usana products
You'll earn points for every of your sale and all the sales your downlines make. These points will then be able to add up and earn you commissions.
Usana is not a pyramid scheme as it has real products and Associates will only earn points once a product is sold. You won't be able to make money just by recruiting people.
This is just a very simple and brief explanation on Usana's compensation plan. For more detailed explanation, please refer to the video which has graphics and animations for you to better understand the process.
Usana's 6 Income Streams
There are 6 types of income stream that can be created using Usana's compensation plan. Let me list them below with some brief explanation:
1. Retail Sales
This is the fastest and most straightforward way to make money with Usana. Basically, you earn the profits between preferred price and retail price when you sell a product.
You can sell Usana's product in whatever way you're most comfortable with, be it in person, online, in a party, meeting, etc...
2. Weekly Commissions
This is basically the process I've explained in the Usana's compensation plan above. You earn points from each side of your business center and exchange for commissions every week. That's why it's called "weekly commission".
All you have to do is to sell Usana products and teach your downlines to do the same.
3. Lifetime Matching Bonus
If you're able to help your new team members (downlines) to achieve a certain results within a time period, they'll be able to earn a special rank known as "Premier PaceSetter" or "Premier Platinum PaceSetter".
With these ranks, you'll be able to an additional percentage of commission from the sales of these downlines for life as long as both of you are qualified for commission.
4. Incentives
There are various contests and incentives being held every year. The reward for these incentives are very attractive, which includes luxury travels, cars, bonus cash and not to mention the respect and recognition earned.
5. Leadership Bonus
If you achieve the rank of Gold Director and above, you'll be able to receive a weekly profit share from Usana.
Usana reserves 3% of its commissionable volume and share it with the top associates every week.
6. Elite Bonus
If you're the top earner in the company, you'll be able to earn even more additional commissions.
The higher you get, the more you earn. It is a good incentive for its Associates. But that's also why most of the commission are earned by the top few percent of Associates.
The Good
1. Top Notch Science-Based Products
Like I've mentioned above, Dr. Myron Wentz and his team are extremely particular about cellular nutrition. All the products they produce aim at nourishing the cells in your body to make you healthier and younger.
This is backed by real statistics and experiments.
Let's first take a look at this simple experiment known as the "Apple Test". It compares Usana's supplement with Centrum:
This research is done by comparing the presence and the amount of nutrients contained in the supplement. Usana has the most completed nutrition needed by the human body while many other competitors lack quite a number of nutrients.
Also, some toxic substances that is harmful to the human body are represented by the yellow color bars.
Usana has been awarded the best nutritional supplement company for many years in a row.
2. Usana Products Are Trusted by World-Class Athletes
Athletes are extremely concern about their diet and what they put into their body, right?
So, the fact the Usana is trusted more than 2,000+ world-class athletes around the world shows that Usana really has the best product in the market.
You can go and do some research online. Probably your favorite athlete is also taking Usana supplements but you just don't know about it...
3. Very Comprehensive Training, Resources & Support
When you join, you'll be asked to purchase a $29.95 Welcome kit (also known as Business Development System). This is the starter kit with various learning resources and tool to help you get started with this business.
Next, there will be both online and offline learning materials and guides to assist you. You'll also have a team (your upline & downline) who will work together and learn together.
Lastly, there will be live training sessions and seminars to support you.
The good thing about being an Usana Associate is that you'll learn a lot more about sales and human interactions. These are valuable skills in life which schools seldom teach.
4. No Inventory Needed for Associates
Associates are people who sell Usana's products and earn commission.
Unlike traditional retailer, Usana Associates do not need inventory. All they need to do is to recommend products to customers and order through Usana's system. The products purchased will either be delivered to the customers straight or they can collect it on their own.
5. Over 25 Years of Experience in The Industry
Usana was founded by Dr. Myron Wentz in 1992. It has just celebrated its 25th birthday in 2017.
The fact that it can remain as the industry-leader shows something about it. That they are really doing something exceptional.
Currently they are operating in more than 20 countries world-wide and they are still expanding.
---
Take a look at the following video and you'll be amazed by the mission and value of USANA:
The Bad
1. You Have to Pay in Order to Receive Commission
To receive commission and continue operating your business with Usana, you need to purchase a certain amount of products every month to accumulate enough points.
It's either 100 or 200 points per month. This is equivalent to additional $110 - $130 per month of investment.
If you fail to maintain the points, you won't be able to receive commission if any.
In other words, you have to pay to get paid, right?
2. Costly Investments
Usana claims that you only need to invest $29.95 to purchase the welcome kit (also known as the Business Development System) to get started. That's the investment "on the surface".
As mentioned in the disadvantage above, you have to purchase a certain amount of product every month to accumulate enough points to continue running your business with Usana.
This is considered an additional cost to us but Usana doesn't consider it as an investment. Why?
Because you can either consume the products yourself or sell it at retail price to others.
This won't be an issue for those who have more initial capital to invest. However, I'm sure it'll be an issue for those who can't even make ends meet.
As compared to Affiliate Marketing, you can get started FREE, not even a credit card information is needed.
If you're interested in Affiliate Marketing, grab your FREE Proven 4-Step Affiliate Marketing Blueprint here!
3. Most Associates Fail to Make Enough Money to Cover Their Investments
There are real statistics showing that people are struggling to make money with Usana and not many can make it full-time.
Let me show you Usana's North American Average Total Earnings:
Looking at the stats, you may be excited by the annual average earnings. However, take a look at the "% of Active" in the second column from the left.
The percentage of active associates are relatively low especially the higher ranks. This shows that not many people can achieve the dream lifestyle at Usana. Only those who are very determined and persist through the tough times.
This is another document that is worth looking at. This is like a "disclaimer" from Usana.
Read point number 2: "Most Associates join simply to improve their health and purchase products at a discount... Only a small percentage of our Associates sell USANA products full-time."
This is not the end though.
"On top of that, according to documentation from USANA corporate, 87% of associates fail to make enough from commissions to recover the cost of their qualifying purchases with 67% of all Associates making no commission. And 72% of the company's commissions are earned by the top 2.31% of Associates." - (Source: NBR)
Despite Usana has been voted the Best Network Marketing Company, it is still very hard for individuals to make a full-time living or even make enough money to recover their investments.
Usana is definitely NOT a scam. Instead, Usana is a helpful company driven with good mission and purpose to change lives.
This can be explicitly seen from their world-class products and their efforts in helping people in needs. (Not only people in the First World Countries but most importantly needy people in the Third World Countries)
However, Usana is not a good place to make a good living in my opinion.
Needless to say, the earning potential is huge and there are people making good fortune with USANA. But there are a considerable amount of people struggling to make Usana MLM work.
As you can see from the stats provided, Usana products are the best for sure, but not many people are really having huge success with Usana MLM.
Another Usana Insider Observation
Only a couple of people are able to achieve the state of true freedom in Usana. Only the top of the top can do that. Why?
Not just because of the money earned but also because of the time and commitment needed.
There are people who have achieved some success and make some money from Usana. However, they still need to commit the necessary time to keep in touch with their team members, or also known as downlines and uplines, in order to secure their income streams. That's just the nature of network marketing or MLM.
MLM VS Affiliate Marketing
As you can see, I wouldn't recommend network marketing/MLM because it's a lot harder to get the results you want and achieve success as compared to affiliate marketing.
Let me give you a quick comparison between MLM & affiliate marketing: