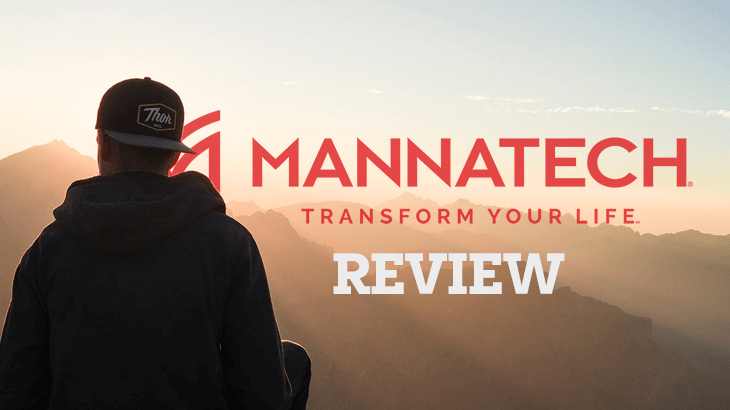 Is Mannatech a Scam? (Stats Showed: Only 44 People Succeed!)
Welcome to my Mannatech review!
Chances are, someone has just introduced to you this amazing opportunity by Mannatech where you can improve your overall health and gain wealth at the same time.
No matter how you came across Mannatech, I must Congratulate you for taking your time to do your own research before buying into any "seemingly good" product or business opportunity.
That's the way to avoid scams and find the legitimate way to make money online!
To be completely transparent with you, I'm not associated with Mannatech in any form.
So, rest assured that I'm not here to pitch or sell you anything.
Instead, I've reviewed hundreds of money-making opportunities on this website.
And my job here is to provide you with an unbiased 3rd party Mannatech review and reveal to you some of the ugliest truths Mannatech distributors don't want you to know.
Is Mannatech a scam? Or is it a pyramid scheme?
Here's the truth...
Mannatech Review Summary
Product Name: Mannatech
Founder: Founded by Samuel Caster in November 1993 (Currently a publicly traded company)
Product Type: Health & Wellness MLM Company
Price: $49.99/year to start + various overpriced product packages
Best For: People who are good at networking and recruiting
Summary: The good news is that Mannatech is a legit MLM business opportunity where you can make real money if done right. Product-wise, they separate themselves from the crowd by having lots of patents and clinical research proofs. But the same problem with most MLMs still apply. Mannatech is mainly focusing on traditional recruiting and real stats have shown that most people couldn't even make a profit from this business!
Rating: 40/100
Recommended: No
More...
Mannatech is a Texas-based health & wellness Multi-Level Marketing (MLM) company selling dietary supplements & personal care products, quite similar to companies like Yoli, Modere, Shaklee and Youngevity.
The main goal of Mannatech is to fight global malnutrition by nourishing the world with Real Food Technology Supplementation.
With this, they have discovered and patented their flagship product called"Ambrotose" where most of Mannatech's products are based upon.
Ambrotose is basically sugar pills and powders made from glyconutrients which is said to support cellular communication within the body.
To better understand the concept of Ambrotose, how it works and how it can help our body, check out the video below:
Based on the patented Ambrotose, Mannatech has expanded their product line to 5 main categories as shown below:
Integrative Health - A line of various nutritional supplements to help you improve your overall health, including your body, mind and spirit
Targeted Health - As its name suggests, it's a line of supplements targeting specific needs of the body, such as joint & cartilage, heart, immune system, digestion, stress, bones, etc.
Weight + Fitness - This line consists of sports drinks, supplements & shakes to help you burn fats, cleanse your body and get into shape.
Skincare - This is just a typical skincare product line which consists of products like facial cleanser, moisturizer, creams, etc.
Home Living - This is basically a product line of essential oils (For the best Essential Oils, check out Young Living & doTERRA)
After having the basic understand of their product line, now let's take a look at their business opportunity...
I'm Jerry!
I Created My Own 4-Figure Monthly Passive Income at just 21 Years Old!​
How to Make Money with Mannatech?
Just like any other MLM businesses, there are 2 main ways for you to make money with Mannatech:
Sell Mannatech products and earn retail commission
Recruit people and build your downline teams to earn various bonuses & incentives from the company
But before that, there are some costs you need to incur...
How to Get Started with Mannatech?
First of all, you have to purchase their $49.99/year Associate Membership to become their distributor.
And here's what you'll get for the Membership:
Basically, this membership provides you with the necessary training and materials to get started with the business.
To be honest, it's a pretty affordable membership to get started.
But the same problem still applies...
This membership doesn't provide you with any products. Your sponsor will definitely encourage you to buy either one of the following 3 packages, especially the most expensive one:
Basic Pack - $99-$169
All-Star Pack - $499
Premium All-Star Pack - $999
The difference between these packages is the number of products and the income potential.
So, they claim that purchasing a more expensive package will allow you to have a much better head-start in the business and higher income potential.
I don't really recommend such system because it's indirectly forcing people to pay in order to earn, pretty much like a "pay-to-play" program.
The amount of money you can earn shouldn't be dependent on the money you pay!
Agree?
Mannatech Compensation Plan
Mannatech adopts an Unilevel compensation plan.
As many of you know, MLMs always have very complicated compensation plans.
What's even more confusing for Mannatech's compensation plan is that they provide a total of 18 different ways to earn either a commission, bonus or incentive.
So, let me just explain to you the most common and basic way you can earn with Mannatech:
Retail Profits - You earn the difference between the wholesale price and the retail price when you sell products to retail customers
Direct Bonus - Direct commissions earned when your downline purchases any of the sign-up pack.
Team Bonus / Team Development Bonus - Commissions & Bonuses earned by recruiting people into your teams and helping your team members to build their own teams as well.
Leadership Bonus - This is the commissions earned based on the performance/sales volume of your downline teams
These are just a few of the most common commissions and bonuses.
For the full details, please refer to their compensation plan here or watch the video explanation below:
Mannatech Ugly Truths Revealed!
1. Recruitment Heavy
Since Mannatech is a typical MLM company, most money are made through recruiting.
Yes, you can make money by selling their products so Mannatech is definitely not a pyramid scheme.
However, most of the commissions and bonuses require you to recruit and recruit and recruit...
So, the very first thing you'll do once you join Mannatech is to come up with a list of prospects and contact them for a meet up.
And your prospects are usually your friends, family members or colleagues because those are your "warm market".
I'm not saying this type of recruitment doesn't work. If you have the right communication skills, you can definitely make a lot of money from recruiting.
But the problem most people are facing is that they don't have the right techniques so many people don't just fail, but also sabotage their own friendships and relationships.
That's how most people fail at MLM.
Thanks to the Internet, I'm constantly getting at least 20 leads per day for my business without doing any cold-calling, hard-selling or recruiting.
And I've already achieved financial independence at just 21 years old earning 4-figure monthly passive income.
2. Inappropriate Marketing Tactics
There have been many cases of false health claims where distributors of Mannatech claimed that their products can treat many diseases and conditions, including cancer, diabetes, autism, AIDS, etc.
Here's the ugly truth...
In November 2017, the US Food & Drug Administration (FDA) has sent a warning letter to Mannatech accusing them for marketing several of their supplement products illegally as medical agents and for selling adulterated & misbranded products.
Nutritional products from most of the health & wellness MLM companies are not backed by FDA.
Mannatech is no different.
Their products are just supplements, and they are not medicine that can cure cancer or other illnesses which some distributors claim.
3. Lawsuits after lawsuits after lawsuits...
Mannatech has a pretty good start in their first few years until they were hit by numerous lawsuits.
One main reason for many of the lawsuits is due to the false health claims I just mentioned.
They paid $7 million to settle a deceptive-marketing lawsuit in Texas.
And in March 2008, Mannatech settled the class-action lawsuit by agreeing to pay $11.25 million to the plaintiff class.
These are just 2 of the examples.
Their business was severely hit by these lawsuits. And they lost quite a lot of money for several years in a row.
The good thing is that they survived those lawsuits and are still in business today.
But one very concerning fact is that do you really want to rely on a company for your living which is so controversial and filled with lawsuits?
Probably not.
4. Downward Trend
Another interesting fact I found is that the popularity of Mannatech is decreasing over the years, especially since they were hit by the major lawsuit in 2008:
Although this trend cannot prove that Mannatech is not profitable, it definitely implies something about this company.
Once again, I'm sure you don't want to depend and rely on a company whose popularity is decreasing over time.
It's just another factor you may want to consider.
5. Expensive Startup Cost
Despite the $49.99 Associate Membership fee is affordable for people to get started with the business, the product packages are pretty expensive.
Like I've explained earlier on, you can even spend up to $999 on a "Premium All-Star Pack" just to give yourself a good head-start in the business.
This is ridiculous!
P.S. This program that has enabled me to generate a 4-Figure Monthly Passive Income at just 21 years old is FREE to get started and only cost $49/month fee to go full-time!
6. Most People FAILED!
Last but not least, this is another pretty shocking fact that you need to be aware of...
This is Mannatech's Income Disclosure Statement.
They clearly listed out the exact numbers and percentage of people in each rank and their respective income.
As you can see, most people can't even earn more than a thousand dollar PER YEAR.
In other words, these people are getting further into debt because of the costs involved in running this business.
Let say a sustainable income is more than $30K per year.
From the income disclosure, only 44 people managed to make over $30K per year in the year 2017.
Out of a few thousand members, only 44 people are sustainable.
Can you see how low the success rate is?
Do you still want to participate in this business after seeing this fact?
I doubt so.
What's Good About Mannatech?
1. Long History
Mannatech was founded back in 1993, which means they've been in business for more than 25 years.
If it is a scam or a pyramid scheme, it should already been shut down long ago.
Another good thing about them is that they've survived many lawsuits over the years, despite paying millions of dollars to resolve them.
2. Publicly Traded Company
Another notable thing about Mannatech is that they went public back in 1999.
Their stocks are traded on NASDAQ exchange with the symbol "MTEX".
This further confirms the legitimacy of this company because not many MLM companies can go public and maintain for such a long period of time.
3. Relatively More Reliable Products
One thing that surprised me about Mannatech is that their products seem to be more reliable than many other health & wellness MLM companies which also product nutritional supplements because they have:
Over 100 patents
17 human clinical trials which have been published
Invested over $50 Million in research and product development
180-Day Money-Back Guarantee for all their products
No, Mannatech is NOT a scam for sure. Neither is it a pyramid scheme.
Like I've explained, Mannatech has quality products and they've survived in business for over 25 years for a reason.
However, I've also shown you the pathetic income disclosure statement where only 44 people in the entire company managed to make a sustainable income.
I've put together all the facts in front of you in this Mannatech review.
And my stand is very clear...
Mannatech is a legit business opportunity but not the best place to make money.
How I Make a Living Online...
I'm not a fan of MLM, not because it's illegal or not profitable, but because of all the restrictions and the expensive costs involved.
Instead, Affiliate Marketing is my top recommended business model for anyone to make money online.
The reason is simple...
You don't have to recruit anyone to make money
You have the freedom to promote any products you want and not being restricted to only promote the products from one MLM company
It's Free to get started
In fact, with affiliate marketing...
I've personally created a 4-Figure Monthly Passive Income Stream and become financially independent at just 21 years old without any College degree or working experience!
Through my own hard work, I went from a broke restaurant waiter to living my dream laptop lifestyle in less than a year's time...
If you want to discover the secrets of how I did it at such a young age, click here!